SMOK G-PRIV 2 Review: The Best SMOK Mod So Far
By Drake Equation • Updated: 01/26/18 • 9 min read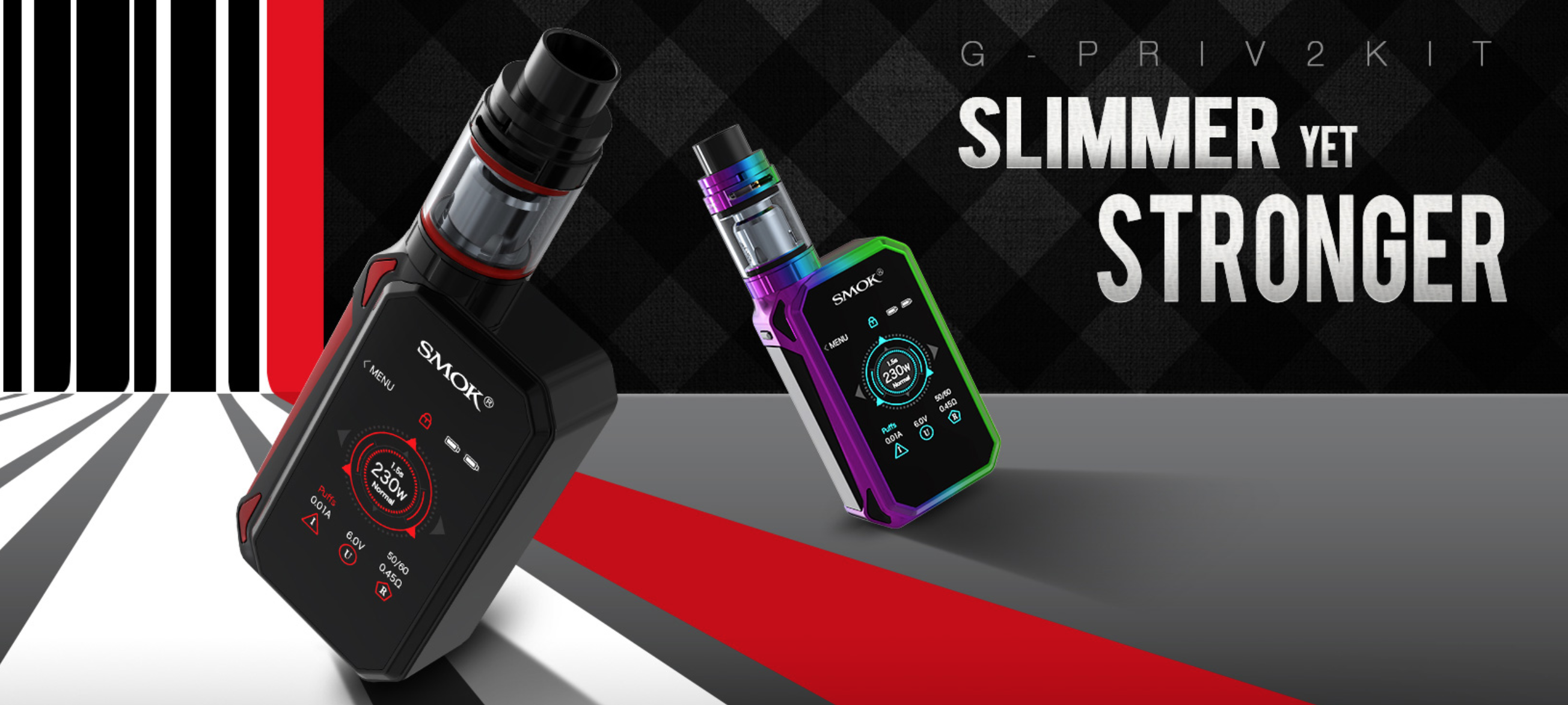 The SMOK G-PRIV 2 is the second-generation of SMOK's G-PRIV series of touchscreens mods. I didn't have the pleasure of testing the original, that honor went to Nick, though I have used A LOT of SMOK mods in the past 12 months, thanks to SMOK's prolific release rate.
The SMOK G-PRIV 2 isn't the kind of mod I'd go and buy. For starters, I don't like touchscreen mods. Second, I'm not the biggest SMOK fan. But I was willing to put these issues aside for the SMOK G-PRIV 2 in order to find out if it is a worth while mod.
I enjoyed the ProColor and the Mag, though both were well and truly dispatched by the awesome SMOANT Cylon right before the Xmas break. That means I am hitting 2018 with the desire for a brand new daily driver, a mod that I can use day in, day out, that won't let me down, break, or be a pain in the ass to live with.
I just spent a month living with the SMOK G-PRIV 2, so read on to find out whether or not this mod is worth your time and money in 2018.
SMOK G-PRIV 2 Review – Design

Pin
As per most SMOK mods, the SMOK G-PRIV 2 comes in kit form with the SMOK TFV X-Baby sub-ohm tank. I have no love for SMOK tanks or their coils because in my experience, which is pretty extensive, they're inconsistent, temperamental, and too expensive to run in the longterm.
If you're new to SMOK tanks, by all means, give it a whirl and see what you think. When the coils are playing ball, the TFV8 X-Baby is great with excellent flavour and clouds, however, when you come across a dud coil or, worse, a batch of dud coils, which will happen, you will not be happy. Even more so if you paid $15 for the pack of coils.
My advise? Get yourself a decent RDTA or RDA and make your own coils. You'll save money, get better performance and flavour, and never have to worry about spending $15 on coils that might not work as advertised.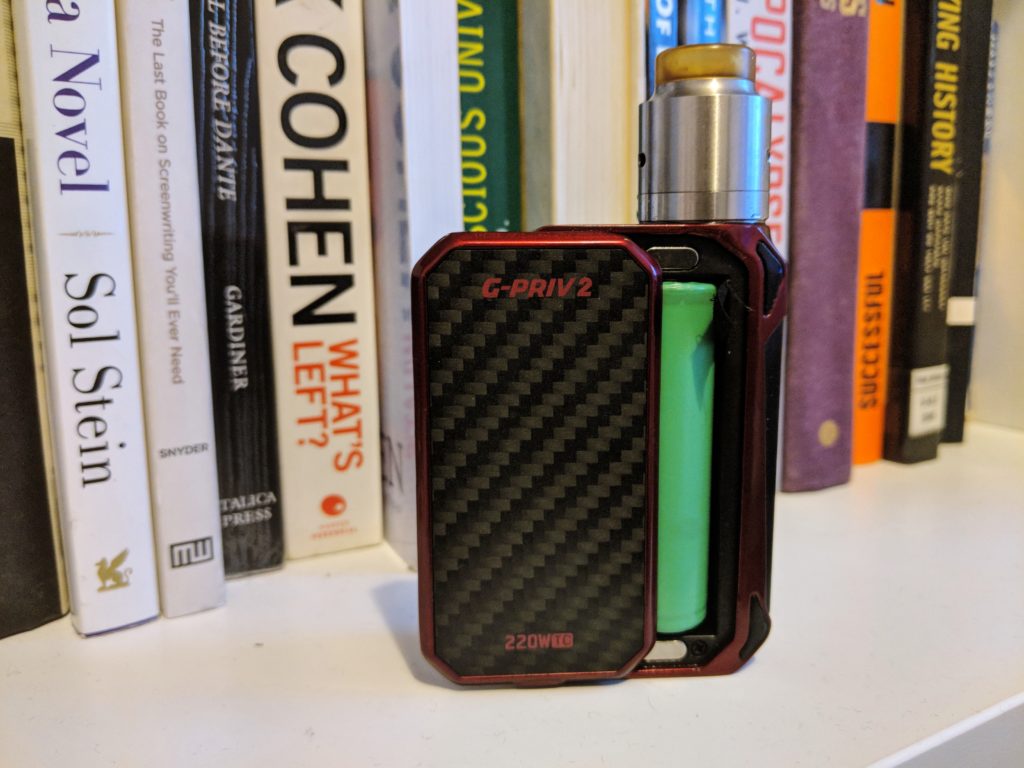 Pin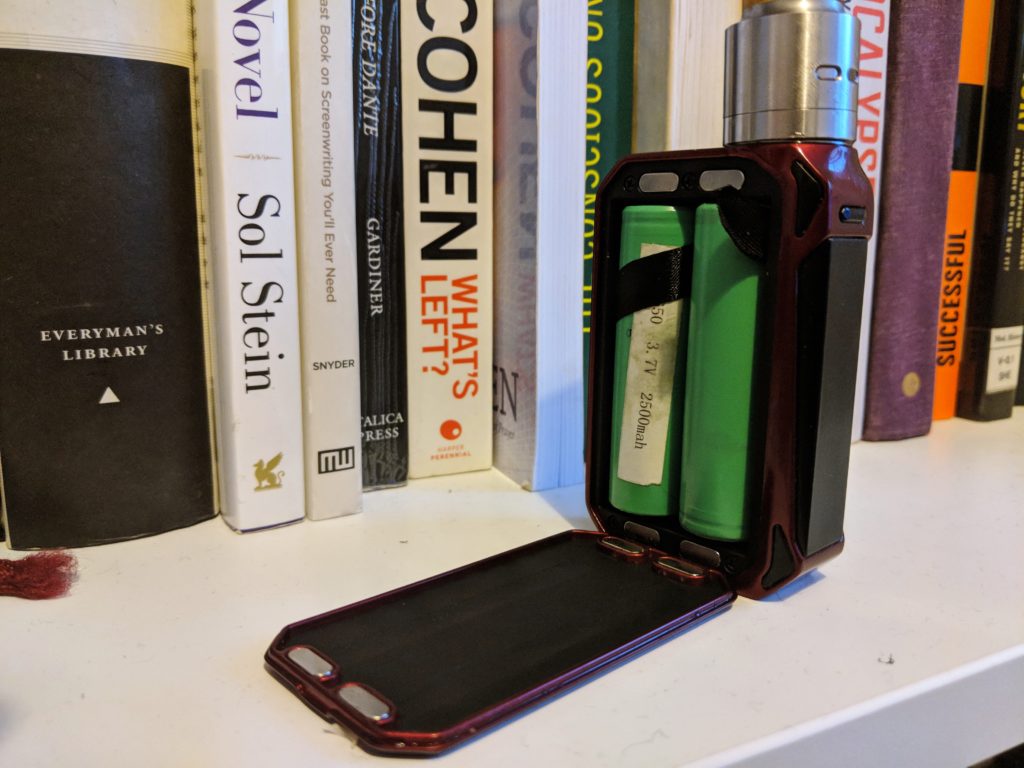 Pin
The SMOK G-PRIV 2 is a very handsome mod. It's pretty compact too, fitting nicely in the palm of the hand. The build materials are very solid and everything fits together nicely. My unit was the red model. I also really like the Kevlar coating on the back panel. It looks really smart.
As with the vast majority of SMOK mods, you have a fire bar instead of a fire button. Again, this is a great way of firing the mod, as you just have to squeeze the mod and it'll fire, which is great for when you're vaping in the dark. Above the fire bar you'll find the display lock button, and you will definitely want to use it, because if you don't you will take a hit at 230W and it will not be pleasant. Trust.
The display is bright and detailed, displaying everything from your wattage, puff counter, ohms, and volts. You also have a menu where you can mess around with vaping modes, change the colour of the UX's font, and set up TC vaping profiles. The touchscreen is responsive and has shown no signs of slowing down in the time I have had the mod, though longterm tests will be required to understand just how well it holds up over the course of 6-12 months.
The kevlar back panel is the side where your batteries live, two 18650s, and accessing them is super simple: just pop the cover off, which is held in place by some seriously strong magnets. Once it's back on, the mod looks seamless; you'd never know it had a removable panel. The overall aesthetic of the SMOK G-PRIV 2 is very appealing. It's smart, compact enough, and very well put together. I've had zero issues with it in the month that I have been using it.
SMOK G-PRIV 2 Review – Specs & Features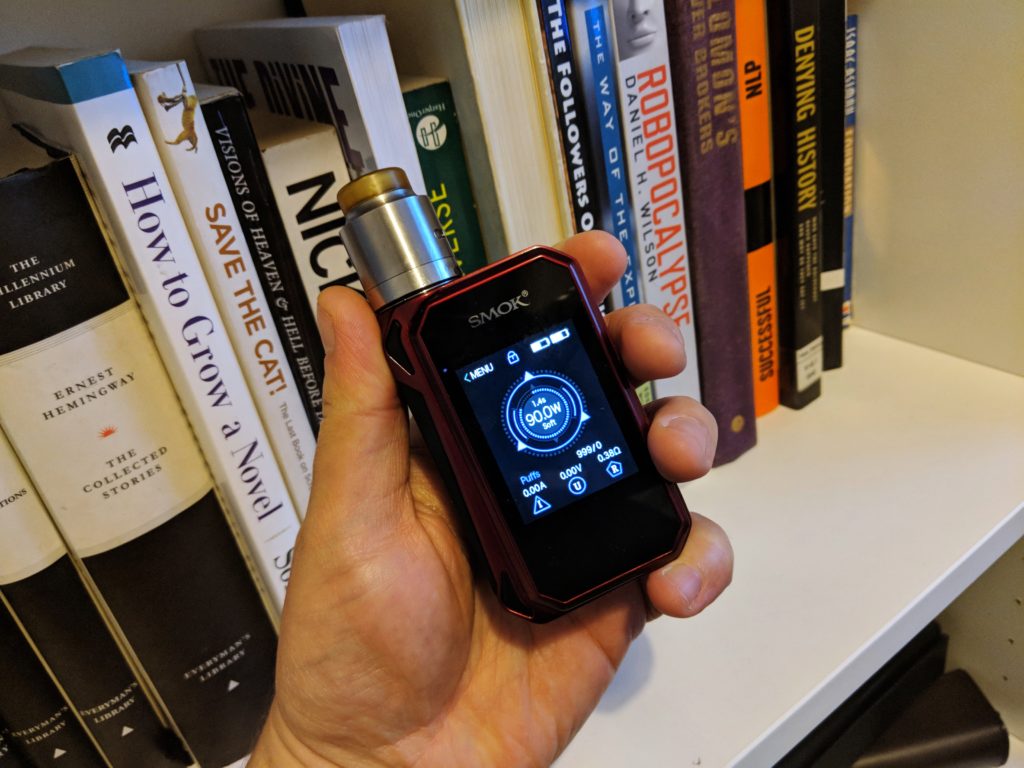 Pin
The SMOK G-PRIV 2 is one of SMOK's more expensive mods. This means you get plenty of power, a lot of features, and a myriad of functions that 99.9% of vapers probably won't even touch. I've listed all the key specs and features below for the sake of brevity.
Dual High-Amp 18650 Battery – Not Included
Dimensions: 85mm by 58.5mm by 28mm
Wattage Output Range: 1-220W
Min Atomizer Resistance: 0.06ohm
Temperature Range: 200-600F
Supports Ni200 Nickel, Titanium, and Stainless Steel Heating Elements
Superior Zinc Alloy Construction
Super Big 2.4 Inch OLED Touch Screen – Shatter Resistance
Screen-Lock Button – Simplify Operation
Five Drawing Effects: Min, Max, Soft, Normal, Hard
Temperature Coefficient of Resistance (TCR) Adjustments
User-Friendly Interface
Stealth Firing Bar Mechanism
Magnetized Battery Cover – Carbon Fiber Inlay
Temperature Protection
Short Circuit Protection
Over Current Protection
Over/Under Voltage Protection
MicroUSB Port
I do tend to find SMOK mods needlessly complicated. I'm more of a purist when it comes to mods. I like to just attach my tank, set the wattage, and vape. I don't care about TC vaping, saving vaping modes, and changing the colour of my mod's UX font.
But that's me. You might be different. And if you do enjoy tinkering with your mod's features and functions, well… SMOK's got your covered. And then some! The SMOK G-PRIV 2 features an extensive menu in which you can change all kinds of a parameters from the colour of the mod's font, to how hard it vapes, to what's displayed on the home screen.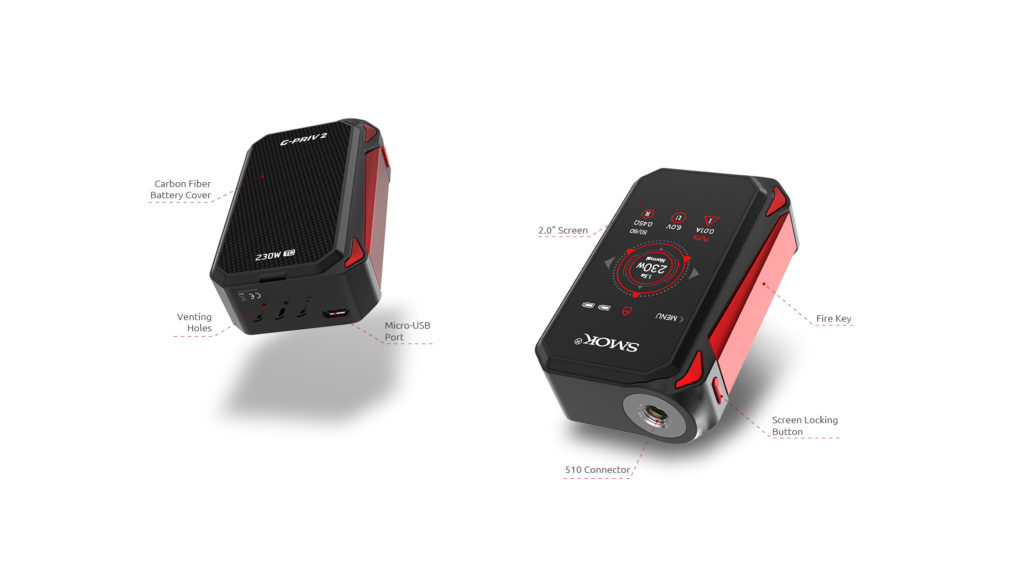 Pin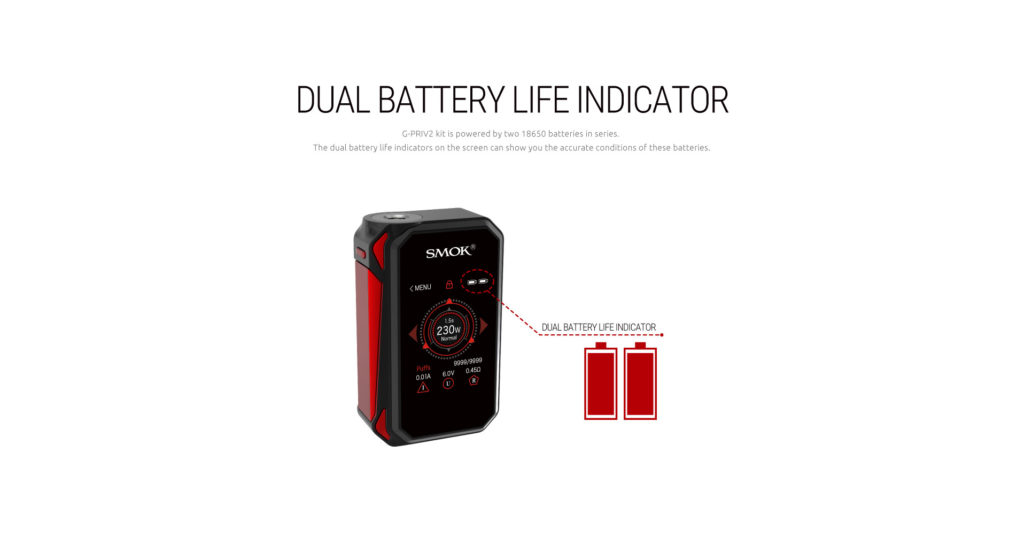 Pin
The menu, once you've had a play around with it, is relatively simple to find your way around. And because it is a touchscreen mod, it is A LOT easier to interact with than, say, the SMOK ProCOLOR which requires an array of clicks and holds on the fire bar which can get a little cumbersome.
This is the first time I have used a SMOK mod and its menus have actually made sense. The UX of SMOK's software is clearly designed with touch in mind, which is why it is so much easier on the SMOK G-PRIV 2 versus the ProCOLOR which doesn't have a touchscreen.
All told, the SMOK G-PRIV 2 is like a Swiss Army Knife. It can do loads of cool things which makes it a great choice for experienced vapers and newbies alike. The touchscreen just makes navigating around its menus so much more intuitive, so much so that even someone unfamiliar with SMOK mods would probably have it locked down in about five minutes.
SMOK G-PRIV 2 Review – Performance
So how does it perform? As expected, to be honest. I have never had any real issues with the performance of SMOK mods over the years, though I think I am definitely in the minority here! The SMOK G-PRIV 2 hits very hard when you have it setup accordingly, and this means it is great to use with RDA tanks.
I didn't really bother with the SMOK TFV X-Baby, as I have used a bunch of them over the past 12 months, so pretty much got stuck in right away with RDAs and RDTAs and the SMOK G-PRIV 2 handled them all with ease, kicking out massive clouds and consistent power levels.
The connection is 100% consistent on this mod too, something that wasn't the case with the ProCOLOR, and it seems to play nice with tanks of all shapes and sizes. During my month with the SMOK G-PRIV 2, I've run RDAs, RDTAs, RTAs, and sub-ohm tanks on it. Everything performed great with zero issues or glitches.
SMOK G-PRIV 2 Review – Battery Life
Does the touchscreen affect battery life? You'd think it would, right? But in my experience, the SMOK G-PRIV 2's battery life is as good as the ProColor's or my VooPoo Drag. How SMOK has achieved this remains to be seen, but the fact of the matter is simple: the touchscreen, when set at a low brightness, does not seem to impede the battery life one bit.
I've been getting a solid day's worth of vaping from the SMOK G-PRIV 2 with fresh 18650 cells. So long as you keep the display off when you're not using it and at a low brightness, you should not have any issues with battery life on this mod. None whatsoever. Hell, it lasted longer the the SMOANY Cylon and that doesn't even have a touchscreen!
SMOK G-PRIV 2 Review – Verdict
I've tested A LOT of SMOK mods in 2016/17, but I am fairly convinced that the SMOK G-PRIV 2 is my favourite of the company's recent splurge of hardware. I prefer using it to the ProCOLOR and I think it looks better than the SMOK MAG.
The look, feel, and weight of the device is nice and solid. Mine's red, and I really like the combination of that cooler and how it jazzes with the kevlar-style battery door cover. Overall, there isn't much to complain about in the design department; it's a good-looking, functional mod.
I will keep an eye on how it holds up over the coming weeks and months, however, just to make sure it retains its integrity and there are no issues with the touchscreen display. I have heard reports of issues with certain units, but this is common with all mods, not just SMOK ones. I have a draw full of busted mods, for instance.
The overall design, finish, and simplicity of the menu (when combined with the touchscreen) makes for a very satisfying experience. I don't know whether this will be my new daily driver in the long term, as I have a some pretty tasty mods on their way to me later this week, but for the moment it is definitely here to stay. And I cannot remember the last time I said that about a SMOK mod!
Drake Equation
Co-founder and Editor of VapeBeat. I make the words.