SMOK AL85 Box Mod Review: The "Baby" Alien 220W Mod
By Drake Equation • Updated: 03/10/19 • 7 min read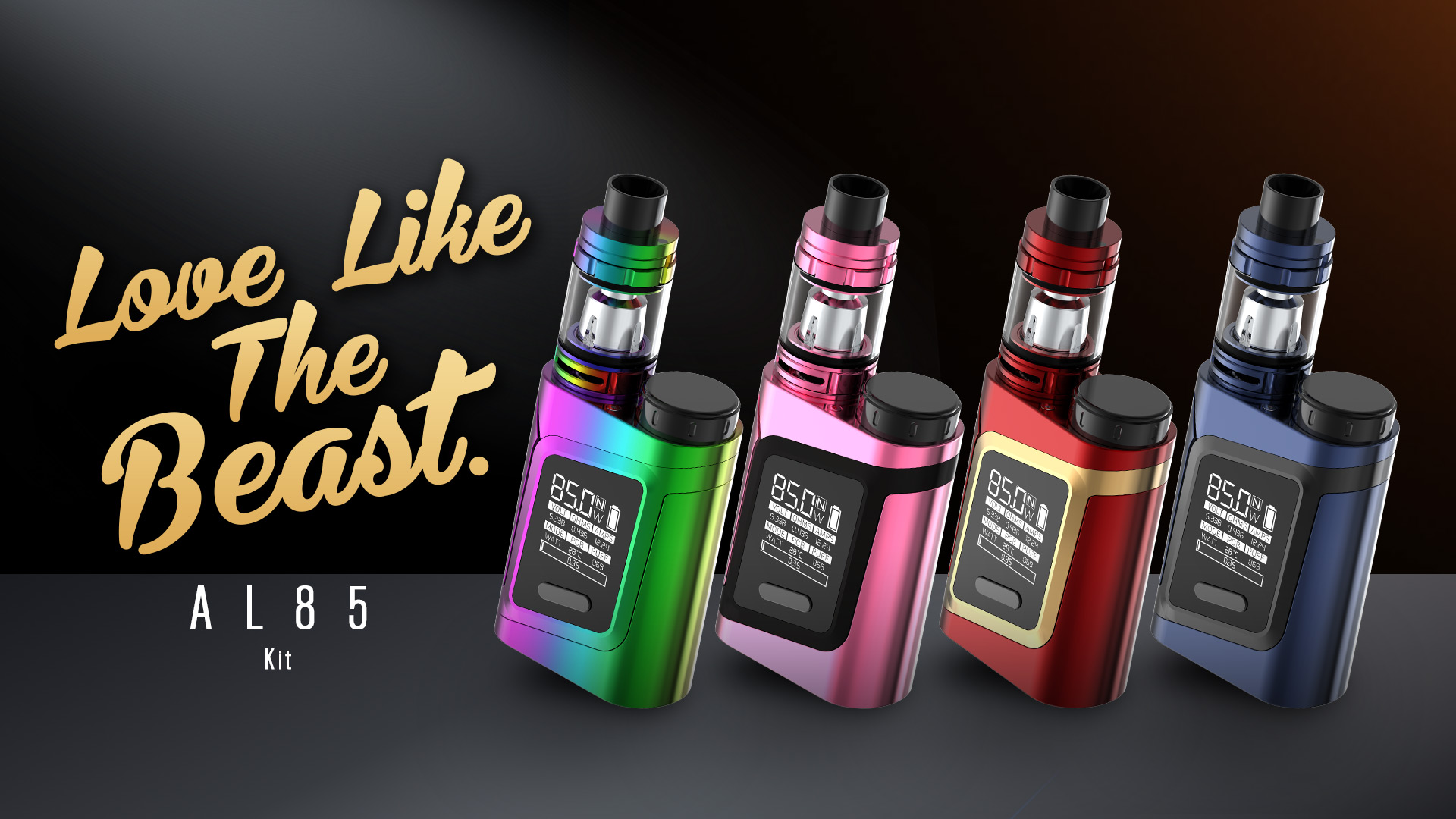 SMOK's been DOMINATING the vape space in 2016/17… and now it's back with the SMOK AL85 
---
UPDATE: This mod, while decent, is now pretty old! For a detailed look at SMOK's best new mods, please check out our Guide To The Best SMOK Mods. 
Inside you'll find ALL the highest rated SMOK mods from the last 12 months.
And here's our original SMOK AL85 Review from 2016…
---
SMOK has had a hugely impressive 2016/17. The company has released solid product after solid product. There was the SMOK TFV8, then the SMOK Alien 220W, then the SMOK TFV12 and now… the SMOK AL85 mod.
Over 14,000 VapeBeat readers voted the SMOK ALIEN 220W the best box mod of 2017 in our on-going readers' poll, which you can see here.
The ALIEN 220W is well priced and has specs that make for some of the best vaping experiences on the planet.
Chuck in SMOK's insane distribution network – its products are sold in thousands of shops and stores the globe over – and it is easy to see why SMOK is one of the biggest brands in operation today.
Building on the success of the ALIEN 220W and the SMOK TFV8, SMOK returned with the AL85, which is designed for vapers that are after something smaller and more pocketable than the ALIEN 220W.
The SMOK AL85 is, for the most part, a baby version of the company's hugely impressive SMOK Alien 220W mod. With this mod, SMOK is clearly going after the more novice vapers out there. Or, those that want a smaller mod.
But is it any good? Can it hold a candle to the Alien 220W? Or are you better off getting the SMOK Alien 220W or something similar?
Read on to find out…
SMOK AL85 Kit Review: Package and Appearance
Pulling the top of the box off reveals the wondrous SMOK AL85 in all its glory. The SMOK AL85 ships with SMOK's also-brilliant SMOK TFV8 Baby Beast tank.
Remove these from the box and you're left with the remains of the box, which includes the following extras:
Spare Glass Tank
Spare SMOK Baby Beast Seals
Spare Baby Beast Coils – 2
Manual
Warranty Card
Battery Safety Card
That's quite a lot of nice extras for a budget mod. Especially when you factor in that SMOK is throwing in the SMOK TFV8 Baby Beast as well.
SMOK AL85 Kit Review: Design
The SMOK AL85 looks and feels very much like you'd expect – a smaller, more pocketable Alien 200W mod. It has similar styling, similar colouring and a familiar overall finish, though it actually more closely resembles the iStick Pico.
This kind of mod is ideal for stealth vaping, though those that chain vape should proceed with caution, as battery life on these teeny mods is never great.
For someone that's more casual, the SMOK AL85 will be a fine choice. I do enjoy these smaller mods when I'm travelling, or, joining friends for drinks at a bar, as they're more subtle.
I also love that this mod is available in a myriad of colours, as it allows you plenty of options when it comes to customisation. SMOK is doing this with a lot of its mods now and the reason why is simple: consumers love it.
The SMOK AL85 mod itself is well put together, sturdy and it fits really nicely inside one hand. I was kind of apprehensive about this mod at first, but after living with it for a week or so, I get it – smaller is sometimes better.
The Baby Beast screws on very smoothly and effortlessly. The battery cap is smooth and fits flush to the AL85 itself.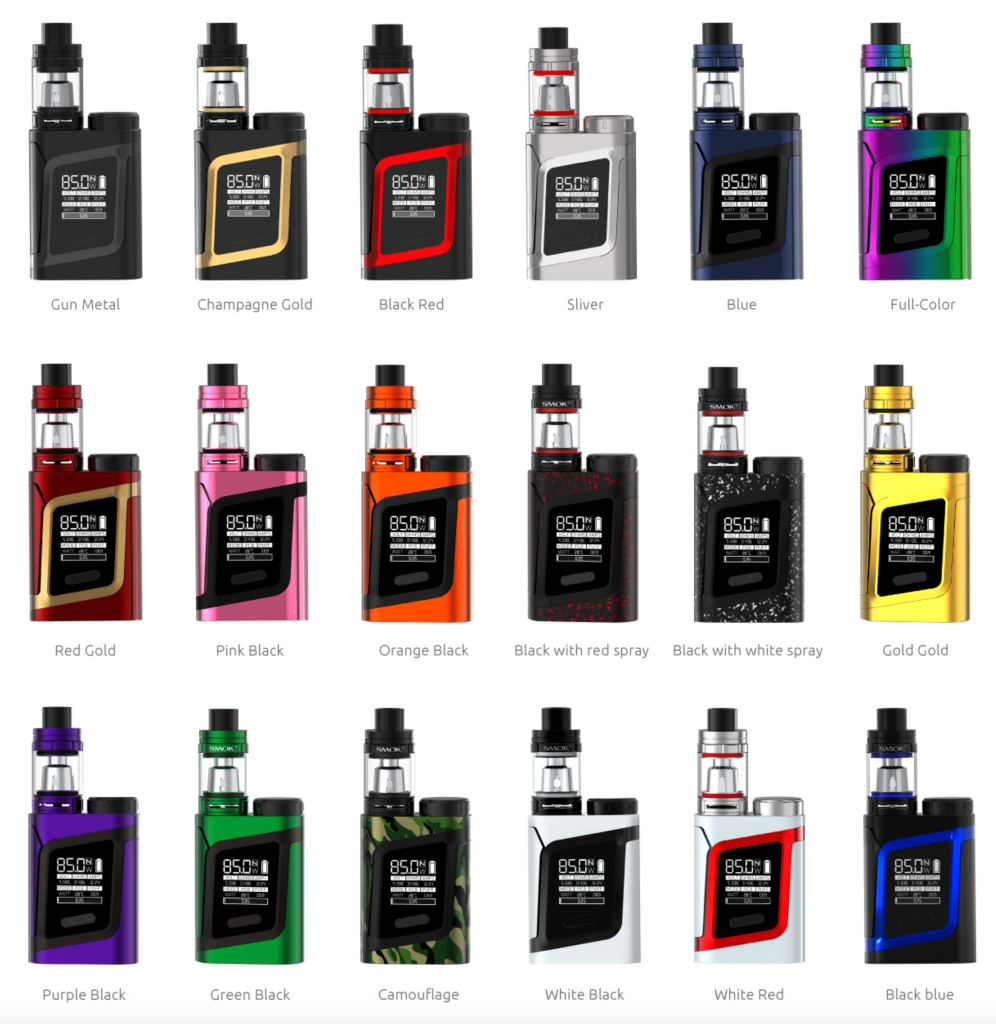 Pin
The fact that it comes with the amazing SMOK TFV8 Baby Beast tank is just the cherry on the cake. That thing vapes like an absolute monster and, when combined with the AL85's very impressive power (for its size), you're in for a real treat when vaping with this kit.
Like the SMOK Alien 220W, the SMOK AL85 features the same trigger fire bar as well as the Hard, Soft and Normal settings from the Alien's chip. These basically alter the style of vaping you can do on the mod; Hard is a quick ramp up, while soft is more gradual.
The display is dimmer than it is on the SMOK Alien 220W, but this is a cheaper, smaller mod, so you have to expect concessions somewhere.
SMOK AL85 Kit Review: Performance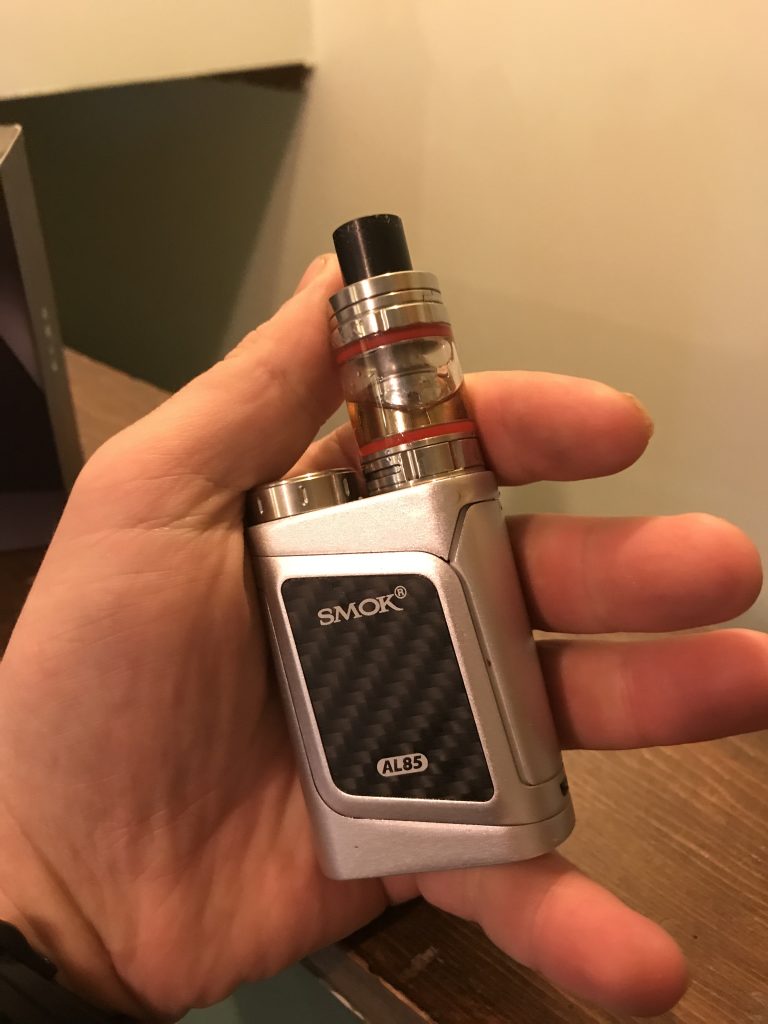 Pin
After inserting a fresh 18650 battery (the AL85 is a single cell mod) and screwing down the battery cap I did the five clicks to power on the AL85 and the screen powers up identically to its bigger brother, the Alien.
I turned my wattage right up to 50W, having previous experience with the Baby Beast allows me to know what I enjoy. As soon as I pressed the firing bar the Baby Beast came to live in just under a second. Amazing performance right from the start!
All the buttons on the SMOK AL85 are very responsive and have a nice clicky feel to them. The screen is bright enough, though there is A LOT of information on there and it can get a little confusing – especially if you're a newbie vaper.

Pin
Beyond this, the SMOK AL85 performed like a champ. Throughout my two weeks with the mod, I experienced ZERO issues with ramp-up times, misfires and shorts.
SMOK's latest generation of chipset, in my experience, is very competitive. I have had few to no issues with all of the company's late-2016 and 2017 releases.
Ramp-up time is superb, as is accuracy. TC mode can be a bit squiffy on some, but for the most part it works fine – not that I use TC mode much.
Essentially, the SMOK AL85 is a smaller, less potent version of the ALIEN 220W. It's designed for stealth vaping or those that don't want a massive mod. Either way, it works in both instances.
As for the Baby Beast… It's a solid, small, and powerful sub ohm tank that mimics its big brother, the SMOK TFV 8.

Pin
Providing big clouds and great flavor using lower wattages and saving you eLiquid is what the Baby Beast is all about. No more need for 100+ watts just to achieve those big clouds. Simply turn your device to 50W and watch as the clouds roll out and the flavor fills your month.
SMOK AL85 Kit Review: Battery
The SMOK AL85 runs on a single cell. That's not great for chain vapers, to be honest, as you can run this thing down pretty fast, especially if you're operating at the higher end of its performance curve.
Having said that, I do think this mod is positioned at a different type of user than your traditional Alien freak. This type of setup is more laid back, more relaxed. It's about enjoying what you're doing and not burning through 30ML of E Juice a day.
This is a performance kit, don't get me wrong; it's just that compared to the Alien 220W and the SMOK TFV12, it's a lot more laid back. Sort of like a 2-litre BMW 320i vs a 5 litre BMW M6 – they're both great, but one can seriously perform when called upon to do so.
SMOK AL85 Kit Review: Final Thoughts
This is a great vape kit. No question about that. It looks great, works great and functions brilliantly. I literally have nothing bad to say about the SMOK AL85 – it really does tick all my boxes.
If you're a more casual vaper, this is the mod for you. If you're more concerned about how much you're spending on E Juice over the size of your clouds, this is the mod for you.
If you want something that packs more of a punch, you should probably be looking elsewhere – something like the SMOK T-Priv 220W or the SMOANT Charon 218W box mod.
As a happy middle-ground, this setup, alongside mods like the Vaporesso Nebula and Attitude, is the perfect vape kit for the more casual vaper. If you're the type of person that vapes because they enjoy it but isn't necessarily bothered about having the biggest clouds in town, then I'd 100% check out the SMOK AL85 vape kit.
Drake Equation
Drake is the founder and editor of VapeBeat. He started the blog WAY back in 2015 when, upon quitting smoking, he struggled to find any useful information about vaping online. With a background in journalism and a newfound hobby on his hands, he set about creating VapeBeat – a blog all about making vaping simple to understand for new users.