SMOANT Ranker 218W Review: Big, Premium & POTENT!
By Drake Equation • Updated: 03/20/18 • 4 min read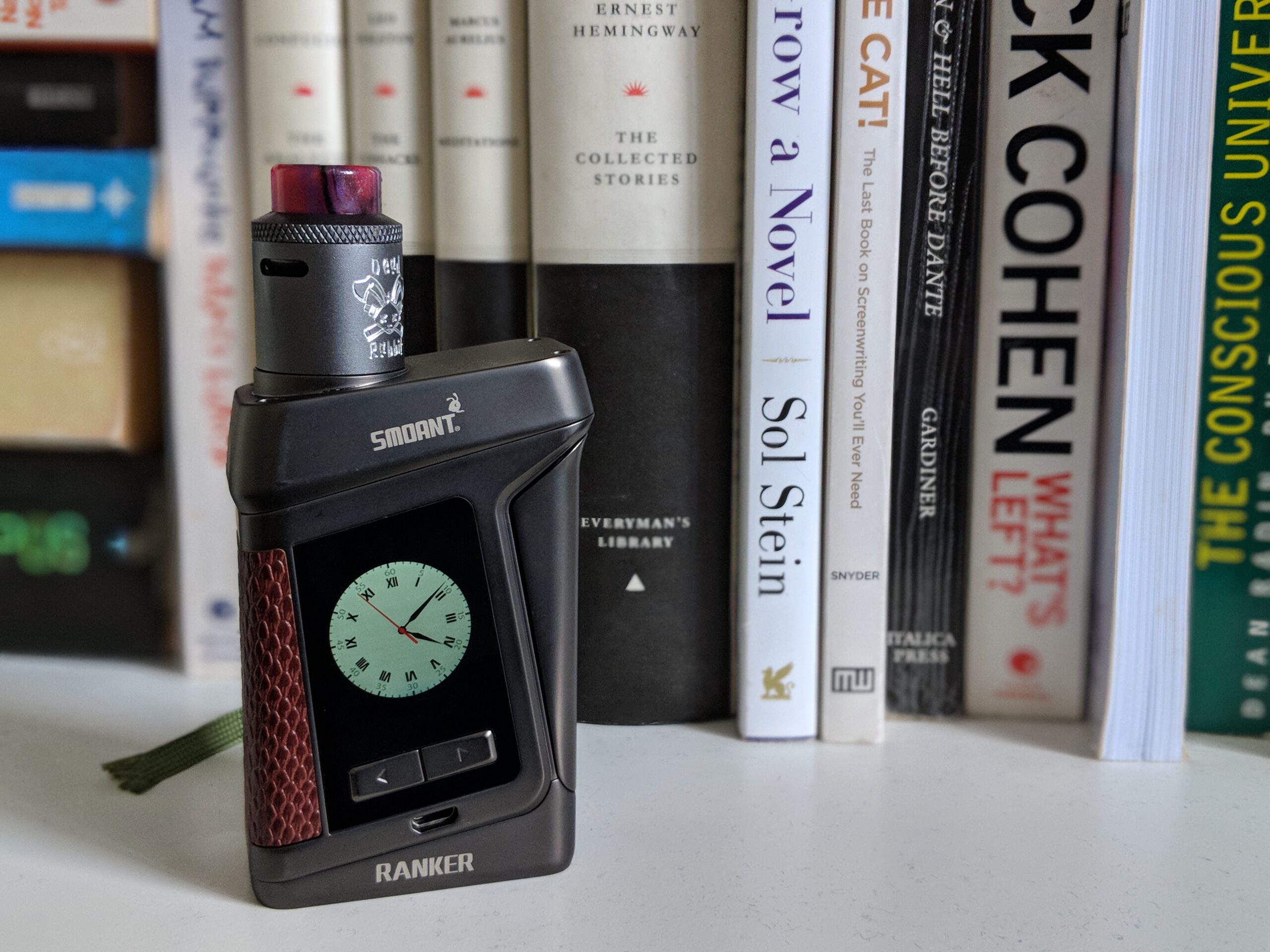 The SMOANT Ranker 218W is a new, HUGE mod from the always-awesome SMOANT… But is it any good? I just spent a month testing it out – read on for my full review
---
[letsreview]
---
SMOANT has been smashing it during the past 12 months. I've tested a bunch of their mods and almost all of them have been great, all round devices.
But the SMOANT Ranker 218W is the latest (and greatest?) – so how does it stack up?
Will it make it onto our Best Vape Mods Guide?
Read on to find out!
First, let's do a quick unboxing.
SMOANT Ranker 218W Review – Unboxing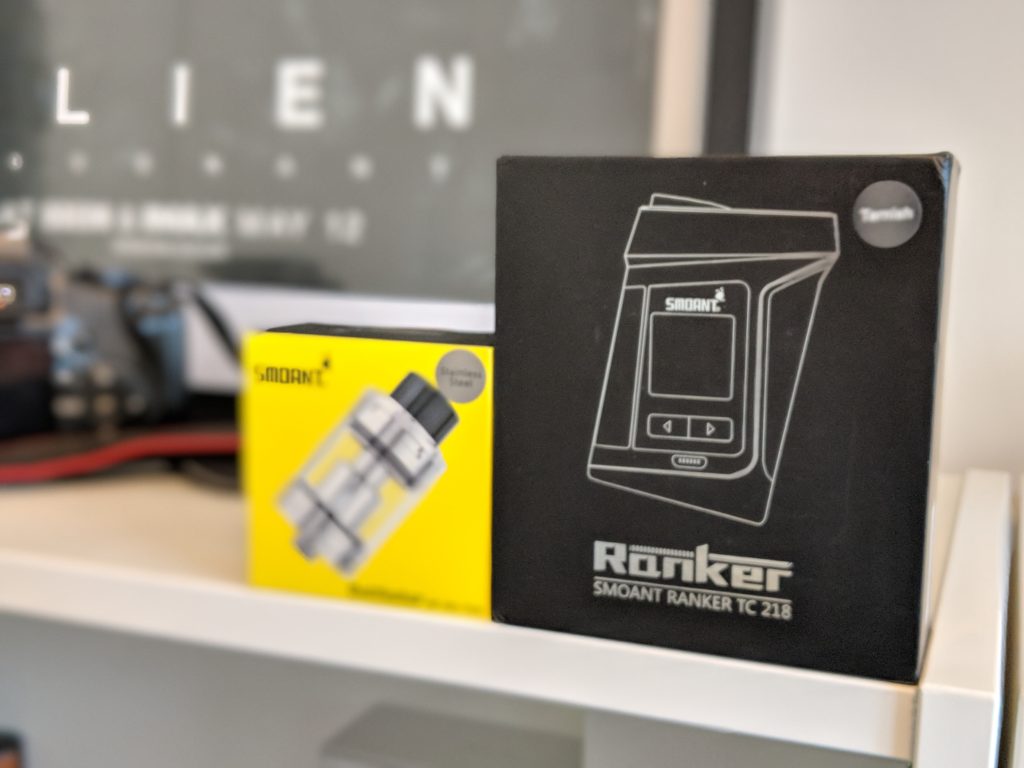 Pin
Like any vape company worth its salt, SMOANT always packages up everything in a very nice, pleasing-to-the-eye manner. The SMOANT Ranker 218W is no exception, coming in a premium-feel box complete with snug-fitting slots of the mod and the USB cable.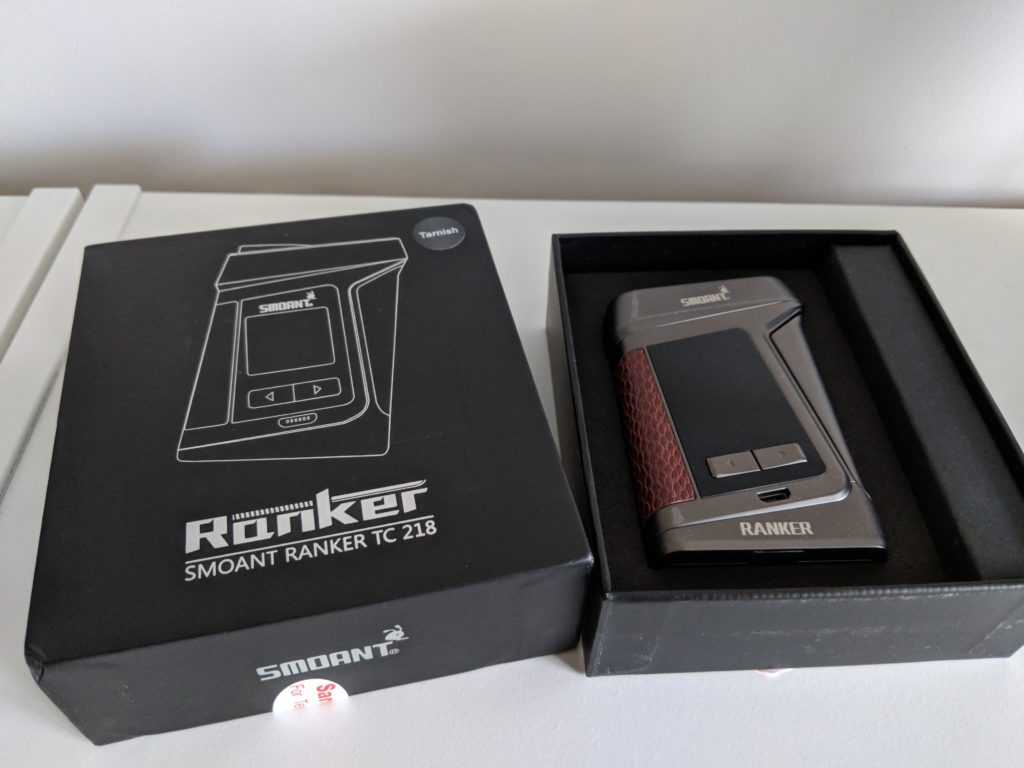 Pin
It's pretty spartan inside, however: just the SMOANT Ranker 218W mod and a little black box for the USB cable, which you use for updating the mod's firmware. And that is literally it. SMOANT is not messing around here and I like the simplicity of its approach.
SMOANT Ranker 218W Review – Design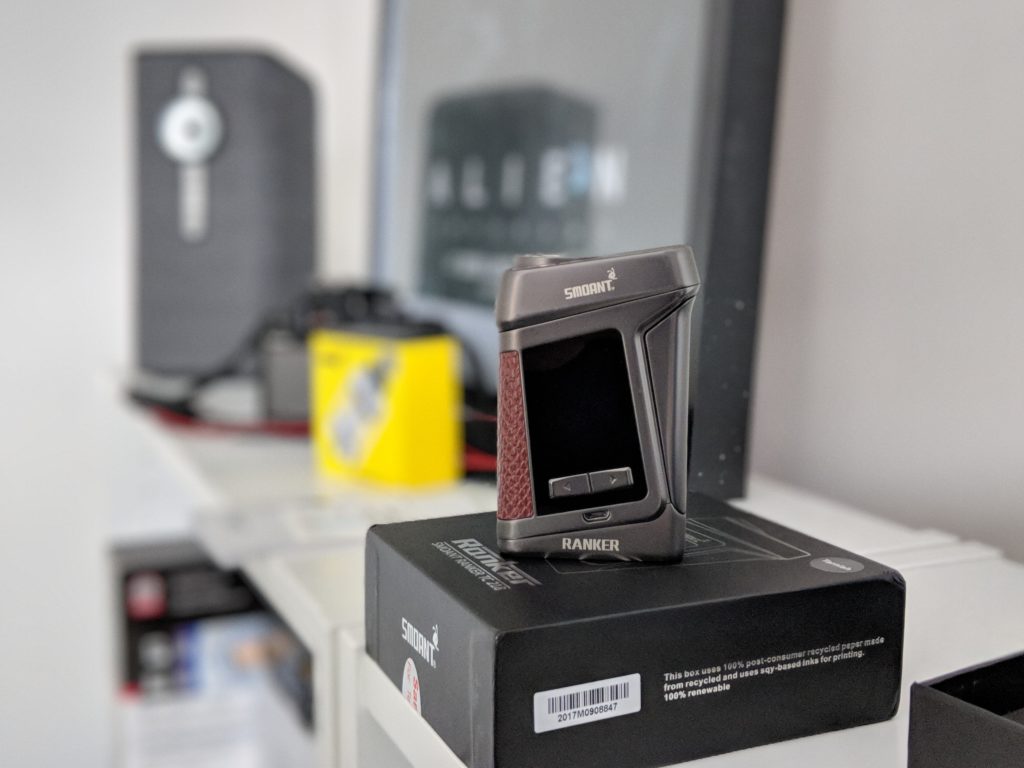 Pin
The mod is BIG. It looks domineering even in picture form on the front of the box, but nothing will prepare you for just how bad ass this thing looks in the flesh. Yes, it is very big. But, importantly, the styling is very much on point.
It kind of looks and feels like a premium, well-made SMOK mod. The entire right side of the mod is dedicated to a recessed fire bar. A gorgeous, 1.3in OLED display sits from and centre, and the left hand side and back panel features a soft-touch leather print.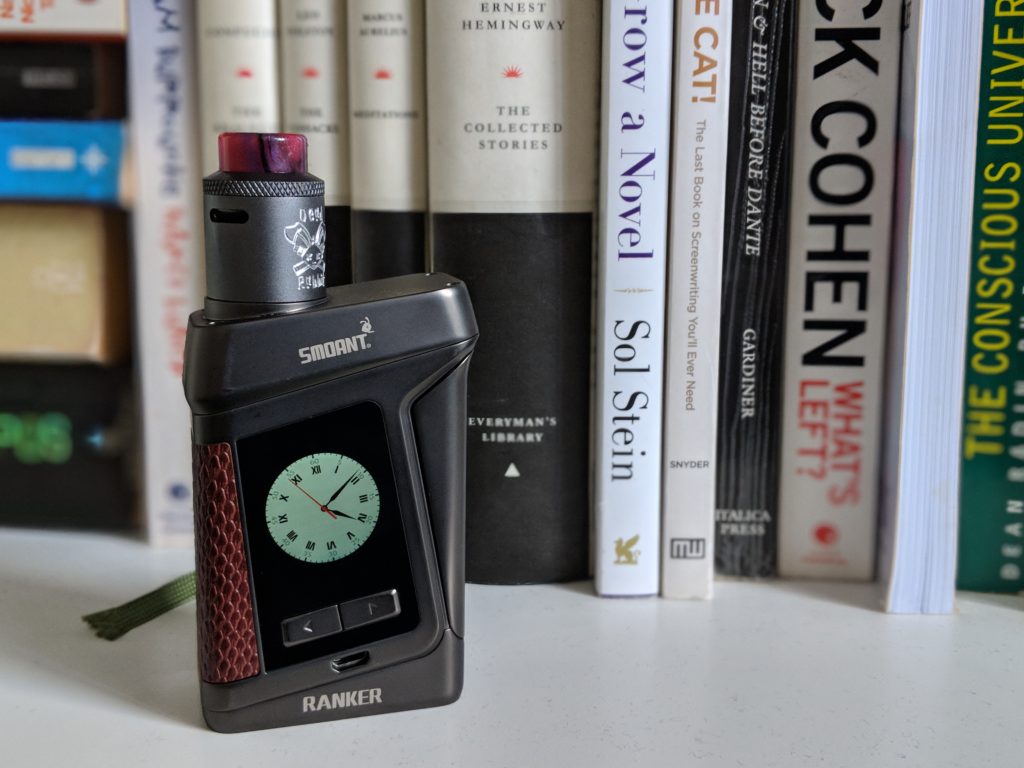 Pin
My SMOANT Ranker 218W is the Tarnish color option, which looks like gun metal to me, and the soft-touch leather accent is done in a dark, reddy brown. I really like the look of the SMOANT Ranker 218W.
It's not as fancy-looking as the ridiculously opulent ASVAPE Michael mod, but it is certainly stylish enough.
As soon as I unboxed it I knew I was in for a treat; the entire design just really pops. And it looks SICK with my gun metal Dead Rabbit RDA on top of it. Kind of like the handle of gun, just with a display set in the middle of it. Very, very cool stuff, indeed.
In the hand, the SMOANT Ranker 218W feels cool and premium. It has a nice weight and gravity to it that just screams luxury. Like the VooPoo DRAG, the SMOANT Ranker 218W feels extremely sturdy – like it could withstand a gunshot or being thrown against a wall, not that you would want to do this.
The SMOANT Ranker 218W has two buttons, located just below the OLED display, that are used to move up and down through the menus and the power settings. The UX is the same as the one on the SMOANT Cylon, meaning you're in good hands. Everything is laid out simply inside the UX, leaving you free to tweak your vaping experience with minimal fuss.
SMOANT Ranker 218W Review – How's It Hit?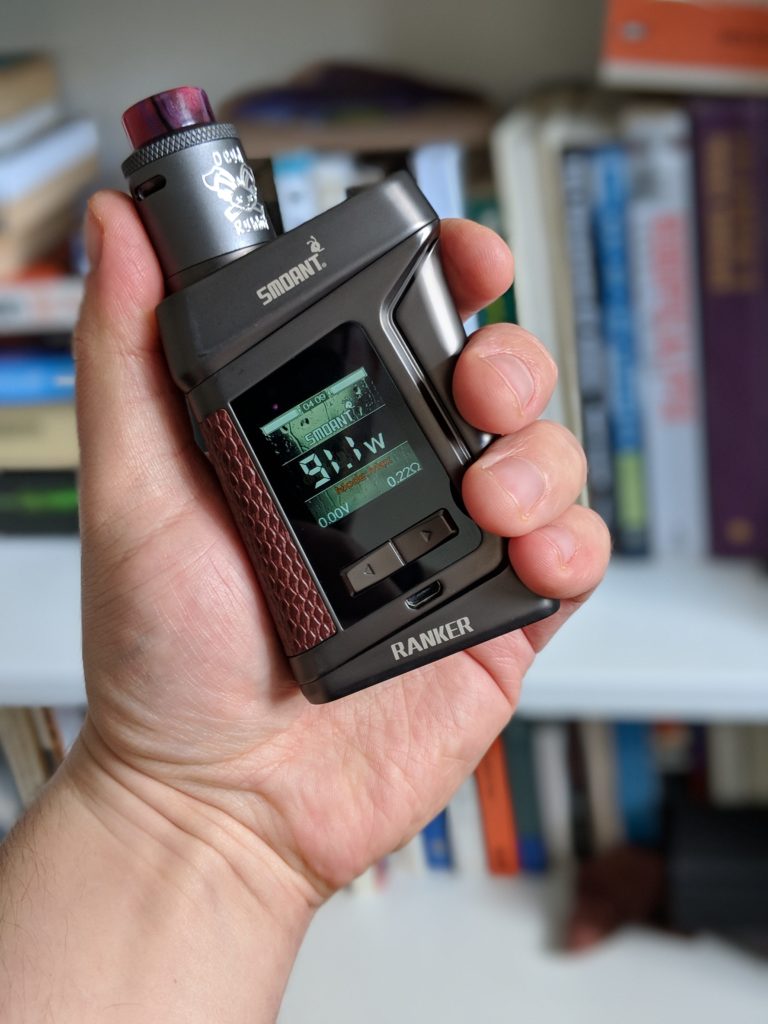 Pin
Pretty darn good. Like the SMOANT Cylon, it hits like a freight train more or less right off the bat.
The chip it uses (Ant 218 V2) is a very competent setup, with TONS of features which make it really easy to customise your vaping experience with things like wattage/temp curves and the like. Implementing these curves is also very easy, just a few clicks in the UX and you're away.
Personally speaking, I'm a bit of a purist – I tend to just vape in wattage mode with zero bells and whistles. This is just the way I like to vape; I like to keep things simple. But I do appreciate it when brands add additional features like this, as I know A LOT of vapers really enjoy using them.
The only thing that might put some off this mod is its design; it's big and chunky, and that might not suit everybody's tastes.
I love the way it looks, however, I also really dig the leather accent that wraps around the box.
It is big and it is chunky, but it's designed for hard-hitting tanks and RDAs. But if you're into things like that, you tend to like big mods.
If you like the way it looks, be sure to check this mod out. SMOANT makes some really great hardware, and the RANKER 218W is no exception 🙂
[letsreview]
Drake Equation
Co-founder and Editor of VapeBeat. I make the words.