Drew takes the completely unique Asvape Michael 200W mod for a spin to see how this unusual looking mod works in reality. Does it cut the mustard? Read on!
---
Asvape Michael Box Mod – Quick Verdict (80%)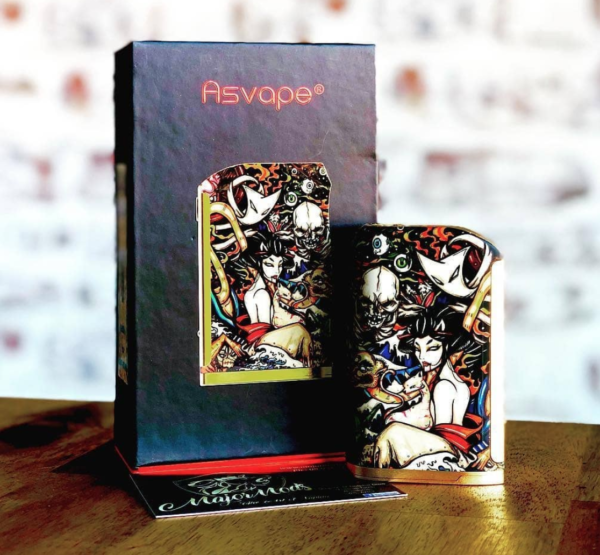 Asvape Micheal Pros
Totally Unique, Unlike Anything Else
Masses of Power (200W)
Full Temp Control & Bypass Street
Exceptional Safety Features
Perfectly Ergonomic
Ideal For All Styles of Vape Tanks
The Asvape Micheal is a completely unique mod. Nothing else looks quite like it and this, for me, is a very good thing indeed. You see, in a world where vape mods kinda all look the same, it's nice to have something truly unique-looking to fall back on.
But things aren't just skin deep here. The Asvape Micheal might look awesome, but it also performs brilliantly too with masses of power (200W) under the hood and a perfectly ergonomic chassis. You also have a full temperature control suite and Bypass Mode.
Basically, it's a kick-ass vape mod. And while there are plenty of those around these days, none look quite a good as the Asvape Micheal – it really is a law unto itself in this regard. And if that's your kind of thing, this box mod should be high on your hit list.
I cannot honestly recall ever testing a mod that gets quite so much attention from people. Friends, family members, random vapers on the street – they all wanted to know what the hell it was! And that's awesome and also entirely what the Asvape Micheal is all about: style, power, and uniqueness.
---
Full Asvape Michael Review – Specs, Design & Performance
This gorgeous piece of machinery might qualify as a "high-end" device to most customers, but it really doesn't break the bank by any means.
To me, the use of gold on a mod as a secondary material or color on a mod locks in this luxury feeling.
And the way it sits in the hand, it's just so comfortable and easy to hold. Yeah, it's a little big, but for anyone like me with meaty paws, it's perfect.
The designs on these mods are wild; the Devil's Night edition features some crazy artwork and the Walking Dead version looks like something straight out of a cartoon version of the hit show.
The stabilized wood edition (while it will run you an extra $140) is freakin STUNNING!
That being said, let's take a closer look into the design of the Asvape Michael VO200 mod.
DESIGN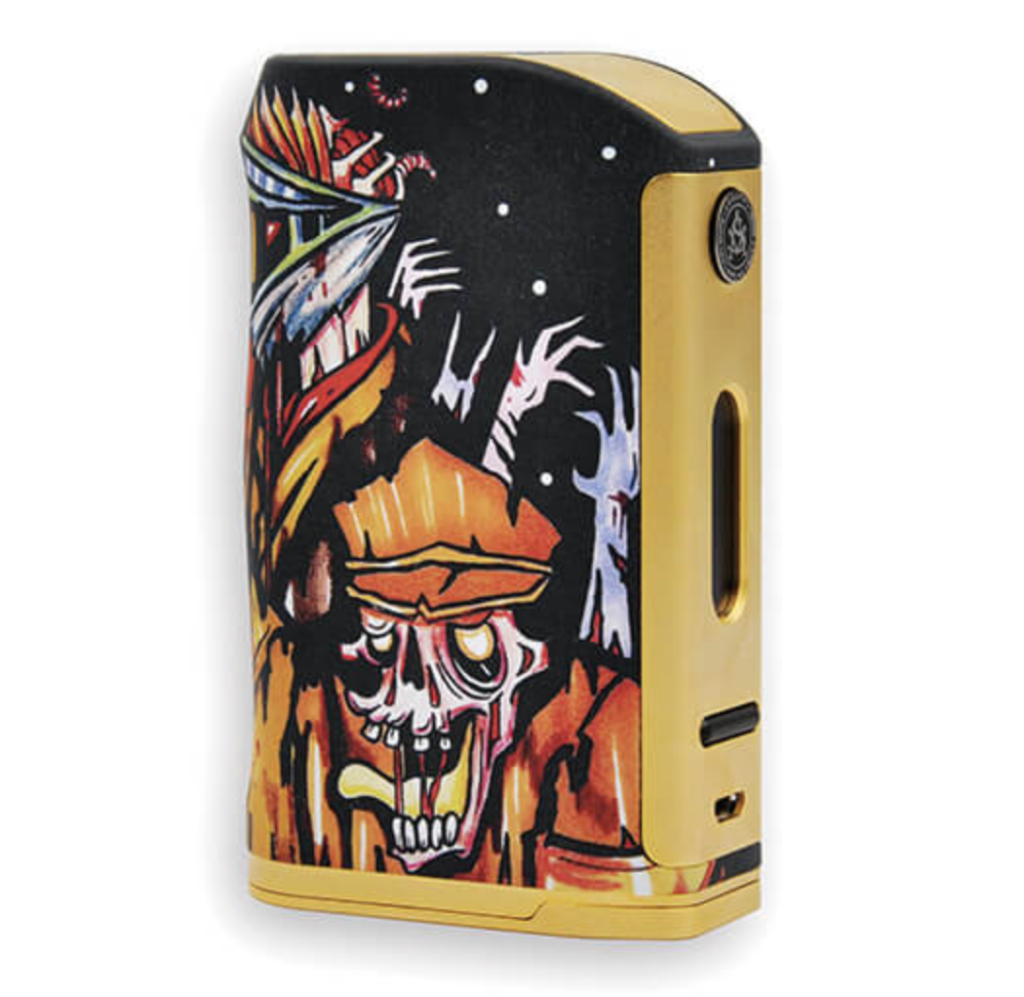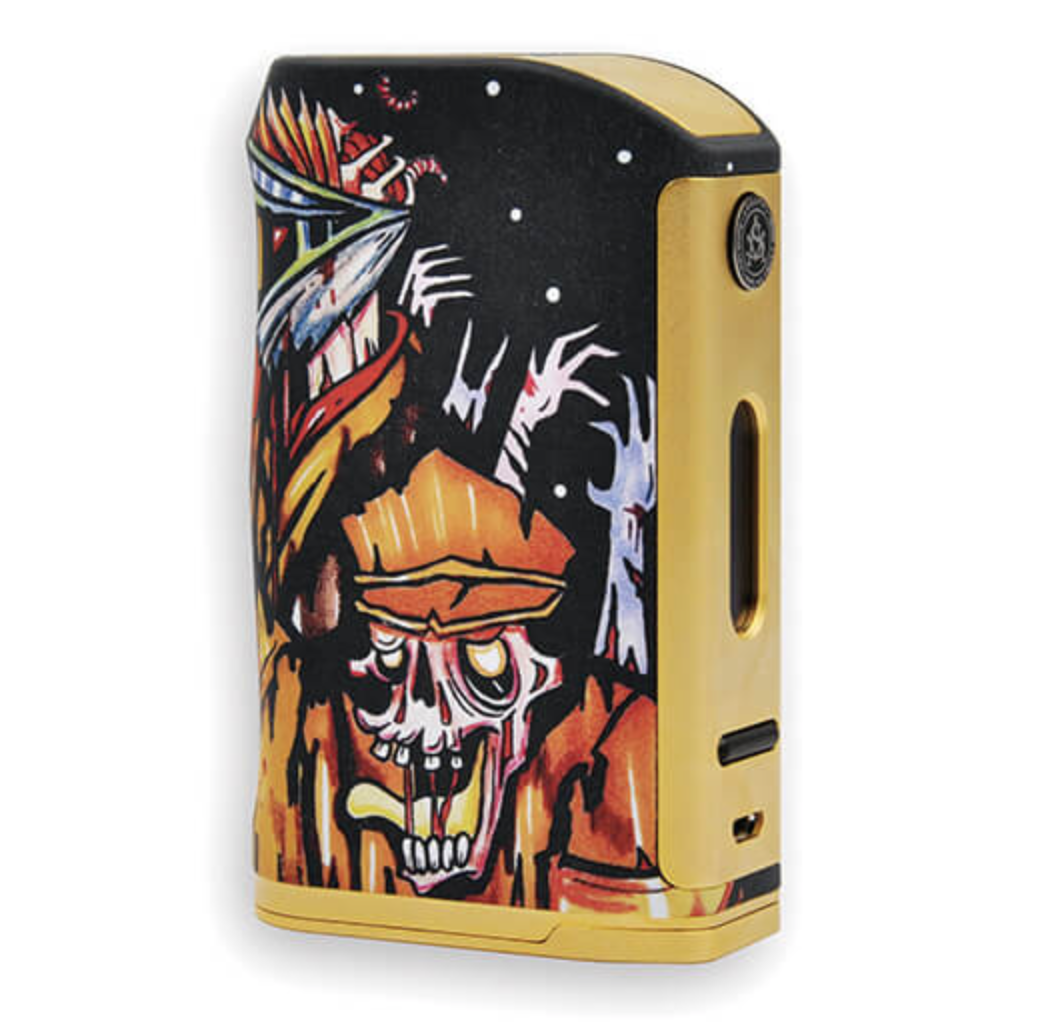 As I mentioned before, the Asvape Michael is a pretty good size, especially considering it only takes two 18650's.
The main event is how it looks. It is stunning to behold, even when compared to mods like the VooPoo TOO.
The full specs including the actual size can be found below:
Dimensions: 91.5mm by 60mm by 28mm
Dual 18650 High-Amp Battery – (Batteries Sold Separate)
Wattage Output Range: 5-200W
Min Atomizer Resistance: 0.08ohm
Temperature Range: 212-572F
Supports Ni200 Nickel, Titanium, and Stainless Steel
Advanced American VO200 Chip
Variable Power Control Mode – 5 Memory Bank
Comprehensive Temperature Control Mode
BYPASS Mode
Intuitive 0.91 Inch OLED Display
VO Editor Program – Custom Logo
Striking Graphic Design
Gold-Plated Accents Frame – Durable Zinc Alloy
Three-Button Operation
Engraved Firing Button
Sliding Magnetic Battery Door Cover
Anti-Dry Burning Technology
Low Battery Voltage Protection
Low Resistance Protection
Reverse Polarity Protection
Short Circuit Protection
MicroUSB Port – Firmware Upgrades
Spring-Loaded Gold-Plated 510 Connection
Starting at the top, the 510 connection is very solid, with no play in the threads. It also does not protrude at all, meaning any atomizer will sit flush on the device.
It's also 28mm wide, so my Vandy Vape Triple RTA (a 28mm tank) lines up perfect. The top face has a radius on the edges where the part with the graphic on it wraps around, but this radius is not exaggerated enough to look funky with a tank the width of the mod.
The 510 also has some nice engraving around it, the design is hard to describe so just take a look at the pic below, you'll see what I'm getting at. I LOVE little things like this, it just shows that the designer really took that extra time to make the Asvape Michael really unique.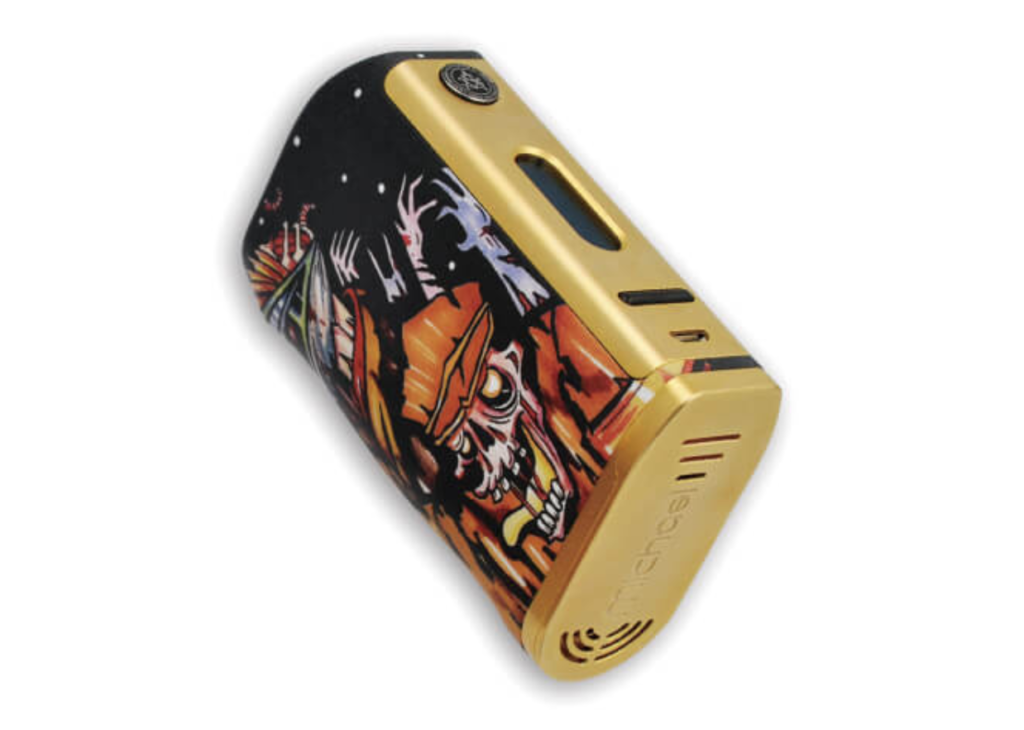 The artwork on the Walking Dead edition of the Asvape Michael mod (the one I received) is quite abstract and different from anything I've seen before. If you want a device that stands out, this is DEFINITELY the one for you. I think I must have gotten about ten comments on it the first day I was using it!
The battery door is probably my only design issue with this mod; it's just a bit funky and I think that the style of door found on SX Mini's mods is the gold standard.
It's just a simple spring-loaded door that stays open once it is unlatched, and has a feature which holds it in place when closed. However, for a simple sliding door that doesn't attach anywhere, they did a fairly good job. At least it stays in place and doesn't rattle around!
Personally, my FAVORITE thing about the Asvape Michael is the fire button. It's engraved pretty deep, so you can really feel the button when your finger is on it. On top of that, it provides a MEAN grip so your finger won't slip off in the middle of firing the device.
ASVAPE MICHAEL VO200 REVIEW: PERFORMANCE
Generally, the "high end" mods I see have a fairly limited chipset in them. The companies tend to focus more on the looks of their design than the inner workings and true performance of the device.
The Asvape Michael surely breaks this boundary; the menu is simple yet extensive. To move through the menu the fire button is used, while either wattage up or down button will advance within the selected area.

The custom wattage mode is FANTASTIC on the Asvape Michael as well. There are 5 sections which can be tuned to the wattage you desire to get that perfect rip, and I couldn't see a need for a longer hit than it allows for. I'm not into the temperature control game but judging by the custom setpoint wattage mode, the TC software is going to be very good.
The only thing I think could be improved is the size of the batteries. Given that this device is 28mm wide, it could easily be redesigned to accommodate bigger (think 20700, like the batteries I reviewed in the Captain PD270 article) batteries, and a sleeve could be included for the 18650 batteries.
ASVAPE MICHAEL VO200 REVIEW: FINAL VERDICT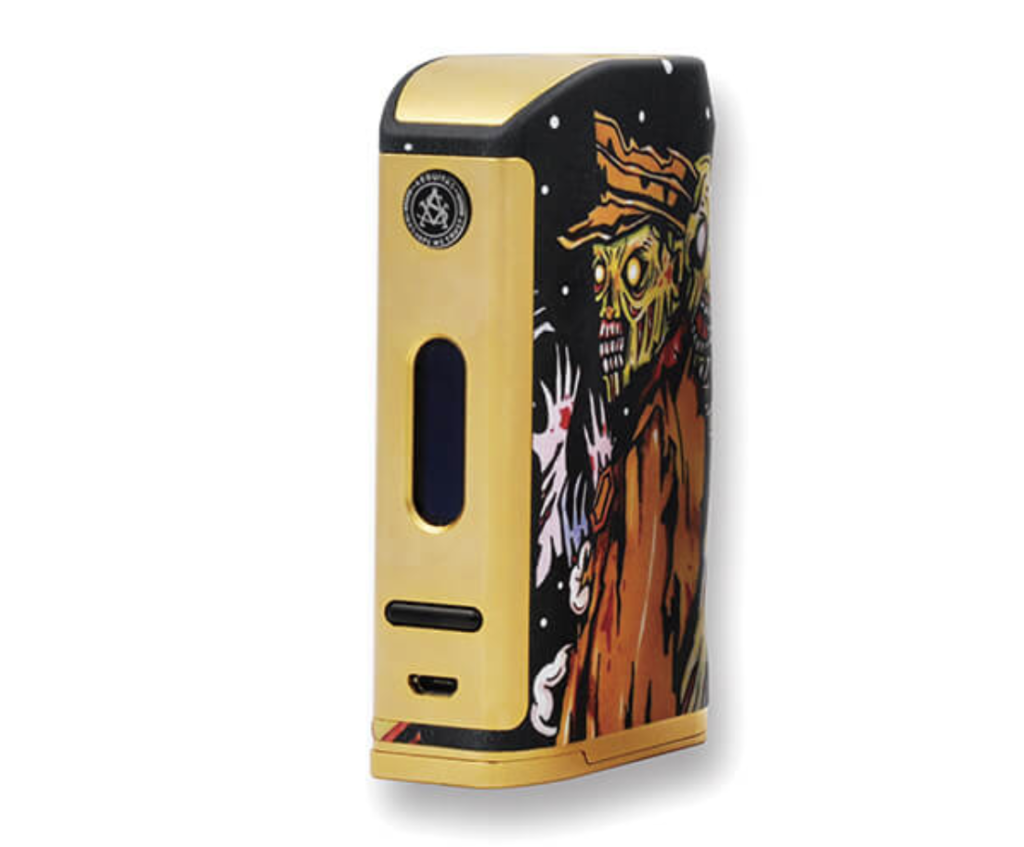 In the world of luxury vape mods, Asvape is one of the well- known brands and with the release of the Asvape Michael, they continue to stay in this category.
The gold accents combined with the beautiful abstract style artwork and little fancy design considerations such as the fire button do the talking here, and I love what they have to say.
This mod is gorgeous, and I would highly recommend picking one up if you're after something a little bit different for your next device.
This is why it was included inside our Best Vape Mods Guide. It's unique, powerful, and perfectly executed.
What more could you want!?
Drake Equation
Co-founder and Editor of VapeBeat. I make the words.