Rincoe is a fairly new vendor in the vape game with only a handful of products on the market. The Mechman 228w was what put the spotlight on them as a solid consumer-level box mod with great designs. Rincoe also made a lesser-known AIO device called the Tix. A weird name with an interesting design, it begged investigation.
---
Rincoe Tix Review Verdict – 85%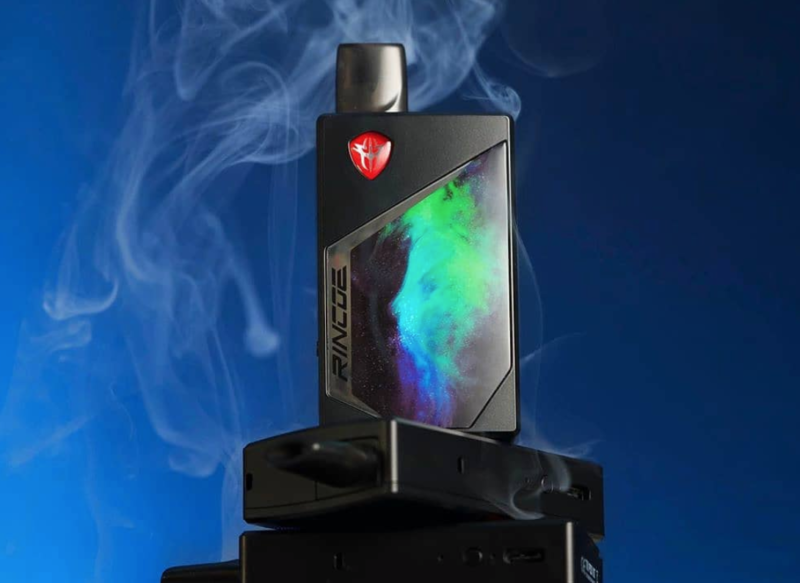 Best Price? $40 – HeavenGifts
Rincoe Tix Pros:
Build quality
Looks and feel
Updated coils are amazing
Fairly priced
Adjustable airflow
Leak-resistant
Good battery life
Rincoe Tix Cons:
Previous generation coils are poor. Make sure you get the updated coils
Fire button can be awkwardly placed for some
Some gurgling may occur
Pods can run dry as there is no way to see current juice level without removing the back cover
Best Price? $40 – HeavenGifts
---
Full Rincoe Tix Review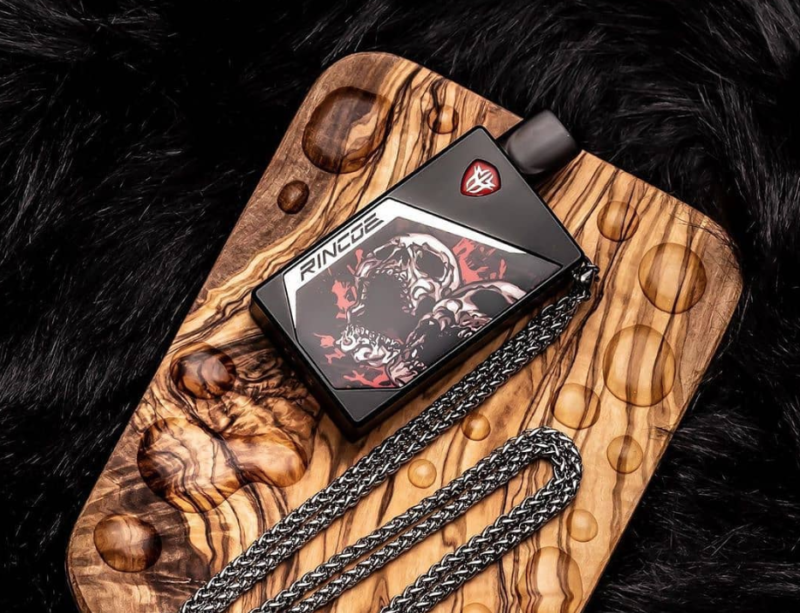 Design
When first looking at the Tix, one can't help but feel it looks oh so familiar. It's an AIO style system akin to the current Lost Vape Orion Plus and Orchid Ultra trend, but it's just a little different that it feels almost new, but it doesn't quite…there's something very familiar… oh, wait it's an Artery Pal!
MORE: Best Pod Vapes (UPDATED) 
In fact, the Tix is so close to the Artery Pal you'd be forgiven in thinking it's the Ed Hardy edition Artery Pal.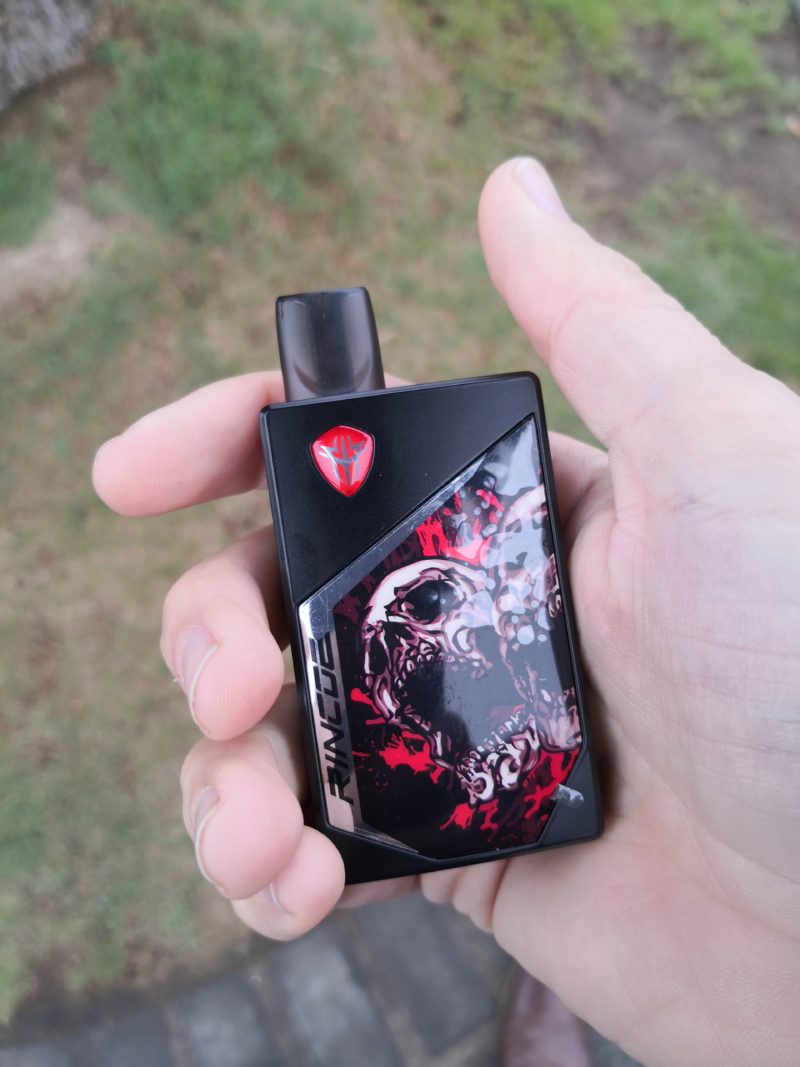 The Rincoe Tix is a miniature box mod (or all in one) style pod system with the pod housed within the body; a weird-looking, but seriously comfortable drip tip pokes out the top. The back panel is removable to give access to the actual pod and airflow. A red shield styled fire button sits comfortably on its side.
Other than looks, that's where the similarities to the Artery Pal end. The Tix features impressive build quality and feels solid in the hand; the nicest feeling, best built AIO system just slightly nudging out the OG Orion.
I've been rocking the Tix for a month, I'm hard on my devices, but I haven't been able to put as much as a scratch or dent on it.
Rincoe Tix Pods & Coils – Any Good?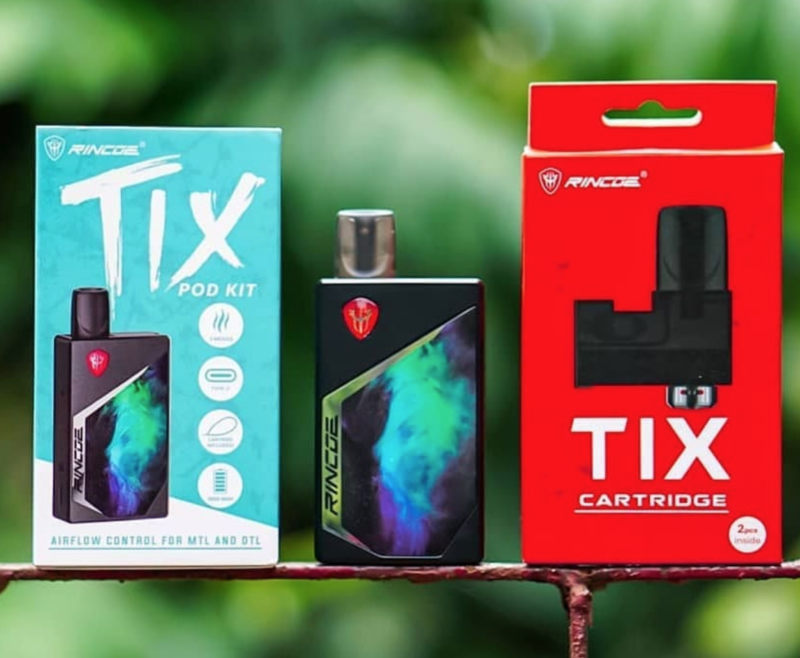 The Tix has 3 output modes, red (3.3v), blue (3.65v) and green (Full battery output). These represent the usual low, medium and high voltage modes with constant voltage output per mode apart from the green setting which will give you the maximum output based on your current battery level.
Battery life is adequate and charges fully (via USB C thankfully) in about an hour and a bit, but be careful, once the battery indicator goes blue, you don't have a lot of power left before that dreaded empty draw comes your way. The side panel has 2 LEDs that light up simultaneously to show both power output as well as battery life, quite a nifty way of displaying your vitals.
The color schemes are certainly unique, not to everyone's taste, but thankfully, there are more color schemes available for those that prefer a more subtle device. Not all of the colors come from the Ed Hardy catalog thankfully, there are also Vast Sky, Flame, Galaxy, UK Flag, US Flag, Blazing Skull and Carbon Black versions available.
The Galaxy Edition looks amazing.
The Tix comes packaged with two coils; a 0.8 and 1ohm piece. I tried the 1ohm coil first and wasn't immediately impressed. It vaped fine, but I was hoping for a little more flavor from the coil/device.
Rincoe Tix Performance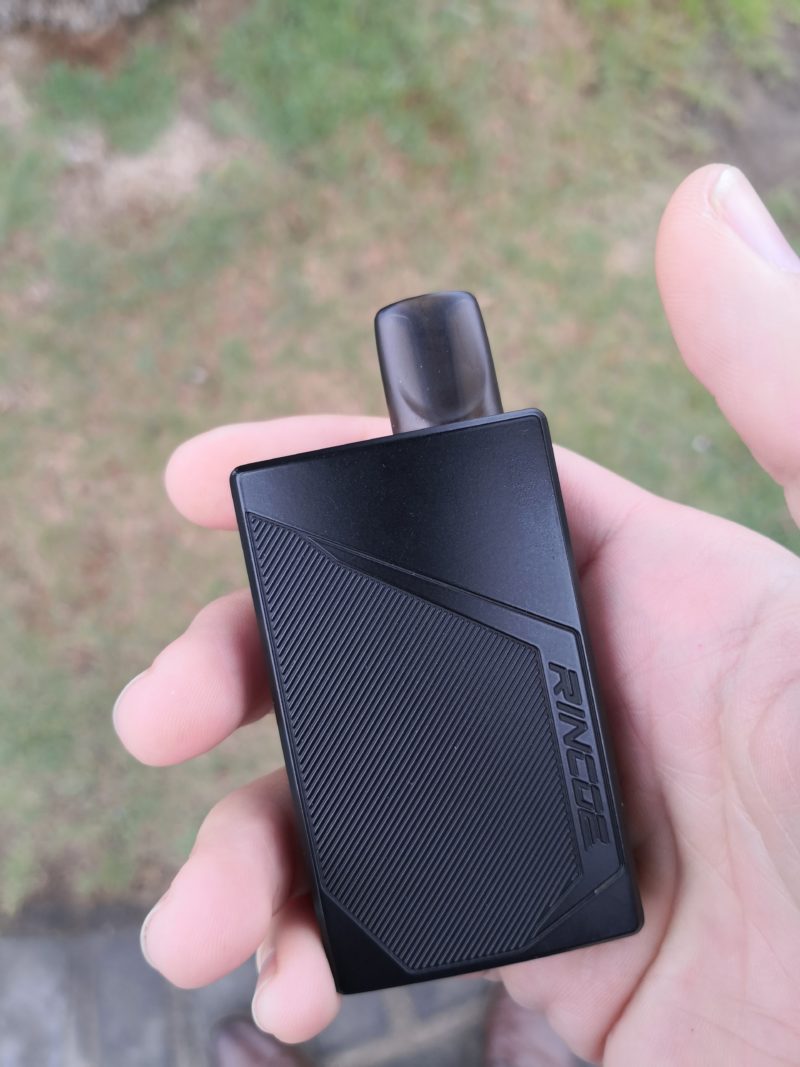 The coil lasted around 2 refills with an overly sweet juice before dropping off in flavor. Far from stellar and I hoped this wasn't all the device had to offer. Dumped the 1ohm and loaded up the 0.8ohm mesh coil. Immediately the flavor improved, but not as much as I had hoped for; perhaps the Caliburn had spoiled me.
Of bigger concern was the gurgling I was experiencing, an abnormal amount. Juice in mouth kind of gurgling. Somewhere, this thing was either leaking or the wicks were way too thin. I quickly contacted Rincoe and was told that they are aware of the issue and have updated not only the PODs (50% more translucent to see juice levels easier), but the 0.8ohm coil as well and would send me one of each.
Rincoe Tix Flavor Performance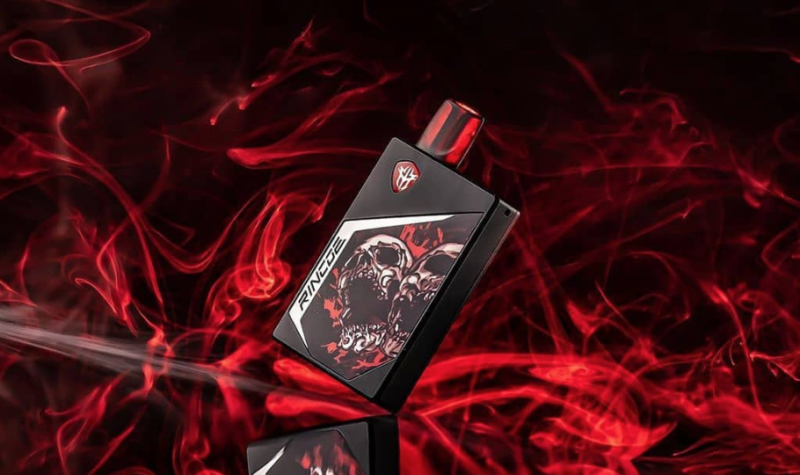 When the new coils arrived, I popped one in and OMG are these coils fantastic. I picked up my UWELL Caliburn and put the same juice in there, damn near identical. Can't be, I thought to myself as I pulled my trusty Suorin Air (The king of flavourful pods, prove me wrong) out of the bottom drawer.
Slightly better flavor from the same juice, but not by much.
This puts the Tix (with updated 0.8ohm coil) smack bang in the middle of the Caliburn and Air. Coil life was very good as well, estimate 20-30ml through a coil before dropping off, but wicking still kept up fine.
I'm assuming Rincoe increased the juice holes on the new pieces or they are using a better grade of cotton. Either way, the changes to the coils made a huge difference. The Tix also has adjustable airflow, as all pod devices should these days. Tight MTL to DTL, it's all there. I do however prefer the Tix closed off almost all the way with just a sliver of a gap open.
Now, this means nothing if you're not getting the updated coils for it, so make sure when purchasing. I did experience a little gurgling still when I let the POD sit for too long, but nothing to be concerned about. Spitback? None. I little leaking occurs, but because the POD is contained within the unit, your pockets always remain dry.
Conclusion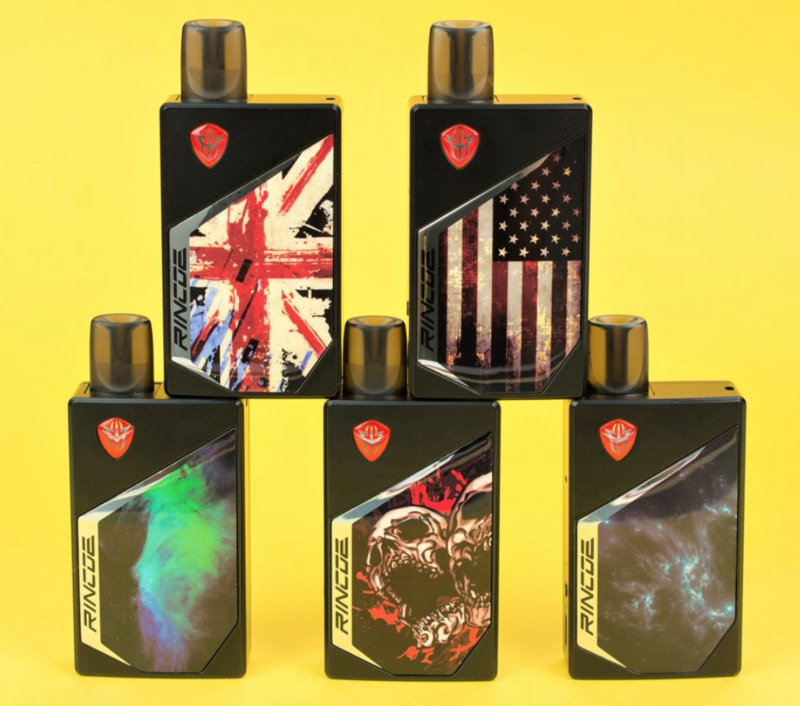 The Tix may be the visual similar to the Artery Pal, but it improves on nearly every area. The build quality is unbelievable, the (updated) coils are fantastic, superb flavor and longevity and the battery will last you more than a day.
For such a new company, Rincoe has done really well with the Tix. There are a few slight issues they need to improve on, but I look forward to seeing what they come up with next.
Best Price? $40 – HeavenGifts
Red
Internationally published journalist and reviewer, unofficially certified vape connoisseur. MTL, DTL, RDTL, Red takes it any which way