I own A LOT of RDTAs… but very few look and are as easy to work with as the OUMIER Maximus MAX RDTA
Prior to testing the OUMIER Maximus MAX RDTA, I'd never heard of OUMIER. Like a lot of vape brands, OUMIER is Chinese. They specialize in tanks mainly, though there is one starter kit available.
The brand itself, however, was completely new to me, so expectations were not high. Like not even close to being high.
Why? Simple: RDTAs are really hard to get right. There are a lot of moving parts and when they don't all come together seamlessly, the net result is never good. This is why RTAs are so annoying.
But like a lot of things in life – like when you go the cinema with your girlfriend, for instance, and she picks the film, but you actually end up enjoying it – I was pleasantly surprised by what I unwrapped.
The packaging the OUMIER Maximus MAX RDTA ships in is great; very high-quality, sturdy stuff. The box itself, which is yellow on black, is extremely eye catching and presents the brand in a very favorable light.
I actually thought they were a US company – it's really that well packed.
Inside, more of the same: everything is held in place with foam placeholders, you get a spare, clear tank, in case you don't like the off-yellow one, spares for all the ports, a mini screwdriver, two coils and even some organic Japanese cotton.
Basically, you get an excellent haul of goodies with this tank.
OUMIER Maximus MAX RDTA Review: Design
But where the OUMIER Maximus MAX RDTA really comes into its own is in the looks department – this tank looks great. Like really great.
I prefer the way it looks to my GAIA RDTA – high praise, indeed – and, because it is easier to build on and wick, I tend to use it more often. Again, high praise.
The build quality is exceptional, some of the best I have seen to date. You can disassemble and reassemble it with zero fuss, as everything is precise and slots and slips into place with a satisfying smoothness that is sorely missing on all too many tanks these days.
The drip tip and removal chamber are made from Ultem, while the rest of the tank, including the deck and ports, is constructed from stainless steel. My review unit was the black version, though you can pick the OUMIER Maximus MAX RDTA up in silver too.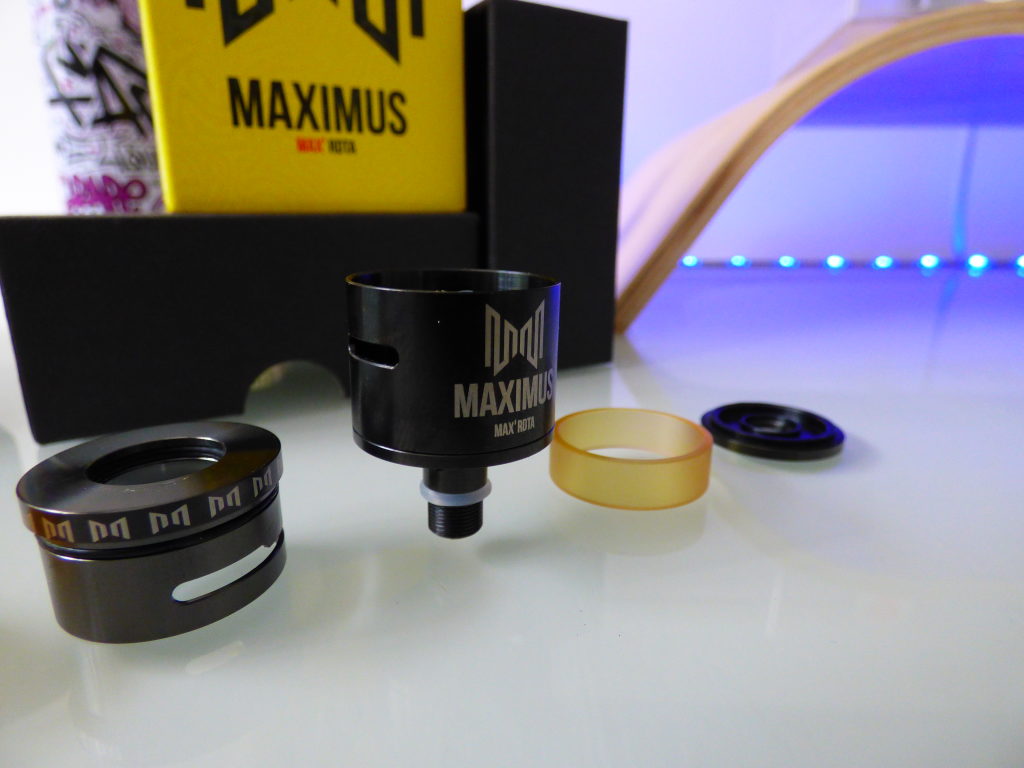 You control the airflow by twisting the top section of the tank; this changes the size of the air holes, and you can get pretty precise with it. The mechanism is super-simple, as it uses parts of the tank itself to block or clear space for air, and because it's at the top, you get less leakage.
There is A LOT of branding on this tank. A MAXIMUS logo sits on both sides of the tank and there are a number of smaller "M" logos around the top. Personally, I don't mind it; though, if you're the type of person that prefers a logo-less tank, then this might not be one for you.
The OUMIER Maximus MAX RDTA measures in at 32mm tall and has a diameter of 24mm, meaning it'll sit fairly pretty on most mods. I tested it on my SMOANT Battlestar and it looked superb. Ditto for the VooPoo Drag and Vaporesso Nebula.
The deck is a large, Velocity-style setup and it is super easy to build on – like super, super easy. The post design is very well executed here, adding to this tanks appeal.
The holes are big enough to accommodate any thickness of wire and there is also a good amount of space between them (6mm), meaning setting up a couple of new coils and wicking them is very simple.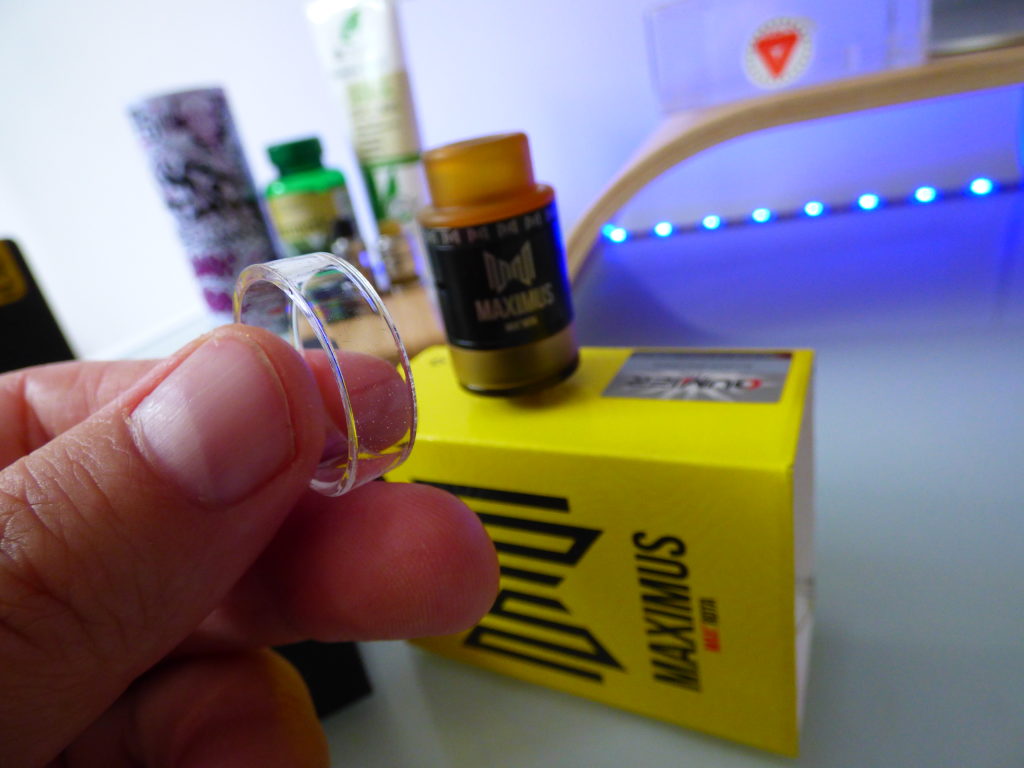 As far as building goes, I'd have to say this is one of the easiest tanks I have ever worked with. The wicking holes are well placed and a decent size, meaning everything juices up just as it should.
I haven't had one dry-hit from this tank, and for me, that is very rare. It also doesn't leak very much compared to a lot of RDTA tanks I've come across. To ensure it never leaks, simply close the airflow when you're not using it. Do this and you will never have a single leak (providing you set it up correctly, that is).
You also have a very well integrated fill-hole located on the deck, just between the posts. The fill-hole is lined with what looks like plastic. You enter juice here and it fills the 3ml chamber at the bottom.
Personally, I love this style of refilling on RDTAs, as I tend to always use Unicorn bottles. The only real downside of this method of refilling is that Gorilla bottles do not fit, so if you do by this tank you will definitely have to invest in some unicorn bottles to refill it.
Aside from this, and believe me, I tried, it is really hard to pick any faults with the overall design and packaging of the OUMIER Maximus MAX RDTA. Even more so when you factor in its cost, which at $19.99 makes it easily one of the best value RDTA setups on the planet right now.
OUMIER Maximus MAX RDTA Review: Specs & Features
PEI drip tip (suit for 810 drip tip)
Capacity: 3ml
Top central hole filling, simple and convenient
Big post hold, suit for any kinds of coils
The first square liquid guiding hole
New airflow design, three adjust modes
510 threading connection
24mm overall diameter
OUMIER Maximus MAX RDTA Review: Performance
OK. The OUMIER Maximus MAX RDTA costs just 20 bucks, which, to me, seems very cheap for an RDTA. A little bit too cheap, perhaps? But as I said at the beginning: this thing is full of surprises.
Not only does it look great and come in excellent, well thought out packaging, but it also vapes like an absolute boss. The flavor, once you swap out the shitty coils it ships with, is very decent and the clouds are as you'd expect from a decent RDTA (pretty massive).
The beauty of the OUMIER Maximus MAX RDTA for me, really, is just how simple it is to setup and then, once it is setup, how well it performs. It never overheats, seldom leaks, and provides super consistent performance across the board when paired with a decent mod. And it only costs $20!
It's this last part I really can't get my head around. I've spent untold sums of money on numerous tanks over the years, a lot of them were very expensive, and only a very few of them can hold a candle to the OUMIER Maximus MAX RDTA for overall usability and performance.
I've run it on multiple mods, installed numerous types of coils, and the OUMIER Maximus MAX RDTA takes everything in its stride. Just wick it and vape – it's really that easy.
I love my GAIA RDTA to bits, but since I've had the OUMIER Maximus MAX RDTA up and running, I've hardly touched it. The main reason for this is that I like to change my cotton every couple of days, and, as most of you know, this can be a pain.
With the OUMIER Maximus MAX RDTA, though, it's a breeze. You don't even have to think about how much cotton you use, just ram it in there and she'll vape like a champ.
Honestly, I've never come across an RDTA quite like this before.
OUMIER Maximus MAX RDTA Review: Would I Buy It?
HELL YES, I would. I'd buy two at this price, one in each color.
I know this was a bit of a gush-fest on my part, but I am genuinely excited by this RDTA. It is super cheap, super simple to work with, and it produces excellent flavor and clouds.
And for 20 bucks, that is a serious amount of bang for your buck, which is one of the main reasons this RDTA features in my current list for the best RDTA tanks you can buy right now. 
If you're looking for a solid, reliable RDTA to add to your collection, but don't want to spend a fortune, GET THIS TANK. I promise you, you will not be disappointed!
Drake Equation
Co-founder and Editor of VapeBeat. I make the words.