When it comes to small, portable vapes most people tend to think JUUL or RELX. But there are better options available – like the MOTI S-Lite
Quick Verdict – Is The MOTI S-Lite Pod Worth It?
If you're looking for a solid, reliable vape pen-style device with great battery life and a nice, pleasing design the MOTI S-Lite is definitely something you should be looking at.
RELATED: JUUL vs RELX: Which is The Best Vape?
Like JUUL and RELX, the MOTI S-Lite Pod is a closed-system vape. This means you have to buy packs of pods from MOTI – don't worry, though, it is a lot cheaper than JUUL.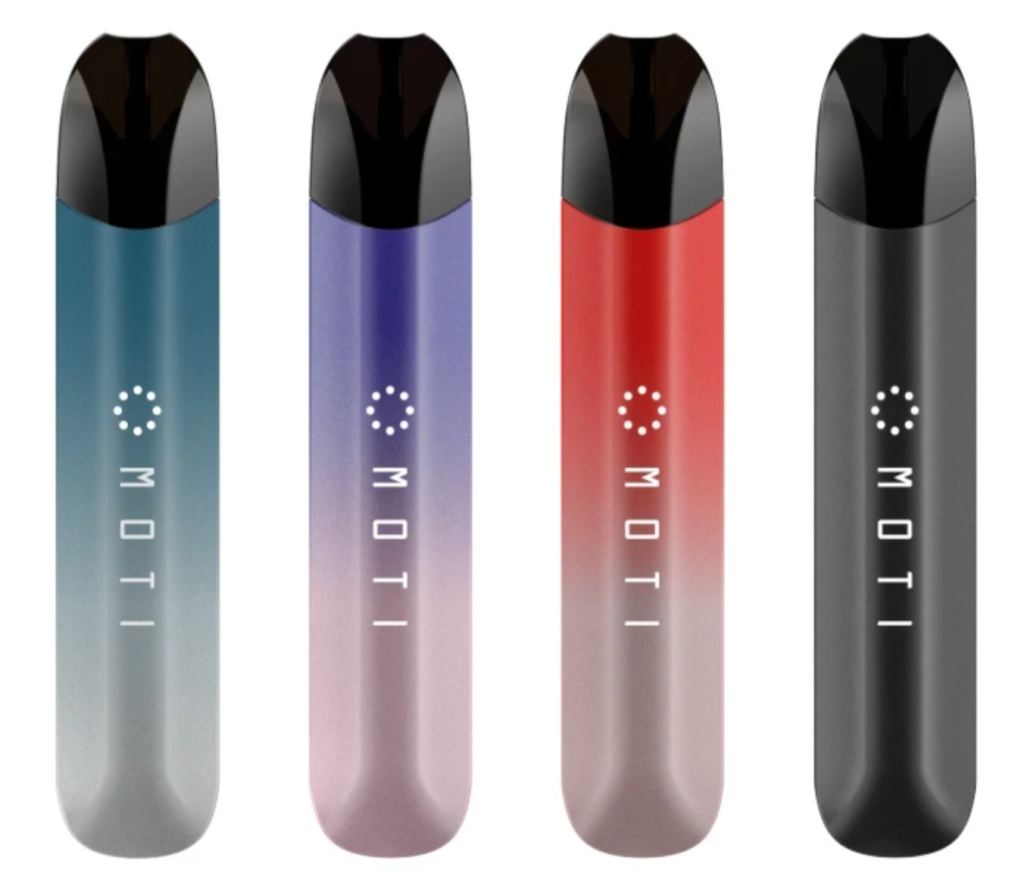 I've been using the MOTI S-Lite for about two months now and it has really impressed me. The flavors are decent, for the most part, although I really didn't like the coffee flavor pods (but I've yet to try a coffee-flavored vape that I do like)….
The thing that most impressed me about the MOTI S-Lite vape, however, is its battery life – it lasts for AGES. And when it does die, you can quickly charge it up via is USB Type C charging port.
The MTL draw is brilliant too; it feels just like a cigarette, as any good disposable should. In fact, it is as good as any pod vape I've tested in the last 18 months in this context.
Combined, all of the above adds up to a very good impression. And for this reason, I would wholeheartedly recommend the MOTI S-Lite to anyone that wants something simple like JUUL, just cheaper.
Is it better than the UWELL Caliburn G? No. But for a disposable vape, it is damn near perfect…
MOTI S-Lite Design
The MOTI S-Lite Pod is available in four colors: 'Knight Black', 'Sunset Violet', 'Lagoon Blue' and 'Flame Red'. They all look pretty good. MOTI sent me one of each and I think I like the Lagoon Blue the best.
The MOTI S-Lite Pod itself is very small, around the same size as the OG UWELL Caliburn. It sits neatly in the palm of your hand. It doesn't have any buttons, either – just inhale and it starts firing.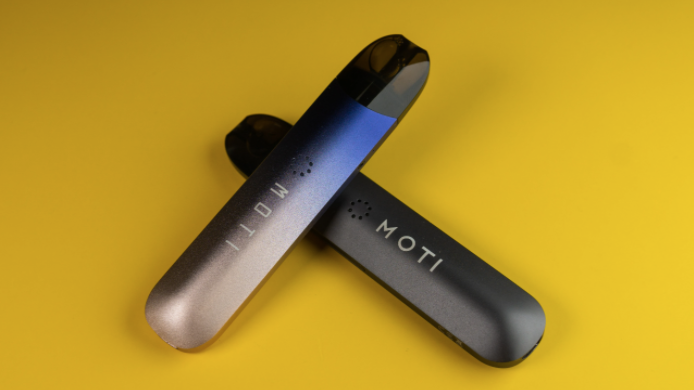 You have a USB Type C port on the bottom for charging, and that's about it. The pods pop off nice and easily. MOTI has added a vibration notification feature, whereby the vape vibrates once a new pod is inserted, this is there to tell you it is inserted correctly.
Once you've installed a pod, you're good to go. Just start inhaling and the MOTI S-Lite Pod will fire, delivering vapor into your mouth. In terms of overall design and functionality, I have zero complaints about this vape.
In fact, compared to vapes like the JUUL and RELX, it looks and feels positively futuristic. Bottom line? If you do want a premium closed-system vape like JUUL or RELX, do yourself a favor and get the MOTI S-Lite Pod instead.
MOTI S-Lite Specs & Features
Draw-activated
Internal 400 mAh rechargeable battery
Type C USB charging port
Haptic feedback
5 Layer leak-proof design
Aluminium Alloy + PCTG
6W – 8W smart wattage
Turbo wattage (8W)
LED indicator
Magnetic base connection to MOTI S Lite pods
Charge time: ~1 Hour
Dimensions: 20.98mm (W) x 13.49mm (D) x 108mm (H)
Weight: 27.5g
Up to 600 puffs per pod
1.8mL e-liquid capacity
Coil Resistance: 1.0Ω FEELM coil technology
MCU chip
Pre-filled pods for MOTI S Lite
Nicotine content: 20mg (2%) or 50mg (5%) Nic Salts
MOTI S-Lite Battery Life
The MOTI S-Lite Pod runs a 409mAh battery which, I agree, doesn't sound big or impressive at all. But I've yet to have even a single issue with its battery life. I used my pretty heavily when I first got it and it held up fine.
If you're going to be using the MOTI S-Lite Pod full time, you'll want to stick it on charge once or twice a day when you're not using it. If you do this, you'll never experience any battery issues.
If you're a light user, and you only use it on smoke-breaks, you will have no problem getting through an entire day on a single charge.
How many puffs do you get from the MOTI S-Lite Pod? Each pod contains 1.8ml of Nic Salts vape juice and you get around 600 puffs from each – or, put another way, 3X what you get with a JUUL.
MOTI S-Lite Flavors
The MOTI S-Lite Pod comes with a bunch of flavors for its pods. You have the following that are currently available, with more flavors coming in 2021:
Café Latte
Exotic Passionfruit
Tropical Pineapple
Chilled Time
Delight Mandarin
Fresh Mango
You can choose either 20mg and 50mg for your pods. Mine were all 50mg which, for me, is a little strong. If you're a super-heavy smoker looking to quit, 50mg will be fine.
If you're a light smoker, go with the 20mg – that's more than enough.
My personal favorite flavor? Has to be Fresh Mango and Exotic Pineapple – they're both delicious. If you like fruity vapes, I'd start with these. I wasn't keen on the Café Latte flavor or the Delight Mandarin. Chilled Time and Passionfruit were also pretty good too.
Wrapping Up…
Should you buy the MOTI S-Lite Pod? Well, if you're running a JULL or RELX vape and you want something, well… better, then, yes, you should definitely be looking at the MOTI S-Lite Pod.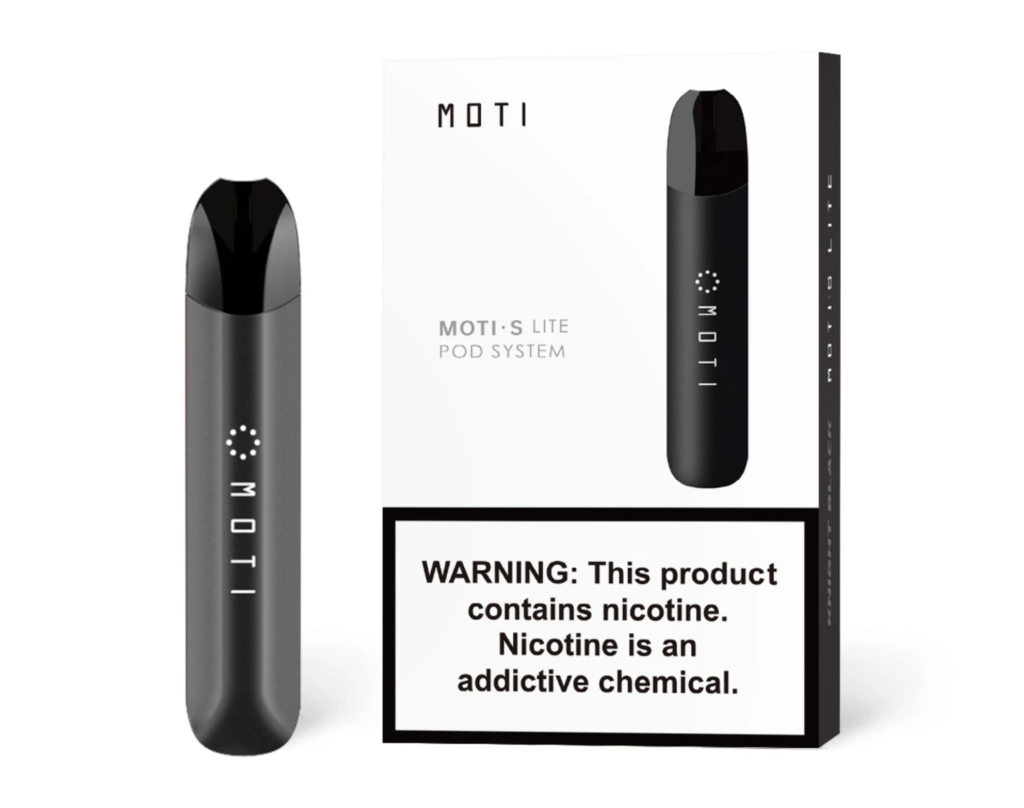 It has better flavor, better battery life, and it is cheaper to run than both the JUUL and the RELX.
I really like this vape, so it definitely gets a thumbs-up from me! You can grab yours here.
Drake Equation
Co-founder and Editor of VapeBeat. I make the words.