Disposable vapes are best when they don't try and be too fancy. And that's EXACTLY what makes the SuperGood Bar vape so damn likable…
---
If you like in the USA and vape, you will have come across VaporDNA at some point. VaporDNA is one of the biggest vape retailers in the country, serving millions of vapers every single year. And because disposable vapes are now so popular, VaporDNA has developed its own.
Called the SuperGood Bar, this disposable vape harks back to a simpler time in the disposables market. It is small, compact, cheap, and comes in a dizzying range of flavors. It doesn't support 5000 puffs, or even 3000, but what it does do it does very well indeed. It is an old-school disposable, essentially, like the first ones that appeared in 2019.
I've used hundreds of SuperGood Bar vapes over the past 18 months, so I know a thing or two about this disposable vape. If you're looking for a reliable, easy-to-use disposable vape – that isn't made in China – then you're in the right place. Strap in and let's go over what makes the SuperGood Bar cook…
SuperGood Bar Review: Design
As I noted in the intro to this review, when it comes to disposable vapes, simplicity is best. You want something that just works out of the box. You don't need any fancy bells and whistles – just good flavor and nice draw.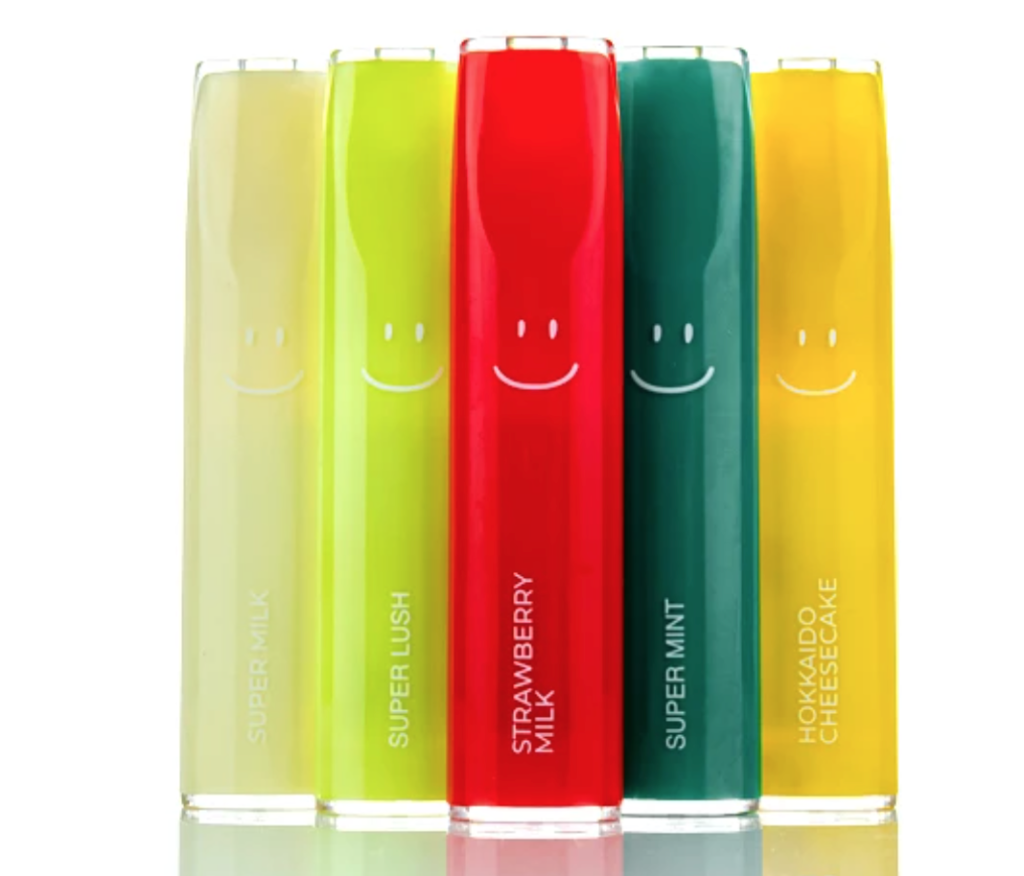 And that is exactly what the SuperGood Bar is all about. The device itself is very compact and comes in a range of fetching colors. It is made from plastic and the mouthpiece is really comfortable to vape on. As for its weight, you'll hardly notice it in your pocket.
The SuperGood Bar doesn't have any buttons, it's breath-activated, so all you have to do is bring it up to your lips and start vaping. That's literally it. There are no settings to worry about, no refilling. And when the SuperGood Bar is done, just chuck it in the bin and unwrap a new one.
SuperGood Bar Review: Flavors & Nicotine Strength
The SuperGood Bar is designed with taste and flavor front and center. As of right now, you have the following flavors to choose from:
My personal favorites would be Boba Milk, Strawberry Milk, Super Lush (it's a juicy watermelon-style favor), and Super Mint.
Because this is a disposable vape, a product designed to replace a smoking habit, the nicotine strength is reassuringly high – each SuperGood Bar contains 50MG salt nic vape juice. But because it is salt nic juice, it isn't harsh at all – in fact, it tastes quite the opposite and is wonderfully smooth on the inhale.
If you're currently smoking cigarettes, you need something with plenty of nicotine otherwise your cravings will get the better of you. You need something with 50MG of nicotine, basically. With this level of nicotine, your smoking habit will be crushed into submission from the first draw on your new SuperGood Bar disposable vape.
And once you've got your smoking habit dispatched, you can start to think about moving onto a more economical vape system like a refillable pod vape – check out 2022's best pod vapes for more information. But as a place to start your switch from smoking to vaping, the SuperGood Bar is an ideal first step. It will get you acquainted with vaping, get you off the smokes, and massively expedite the transition.
SuperGood Bar Number of Puffs
If you're seriously thinking about getting a SuperGood Bar, you're probably wondering how many puffs you get from each unit? The good news is you get PLENTY – 300 puffs or more. To put that figure into comparison, it is about 2.5 packs of cigarettes or an entire pack of JUULPods + a couple of additional ones.
This means, with the SuperGood Bar, you're getting plenty of bang for your buck – they only cost $5.99 each. Compare that to the price of a pack of JUULpods ($20) or a pack of smokes ($20-$25) and you're looking at some pretty hefty savings by making the switch. My only advice would be NOT to just buy one; get a few so when the first one runs out you're not left hanging.
How Long Does It Last?
How long does 300 puffs last in real life? As always, that will depend on how much you vape. Me? I vape a lot and I usually get through a SuperGood Bar in a couple of days. But if you treat it like a cigarette, meaning you're not vaping on it 24/7, you might be able to stretch it to a week. I have a few in my car, for instance, that have been in there for months, and they're still going strong.
You also don't need to worry about the battery either. The SuperGood Bar is designed to run out of puffs before the battery dies. And if you don't use the disposable, the battery will not consume any power. You will only tap into the battery life when you're actively using the vape. That's why the ones in my car are still going strong months later.
As noted in the intro to this post, I've used hundreds of these products over the past 18 months and I have yet to come across a faulty one. I cannot say the same thing about the vast majority of the other disposable vape brands I have tried, so kudos to VaporDNA for its next-level quality control in this regard.
SuperGood Bar Review: Should You Buy Them?
As you can tell, I'm a pretty big fan of VaporDNA's SuperGood Bar. It looks great, the flavors are amazing, and you get plenty of puffs (300+) and all for the lowly price of $5.99. For me, the SuperGood Bar is the perfect disposable vape. It does everything right and doesn't try to be something it isn't.
This is why it is currently listed in the #1 spot inside VapeBeat's guide to the best disposable vapes you can buy right now.
The SuperGood Bar is an excellent disposable vape that delivers spades of flavor, performance, and value for money. If you're interested in picking up a disposable vape, the SuperGood Bar is the ONLY one you should be looking at right now. Just make sure you buy a few of them, as you will get through very quickly – they all taste bloody fantastic!
Drake Equation
Co-founder and Editor of VapeBeat. I make the words.