Moreish Puff E Juice Review: Solid UK Vape Juice
By Drake Equation • Updated: 09/10/19 • 4 min read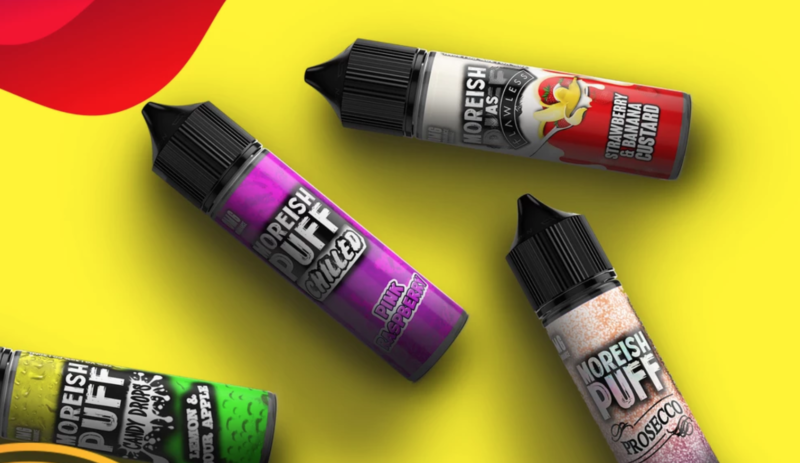 In the UK? Looking for solid, great-tasting E Juice? Moreish vape juice could be just what you've been looking for…
---
Moreish Puff E Juice Verdict – (90%)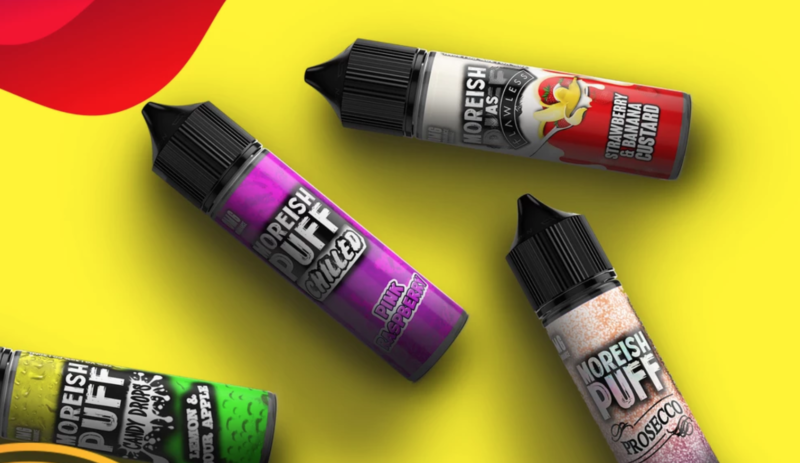 Pin
Moreish Puff Vape Juice Pros:
Great Selection of Flavors
70/30 VG/PG & Nic Salts
Something For Everybody
Great Prices
10, 30, & 120ML Bottle Sizes
Moreish Puff E Juice Flavors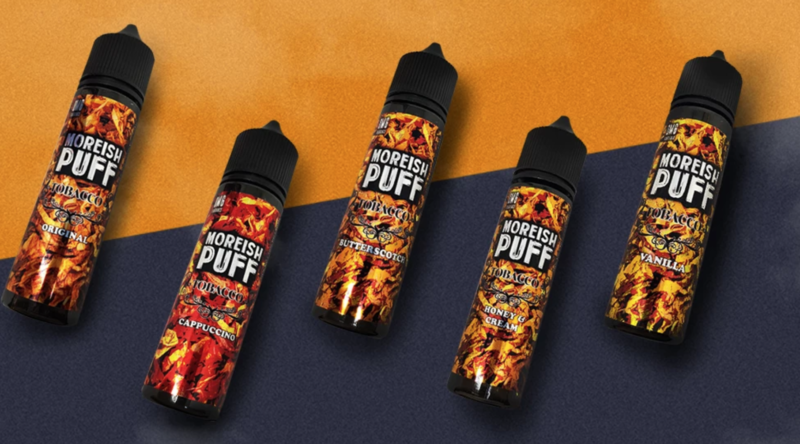 Pin
Moreish Puff does a HUGE range of vape juice. I was sent a box full and spent the proceeding several months working my way through them. Out of all the flavors I was sent – and there were A LOT – I liked 95% of them. And this is rare. Usually, there's more than a few flavors I dislike intensely whenever I get bulk samples sent my way.
MORE: Check Out The 15 Most-Popular Vape Juice Flavors From Our Store
Not with Moreish Puff, though. Nope, Moreish Puff seriously delivers BIG on flavor and because its range is so fast – it does everything from tobacco to fruits and Prosecco flavored vape juice – there really is something for everybody here. Like sweets? You're covered. Nic Salts? Done. Fruity and dessert-based juices? Yep.
For this reason, it is more or less impossible for me to deliver a verdict on Moreish Puff's ENTIRE range of E Juices. I can only speak for the ones that I tried, which are detailed in full below:
Maple Bar Donut – This juice is great. It tastes like just what the name suggests. It's very sweet and very full of flavor. If you like donut/dessert-based vape juice with a twist of extra sweetness, this one is well worth a look.
Vanilla Tobacco – I'm a HUGE RY4 fan, so this was one of the first I tried. It's not as good as TrailBlazer from the VapeBeat Store, but it is a damn fine riff on the classic RY4 flavor. Ideal for those that want tobacco, just with a more developed and well-rounded taste profile.
Honey & Cream Tobacco – Like an RY4, just much sweeter and smoother, thanks to the addition of honey. I liked this one too, but I did find it a tad too sweet when vaped for days on end. It's still a great vape that is ideal for those that love their tobacco juices nice and sweet.
Pear Prosecco – I like Prosecco, I can drink it like water. But I've never had an E Juice that used Prosecco as a flavor note before. It kind of works, though, adding a layer of freshness on top of the taste of sweet, ripe pears. Definitely not for everybody, but certainly worth a look if you're a fan of Prosecco it is worth trying out.
Sweet Popcorn – I love popcorn, but I really didn't like this one; it doesn't really taste of anything, let alone popcorn. This one's a swing and miss, for me…
Salted Caramel Popcorn – Slightly better than Sweet Popcorn, but you still get a weird back-ground note that I really don't like. This is personal preference, of course, so please don't let me put you off. I just wasn't keen on either of the popcorn vape juices sent to me.
Custard – If you like custard, this one is 100% worth your time. It's sweet and delicate, just like a custard vape juice should be. I demolished a 120ml bottle of this inside a few days. Epic stuff!
Grape Chilled – One of the best menthol-grape vape juices I've tried. Full of flavor, tons of iciness, and plenty to like.
Mango Chilled – Same as above really, a great all-day vape that you'll never get tired of, providing you like Mango that is! I do, so this one scored highly with me!
Pink Raspberry Chilled – Another banger! Great flavor notes, the perfect amount of chill/menthol, and loads of background and foreground flavor. This juice is perfect for anyone that likes fresh, minty fruit-infused vape juice.
Should You Get Some Moreish Puff E-Liquid?

Pin
If you're in the UK and you're looking for a solid range of well made, great-tasting vape juice, I can wholeheartedly recommend Moreish Puff – it does a great range of great-tasting E Juices, as well as Nic Salts and Shortfills.
I like almost all the samples they sent me. And that never happens. So if you're looking for some new, UK vape juice to try – give Moreish Puff a whirl. You won't be disappointed!
Drake Equation
Drake is the founder and editor of VapeBeat. He started the blog WAY back in 2015 when, upon quitting smoking, he struggled to find any useful information about vaping online. With a background in journalism and a newfound hobby on his hands, he set about creating VapeBeat – a blog all about making vaping simple to understand for new users.