Hellvape Hellbeast 2 Review: Average Looking, Exceptional Performance
By Red • Updated: 01/21/23 • 5 min read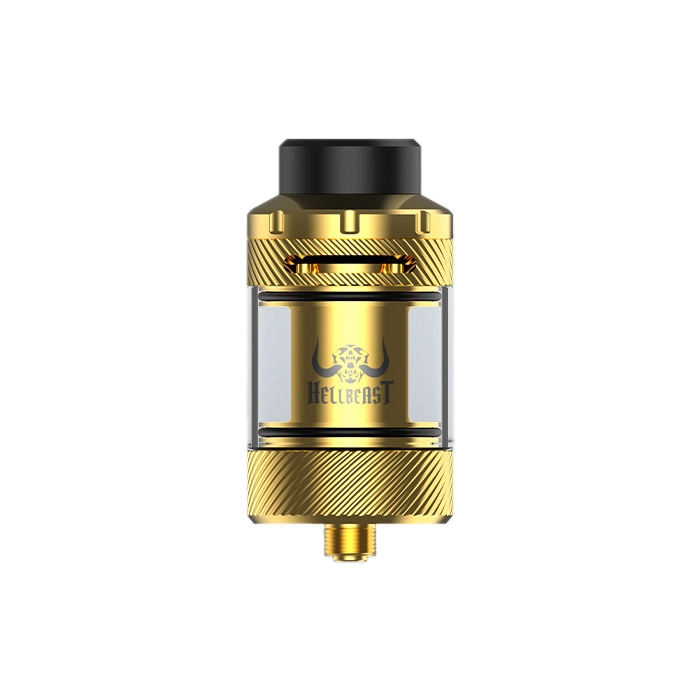 All aside, the Hellvape Hellbeast 2 Sub Ohm Tank is just another tank. There's nothing new, unique or exciting about it, but what it does, it does well; perfectly average in all aspects without being a disappointing experience.
---
Hellvape Hellbeast 2 Sub Ohm Tank Verdict – 75%
Hellvape have been churning out RTA after RTA and the Hellbeast 2 Sub Ohm RTA is proof that they've run out of ideas. Nothing about this tank screams "buy me" and in a highly contested market, this is bad news. It's a shame though, because the the Hellbeast 2 performs as you would expect a sub ohm RTA to perform. There's no gimmicks, no funky designs and nothing out of the ordinary, just a sub ohm RTA that does sub ohm RTA things.
---
Design
With a name like Hellbeast, you'd expect a monstrosity of a thing. A larger than life RTA, flaming from the threads, ready to rip your lips to shreds the moment you touch them to the drip tip. An RTA that steals your soul when you pop in the coil and an instantaneous stoning of your heart when you rip it for the first time.
Instead, the Hellbeast 2 is as boring as an accountants night life. There's nothing, apart from the signage, that sets the Hellbeast 2 apart from any other RTA on the market.
I like it though, it isn't garish and I'm not ashamed to whip it out in front of my grandparents (not like that time at the Christmas party, but that was a drip tip of a different kind). It's plain and that means it looks good on pretty much anything you throw it on.
The RTA has an outer diameter of 24mm, much like the tanks of 2019. Where 25-28 seems to be the new norm, 24mm is perfectly adequate for general vaping. You don't need bigger on a sub-ohm tank anyway, as you don't need build space.
Yes, surprisingly, the Hellbeast 2 is a sub ohm tank, no building here. Instead, the RTA uses Hellvapes H1 0.2ohm coils that simply pop into the bottom, leave to prime for 5 minutes and you're ready to go.
I'm typically not the biggest fan of sub ohms, but the appeal is there, I get it. You can't always spend 15 minutes rebuilding if you just want to take a rip. Now and then, you want to fill pop in a new coil when the old one is gunked up and keep on vaping. With a rebuildable, this isn't always possible. Say you're at the beach and get that dreaded burning charcoal hit, you can't just whip out your build kit and spend time rebuilding. With a sub ohm, you just take out the old coil and put a new one in. Done.
The coil mechanism on the Hellbeast 2 is nothing fancy, a pop in system we've seen time and again. There are tanks that do coil systems better, but these are usually fiddley and not worth the hassle. The Hellbeast 2 keeps it simple for it's own good.
Performance
A few years ago, rebuildable devices far out-performed sub-ohm tanks, both in flavour and longevity. DIY enthusiast smiled in snobbish delight. "You're not a real vaper if you can't build" "You'll never experience the true flavour nuances bro" "Rebuildables are just so much better because I spent 3 hours making a fused alien Clapton Thors hammer" While I agree to an extent (actually I agree much more than that) sub-ohms are no longer to be scoffed at. "Modern" subs.
Coils in this tank last an eternity, even with overly sweet juices. Flavours are not over exaggerated (I'm looking at you Voopoo) and instead remain neutral and true; the artificial sweet taste isn't here and that's a good thing. I'm not sure how Hellvape have managed this, but I much prefer tasting the cookies in my favourite juice over sweetener. The Hellbeast 2 manages to give flavour definition and body.
Longevity isn't too shabby either, with coils lasting well over 2 weeks a pop; average for modern tanks, but unheard-of in a few years ago. What I found about the coils is that they keep around 90% of their flavour output right till the end and then all of a sudden, a burnt mess. There's no gradual loss of flavour here. Probably not the worst thing, but be prepared to have a coil suddenly die on you without you expecting it and not having a backup.
Airflow on sub-ohm tanks have always been good and the Hellbeast 2 is no exception. There's no turbulence or whistling, just smooth, solid airflow from restricted DL to massive chug chug.
There's no leaking either, not through the airflow slots nor the deck and the more I think about it, the Hellvape Hellbeast 2 is the perfect sub-ohm tank. So well rounded that it's near boring. It has no character because it doesn't fail at anything.
Specs:
Size: 52.9mm x 24mm
Capacity: 3ml (5ml with bubble glass)
Materials: Stainless Steel and Glass
Weight: 71g
Hellvape Hellbeast 2
The Hellvape Hellbeast 2 tank is the perfect tank for anyone that wants to step up from AIOs or pod systems. It's less complicated than a rebuildable, but a massive improvement over pod styled devices.
It doesn't do anything wrong making it perfect for those who want to step out. For the OG vapers, who learned the trade with leaky, turbulent tanks, the Hellbeast 2 may be too perfect to grab their attention. There's no struggling here, just a solid, flavorful vape.
Red
Internationally published journalist and reviewer, unofficially certified vape connoisseur. MTL, DTL, RDTL, Red takes it any which way