The Geekvape Aegis M100 is the newest of the famous Aegis lineup. The Aegis has definitely carved out it's place in vape history. But is this something that adds to the lineup, or does it detract? Let's take a look.
---
The Geekvape Aegis M100: More of The Aegis…
Last week we talked about the different versions of the Geekvape Aegis, and which ones were the best. The consensus, was that the entire lineup is great, but some of the mods and kits were better than others. We talked about how cool the then-new IP67 rating was ground breaking at the time.
There have been about 12 different versions of the Geekvape Aegis since, and the Legend L200 is the newest dual battery version of the mod. It is smaller, and lighter…all around it is more compact, yet retains the same features of the original Aegis.
This week, we saw the release of the new Geekvape Aegis M100 kit, right on the heels of the Legend LE200. It seems like we are getting a full revamp of the Aegis line. This means an aesthetic redesign, as well as a new chipset and display. Sometimes, it's nice to have a bit of an overhaul if an older design has worn out it's welcome.
Has the Aegis worn out it's welcome? I will let you answer that question for yourself.
But more importantly, did we need a new one? The original lineup still sells really well. It is also still visually appealing, and functionality-wise… it works fantastic. I still use all of my Aegis mods. What could Geekvape possibly change to make it better?
Let's take a look at the new-new, and see what it has going for it before we dismiss it! You might just be surprised!
Geekvape Aegis M100: Features, Design and Specs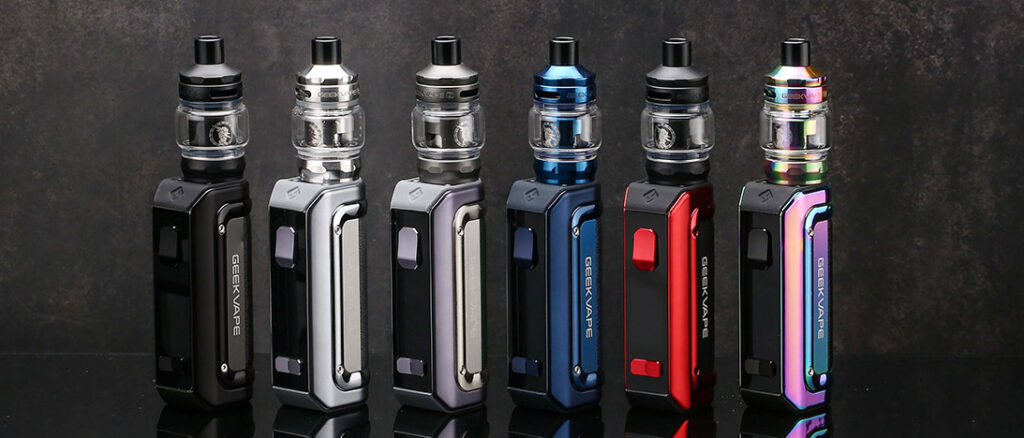 So what we have with the Geekvape Aegis M100, is pretty much the re-vamp of the Aegis Mini. I loved the Aegis Mini, and I used it for quite a long time for my MTL tanks. It worked great, and I still have it today! So what is new about this one? From Geekvape Official:
Also known as the Aegis Mini 2 Starter Kit, GeekVape's Aegis M100 Starter Kit has arrived to offer unprecedented power and satisfaction in a rugged system of intensely portable proportions! GeekVape is a pioneer in the "Tough Mod" space, and the M100 brings the rugged reliability of GeekVape's IP68-rated Tri-Proof technology for protection against shock damage, like bumps and drops, and against the intrusion of water and dust to a new level of pocket-friendly portability!
Featuring "Buck" and "Boost" circuitry that makes stable and consistent power output a certainty, the GeekVape Aegis M100 Starter Kit features a max power output of up to 100 watts!
That last sentence about the Buck and Boost circuit is very intriguing to me. But we will talk about that a little bit later, and discuss what it means. Until then…
What's In The Box
1 x Geekvape M100 Mod
1 x Geekvape Z Nano 2 Tank(3.5ml)
2 x Geekvape B Series Coil (Pre-installed: 0.2Ω 50~58W, Spare coil: 0.6Ω 15~25W)
1 x Coil Tool
1 x Spare Parts Pack
1 x Spare Glass Tube (2ml)
1 x Drip Tip
1 x USB Cable (Type-C)
Features and Specs
Comfortable Hand-feel
1.08-inch Full-Screen Display
Max 100W Power Output
3.5ml E-liquid Capacity
IP68 Rating water-resistance and dust-resistance
Higher Level of Shock-resistance
Type-C Charging Port with Flip Cover
Swipe up/down Switch
Top Fill System
Adjustable Airflow
Compatible with Geekvape B Series Coil
Built-in 2500mAh Battery
The Tank: Z Nano
Let's start with the new Geekvape Z Nano tank. At first glance it looks like a small sub-ohm tank, but looks can be deceiving, and I think that might be a theme for this entire review. The Z Nano is actually more of a pod type system. It looks a lot like a top-airflow Voopoo PNP tank. Unlike the PNP pods, the Z Nano has a 510 drip tip and top-fill design.
To be honest with you, I don't mind companies going in this direction. Vaporesso has done it, as well as most other companies (Voopoo started the trend). The PNP style coils are just easier to use, especially for new vapers. But for experienced vapers, it is also so much easier than taking a tank apart, unscrewing the coil, and making a mess.
The Z Nano comes with two very different coils. The 0.2 ohm coil is for freebase liquid, and big-cloud sub ohm vaping. I found that this coil worked great around 40 watts, and provided tons of flavor. The second coil is a 0.6 ohm coil that works great at 15-20 watts. This is for higher concentrated juice like salt nic. I couldn't dial the top airflow down enough to get a true MTL vape. But it gets really close to that style. Both coils had excellent flavor, as you come to expect from Geekvape.
This new "B Series" of PNP style coils currently only come in these two options. But I am sure that the variations will see an expansion if the Z Nano tank starts becoming the norm for Geekvape.
The tank holds a generous 3.5ml, which is much more than the usual 2ml you get with these PNP style tanks. This is due to the bubble glass. Just like all PNP tanks, you just slide the coil in, and it snaps into place. Easy, simple, and less messy than traditional tanks.
The top airflow pretty much assures the tank will be leak-proof. As with most of Geekvape's tanks, like the Zeus.
The M100 Mod: The Nitty Gritty
The Geekvape Aegis M100 is the real star of the show. Looks are very deceiving when it comes to this mod! We have the usual Aegis design with the comfort grip on one side, and the other side has the controls and the screen. One thing I noticed, was the lack of the rubber coating that usually covers the whole mod. The Geekvape Aegis M100 has more metal than rubber.
This does not affect the IP68 rating at all, apparently. The mod is still waterproof, dustproof, and it now has a higher rating for fall damage/impact. This means if you're the type of person that abuses your poor vape, it is more likely to hold up!
I was hoping that the M100 was a single 18650 mod, but instead we have a built in battery. But to be fair, 2500mah is more than enough battery life if you are vaping at lower wattages. It is easy to get more than a day out of the Geekvape Aegis M100 vaping at 20-30 watts. You also have true 2 amp charging, through the USB-C.
Speaking of…
The charging port is the first really cool new feature of this mod. The USB is hidden under a little door on top of the mod, and this is really neat! I have never seen something like this before! Unfortunately, this makes it hard to vape and charge at the same time. But the mod doesn't support that (pass thru charging), at any rate.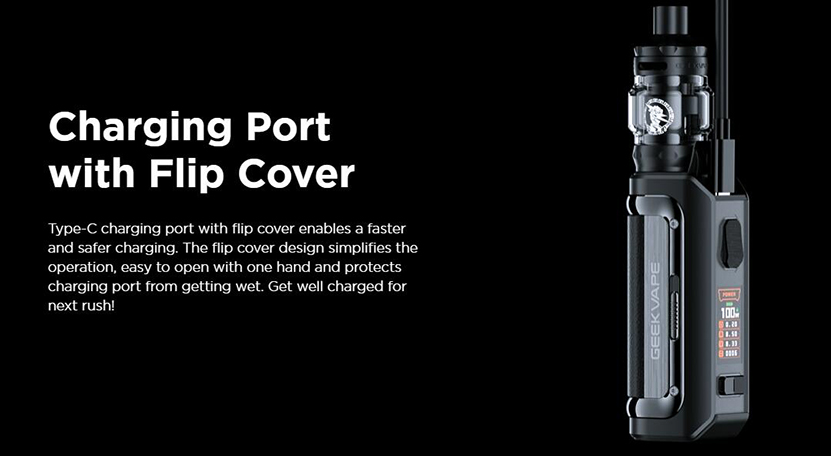 Get Your Geekvape Aegis M100 Kit From Direct Vapor For $59.95 With FREE Shipping!
The new 1.08″ screen looks absolutely great, and is in full color. The original Aegis Mini had a small digital screen, that was very old-school in the way it looked. The Geekvape Aegis M100 screen retains the same design as all the Aegis products, and has all of the info you need on screen, but this time in full color.
The up and down buttons are very clicky, as well as the contoured fire button. The way the Aegis M100 sits in your hand, the button feels really great. I pressed the fire button three times to try and lock the mod. But that didn't work.
Wait…this mod doesn't lock? This is unsafe if you are throwing it in your bag or pocket!
Hmm…What else usually locks the wattage? I pressed up and fire, and it still didn't lock the mod. But there has to be a way to lock it before you put the mod in your pocket right? I suppose I could just turn it off, right? 5 clicks and I am done, I guess…
No, the lock feature is actually way cooler than that!
This is where the new A-Lock system comes into play, and I think this is also a really amazing design feature. We used to see this on mods years ago, but this feature seemed to kind of disappear over the years. It's back on the Geekvape Aegis M100. The A-Lock slider is located on the side of the mod, and can be operated with one hand, easily. All you do is slide it down, and the mod is locked! Slide it up, and the mod unlocks!
The New AS Chipset:
The last thing I want to talk about is the "Buck and Boost" function of the chip. I mentioned it earlier, and how I think it is important. But I think I should explain what this feature usually means, first.
With a single battery mod, or a built-in battery mod, you usually get 4.2 volts of power at the maximum. Now that is enough for most vapers. If you are using lower ohm coils and sub ohm vaping, this is plenty of voltage. But if you like higher ohm coils, and MTL vaping, you usually need more than just 4.2 volts.
My current MTL build on another mod is pulling 6 volts from the mod, and the coil is 1.3 ohms. This is on a DNA mod, that does 8.4 volts all day. Because it has a Boost chip installed, all DNA chips do.
You can get around this 4.2 voltage limit with a Buck and Boost chip installed on a single battery mod. But for some reason, most companies just do not do this anymore. So is that what the Geekvape Aegis M100 has built in?
Not exactly. But also, yes. Let me explain.
Neither coils needed more than 4 volts to fire properly, so I didnt test the voltage output with the included coils. But I am happy to say, the yes, it definitely does over 8 volts of power! Geekvape should advertise this feature! This is a perfect mod for MTL rebuidables!
But the new chip also assures that the battery drain is even. So even at 10% battery life, you are getting a solid hit. Basically you never feel the battery drain, like you commonly do with built in battery mods. The battery drain is even across the board, and that's a cool feature!
More companies should take note. This is a feature that more vapers need. I never understand a pod system that does 4.2 volts, yet has 1.0 ohm coils. The power doesn't match the ohms at all. You never get the full power you need.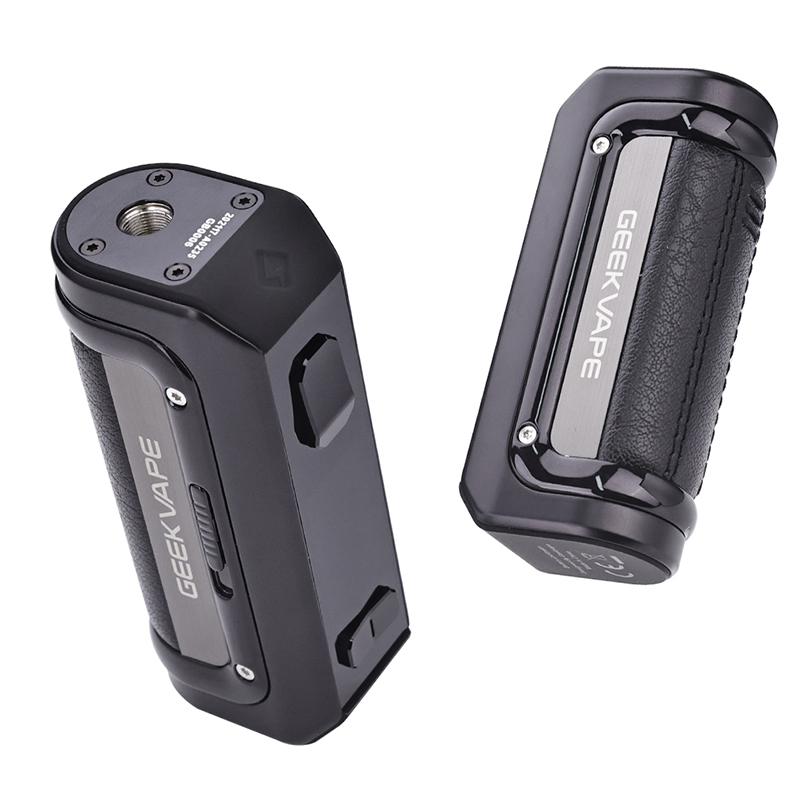 The Geekvape Aegis M100
I wanted to give this kit a bad review so badly. It seems like the last thing we need is another Aegis in the world. But as it turns out, I was wrong! Geekvape has gone and changed up the design more than I thought, and the new features are actually notable.
I have to say, it is nice to be blindsided every now and then.
The Aegis M100 takes the Aegis Mini and makes it 100% better than the original. But at the same time, it keeps all of the features that made the first one so amazing. It is compact, and easy to use just like the original. It has just been…modernized.
This would be a great starter kit for a new vaper, without a doubt. But where this shines, is for MTL vapers that want a tiny mod for their setup. The fact that this little mod does 8.4 volts is huge! You can run any build you like on this mod, and have power to spare. This is something most mass-produced compact mods lack. Take heed, vape companies. This is what vapers are looking for!
So I wanted to hate this, I really did. But dammit, Geekvape…you won me over with your features! I never should have doubted you.
Get Your Geekvape Aegis M100 Kit From Direct Vapor For $59.95 With FREE Shipping!
Christopher Horton