It's no secret that Freemax has been a leader in subohm tank innovation. Their Fireluke and Mesh Plus tanks have been popular with vapers everywhere. But what about it's foray into the more modern Pod vape? We take a look at the new Freemax Maxpod.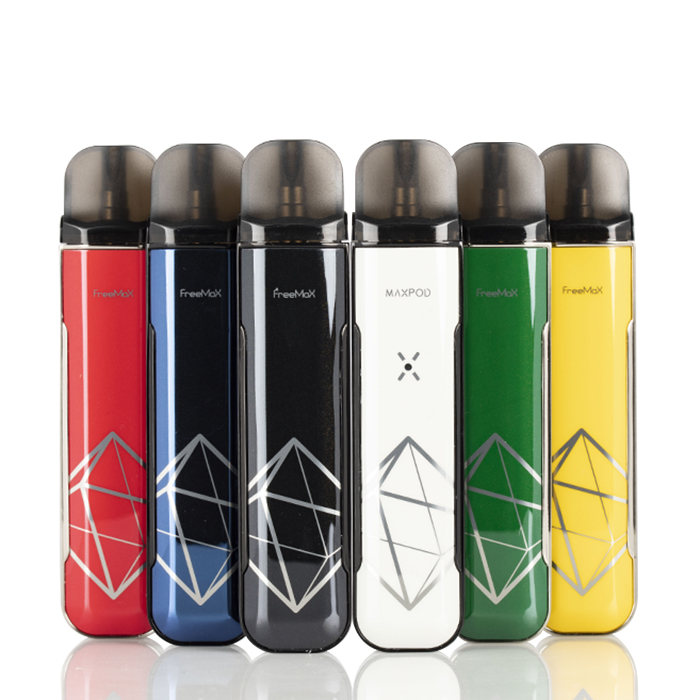 Freemax Joins The Pod Club
It seems like every company over the past year has tried their hand at the Pod Mod market. Freemax has been know for it's outstanding tank designs for years, but have not released many devices. But Freemax was a pioneer in mesh coil technology.
It seems like 2020 is the year for Freemax to start the journey into device manufacturing, moving beyond just coils and tanks. The Maxpod is the first in what seems like a new line of devices for Freemax. But how does it stack up compared to the more established pod devices out there?
Features And Design
First impressions definitely puts the Maxpod is the same category as the Smok Nord, albeit the device is much smaller. There are a ton of features being advertised here that should make the Maxpod stand out from your other pods.
550 mah battery capacity
2ml pod capacity
Steel/Zinc alloy contruction
Two new NS Mesh coil designs
11 watt max output
Compatible with all juice types
15 millisecond Fast Firing Technology
LED battery life indicator
Draw activated
Inside the box you will find your device, and empty pod, two coils, and a micro-USB cable. You also get a pretty cool lanyard that connects to the device if you are one of those people who always seem to be losing their vape!
Freemax's claim to fame is their coil design and it's definitely not lacking here. You get two different types of coils that each have their own specialty regarding flavor and power.
NS Mesh 1.0 Ohm: This coil is made of a patented mesh technology and a blend of flax cotton (66%) and regular organic cotton (34%). This coil is suitable for freebase liquid as well as nic salts. This coil focuses on flavor and vapor production.
NS Mesh 1.5 Ohm: This coil is also made with patented mesh technology and is a 50/50 blend of flax cotton and organic cotton. This coil is focused on higher milligram nicotine and caters to a harder throat hit. Simple flavors and Tobacco flavors are recommended for this coil.
The device itself is made of sturdy metal and has a sleek, almost Art-Deco design. My sample device is black but Freemax makes 6 different colors in all. It feels solid and I think the understated, simple design looks great.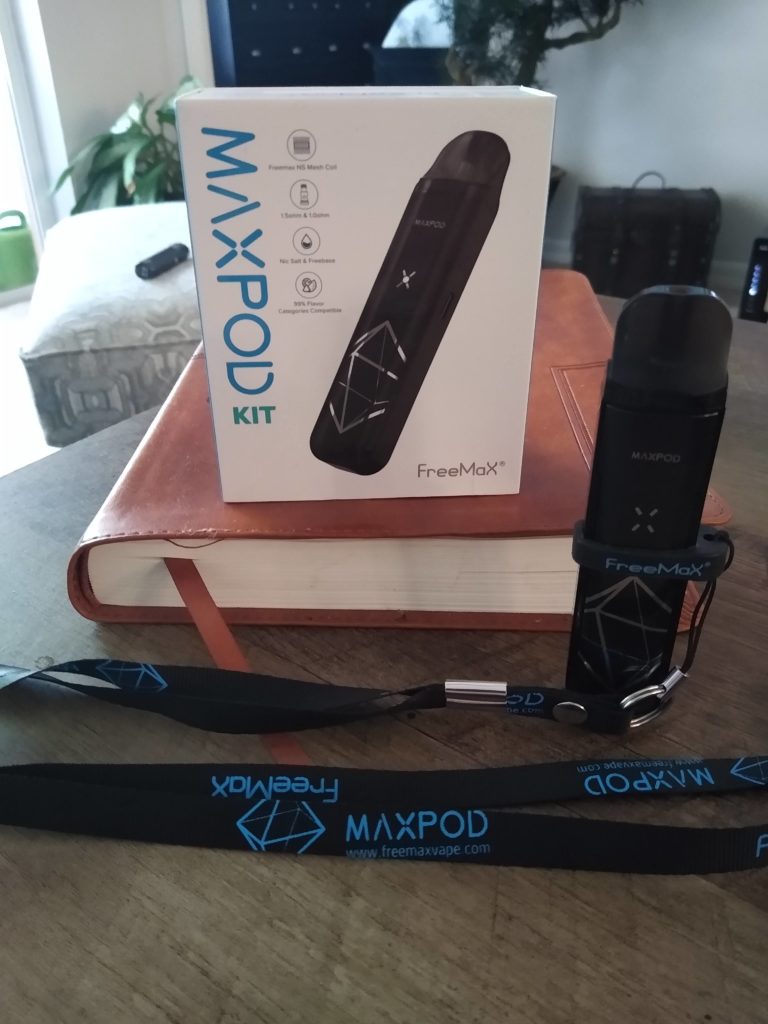 The pod is a simple style magnetic style that we have seen in many other devices. You fill the pod from the side and secure it with a rubber grommet. The coils are loaded from the bottom and are press-fit into the pod.
The device is draw activated only. Their are no buttons or controls anywhere on the mod. You do get a small LED light that indicates the charge of your battery, with green being full and red being in need of a charge.
On paper, the Maxpod sounds an awful lot like many other devices. What will set it apart from all the other pods will be the way it performs.
Testing and Performance
I was eager to try out the Maxpod and see if these smaller coils perform as well as their larger counterparts. Freemax started this whole mesh craze and I am always interested when they make a new product. I have been using the Maxpod for about a week now.
The device charges fully in about an hour. This is pretty standard for a battery this size. With a full charge I got all day usage out of the device. The Maxpod also has pass-thru charging, so you can use it as it charges.
The first coil I used was the NS 1.0. This coil is supposed to shine in the flavor department. I primed it with 3mg freebase liquid like a normal subohm coil and after 10 minutes I took a vape.
I was pleasantly surprised with the power output and I got a medium-warm vape. The flavor was definitely on point and exceeds it's peers like the Smok RPM. Unfortunately, I only got about 3 days of use out of this coil before it burned.
I tried the NS 1.5 next, and primed it with 20mg salt nic. I struggled to get this coil to work. After making sure it was making connection and the draw activated airflow was not blocked, I removed the coil and reinstalled it. Still, I could not get the coil to consistently hit.
I tried to troubleshoot the device in every way that I could think of. I let the device charge, reinstalled the coil and pod, and checked again for any obstructions to airflow.
This is a big letdown, since I hold Freemax in such a high regard. Maybe I just got a couple of dud coils, as I hope this doesn't signify the quality control of Freemax's newer devices.
Pros and Cons
As usual, I have to go with the cons first. In my opinion…there are quite a few unfortunately. While the two bad coils that came with the kit are my biggest gripes, there are several others.
Nothing about the Maxpod really sets it apart from other current products. It functions the same as something like the Smok Novo, without the ease of disposable pods. The design is uncanny in it's similarity to it's peers.
This is also yet another brand new device that uses micro-USB opposed to USB-C charging. This isn't a performance issue as much as it is just plain inconvenient.
And finally, the coils. Maybe I just got a couple of bunk coils. I understand that any mass produced device can have some problems. But it was a disappointment for sure.
As for pros, there are a few. I like the size and weigh of the device. It certainly feels more solid than it's competitors and the pod fits well into the device. The simplistic aesthetics are attractive to me and the colors available are all very tatseful.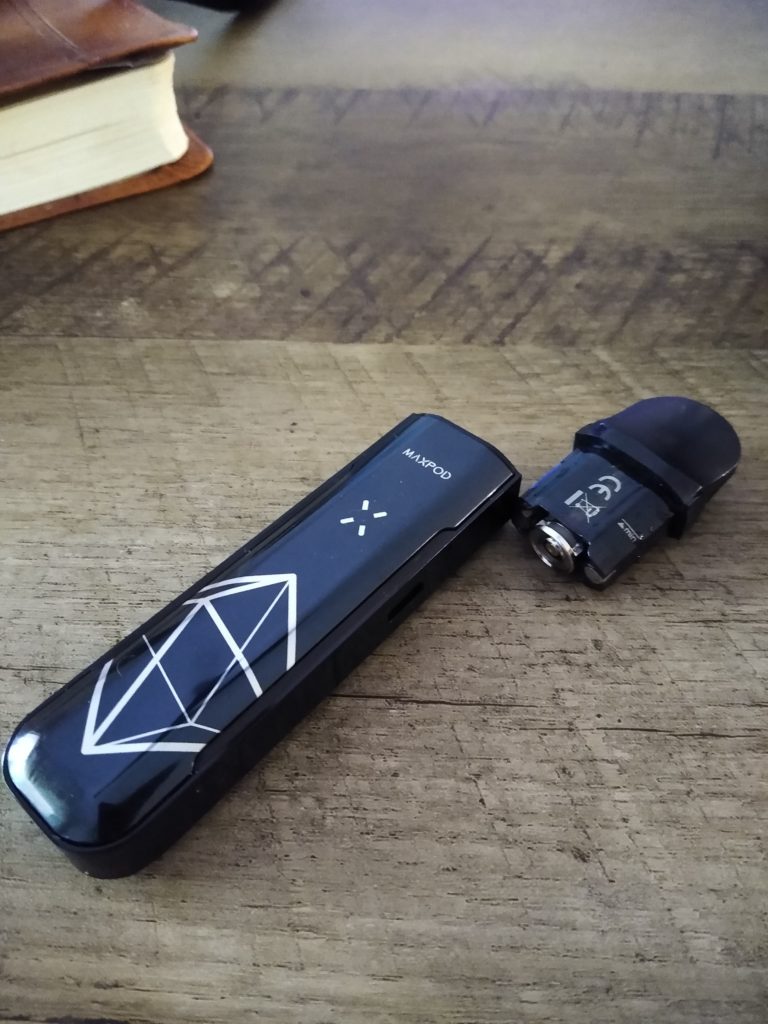 Verdict
I honestly want to love the Freemax Maxpod. I just ordered coils for it so I can see if the ones I got in the kit were just a fluke. Because honestly, the coils are what will set this device apart from the influx of pod systems that have been flooding the market for the last year.
To make an impact on the pod market these days, you have to be innovative. There needs to be well thought out features and designs. Not the pedestrian, run-of -the-mill designs that we keep seeing other companies mass produce.
Freemax has a few more interesting products on the horizon for this year and I hope they have better, more innovative designs. Freemax usually knocks it out of the park…but I suppose not every product can be a home run.
At least you get a cool lanyard…
When my new coils come in, depending on my experience, I will update this article. So stay tuned!
You can get your Freemax Maxpod here!
Christopher Horton