Freeman Vape Juice sent me their entire line of E-Liquid for review. I had a blast testing them out, as you'll see below. But the best thing about Freeman Vape Juice is the price – $19.99 for 120ML bottles! So if you're looking for cheap 120ml ejuice bottles, you just found what you're looking for! 
---
Freeman Vape Juice REVIEW – Quick Verdict (100%)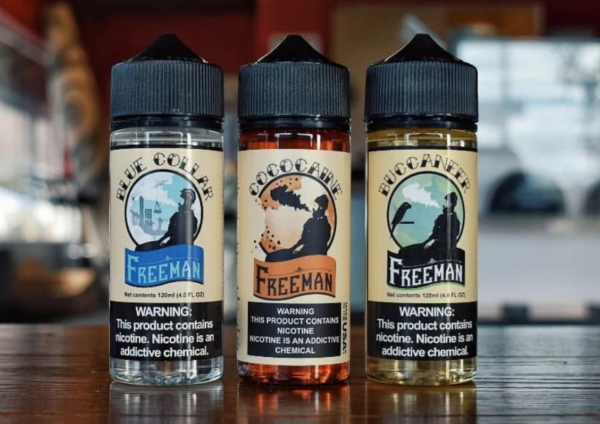 Freeman Vape Juice Pros:
All 120ML Bottles Are $19.99
Pre-Steeped, US-Made Juice
Great Selection of Flavors
Super-Tasty E Juice 
Intense Flavor Profiles
Ideal For RDAs/RTAs and Sub Ohm Tanks
If you're after high-quality E Juice that is made in America and tastes great, Freeman E Juice is 100% worth a look. I adore nearly all of the flavors I tested with the exception of a couple, though that was down to personal preference mainly (I don't like menthol E Juice).
The vape juice itself is produced to exacting, high standards in state of the art labs in the US. The flavors, the way they vape, and the fact that it doesn't kill your coils, tells you everything you need to know about this juice – it's very, very good.
For me though the big thing about Freeman E Juice is the price: you're getting very high-quality E Juice in 120ml bottles for just $19.99 – that is incredible value for money whichever way you slice it. If you're on a budget, Freeman E Juice is basically your new best friend.
Vaping on a budget is hard, especially when "big brand" E Juice is now so expensive. I've lost count of the number of times I have found a juice I love, only to balk at its price. But fear not: good quality, great-tasting E Juice doesn't have to cost the earth.
I want cheap 120ml E Juice because it delivers the most bang for my buck – especially when I'm using thirsty tanks like an RDA or a sub ohm vape tank. Freeman Vape Juice offers cheap 120ml E Juice in a range of epic flavors, catering to my exact demands. The juice is pre-steeped as well, and the flavor profiles are incredible.
I was blown away by how tasty this E Juice was and, unlike a lot of bespoke vape juice brands, Freeman's range is solid throughout; there's no iffy flavors or ones that I really didn't like, save for the menthol ones.
Bottomline? This E Juice is super high quality, super-tasty, and well worth your time and money. I mean, $19.99 for 120ml bottles of E Juice is just too good to miss out on, right?
Even more so when it tastes this good!
---
Full Review of Freeman E Juice – All Flavors
I was lucky enough to receive each flavor in the Freeman Vape Juice line to test and review, and that I did. I must say, the juice is very good quality for the price – 120ml's are $19.99 via the company's online store. And that is some pretty badass pricing for 120ml bottles.
In fact, I'd probably go as far as saying this is some of the highest quality, cheap 120ML E Juice on the planet. I mean, it's pre-steeped, it's made from high-quality US materials, and the flavors are all utterly sublime.
Oftentimes prices like these incur an idea that the juice will be lower quality, but this is REALLY not the case here. Also, keep in mind that juice reviews are EXTREMELY subjective – much more so than hardware reviews, as reviewing E-Juice relies more heavily on personal flavor preferences.
As noted above, I don't really care for menthol E Juice flavors. But that's my own personal preference. Conversely, fruity menthol flavors are ALL my dad vapes and he reckons Freeman's Icebound is one of the best E Juices he's ever vaped.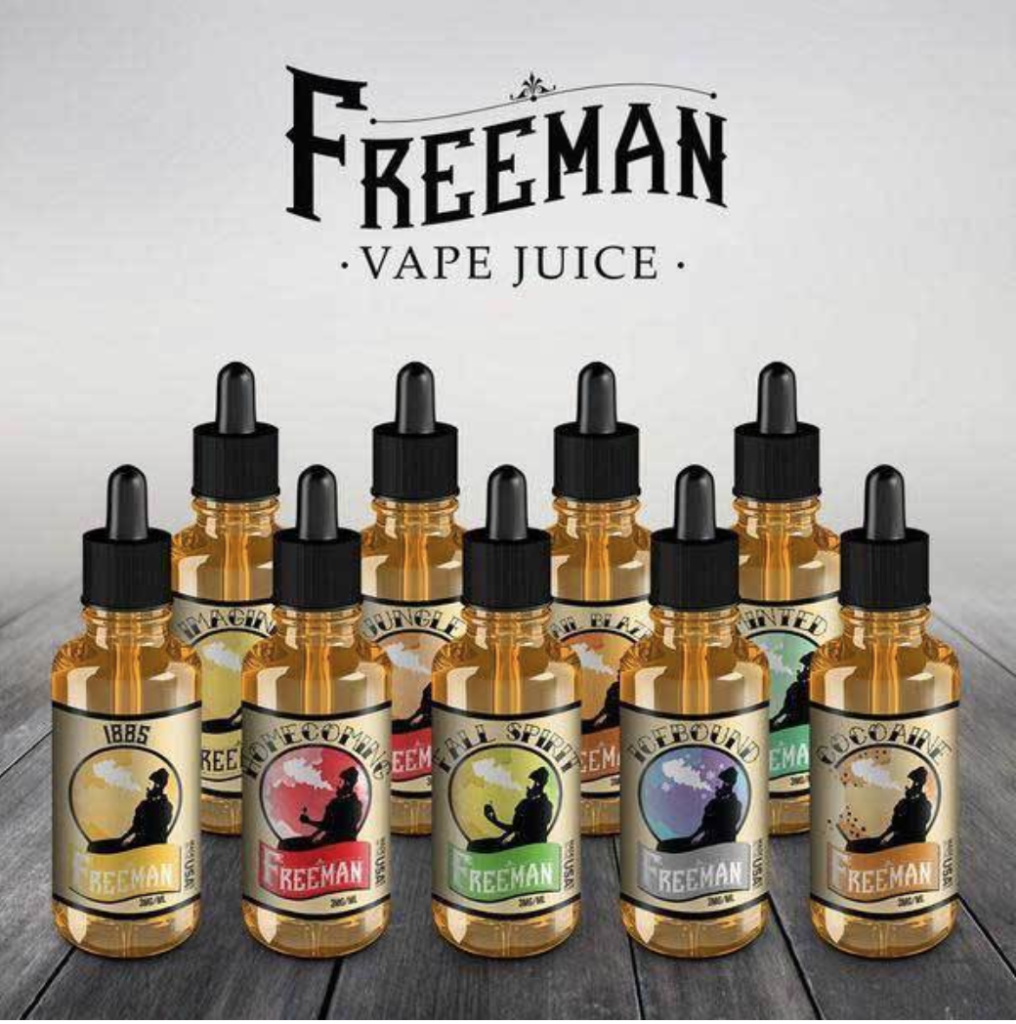 Icebound – Fruity Menthol Goodness
Freeman's line only consists of one menthol flavor, which is accompanied by fruit flavors. Now I normally will not vape menthol, but I tore through this bottle. The mix of fruity and icy is just right, leaving you with the freshness of the menthol but including a sweet note to liven things up a bit.
I was completely shocked that I enjoyed the flavor. When I said I don't vape menthol, I DO NOT vape menthol, it's just not my thing. But this flavor really did catch me by surprise – I'm not just buttering up this review! So, if you like menthol mixed with fruit, this is definitely a juice you need to get your hands on.
Cococaine – A Sweet Coconut Cookie
This juice has a taste just as striking as the name! The coconut cookie was a little much for me; mostly the coconut. However, I passed off the remainder of the 120ml to a buddy who proceeded to CHIEF down the bottle in no time- so whatever I thought of the flavor I knew it had to be tasty for those who enjoy this type of vape.
I would just say it's a really heavy flavor, and if you're not someone who enjoys that maybe stray away. But if dessert type juices are your normal ADV you'll probably find yourself halfway through the bottle before you know it!
1885 – A Creamy Vanilla Milkshake
There's not much to write off for this flavor- it's your standard vanilla milkshake profile. However, it doesn't have the heaviness that I got from the Cococaine flavor; it plays on the palate lightly. Yet there is still nice vanilla to it- this balance of flavor and "weight" of the flavor on the tongue is rarely done justice.
Homecoming – Strawberry Rice Pudding
Ummmm… what? Whoever came up with this juice, kudos to you for thinking outside the box- I've never seen another rice pudding flavor. Probably for a reason… it's a little weird. It's not bad, just weird. The strawberry isn't incredibly potent, and the rice pudding comes through tasting exactly like… well, rice pudding. Not really my cup of tea.
Imagine – Lemon Tart
The lemon tart flavor of Freeman's line is awesome! It has that perfect balance of fruity and pastry doughyness that's necessary when attempting a flavor such as this. Too much of either and you're gonna have a bad time.
I would highly recommend this flavor, it's one of the best Freeman has to offer!
Homecoming – Caramel Apple
The homecoming juice is definitely reminiscent of the time of year when schools have their "homecoming" events as it imitates a fall classic- the caramel apple. Personally, I thought the caramel was a little overpowering, but again I'm not a fan of the heavier flavors (and this is for sure one of them) and therefore wasn't particularly fond of this juice.
Minted – Mint Chocolate Chip Milkshake
Minted is another one of my favorites from the Freeman line of juice! The mint is just strong enough behind the vanilla milkshake flavor to provide a perfect minty and creamy experience. I couldn't stop vaping this stuff for weeks!
Jungle – Strawberry Kiwi Banana
So normally I'm all over strawberry flavors- it's my favorite. Anything strawberry, be it candy, drinks, or vape juices, you can usually count me in. Unfortunately, that's not the case with Jungle. The banana totally overpowers the other flavors. This stuff is just not up to par with the rest of the line of juice in my opinion.
TrailBlazer – Tobacco, Peanut Butter, Butterscotch
The tobacco flavor in this line is pretty damn good according to my buddy. I can't vape tobacco juice, I just never liked cigarettes and only vape the sweet, sugary flavors or the fruity flavors. So I had to outsource this review, but in doing so I was told the addition of the peanut butter and butterscotch notes added into the juice make for an extremely smooth vaping experience. So if you are privy to tobacco flavors, be sure to cop this one!
And Remember! All 120ml Bottles Are Just $19.99 – Click Here To View All Flavors
Drake Equation
Co-founder and Editor of VapeBeat. I make the words.