Vape juice samples are a great way of trying out new vape juice for next to nothing, and right now this is easily the best vape juice sample deal online…
---
I tend to be pretty boring when it comes to vape juice. I tend to stick to the same few flavors I know and love. And this is fine. But it can get a little dull, especially when there's so many new and interesting flavors out there.
But when I want to expand my horizons, one of the first things I do is look for some vape juice sample offers. Vape Wild had a really good one back in the day but, as we all now know, Vape Wild is no more.
I know the guys at Dollar Vape Juice Club relatively well; they're an awesome bunch, so when they messaged to say that they're launching their own vape juice samples offer, I had to check it out.
Dollar Vape Juice Club Review – $1 Vape Juice Samples
The thing that sets Dollar Vape Juice Club apart from the crowd is that its vape juice sample deal will only cost you $1 for each bottle.
$1 for a sample of vape juice, not bad right? They even make selecting it super simple.
Just go to the Dollar Vape Juice Club's vape sample page, select the five options you want, based on the following criteria – Candy, Cream, Dessert, Fruit, Money Bar, New, Sale, and Top Sellers – hit continue, pay your $5, and wait for your samples to arrive.
And that is literally it. Simple, right?
You can then try out a bunch of new flavors without committing to a big bottle.
And when times are tough, as they now are, this kind of service is invaluable.
Dollar Juice Club Flavors
Once you've tested the five flavors, you will have a pretty good idea about which you like and which you don't.
Once you've established which flavors you like, you can then go an order bigger bottles of them – Dollar Vape Juice Club does its juice in 5ml (that's the sample size), 60ml and 120ml.
And with flavors, you have literally hundreds to choose from – way more than most other places that do vape juice samples.
Best Vape Samples 2021
I put Dollar Vape Juice Club's sample offer to good use earlier this year and picked myself up five of the most different flavors I could find.
I wanted to get something different, something I wouldn't normally use.
To do this, I made sure that I AVOIDED all my usual flavors.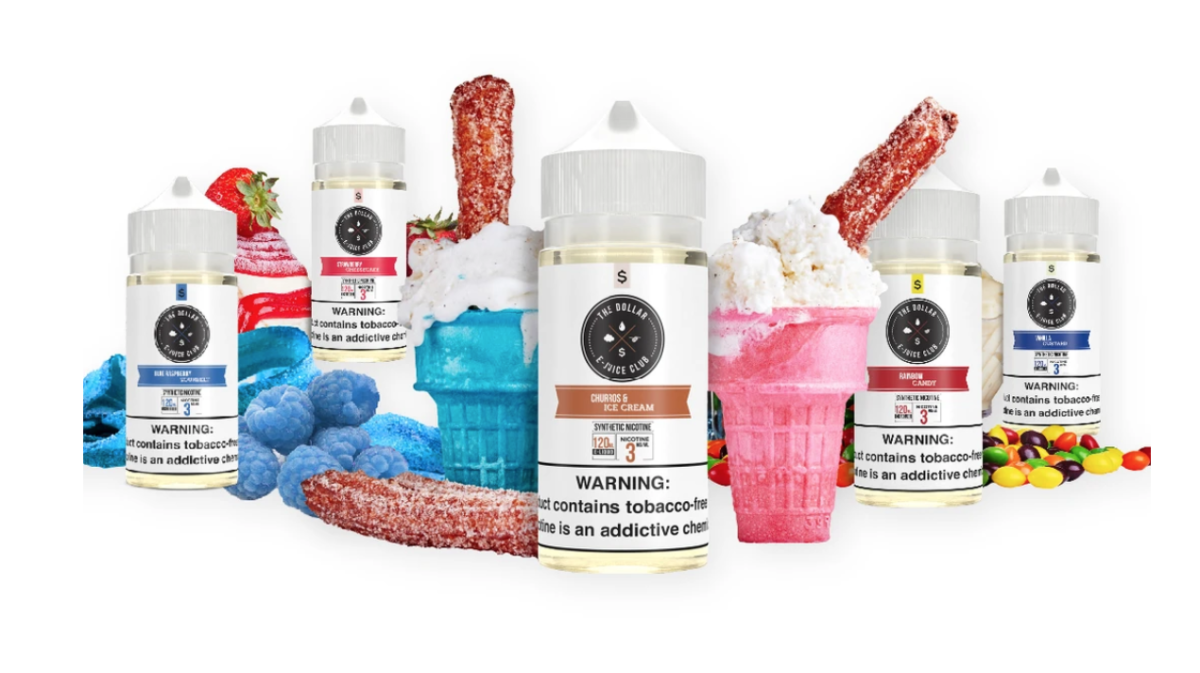 Instead, I focussed on stuff I liked the sound of but hadn't vaped before.
Flavors like Marshmallow Treats, Green Apple Gummy, Tropical Juice, Churros & Ice Cream, and Pineapple Candy.
How long does delivery take? I made my order on a Monday and it arrived early-doors Thursday, so the turn around was pretty quick.
Out of all the samples I got, I really liked all of them – like, they were all really delicious. But this was to be expected; Dollar Vape Juice Club is a legit company that focusses a lot of care and attention into its flavor development.
In the end, once my vape samples had been exhausted, I opted to go with a 120ml bottle of Churros & Ice Cream, a 60ml bottle of Green Apple Gummy, and 120ml bottle of Tropical Juice as these were my picks from the litter.
Is Dollar Vape Juice Club Legit? 
But what is really cool about Dollar Vape Juice Club, aside from its vape juice sample offer, is that even its bigger bottles are nice and cheap. I got my 120ML vape juices for $12.95 and the 60ML bottle for $7.73 which is incredible value for money.
Oh, and all the vape juice I tested was 70 VG / 30 PG, not my ideal mix – that'd be 80/20 – but close enough.
Would I recommend Dollar Vape Juice Club to VapeBeat readers? Hell yes! If you lf you like sampling different vape juices before you commit to a bigger bottle, Dollar Vape Juice Club's vape sample program is one of the best on the market.
I also really like its pricing too – $12.95 for a 120ml bottle of vape juice and $7.95 for 60ML ones is insane value for money, especially when there this good quality.
Do yourself a favor and check out Dollar Vape Juice Club today, I guarantee you'll find your next favorite vape juice flavor.
Drake Equation
Co-founder and Editor of VapeBeat. I make the words.