I really, really like the DaVinci IQ – it is one of the best vaporizers around. But what if you shrank it? Meet the DaVinci MIQRO
---
DaVinci MIQRO Quick Verdict (93%)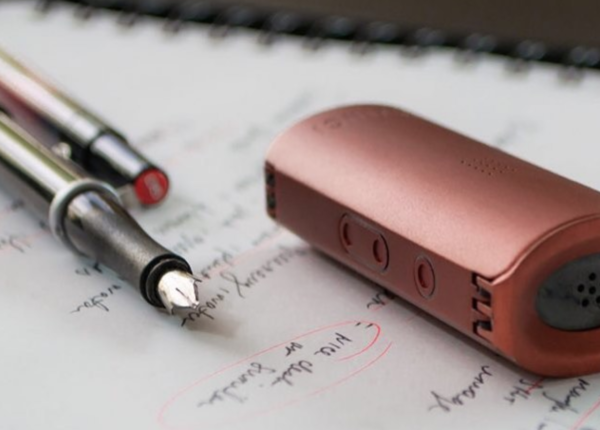 DaVinci MIQRO Pros: 
Ultra-Portable – 33% Smaller Than DaVinci IQ
Full Temp Spectrum & Smart Path Tech
Very Reasonable Price ($149.99)
5-Year Warranty
Removable Battery (Includes Spare Cell Too)
Excellent Vapor Production
Super-Easy To Clean
The DaVinci MIQRO is a stunning example of how far engineering in the vaporizer space has come on over the past few years. Not so long ago, vaporizers were huge and unwieldy. Nowadays, we have options like the DaVinci MIQRO which is mind-bogglingly small.
If you're after a discreet, well-priced, stealthy vaporizer that is packed with features like full temperature spectrum and things like Smart Path, as well as simple to adjust controls, the MIQRO comes highly recommended.
The vapor production is great, either with finely ground materials or coarse bud, and it features a removable battery. Hell, DaVinci even includes a spare cell, so you can have that charging during usage and that means ZERO downtime. It also means the relatively short battery life of this device is not a problem.
Like the IQ, the cheaper MIQRO produces excellent-tasting vapor. The bowl is smaller on this vaporizer, for obvious reasons, and you don't get support for the DaVinci Phone App. But that's hardly a deal-breaker – I seldom use it anyway with my IQ.
All told, for $149.99 the MIQRO serves up some pretty incredible value for money. Chuck in the fact that it is the smallest vaporizer I have ever tested and you're in a very good place indeed. Hats off to DaVinci for this one, it – like the new DaVinci IQC – is incredible!
---
Read On For My Full Review of The DaVinci MIQRO
My go-to vaporizer for the vast majority of 2018 has been the DaVinci IQ and so far I've been having a blast with it – it ticks ALL my boxes.
The DaVinci MIQRO is something of a curveball, to be honest. It's basically the DaVinci IQ just a lot smaller.
I had no idea this product even existed until DaVinci sent me one. And once I unboxed it, I knew, providing it performed as expected, that this would almost certainly be my new #1 vaporizer.
Why?
Simple: it's smaller, which means it's more portable and it features the same premium design language as the IQ.
What's not to like, right?
The only question now is this: does it perform as well as its bigger brother, the DaVinci IQ?
Let's find out, shall we?
Full DaVinci MIQRO Review
Design
The MIQRO is smaller than its bigger brother, hence the name. It does share much of its industrial design language, however, and this is no bad thing.
The ergonomic design of the MIQRO is essentially exactly the same as the IQ; you have gradual slopes on the side, the same opening mechanisms at the top and bottom, and it runs a removable battery.
My review unit is blue, though there are a variety of color options available which you can see in full below.
Like the IQ, DaVinci has made this vaporizer extremely durable. It can handle drops and bumps with aplomb. Nothing about the way it looks, feels, or handles makes me think it'll break easily.
And that's good because this vaporizer is designed to be taken places – hiking, biking, on holiday. Wherever.
Ideal for micro-dosing, the MIQRO is a pocketable, sturdy vaporizer that you can (and likely will) take everywhere with you.
Hell, it even comes with a carry-glove, so you can keep it scuff free whenever you take it out and about.
MIQRO Box Contents – Spare Bits, Wires, Batteries & Carry Case
As you can see in the image below, you get A LOT of extra goodies with the DaVinci MIQRO. Way more than I was expecting!
DaVinci even includes a spare 18350 battery, as well as a battery carry-case which can also store some dry herb in it as well – just in case you don't want to carry your entire stash with you when you go out.
You have two mouthpieces as usual; the extended drip tip and the one that sits flush to the device. I've been tested mine with the extended one, as I didn't run this drip tip on my DaVinci IQ.
Overall, what you're getting here is a MEGA haul of gear.
This makes the MIQRO excellent value for money given its starting price ($149).
I also love the fact DaVinci includes a spare battery as well. This means you can hot-swap cells and never have downtime. Just make sure you have an external battery charger.
DaVinci MIQRO Specs & Features
Device Dimensions: 1.34″ W x 3.13″ H x 0.91″ D
Device Weight: 3.53 oz
Heat-up Time: (to 370° F)39 Sec
Battery: Rechargeable / Replaceable 18350 Battery
Charging Time: 1.5 – 2 Hours
You also get a ton of vaping features too. Things like full temp spectrum + smart paths are included as standard, allowing for precise, fine-tuned control over the materials you're vaporizing.
You cannot use the DaVinci phone app with the MIQRO. This feature has been omitted, and I honestly can't say I miss it all that much.
I probably used the DaVinci IQ with the app about five times in the year that I've been using it.
DaVinci IQ vs DaVinci MIQRO – What's The Difference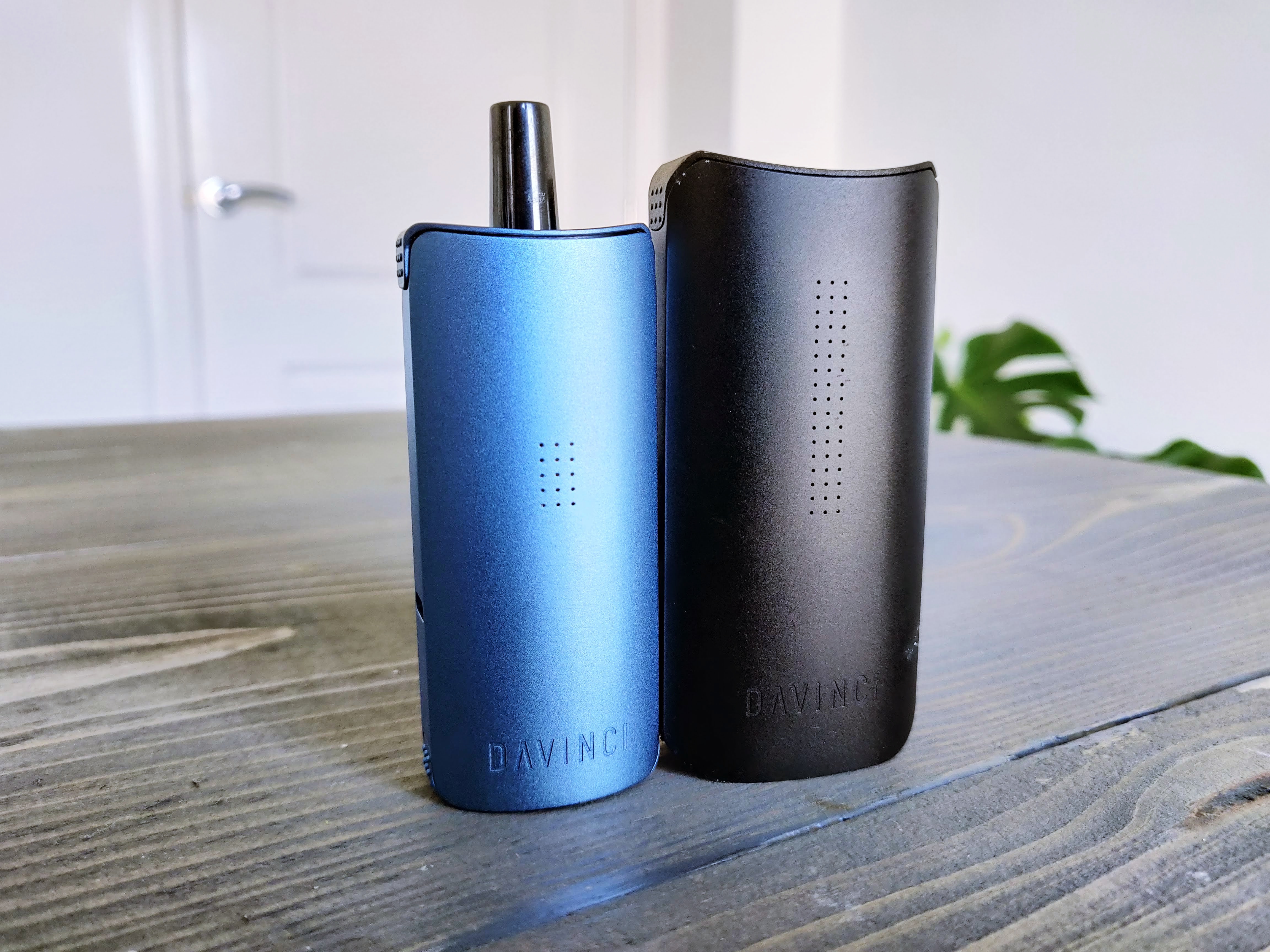 Here's a quick overview of the main differences between the two vaporizers:
The Size – The MIQRO is 30% smaller.
The Price – It's Cheaper; $149.99
The MIQRO Does Not Support The Phone App
MIQRO has smaller batteries (but they're still removable)
MIQRO has a smaller bowl
DaVinci IQ heats up faster
Bottomline? The MIQRO doesn't have quite as many features present as the IQ.
Battery life is about 50% less as well, but this is to be expected: the MIQRO is a smaller, more focused device.
It's like comparing a sports car to an SUV; they're both great and do much the same thing. But one is infinitely more agile and designed for single-person use (and fun).
The IQ's for passing around at parties or with friends; the MIQRO is for single-use or for when you're out and you need an ultra-portable vaporizer.
DaVinci MIQRO Heating and Vapor Path
With respect to heating up, you're looking at around 40-50 seconds. This is pretty much par for the course with most vaporizers.
The PAX 3 will get it done in half the time but will set you back another $100 or so, and while I didn't have any issues with the MIQRO in this context, I do believe the IQ is more powerful.
That makes sense though; the IQ is significantly larger, so there's more room for things that speed heating up. Remember: this device is 30% smaller than the IQ.
Put in this context, 45 seconds is damn impressive. And because that's the time it takes most vaporizers of this ilk to heat up, it's not something you could consider a negative in any way, shape, or form.
The Vapor Path used inside the DaVinci MIQRO is made from Ceramic Zirconium. This same material is also used for the pearl, the bowl AND the mouthpiece.
MIQRO Smart Path Technology
The MIQRO has a maximum temperature range of 430F, this is the top end of Smart Path 4.
I like to start nice and low, and then move my way up through the Smart Path levels until the bowl is cooked completely.
How Smart Path Technology Works
Smart Path Technology is a predefined temperature range; you have four possible settings and each setting has a range of 20F.
On paper, the Smart Path Technology looks a little something like this:
Smart Path 1 – 350F to 370F
Smart Path 2 – 370F to 390F
Smart Path 3 – 390F to 410F
Smart Path 4 – 410F to 430F
As mentioned above, I usually start low (Smart Path 2) and then work my way up to Smart Path 4 towards the end of a session.
This way you get maximum activation of the herb you're vaping; THC at low levels, CBD at higher levels – the best of both worlds, basically.
You can flick through the Smart Path settings using the power rocker on the side the vaporizer or you can use the phone app.
Personally, I prefer to just use the power rocker.
In addition to the Smart Path Technology, you also have Boost Mode.
This effectively kicks the vaporizer into maximum output. It's great for micro-dosing, as you get a significantly larger hit.
Another cool feature is that the MIQRO will switch itself off automatically if it hasn't been used for 2 minutes. This is a great feature, as it saves your precious battery life and also conserves what's in your bowel.
DaVinci MIQRO Chamber and Draw Resistance
The chamber (or oven) is smaller than the IQ's, but that's kind of the whole point of the MIQRO.
It's an ultraportable vaporizer that is designed to be stealthy and easy to pocket when you're out and about.
You can fit about 0.25g in the oven, and this is usually good for a couple of sessions.
As always, you're best off grinding up the herbs as finely as possible for maximum vapor production.
When it comes to the draw, you're in good hands. It's tight enough, but there is an airy nature to it that gives it a natural feel on the inhale.
You can use the drip tip-style mouthpiece if you want something closer to the real-thang, or the standard DaVinci-style mouthpiece which secrets the opening away in the top of the device.
I like both, but I have been using the drip tip more on this one. Mostly because I never used it on the IQ and I wanted to see what it was like.
Either style is great, though.
DaVinci MIQRO Vapor Production
The flavor and vapor production on the MIQRO is superb, even when compared to its bigger, more expensive brother, the DaVinci IQ.
All the notes are there as soon as you take a draw.
The vapor clouds are pretty dense too, especially on higher settings, though this will obviously be dependant on what material you're vaporizing.
I knew the MIQRO would be good in this regard, but given its diminutive size, I did not expect it to keep up with the IQ.
But it did. Easily. And that, for me, is very impressive indeed.
DaVinci MIQRO Verdict – Is This Vaporizer Legit?
In a word: YES!
I really, really like this vaporizer. For portability, for looks, for the sheer amount of goodies you get in the box, and… most importantly, for how well it vapes.
Up to now, if you wanted a portable vaporizer for under $200, I would have said the PAX 2.
Now, though, DaVinci has raised the bar considerably.
It's taken everything that made the DaVinci IQ exceptional and refined and distilled it down into a truly amazing, ultra-portable dry herb vaporizer.
This thing is a solid performer with zero weak links.
I cannot think of a device that is this portable and this good for the same amount of money.
As of right now, the DaVinci MIQRO is the benchmark by which ALL other ultra-portable vaporizers will be measured by.
Brilliant stuff!
Best Place To Buy DaVinci MIQRO
DaVinci – $149.99 (Inc. 2 Year Warranty)
Drake Equation
Co-founder and Editor of VapeBeat. I make the words.