The Coil Master ELFY RTA will always have a special place in my heart, simply because it NEVER leaks and kicks out awesome flavor
---
If you read VapeBeat often, you'll know that I am not a massive RTA fan. I like them, but 90% of them are just a pain in the ass. There are exceptions, of course, but these are few and far between.
The Coil Master ELFY RTA is one of those rare RTAs, however, that doesn't leak. But beyond this, it has a couple of other nifty tricks up its sleeve: the first is price, the second is that it runs on a single coil.
I've been rocking the Coil Master ELFY RTA for just over a week now and I've had an absolute blast testing this RTA out. If you're in the market for a solid, reliable, RTA that doesn't leak and won't break the bank, read on to find out more…
Coil Master ELFY RTA Review – Design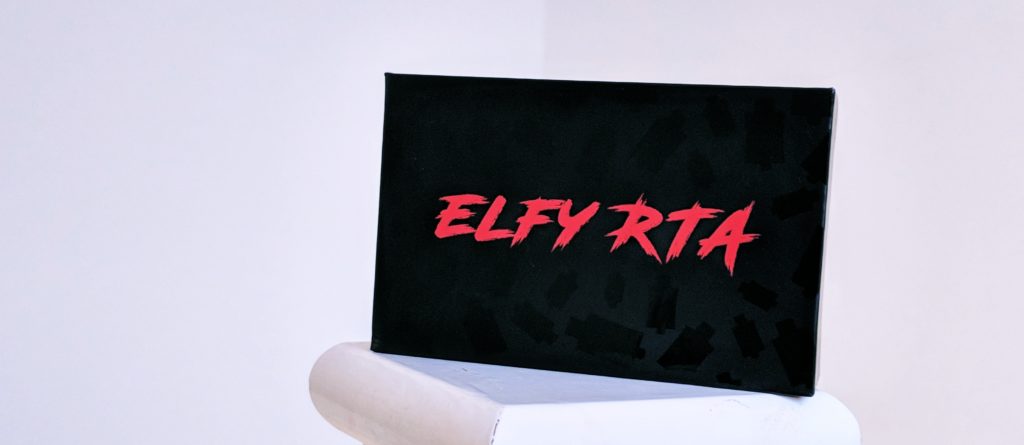 The Coil Master ELFY RTA isn't much to look at. She's a tidy-looking tank, decked out in black, and she'll hold 2ml of E Juice. On paper, that might sound a bit shitty but the reality is a lot different.
You see, usually, with RTA tanks, you spend half your life worrying about when it's next going to dump its load on you, in your pocket, or all over the leather seats in your car.
But with the Coil Master ELFY RTA, this is not a concern, as, put simply: it does not leak. And for an RTA, this is a very bold claim. But Coil Master ain't lying, this RTA does not leak. And I have left it in all sorts of positions to test this statement and none of them resulted in leakages.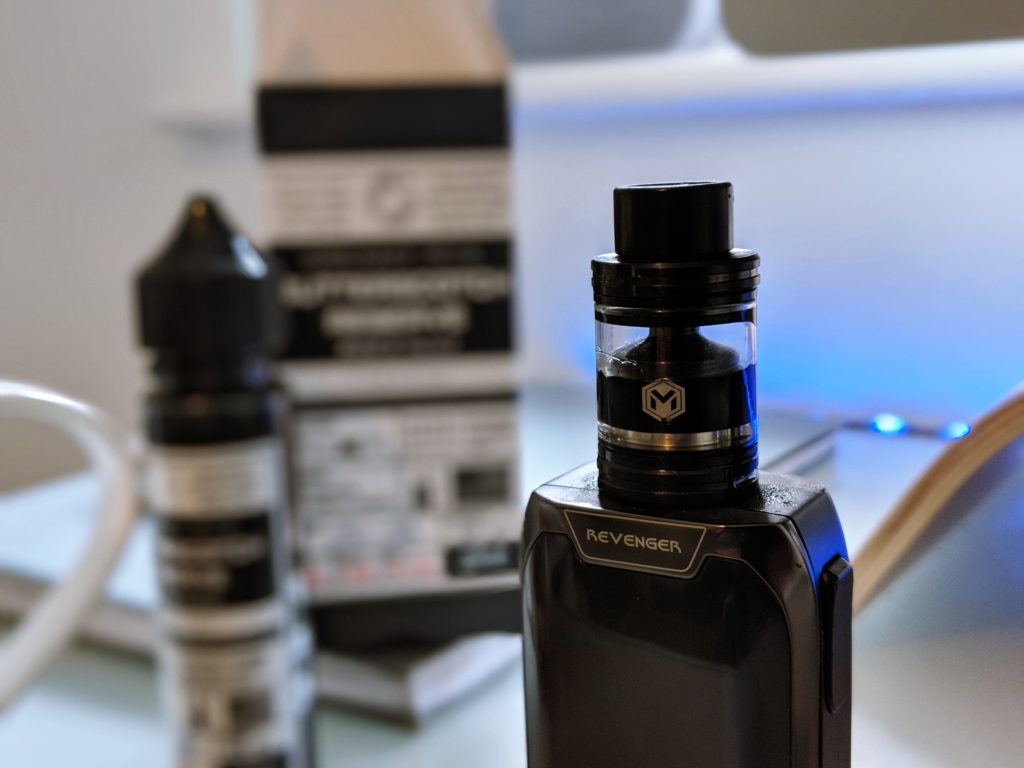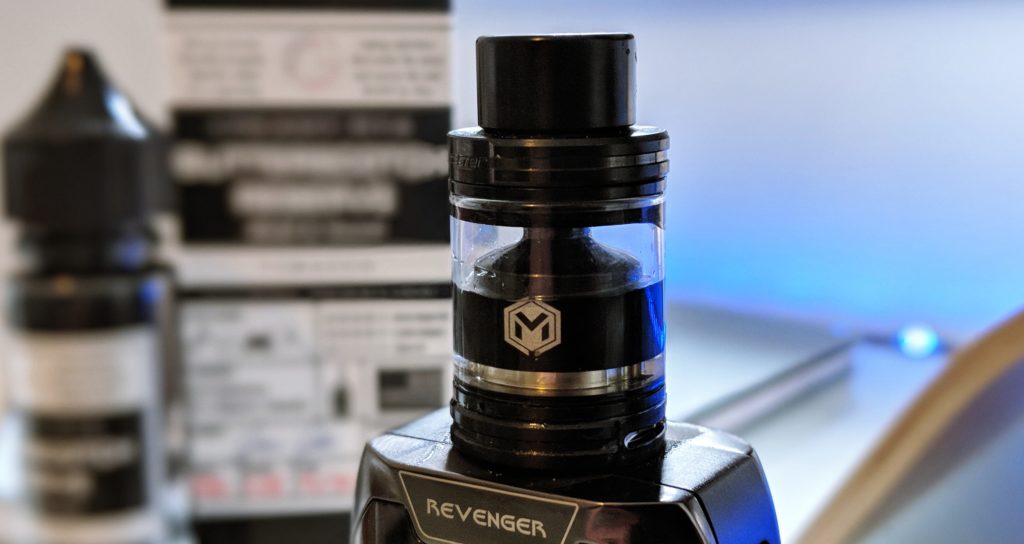 Obviously, no one wants to tempt fate, so it's always advisable to keep the tank upright wherever possible. But it is great to know that the tank, even if it falls over someplace, isn't going to drench whatever surface it's resting against.
For this reason, I don't mind refilling her every few hours. Of course, a larger tank capacity would have been nice, but this is built for global use, including the UK, where the TPD is now in place, limiting the size of a tank's juice capacity. Viewed in this context, you cannot hold the 2ml capacity against Coil Master.
Coil Master ELFY RTA – The Deck & Coil Installation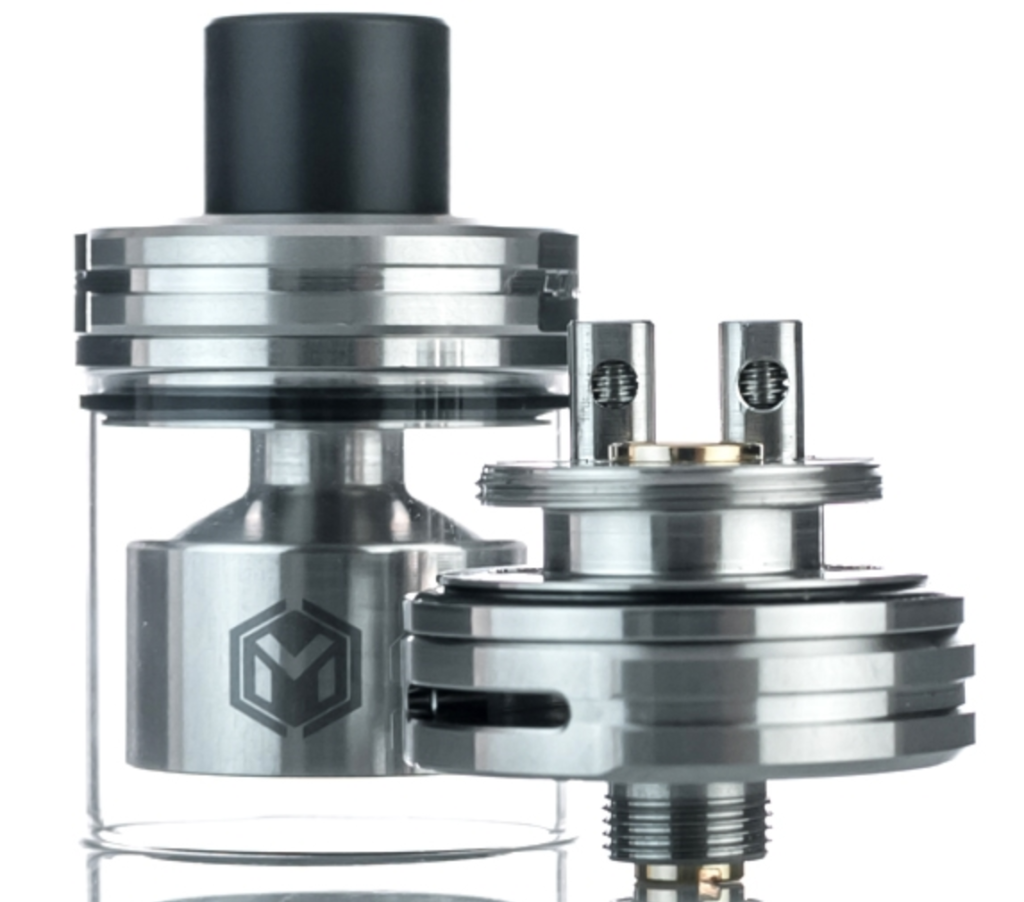 To say the Coil Master ELFY RTA is easy to setup would be an understatement; this thing is a piece of p*ss to setup. A five-year-old could do it, not that I'd ever advocate that!
The two post design of the deck is basic, but it works brilliantly. Just install your coil, wick it, stick the tank together, and, BOOM, you're away. So long as you fluff up the ends and get them the right length, just to the edge of the deck, you will not have any problems.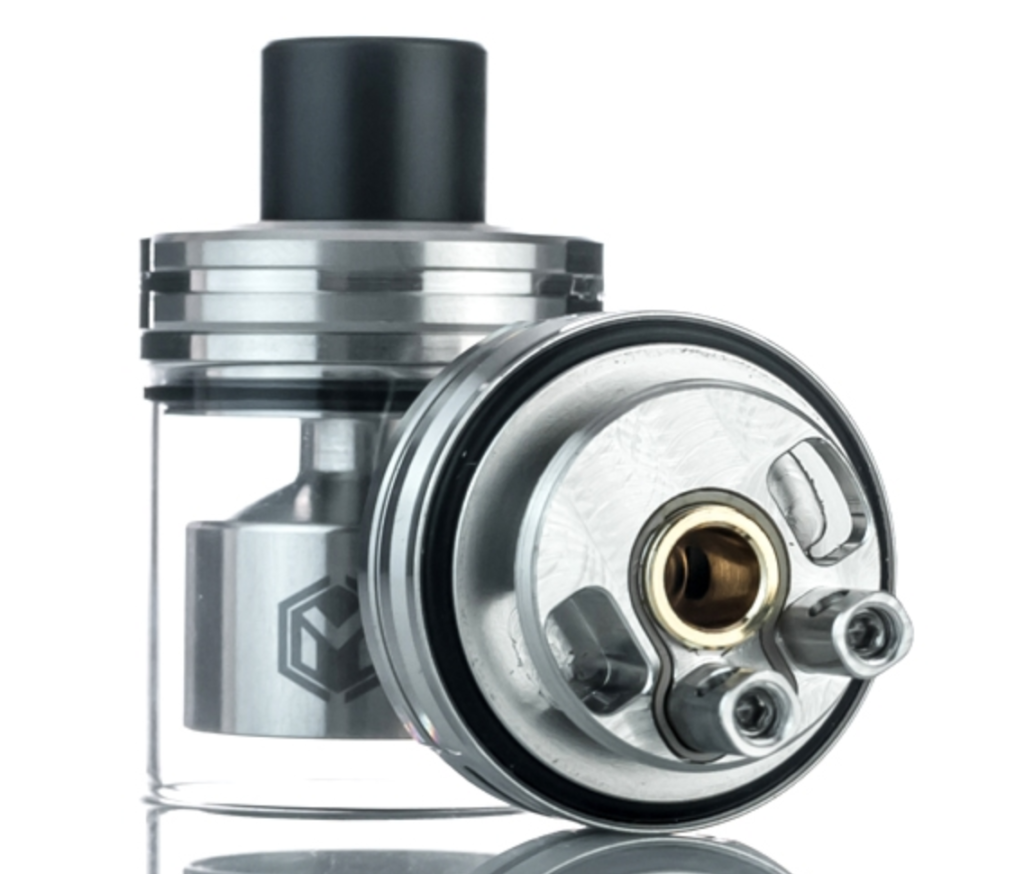 And take it from me: I'm not exactly the best builder in the world. I tend to avoid RTA tanks for this very reason, but I got the Coil Master ELFY RTA setup 100% perfect on my first go. If I can do it, anyone can. And I didn't even have to watch a YouTube video!
The drip tip it comes with is a bit on the small side, so I swapped it out for a slightly chunkier one, as I prefer this style when vaping. The drip tip it comes with is fine and dandy for most, but it is nice to know you can switch it out if you're looking for a wider mouth piece.
Coil Master ELFY RTA Review – Specs & Features
I've been testing quite a lot of large tanks of late, so when I unboxed the Coil Master ELFY RTA, I was kind of taken aback by its size – she's teeny tiny!
I think this is a good thing, though, as the Coil Master ELFY RTA won't look out of place on smaller, single cell mods. In fact, because of its single coil nature, it is ideal for these kinds of setups, as you can run it super low (30-35W) and still get great clouds and flavor.
Here's a breakdown of ALL the Coil Master ELFY RTA's key specs:
23mm Diameter
2.5ml Tank Capacity
Threaded Top Fill
Two Large Fill Ports
Two Post Build Deck
Single Coil Design
Dual Slotted Terminals
One per Post
1.5mm by 2mm Terminal Slots
Top Mounted Hex Screws
Airslot Built Into Post
Centrally Located Between Terminals
4mm by 4mm
Dual 2.5mm Diameter Wicking Ports
PEEK Insulator
Dual Adjustable Bottom Airslot
10mm by 1mm
7mm Bore ULTEM Drip Tip
510 Drip Tip Compatible
304 Stainless Steel and Glass Construction
Gold Plated 510 Contact
Coil Master ELFY RTA Review – Performance
How's it vape? In a word: brilliantly.
I wasn't expecting much from the Coil Master ELFY RTA. It's a $25 RTA and with RTA tanks, you usually get what you pay for – not here though! No, here, you're getting INSANE value for money. And this is very significant.
The flavor the Coil Master ELFY RTA kicks out is superb. It's easily on a par with any RTA/RDA I have tested in the past 12 months. And, yes, that includes the Dead Rabbit RDA and the Vandy Vape Pulse 24 RDA.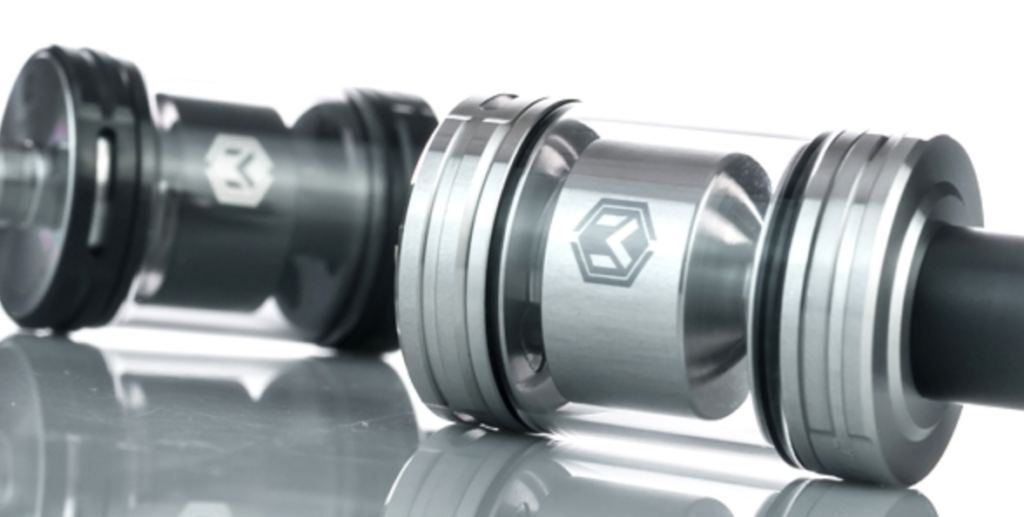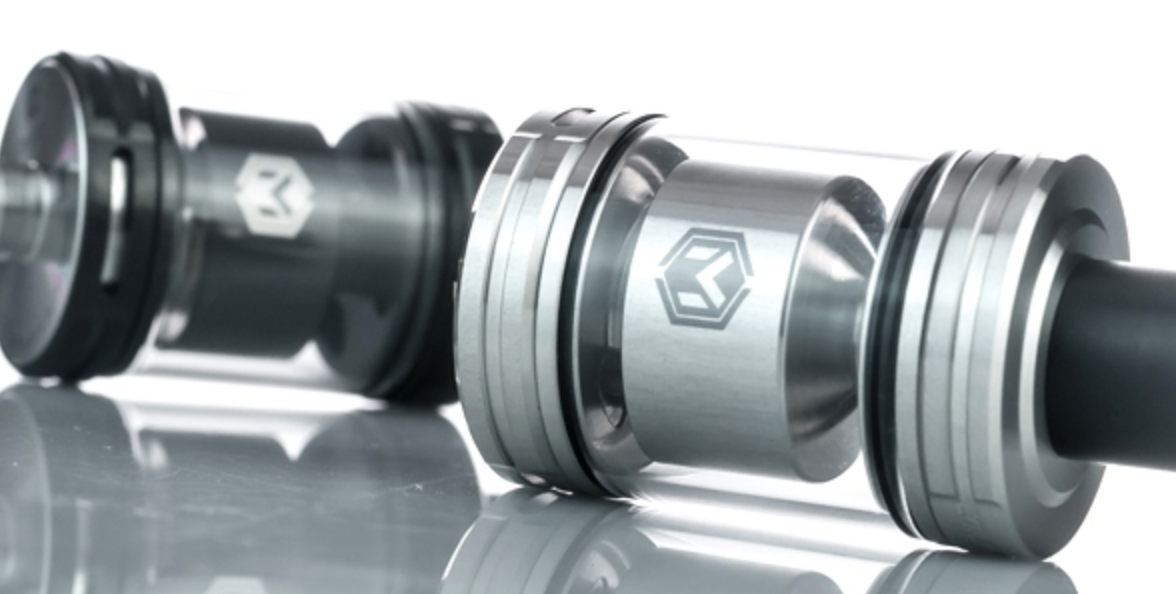 But my absolute favourite thing about the Coil Master ELFY RTA is that it runs on a single coil and you can run it at 35W and still get incredible flavor and cloud production. Running your tank this low saves your E Juice and adds HOURS to your mod's battery life. I'm getting about 1.5 days off my cells now versus around 6-7 hours when I have my Dead Rabbit RDA running up and around 110W.
The airflow is kinda small, meaning there's not much to play around with. I keep things wide-open, as per my preference, but you can narrow things down for a tighter draw. I don't think you'd ever classify the Coil Master ELFY RTA is a potential MTL tank, but you can get it pretty tight on the draw with just a small opening.
For me, the Coil Master ELFY RTA works best when its wide open. When it's set up like this, you get great a great vape that has the slightest hint of resistance which in my book always makes for a good vape. To be honest with you, this RTA has kind of blown me away. For the price, this level of flavor and performance is rare.
And the fact that it doesn't leak is just, well… the cherry on the cake.
Coil Master ELFY RTA Review – Why It Doesn't Leak

Why doesn't the Coil Master ELFY RTA leak? It's to do with how the airflow works. And the elevation of the build deck. Essentially, air is redirected up to the build deck where it hits the coils in a more direct fashion. I'm still not 100% sure how it works. But it does – and that's the main thing.
Also: because the build deck is slightly higher than normal, you get a more intense flavor when vaping. And that, my friends, when combined with the no-leak-thing, is what you call a DOUBLE WIN!
The Coil Master ELFY RTA also comes with a pretty decent haul of gear as well, which is detailed in full below:
One Coil Master Elfy RTA
Two Spare Glass Tank Sections
Prebuilt Clapton Coils
Spare Parts Pack
Japanese Cotton
User Manual
[letsreview]
Drake Equation
Co-founder and Editor of VapeBeat. I make the words.