SMOANT Battlestar SQUONKER Kit Review: It's Got A Pump…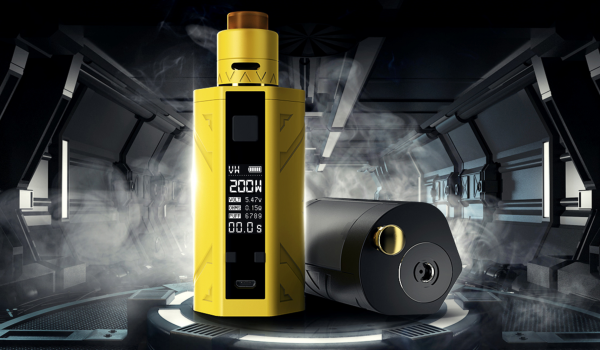 The SMOANT Battlestar SQUONKER Kit is a brand new regulated squonk mod with a COMPLETELY unique squonking mechanism. But is it good enough to take on the likes of the RAGE squonker and the USV MachOn3…
---
In a sea of very good, dual-18650 cell regulated squonk mods standing out from the crowd is always going to be tricky.
Leading the pack right now are two awesome mods: the Rage Squonker and the USV MachOn3 – I really like both of these devices.
But now there is a new player in town: the SMOANT Battlestar SQUONKER Kit, and like the USV MachOn3 it comes with an RDA.
Only this squonker does things slightly differently…
SMOANT Battlestar SQUONKER Kit Design
The most obvious thing about the Battlestar Squonker is that it features a completely unique squonk mechanism.
Rather than squeezing a bottle on the side of the device, you have a pump that is located on the top of the mod.
How it works is simple: when you want to squonk more E Juice to your atomizer, simply depress the pump a few times. This sucks up E Juice and sends it directly to your RDA.
It works too. Really well.
The squonk bottle used by the SMOANT Battlestar SQUONKER Kit is a solid piece of plastic, so there'll be no squeezing whatsoever.
It slots onto the backside of the device. Below this is the battery door compartment, which houses two 18650 cells.
Setting up the SMOANT Battlestar SQUONKER could not be easier; just fill the squonk bottle, slot it in, add your batteries, and you're away.
The device itself is like a slightly beefier, more premium version of the original Battlestar mod. The design language is similar, just with a few new additions.
There are four color options too:
Black (This is The One I Have)
Yellow (My Personal Fave…)
Gun-Metal
Gradient-Blue
You have a bright, detailed OLED display and the buttons are all nice and clicky.
Chuck in up to 200W of power, support for temperature control vaping and you're in a very good place.
Specifications
Dimensions: 87.5mm x 44.5mm x 40.5mm
Wattage Range: 0W to 200W
Resistance Range: 00.5ohm to 3.0ohm
Voltage Range: 6.0 to 8.4V
Charging: 5V/2.0A
Batteries: 2×18650 Cells (Not Included)
What's In The Box
You get a full gamut if spares, including a squonk bottle and a pair of very impressive coils, as well as O-Rings, cotton, and a screwdriver.
The packaging is decent, as you'd expect from SMOANT, and the mod itself is machined beautifully.
It's not quite as eye-catching as my red RAGE squonk mod, but it does have all the right attributes, including a 7ml squonk bottle that WILL NOT over-squonk.
Installing everything is a cinch; there is literally nothing that will cause you issues here.
From unboxing to vaping, it took me about five minutes to set this device up – and that included building out the RDA as well.
How's The RDA Perform?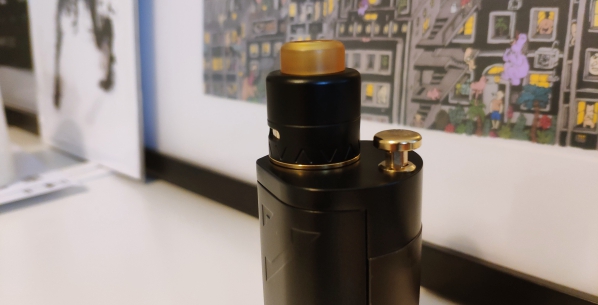 Pin
Ummm… it's OK. Not great, to be honest. The deck is simple enough to build on but I found myself switching it out for my BTFC RDA after an hour or so.
But that's OK; kit RDAs are never usually outstanding, so this can hardly be considered a major negative.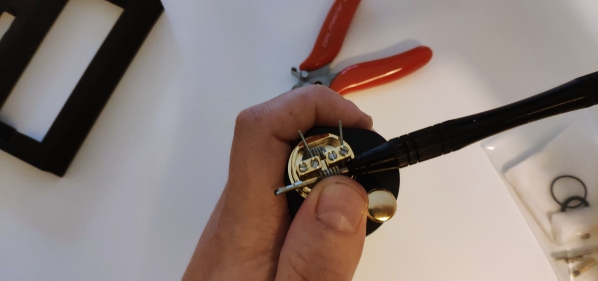 Pin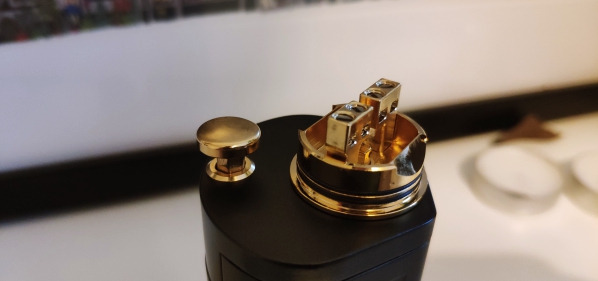 Pin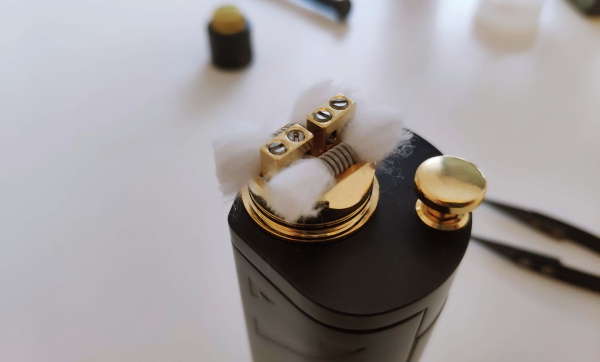 Pin
The flavor and airflow are the main culprits here; they're just not quite as good as they should be and this affects the overall flavor.
Still, you don't usually get an RDA with most regulated squonk mods so the inclusion here is a nice touch (even if the atomizer itself isn't all that great).
How's It Squonk?
This is where the Battlestar SQUONKER really comes into its own. The pump squonk mechanism is great; it works like a charm. And the fact that it will not let you over squonk is brilliant.
And with the kit RDA, you will need this feature as the air holes are set very low, towards the bottle of the RDA.
I found that a few pumps delivered enough E Juice for a solid vape session.
You can use more if your RDA can handle it, but 3-4 pumps are normally sufficient to get everything soaked with E Juice.
Do I prefer it to traditional forms of squonking? I actually think I do…
The pump is well placed and is easy to access while using the device. It works really well. And it adds a cool steam-punk kinda aesthetic to the mod.
So far, I'm really digging the SMOANT Battlestar SQUONKER kit.
The only slight negative for me is the RDA it comes with; it's just not quite as good as some of my daily-bangers (BTFC RDA, PROFILE RDA, Goon 1.5 RDA).
Other than that, this is a very capable, high-performance dual-cell regulated squonk mod that is unique enough to stand out from the crowd.
I think SMOANT might just have a hit on its hands here…
Drake Equation
Co-founder and Editor of VapeBeat. I make the words.