SMOANT makes some very good vape mods, and now it's about to release a pod mod to rival the Lost Vape Orion DNA – meet the SMOANT Pasito Pod Kit!
---
Want do you REALLY want from a pod vape? Me? I like big batteries, plenty of E Juice storage, a pure MTL vaping experience, refillable pods, and the ability to control my vaping experience – either through variable wattage or power/strength settings.
If somebody makes a pod mod that does all of those things, I'll buy it. This is why I own the SMOK Trinity Alpha, the Lost Vape Orion DNA, and a bunch of others. Now, though, SMOANT's about to join the high-end pod mod fray with a device called the SMOANT Pasito Pod Kit.
And when you see the specs, which I just got direct from SMOANT, you'll see what I am kind of excited about the SMOANT Pasito Pod Kit.
SMOANT Pasito Pod Kit Specs:
Innovative, rebuildable pod system (RBA single coil sold separately)
ANT chip, Constant output, quick hit, Low voltage protection/ Short-circuit protection/ 10s Over-time protection/ Over-heating protection
Adjustable 5 wattage levels (10W 13W 16W 20W 25W)
Made from CPL and Aluminium alloy material, no fingerprint and portable.
3ML large capacity
Replaceable resin drip tip
Easy top refilling & 100% leak-proof
1100mAh capacity
Type C quick charging
Top Adjustable airflow control system
Three types of coil heads available:
MTL: 1.14ohm Ni-80 coil
DTL: 0.6ohm DTL mesh coil
RBA: single coil heads
SMOANT Pasito Pod Kit Design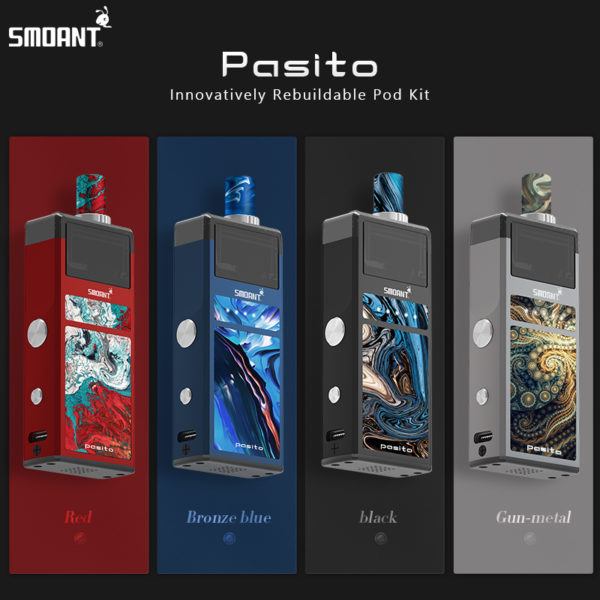 Right now, I only have one picture of the SMOANT Pasito Pod Kit; it's the one above, and as you can see it comes in a range of color options. The picture isn't the best, but it shows us what we'll be dealing with when this pod kit lands in a couple of weeks.
Looking like a cross between the Lost Vape Orion and the SMOK Trinity Alpha, the SMOANT Pasito Pod Kit is one of those new breeds of hybrid pod mods that part box mod and part AIO pod device. And I really dig these too because they always have bigger batteries and more vaping options.
The First Ever Rebuildable Pod Vape Device
But the SMOANT Pasito Pod Kit doesn't stop there; oh no! It has yet another trick up its sleeve – you can rebuild the atomizer on it, just as you would do with an RDA or an RTA. I'm not 100% sure how it works at the moment, my test unit is coming in a couple of days, but SMOANT tells me it is 100% rebuildable.
Not a fan of rebuilding? No problem. The SMOANT Pasito Pod Kit will also work just like a normal pod vape, meaning you can just vape it like you would the UWELL Caliburn or the Lost Vape Orion. The rebuildable aspect is designed for those that like RDAs/RTAs and want something, well… a little different.
The only slight issue with the RBA coil head is that it's sold separately, so if you want to experience a rebuildable pod vape, you're going to have to pay extra for that particular coil head. This makes sense though; it keeps the device nice and simple for users but adds in a little something extra for those that are looking for it.
SMOANT Pasito Pod Kit Coil Heads
As noted above, you have three potential options:
DTL Coil
MTL Coil
RBA Coil
The standard kit will come with an MTL and DTL coil head. This means you can either vape it nice and tight with the MTL coil like most pod mods or, if you want something with more power, you can swap out the MTL for a DTL coil and up the power.
As I said, I haven't tested this device yet, so I cannot comment on how it performs and what it vapes like. All I'm doing here is bringing you some exciting news that SMOANT dropped on me this morning. Either way, I am pretty pumped about this device; it has everything I'd want from a pod and much more besides.
The choice of coil head options means you can use the SMOANT Pasito Pod Kit with freebase high VG E Juice and Nic Salts E Juice. This makes it something of a hybrid pod vape, just like the SMOK Trinity Alpha, which also borrows a few tricks from its larger, box mod counterparts.
The difference between that device and the SMOANT Pasito, however, is that the SMOANT Pasito has full variable wattage controls and a proper AFC, just like the Orchid Ultra, which I reckon will be SMOANT's #1 competition when the Pasito lands in a couple of weeks time. And knowing SMOANT, the Pasito will be priced very aggressively as well.
SMOANT Pasito Pod Kit Release Date & Price
I have no idea how much the SMOANT Pasito Pod Kit will cost once it launches, but I'm guessing it will retail for under $40 given SMOANT's usual, ultra-aggressive pricing strategies.
As for a release date, you're looking at a launch in around two weeks time, according to my contact at SMOANT, so it should be available to buy in and around mid-June, all being well.
I'll have my sample in a couple of days time, so keep your eyes peeled for an in-depth preview of the SMOANT Pasito Pod Kit then.
UPDATE: You can now pre-order the pod over at HeavenGifts – prices start at $35!
---
The VapeBeat E Juice Store is now OFFICIALLY OPEN – (Use Code: VAPEBEAT15 for 15% Discount)!!
Please Note: The Store For USA Customers ONLY!
Inside you'll find:
30 & 120ML Bottles Pre-Steeped E Juice
Over 1000+ Five Star Reviews
Tons of Awesome Flavors
CBD Vape Juice
Nic Salts E Juice
120ML Bottles For $19.99; 30ML For $8.99
View Full Range of E Liquids Here (Use: VAPEBEAT15 for 15% Discount)
Drake Equation
Co-founder and Editor of VapeBeat. I make the words.