The Pax 3 is a brilliant weed vaporiser. It is easily the best portable vaporizer for weed devices around right now. Here are 10 points on why I love it so much!
---
If you like smoking weed, but want to do it in a healthier manner, I have one word for you:
PAX.
Pound for pound, PAX makes some of the best portable vaporizers for weed around.
The PAX 2 was (and still is) superb.
But the PAX 3 is the latest and greatest vaporizer from PAX's skunkworks…
And it kinda takes things to a whole new level.
How? Read on and find out!
Best Portable Vaporizer For Weed – 10 Reasons The PAX 3 Is My #1 Choice For 2018
---
Design
Discreet. Pocketable. Gorgeous to look at? Yep – the PAX 3 is all of these things and more.
For me, it is the portable vaporizer for weed you can buy right now.
It fits pretty much anywhere, looks superb, and is made from premium materials which look and feel great.
[letsreviewaffiliate url="https://pax-vapor.sjv.io/c/183240/341972/5046″ text="Best Price | PAX | $199.99-$249.99″ size="big" rel="nofollow" target="newwindow" accent="#dd3333″ border="on"]
---
My favorite thing about the way it looks, though, is that it doesn't look like anything you could smoke weed with.
Like, not even close.
So most people will have no idea what it actually is when you whip it out at a party. But after one hit from it, they'll probably be your friend for life.
PAX 3 Battery Life
It's great. With moderate usage, you're looking at hours of uptime.
Even during heavy sessions.
If you're just using it for the occasional toot, you're looking at bi-weekly charging.
If you're at a party and EVERYBODY is using it, you'll probably need to give it a charge overnight just to be safe.
Performance
For me, this is where the PAX 3 really comes into its own, as a dry herb vape pen.
It heats up incredibly fast, mere moments, and once it's fully-heated, the hits it produces are truly next level for a portable vaporizer.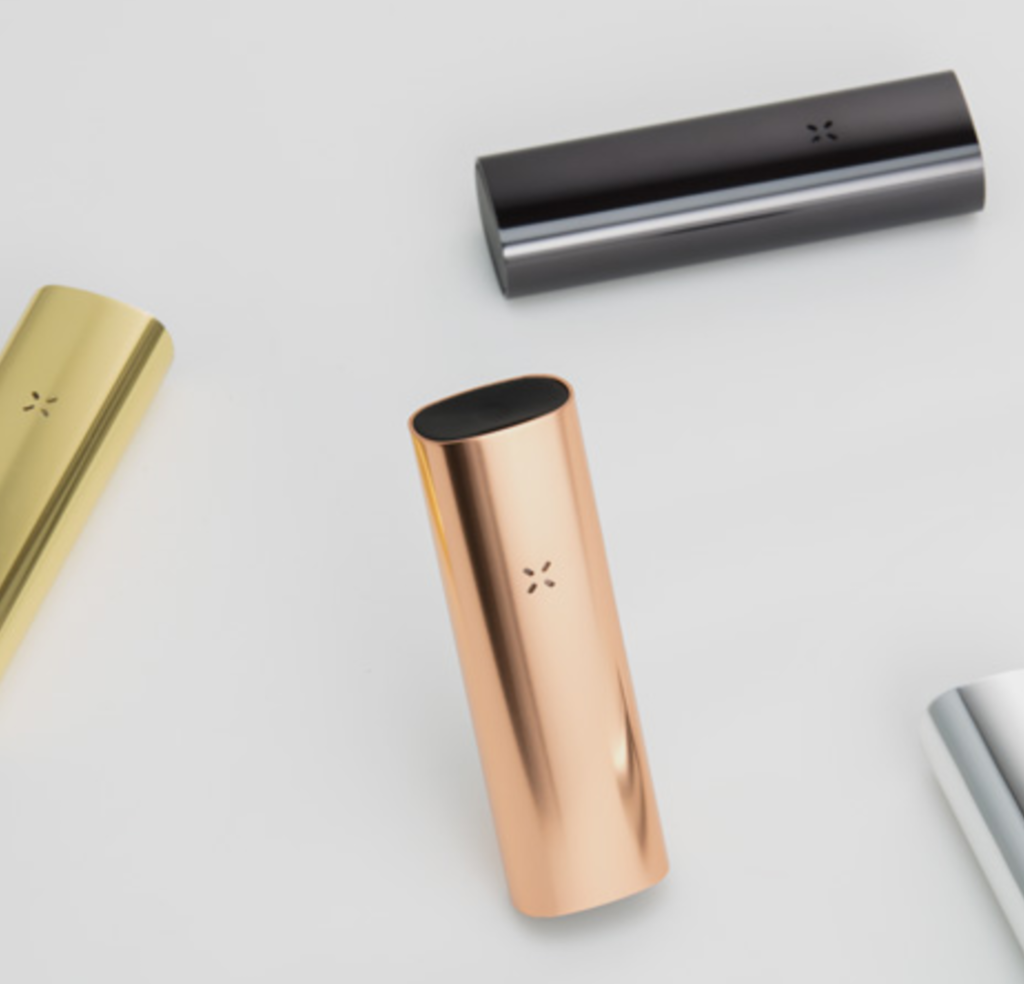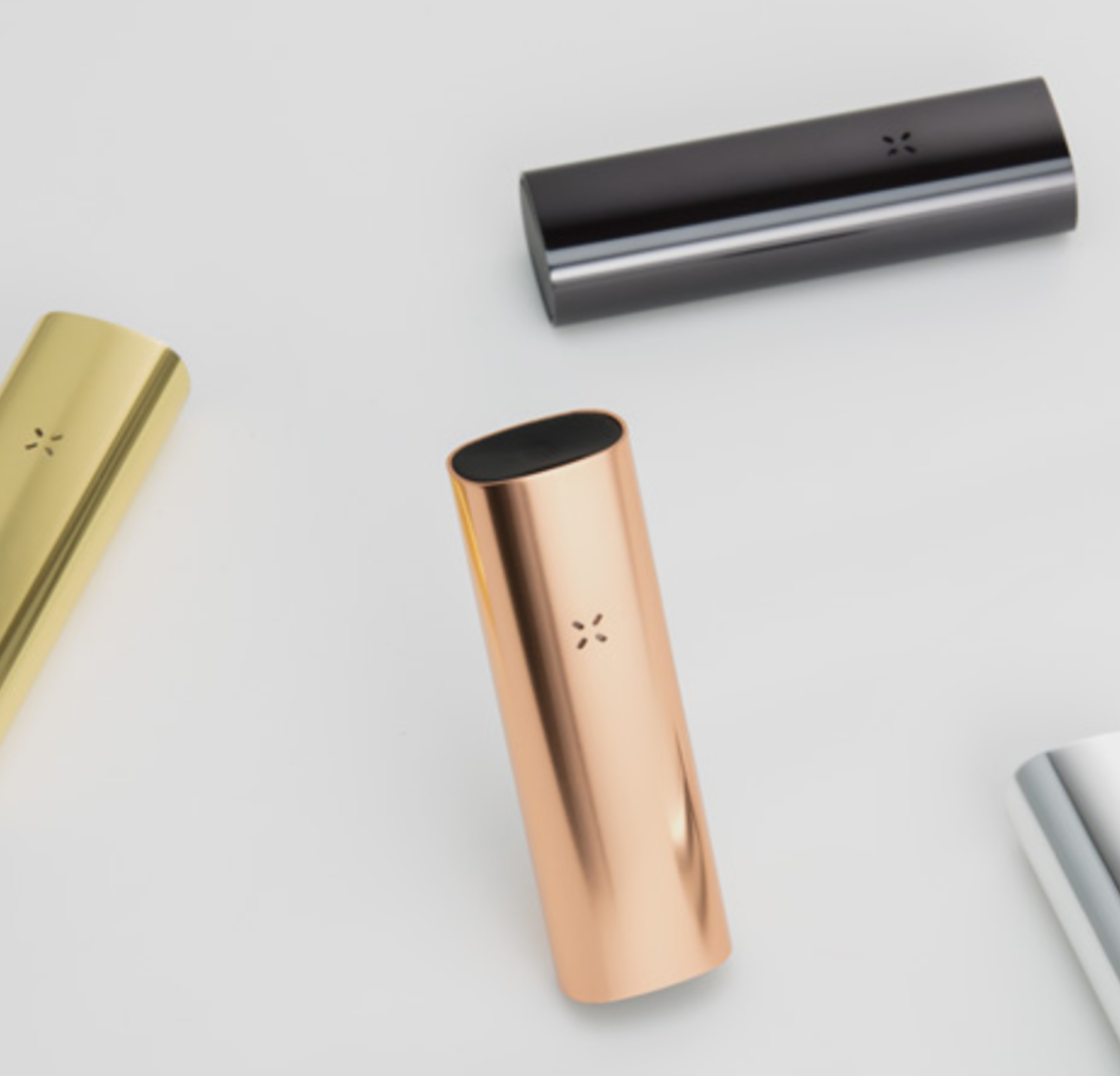 It's also incredibly reliable.
I've had mine for almost 12 months and it hasn't missed a beat during that time.
Not once.
Vapor
If you want A LOT of flavor and vapor, the PAX 3 is just what the doctor ordered.
Coming from the G Pen Elite, a cheaper weed vaporizer, I was kind of bowled over by just how much vapor the PAX 3 kicks out.
It's almost like smoking a joint. There is plenty, easily enough to blow a smoke ring or two.
And this is important, especially if you favor a more traditional style of pot smoking.
It Connects To Your Phone
Yep. The future is finally here. You can now control the PAX 3's settings from your phone.
This means you don't have to change anything on the device.
Everything can be done inside the phone app, which works on Android and iOS.
How it works is beautifully simple too: you set the temperature, lock it, and you're good to go.
Everything is done over Bluetooth, and it works alarmingly well.
Color Options
The PAX 3 is available in a range of colors. This isn't a deal breaker. But if you like certain color options it's definitely a plus.
PAX 3 Lip-Sensing Technology
The PAX 3 has no buttons on it. The chassis is completely devoid of any breaks or hardware keys.
This makes it look very sleek and sexy.
All you have to do to take a hit is hold it to your lips and inhale. It knows when you want to take a drag, and switches on accordingly.
And when you're not using it, it stops using power. Proper clever stuff!
Precision
The one area where the PAX 3 really separates itself from the crowd, however, is to do with the level of control you have over the vapor production.
You can augment the heating by such a fine increment that the possibilities are endless.
You can have it high for big hits, turn it down slightly to conserve or, alternatively, you can keep it super low for stealth vaping.
And then there's a million and one potential settings in between.
One of my favourite things to do with it is to change the settings ever so slightly to see how it affects the flavor and vapor production.
Warranties – 'Cos You'll Want One For This Much Money!
Whenever you spend a lot of dough on something, you want to make sure you're covered.
PAX over excellent warranties on their products – 10 years for the PAX 3.
This means if anything goes wrong you're all good with getting a replacement.
And at this price, that's always a good thing.
The PAX 3 Can Do Concentrates Too
Oh yeah, last but not least, the PAX 3 can also do concentrates as well, if that's your bag.
I don't tend to mess around with these, but if you prefer concentrates or just want to try them, the PAX 3 is ready and raring to go.
Best Deals For PAX 3
---
Drake Equation
Co-founder and Editor of VapeBeat. I make the words.