The DigiFlavor EDGE Kit is a unique-looking mod with plenty of features under the hood. It comes with a mesh coil tank too, and it has wireless charging built in – but is it actually any good?
---
DigiFlavor EDGE Kit – Quick Verdict (96%)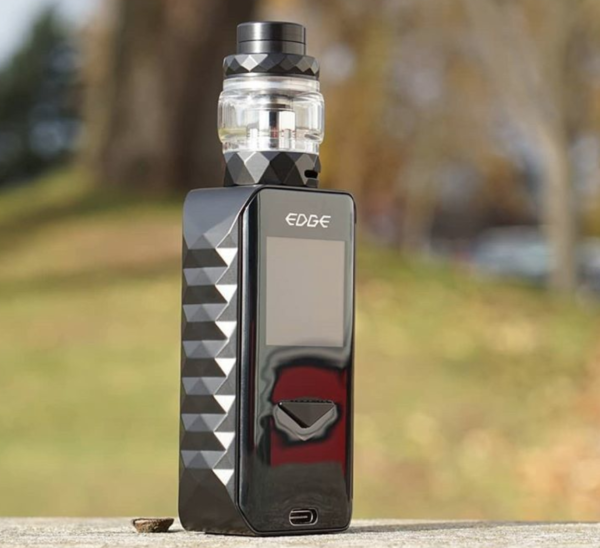 DigiFlavor EDGE Kit
Wireless Charging
Eye-Catching Ergonomic Design
Masses of Power
Great Performance Across The Board
Mesh Coil Tank & Coil Heads Are EPIC
Great Value For Money
The DigiFlavor EDGE Kit serves up A LOT of value for money. It's a great looking vape mod and the tank it comes with is very good indeed, with excellent, long-lasting coils.
The design and finish are great and also pretty unique. I love how small this mod is and I really dig its display and the fact that it comes with wireless charging. Performance is exemplary across the board, but where the DigiFlavor EDGE Kit really excels is in power mode.
As a complete kit, the DigiFlavor EDGE Kit brings everything an intermediate vaper could want from a box mod and vape tank combo – good looks, great performance, excellent coil heads, massive flavor, and a simple but feature-rich settings menu.
For the price, less than $60, you're getting A LOT of mod and plenty of features. And that's always good. It's not my favorite mod of the year, not by a long stretch, but it is definitely a very solid, reliable vape kit that will almost certainly satisfy even the most hard-to-please vaper.
---
Full DigiFlavor EDGE Kit Review – Design, Specs, Performance & More
Design
Making a vape mod that looks unique is tricky. You don't have much to work with in terms of form factors, so I'm always impressed when I test out a new box mod that looks totally different from 99.9% of its peers.
The DigiFlavor EDGE mod is one such device.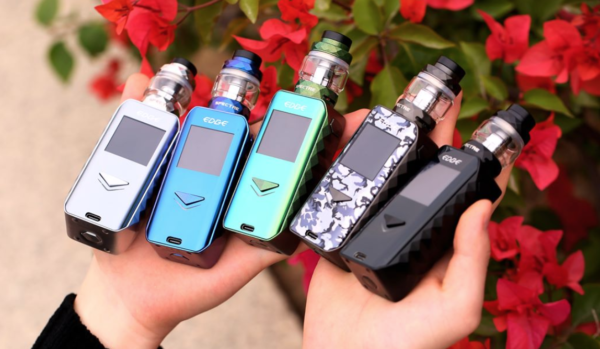 It's super-ergonomic and a great size, but beyond this, it is styled unlike anything else on the market right now. Most of this is achieved via its perfectly executed honeycomb-style sides, granted, but the overall effect is very cool.
You have a large display front and center that displays a wealth of information, easy to click buttons, and a perfectly located fire button (top right-hand side) that make using the DigiFlavor EDGE Kit a breeze. It's also available in five color options:
Stealth Black
Green
Silver
Gun Metal
Blue
The DigiFlavor EDGE runs two 18650 batteries which sit snuggly inside it. Each mod features a two-tone metallic paint job and this makes the design really pop, regardless of which color you go for. I believe the build materials are mostly zinc alloy too; so, again, nice and premium.
The battery door pops off easily enough, you just have to push the button located on the bottom of the device. One press releases the battery door. After your 18650 batteries are inserted, the cover snaps back on and holds fairly steadily place, though there can be some wobble.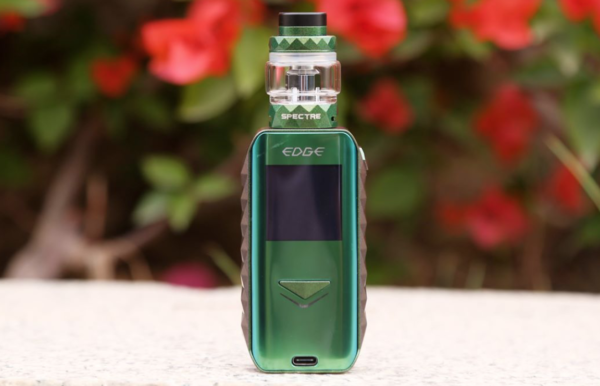 The 510 connector is positioned centrally at the top of the device, making the DigiFlavor EDGE mod an ideal choice for vape tanks of all shapes and sizes. You got plenty of room to play with, so you'll be fine running anything from 22mm right up to 30mm.
All told, the DigiFlavor EDGE mod is very well put together. My only slight issue is that there is some slight rattle on the battery door. This isn't a deal breaker for me, but it is certainly worth noting. Other than that, I think this box mod is beautifully designed and very well executed.
Specs & Features
Below is a quick breakdown of the DigiFlavor EDGE's core specifications and features:
Size: 90x67x29mm
Battery: 2×18650
Output: 200W max
Resistance range: 0.05-3ohm
Temperature range: 100-315°C / 200-600°F
Modes: Power (VW), TC (Ni200, Ti, SS), TCR, VPC, Bypass
Display: 1.54in color LED
AS Chipset
Wireless Charging: 10W (9V/1.1A)
DigiFlavor EDGE Performance
There's nothing worse than owning a good-looking mod that performs poorly. It's like a kick in the teeth, and nobody wants that. Fortunately, the DigiFlavor EDGE is a very reliable, potent performer in all modes.
So while you can pay $100+ for a YiHi or a DNA mod, you can still get plenty of performance from a mod that costs less than $60.
I tested this mod for almost an entire month and during this period it did not miss a beat. It always delivered power in a consistent and reliable manner and it always read my coils with near-100% accuracy.
I used it with the DigiFlavor SPECTRE tank, RDAs, MTL tanks, and RTAs and it worked great, reading the coils accurately and powering them accordingly. I had no misfires, no random issues, and no problems with connecting to a tank's 510 pin during the entire month. And, like the VooPoo Drag, the DigiFlavor EDGE hits like a freight train. Every time.
I'm not big on temperature control vaping, seldom doing it in my day-to-day, but I did test it pretty extensively during the month I used this mod and I was very impressed by how the DigiFlavor EDGE performed. It's highly accurate and even the smallest of changes made noticeable differences to the vapor and overall flavor.
All in, the DigiFlavor EDGE is a very, very good performer. Not only does it look great, but it also manages to back this up with very impressive performance across the board. Hell, it's even great at temperature control vaping, and hardly any sub-$100 vape mods can claim to do that!
DigiFlavor SPECTRE Tank Review
As noted above, the DigiFlavor EDGE comes with a mesh coil tank – one that's called the DigiFlavor SPECTRE. And for a kit tank, it is very impressive indeed. In fact, I'd go as far as saying it is one of the best "kit tanks" I have ever used…
The mesh coil heads it comes with (2x 0.2ohm) are truly brilliant. I ran my first one for two weeks without any noticeable drop in flavor. The second one did just as good. And for a kit tank, that is very impressive indeed.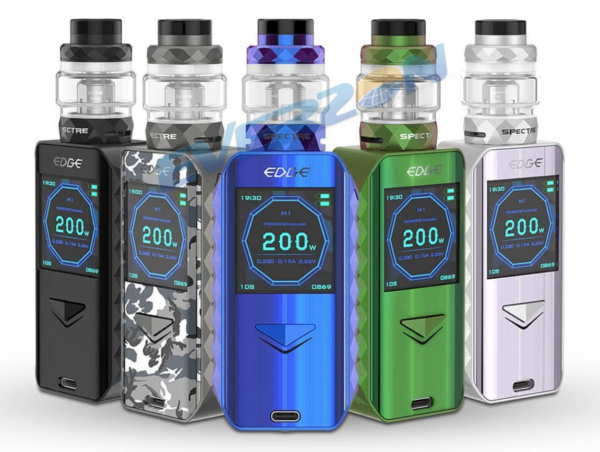 The flavor and clouds are both amazing. Priming the coil heads is simple too; just drop E Juice on the cotton until it is saturated. Once you've done this, fill up the tank and start vaping. Pretty soon, you're cruising around in FLAVOR CITY and that's always a good place to be hanging out.
The DigiFlavor SPECTRE will hold 5.5ml inside its glass bubble tank, so you've got more than enough space for a solid half-a-day's worth of vaping. To be honest, this vape tank kinda blew me away. I wasn't expecting much but it has quickly gone on to become one of the best mesh coil tanks I have tested inside 2019. And that is high praise indeed!
Should You Buy The DigiFlavor EDGE Kit?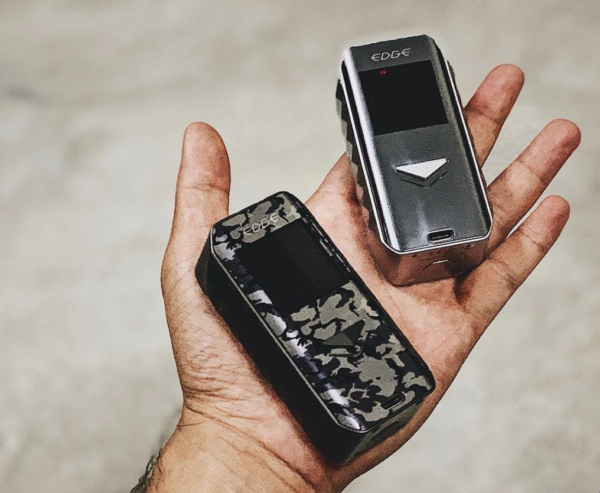 As you can probably tell from my review, I really do like this vape mod and tank combo rather a lot. It looks stunning in the flesh and it performs like a true champion across the board with excellent power delivery and surprisingly great temperature control performance too.
The styling, finish, and overall look and feel of the DigiFlavor EDGE mod, as well as how it handles, are all very impressive indeed. Chuck in a thoroughly excellent mesh coil tank, wireless charging, and a very competitive sub-$60 price point and you're looking at one very compelling vape kit setup…
So, yes, you probably definitely should buy the DigiFlavor EDGE kit. If you want great value for money, good looks, a thoroughly excellent mesh coil tank, and masses of performance, this vape kit comes HIGHLY recommended!
Drake Equation
Co-founder and Editor of VapeBeat. I make the words.