THESE are the best RTA tanks you can buy right now, according to VapeBeat's expert team of vapers
An RTA tank is essentially THE goldilocks setup of the vaping world, encompassing the best of ALL possible worlds. And the one's we've featured in this list are the best RTA tanks the VapeBeat team have tested.
The prospect of building your own coils might put some people off, but once you've factor in the reality of what it takes to build a single coil — it's REALLY simple — and the amount of money you save not having to buy pre-made coils, the logic is simple: RTA tanks ROCK. But what are the best RTA tanks?
I'm guilty of ignoring these wonderful things; I spent years with sub-ohm tanks before curiosity got the better of me and I bought an RTA. Since then I've tested a bunch — the best of which are included in the list — and I cannot stress enough how much of a game changer these types of tanks will be to your vaping life.
You will save a FORTUNE by not having to buy pre-build coils alone. Beyond this, however, the benefits are still myriad: bigger clouds, better flavour, heightened control over your vape, a wider understanding of things like Ohm's law and, generally, how vaping actually works in practice.

I get most of the gear I need for building my coils — wire, tools, cotton, etc,. — from Coil Master. They have a great selection of products, awesome customer service and brilliant prices — honestly, these guys CANNOT be beaten, so be sure to check them out. And once you do and you have your first successful RTA up and running, I guarantee you will NEVER go back to sub-ohm tanks.
Convinced? You should be. RTA tanks are simply amazing. I avoided them for way too long. Do NOT make the same mistake I did — you're missing out on so much awesome vaping!
If you're interested in RDA performance, but want more juice capacity make sure you check out our guide to the best RDTA tanks you can buy right now. 
OK, now that's out of the way, what are the best RTA setups as of right now? Honestly, there are TONS. But here at VapeBeat we only recommend stuff that we have tested and used ourselves. Below you will find my pick of the best RTA tanks for 2016. And if I did miss any that you think are worth inclusion let us know in the comments section at the end of the article.
The Best RTA Tanks You Can Buy Right Now
ENVII Artisan RTA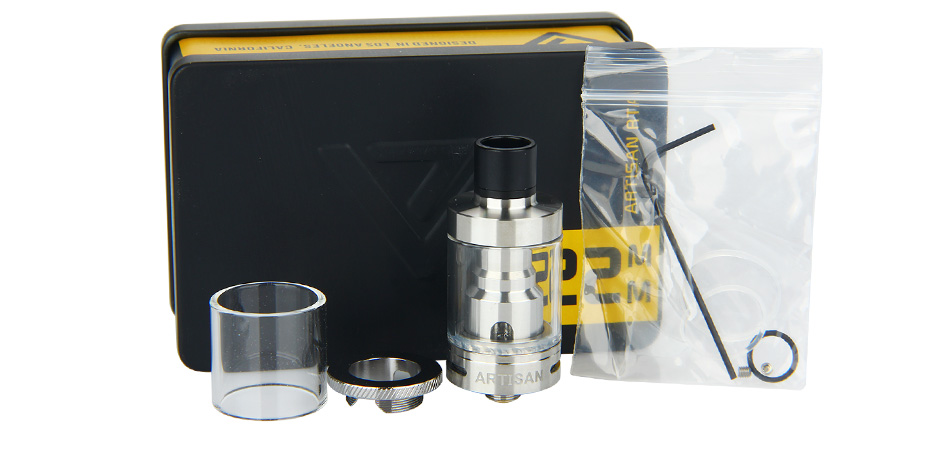 The ENVII Artisan RTA turned up on my doorstep and completely blew my socks off.
I'd never heard of ENVII before it arrived at my front door but, once I'd opened the packaging, I knew two things: 1) I liked the look and feel of the packaging and, 2) I REALLY liked what I found inside – the tank itself is stunning.
I own about 9 RTAs at last count and this, by a considerable margin, is the easiest to setup. In fact, I'd go as far as saying it is the easiest RTA to setup and wick that I have ever used. Bar none.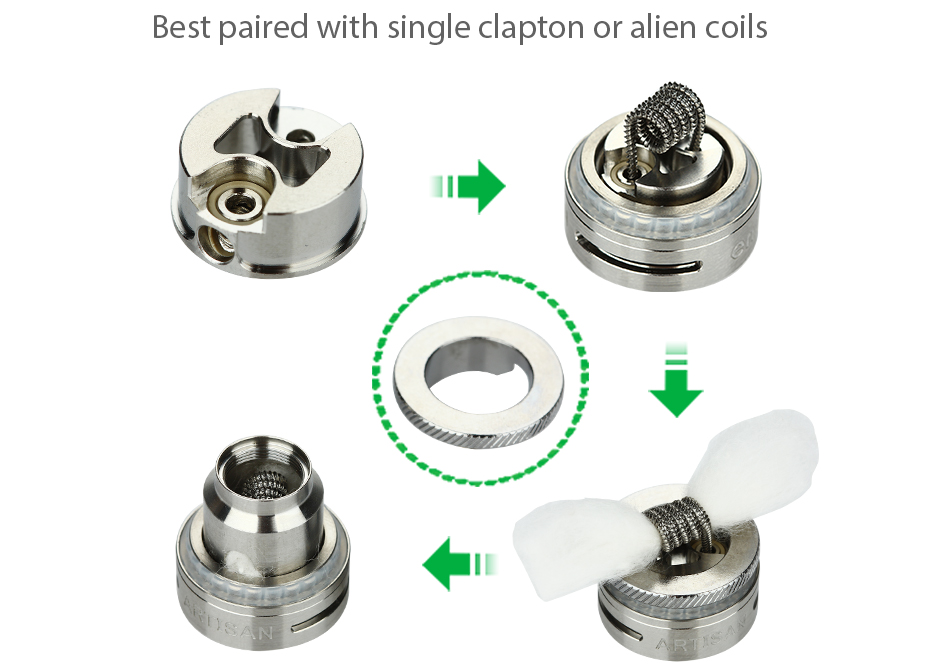 Flavour is outstanding as well – precise, intense and full of body. I love building on the Artisan deck, which is best paired with a single Clapton or Alien coil for optimum performance.
The big USPs of this tank, for me, are twofold: 1) it is super easy to wick and build on, meaning you're up and running much faster than usual; and 2) the flavour and cloud production is brilliant.
If you're after a reliable, leak-free, RTA tank then this one comes HIGHLY recommended!
---
The Best RTA Tanks: RIP TRIPPERS PHARAOH SPRING LOADED CLAMP STYLE RTA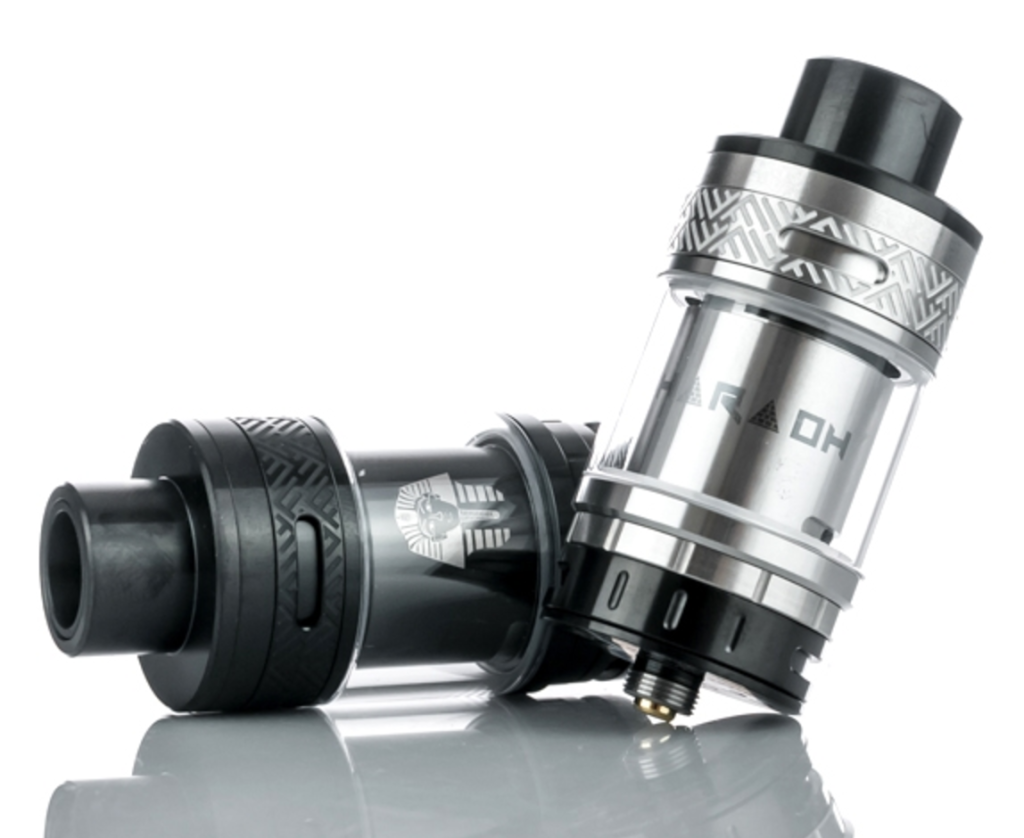 Everybody knows Rip. He's that beardy guy that shouts about vape products on YouTube.
Well, Rip has now done what all niche celebs worth their salt do – he's made his own RTA tank and its called the PHARAOH SPRING LOADED CLAMP STYLE RTA.
And this is one hell of an RTA tank, believe me. It's engineered to the hilt and features a raft of features and design tweaks that all combine to make the PHARAOH SPRING LOADED CLAMP STYLE RTA a joy to work with and to vape on.
The key USP here is that it features an interchangeable, modular deck system, so you can switch out the deck if for another one if you fancy trying something different.
It also features an expandable juice well; its normally 4.6ml but you can add an additional 3ml with the expansion tube. The Pharaoh RTA's deck features a two post, spring-loaded clamp style setup that is designed for ease of use, ease of wicking and the creation of immense flavour.
If you're looking for a brilliantly put together RTA that packs in an incredible deck, tons of features and produces excellent clouds and flavour, the Pharaoh RTA is something you should 100% be looking at.
RIP TRIPPERS Pharoah Dripper Tank Specs & Features
27mm Diameter at Widest Point
Expandable Juice Reservoir
4.6ml Standard Capacity
3ml Expansion Tube Included
Full Shelf Styled Two Post Build Deck
Spring Loaded
Rectangular Central Airflow
Adjustable Juice Flow Control
Interchangeable Decks
Short Chimney Shaft
Top and Bottom Dual Adjustable Airflow
10mm Bore Delrin Drip Cap
Delrin Insert
Delrin 510 Drip Tip Adapter
PEEK Insulators
Gold Plated 510 Contact
---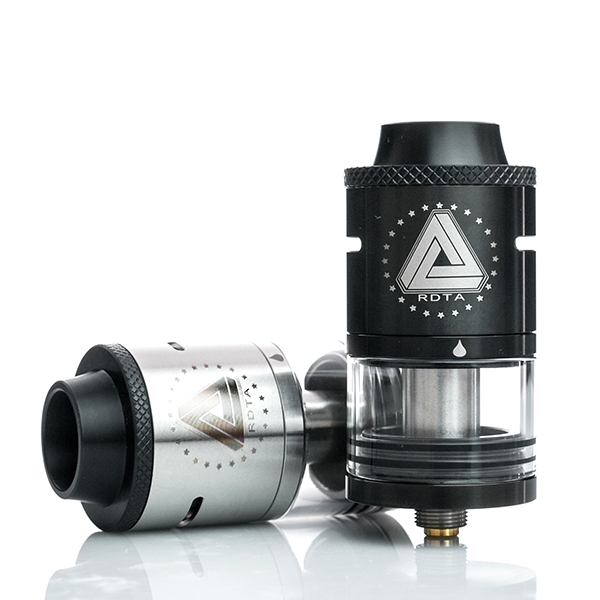 This sexy piece of kit was created by iJoy and is one of the more eye-catching setups on this list – especially when combined with a Limitless Mod.
The deck is HUGE on this thing, which makes it really easy to build on. Another great option for those new to the RTA space.
You can fit pretty much any coil you please in this thing and, unlike the Pharoah Dripper Tank, it holds 4ML of E-Juice, so you won't be constantly topping it up.
Flavour is brilliant. Ditto clouds. The only real negative of this tank is that it scoffs E-juice like its going out of fashion. Still, the SMOK TFV8 was like that and that didn't seem to put anybody off buying and loving it.
I love this RTA. It's simple, easy to wick and it vapes like an absolute champ!
---
Best RTA Tanks: SMOK TFV 8 – The King of All Styles
This tank is a monster. I bought the SMOK TFV8 about five months ago and it has been, not only the best tank I have ever owned, but also the most versatile. You can run it as an RBA or with pre-made coils. The RBA deck is enormous, like the tank, meaning you can install pretty much any type of coil.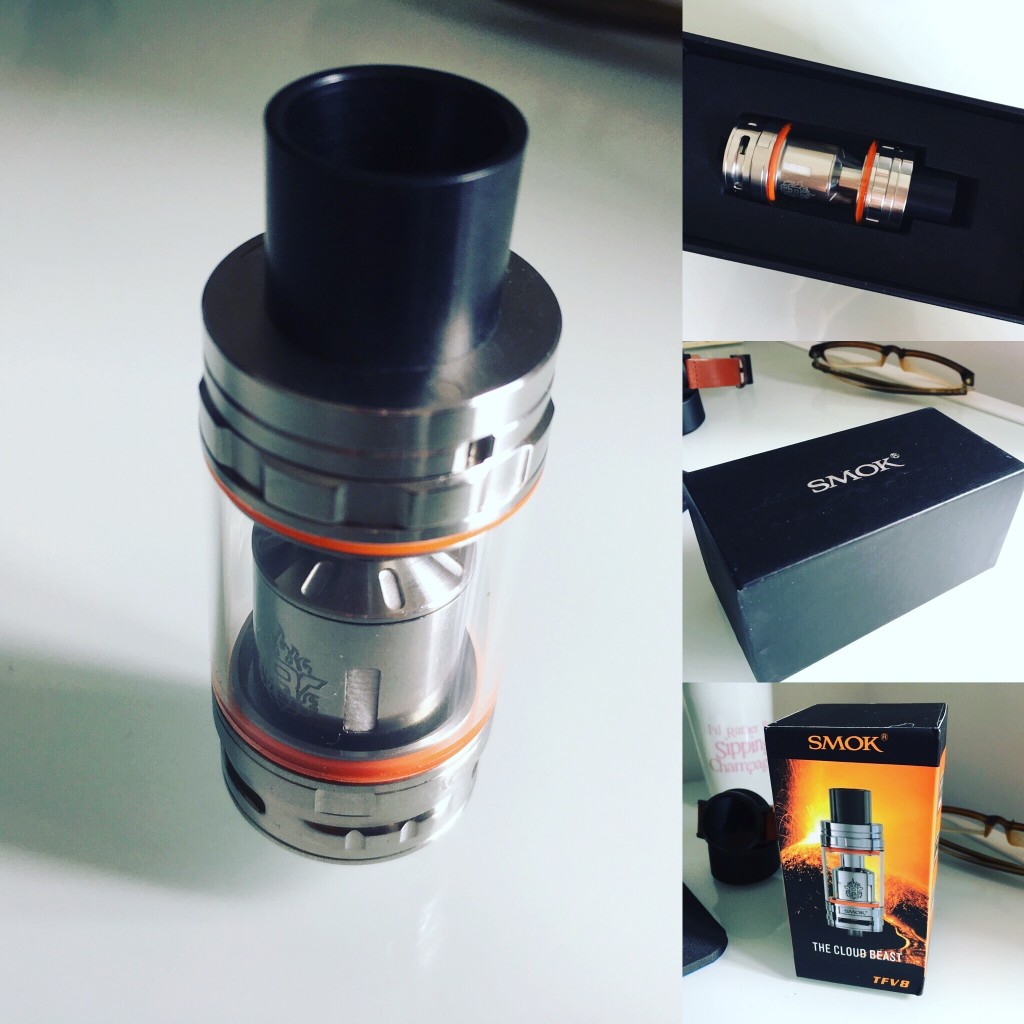 SMOK also makes some of the best pre-made coils in the business and they have plenty of options to choose from in this department. This tank performs best at super-high wattages, 80W and up, basically, but if you're in the market for something that creates huge clouds and big flavours then this is the ONLY option to go for in 2016.
You can get more information about this tank in our SMOK TFV8 Review: The Cloud Beast. Whenever anybody asks me to recommend them a tank, I always tell them to get this one. For functionality, performance and versatility it simply cannot be beaten. It does drink a lot of juice, however, so be prepared to start buying bigger bottles of juice. Aside from this I would say this tank is as close to perfect as anything I have ever tested.
Smok TFV8 Review: Best Prices From Around The Web
---
Best RTA Tanks: Griffin 25 RTA
This thing is a freakin' monster — I love it. In fact, I'd go as far as saying it is the best RTA setup on this list, providing you can wick it properly. The Griffin 25 has, as you'd expect from a company like GeekVape, EVERYTHING you could possibly want from an RTA — it looks great, it's easy to build on, it's big and it vapes brilliantly.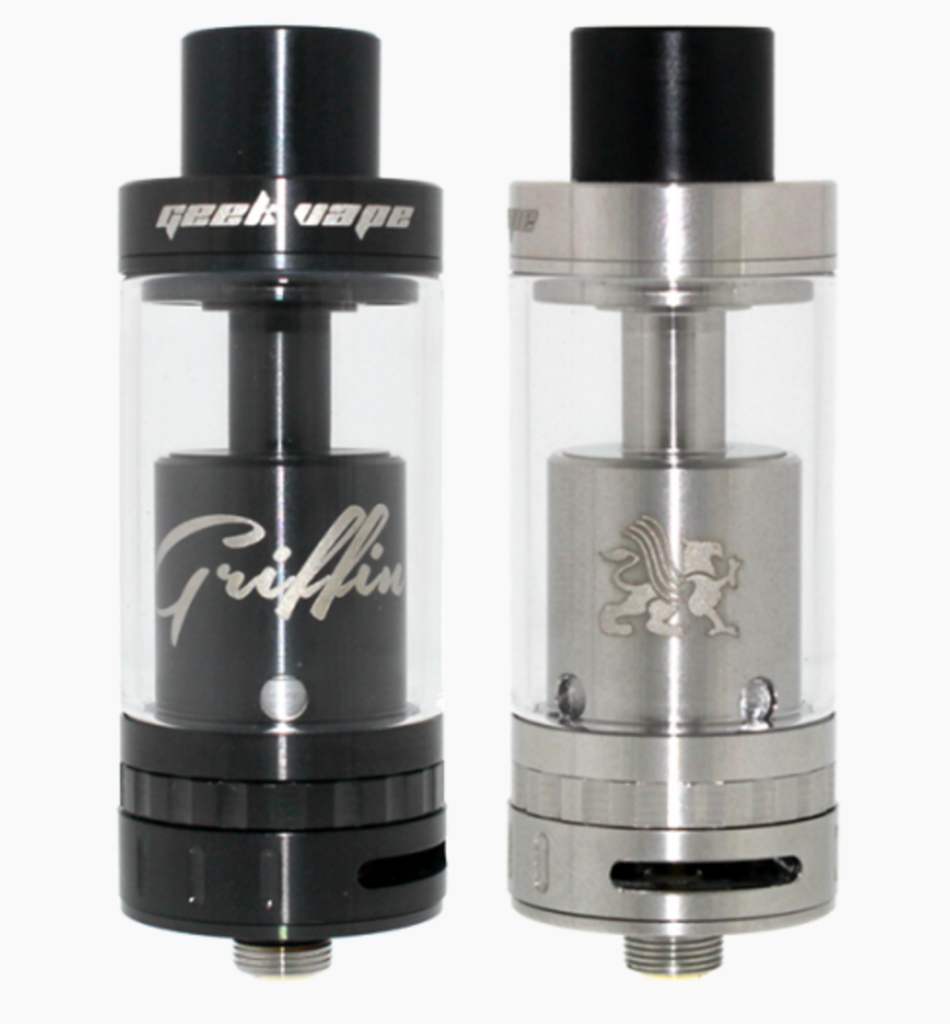 I could go on and on about this tank, but you would tire and there's other options for you to consider before that happens. This is the type of set-up you buy once and then don't use anything else for months on end; I simply cannot imagine using something else at the moment. The Griffin 25 ticks ALL my boxes.
The one issue this tank has is that it is VERY HARD to wick correctly. It has a very focussed sweet spot and if you don't hit it 100% perfectly, you do not get optimal performance. It took me a few days to find it, but once you do you're in for a real treat.
If you have a lot of experience building then you'll likely be OK with this tank, but if you're relatively new to whole thing I'd advise you check out the other RTAs on this list, as they are far easier to wick.
The Griffin 25 will hold up to 6ml of E Juice — though, in reality it's more like 5.5ml. It features an expansive build deck, complete with a two post, dual 2mm diameter terminal, meaning it can accommodate all kinds of build type and coil configurations. It fills from the top, is super simple to set-up and take apart, and it vapes like a goddamn industrial chimney.
Griffin 25 RTA Specs & Features:
Top Airflow
Drip tip Height:10mm
Height:54.4mm
Chimney width:9mm
Outside Diameter:25mm
Capacity:6ml
Peek Insulator Raw material made in USA
Clicking-Clock Positions airflow control
Griffin 25 RTA: Best Prices
---
Best RTA Tanks: Herakles RTA
This is Nick's favourite tank as of right now. He loves this RTA, though he hasn't yet had the pleasure of the Griffin 25, whereas I haven't used this one but have been raving about the Griffin ever since I got it. So, yes, these two come highly recommended and if you're a fan of Sense, well, you're definitely in for a treat with the Herakles RTA, as it is one of the finest RTAs you can buy right now.
Here's an extract from Nick's Herakles RTA Review:
"Since this is an RTA I had to build and wick myself, I seized on the opportunity to use my dual twisted 24g kanthal 6 wrap build. The entire process was a walk in the park, so you shouldn't worry about ANY issues in this regard. Everything just slips into place as it should, with minimal fuss.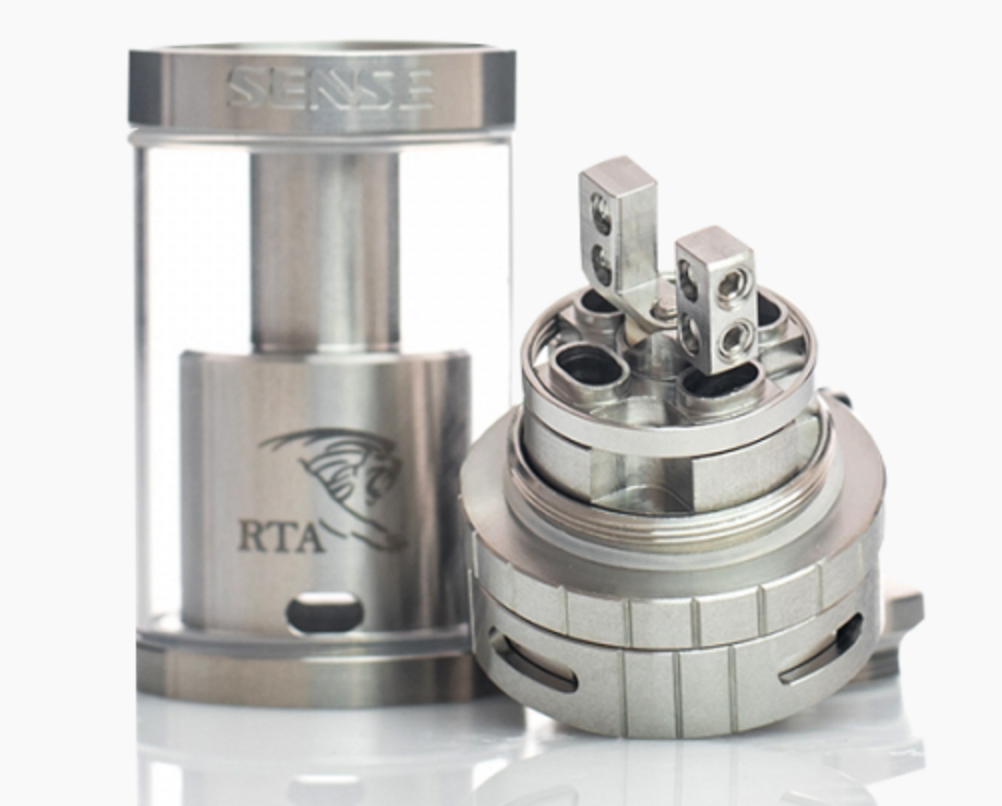 "Then came the ACTUAL test — AKA the first hit. I grabbed my Sigelei 213 and screwed on the Herakles RTA, set the wattage to 60W and had my airflow wide open. The rush of vapor and flavor was amazing! The exhale had me blinded for a few seconds, as the clouds were, well, VERY dense. This RTA is a SERIOUS fog machine!"
In the end Nick gave the Herakles RTA 9/10 — a very impressive score. And pound for pound, I cannot see a great deal of difference between these two RTAs — the Griffin 25 and Herakles RTA — with respect to overall design, functionality and performance, so, really, the choice is essentially yours: which do you prefer based on what you've seen?
Herakles RTA Specs & Features
25mm Diameter
6ml Tank Capacity
Top Fill System
Adjustable Wicking Holes (Can Be Fully Closed)
Two Post Rebuildable Deck
Dual Terminal Per Post
Quad Interior Airflow
Quad Wicking Channels
PEEK Insulator
Quad Adjustable Exterior Airflow
10mm Threaded Wide Bore Drip Tip
510 Drip Tip Adaptor
Copper 510 Connection
Herakles RTA: Best Prices
---
Best RTA Tanks: SMOK TF-RTA
Promoted as "completely leak free", the SMOK TF-RTA is a pretty popular set-up. It's big, looks decent attached to any mod, and it vapes like a champ. It's also fairly soft on the wallet as well with prices starting from just $25.95.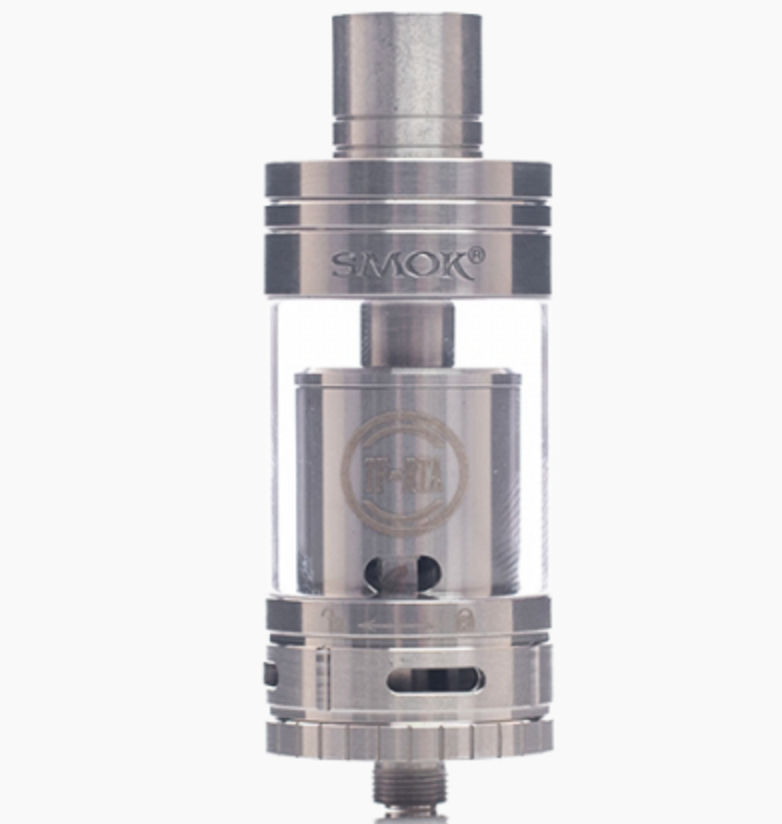 SMOK has put a lot of cool features inside this tank as well: a double layer drip-tip, improved inner glass design to prevent overheating, optional G4 deck that open up options for quad coil builds, if that's your thing. Basically, it's pretty awesome across the board.
I had no problems with mine when I used it a few months back, although I did find the deck on the Griffin and Herakles easier to work on. But that's just me — you might be different. The SMOK TTF-RTA is big on flavour and clouds and, if you're dying for a tank that doesn't leak AT ALL, then this one is a no brainer.
SMOK TF-RTA Specs & Features
Dimensions: 65*24.5mm
Stainless Steel Construction
4.5mL Glass Tank
Large Build Deck
Juice Flow Control
Swivel Top Cap Design For Top Fill
Double Layered Drip Tip
Four Cyclops Adjustable Airflow Holes
SMOK TF-RTA: Best Prices
---
Best RTA Tanks: Avocado 24 RDTA by Geek Vape
The Avocado by Geek Vape has been receiving A LOT of hype since it got released. And the reason why is pretty simple: it's their take on a Genesis-style deck, just with a larger juice well and MASSIVE deck that can pretty much support any type of build — even a Clapton.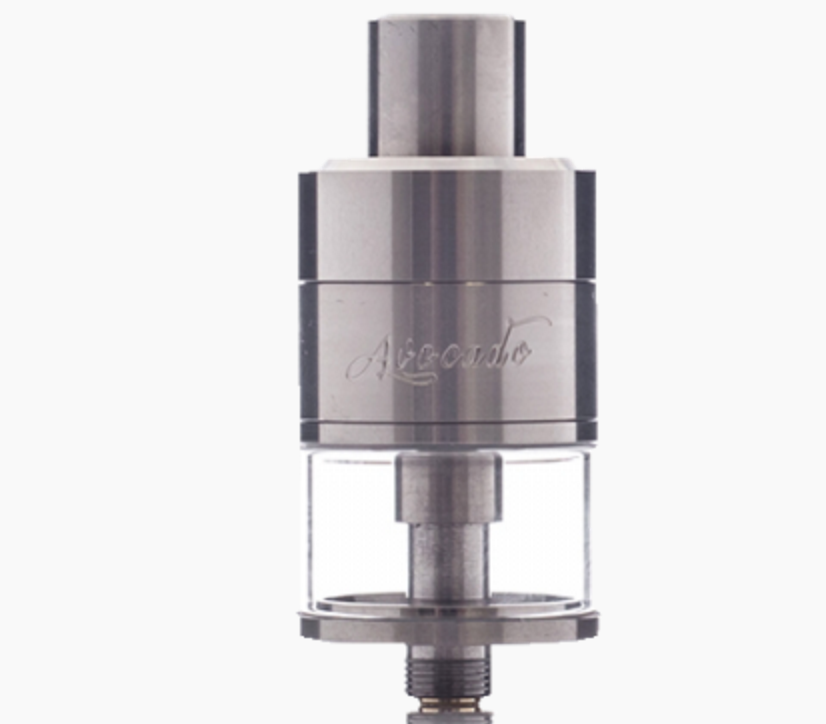 Juice capacity is low compared to the RTAs on this list, but you gotta remember: this is an RDTA. Still, the Avocado has been getting rave reviews since it came out and has been hailed as one of the best vape tanks of 2016 so far. If you're into RDTAs and want something a little special, this is EXACTLY what you've been looking for.
Avocado 24 RDTA by Geek Vape: Specs & Features
5ml capacity
Built by Geek Vape
24mm diameter
Genesis-style deck
Solid stainless steel construction
More details coming shortly
Peek Insulator Raw Material Made in U.S.A
Hardness of 316SS Set Screws at 55-58HRC by 1200 Nitrogen Surface Treatment
Silica Glass Tube: High Temperature Resistant, Excellent Acid Resistant
Avocado 24 RDTA by Geek Vape: Best Prices
---
Best RTA Tanks: Vaporesso Gemini RTA
The Vaporesso Gemini RTA is an interesting contraption because it does both direct to lung and mouth to lung vaping, which is a pretty nifty party trick for an RTA device. And a big USP for mouth to lung favours, because there are still some out there, wanting to get on the rebuildable train.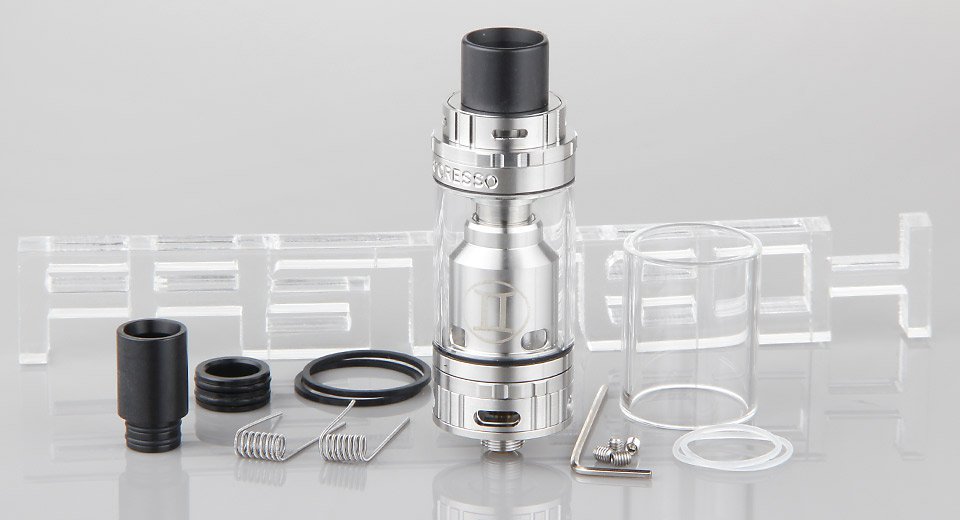 The Vaporesso Gemini RTA features a 16mm post with 2mm holes, which make building and wicking a breeze. The design is gorgeous too; very premium, with everything finished to an impeccably high standard. Like a lot of tanks these days it is also a top-filler, which is handy, though you might be left wanting with respect to juice capacity — it's only a 3.5ml tank.
If that's not a bother and you're looking for a slick setup that is super simple to build on then the Vaporesso Gemini RTA is well worth a look, especially if you're a mouth to lung vaper!
Vaporesso Gemini RTA Specs & Features
Zero blind spot
Multiple angle air inflow
Full range use(direct to lung vaping and mouth to lung vaping)
Velocity style dual deck compatible with Clapton wires
16mm post with 2mm holes easy for building
Convenient top filling
More drip tip options
Vaporesso Gemini RTA Best Prices:
---