The Wotofo Profile Unity RTA is a mesh coil RTA that, when wicked correctly performs brilliantly. However, wicking the Wotofo Profile Unity RTA properly isn't exactly easy…
---
RTAs are great when they're easy to live with and wick simply. The Wotofo Profile Unity RTA is NOT one of those RTAs, unfortunately. In fact, it is easily one of the trickiest to wick RTAs I have used in a good long while.
The main reason for this is the deck and the fact the Wotofo Profile Unity RTA uses mesh coils instead of standard wire coils. It creates a couple of problems which we're now going to address. Once you fix these issues, you should be able to wick the Profile Unity RTA properly.
How To Wick The Wotofo Profile Unity RTA Correctly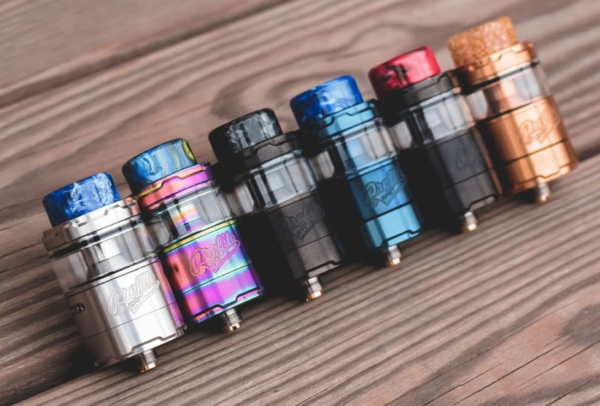 OK, I'm going to assume you're good with installing the mesh coils. Once you've done this you need to get your cotton right. The stuff Wotofo provides is WAY too thick, so you need to trim it down.
What I like do is this: take a piece of the cotton and rip it in half, lengthways. This gives you an ideal thickness for wicking the tank. Once you've ripped it in half, squeeze down one of the ends and push it through, under the mesh coil. It should be nice and snug.
Wotofo Profile Unity RTA Wicking Tips: 
Take Cotton & Pull It In Half – You Want It 50% of Its Original Thickness.
Push It Through; It Should Be Nice and Snug
Trim The Ends; Make Sure You Use The 45º Angle Cut
Press The Ends Down Into The Wick Ports
Don't Leave The Ends To Long; They Should Just Sit In The Wick Ports
Take A Hit. It Should Vape Great
You Need To Clip The Wick In A Weird Way
Now that the wick is in place, you need to trim off the ends. Remember, you don't need long wicks for this RTA, clip them pretty close to the edge of the deck. Next, you need to make a diagonal cut, shaping the wick correctly for the inlets – this bit is important.
Here's a visual of what you need to do with your wicks. See that horizontal cut? Make sure you do it.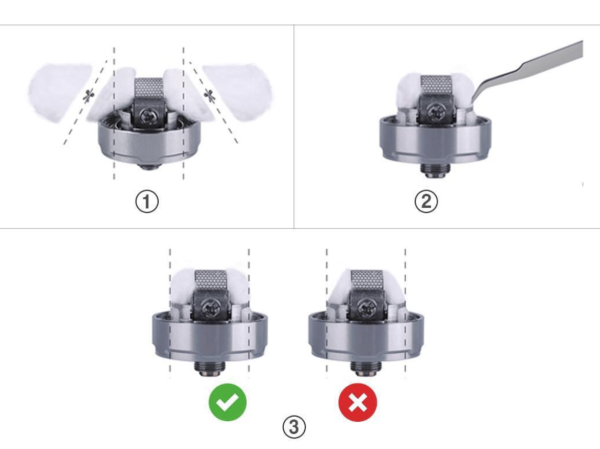 When you've clipped your wicks correctly, you need to slot them down into the inlets on the side of the deck. If they're too long, trim some more off, you want them just resting in there. Make sure there's enough room for the juice to come through too.
Once you've done this, you're ready to fill up the RTA with E Juice and test out your build. Did it work? Is the flavor nice and intense? If it worked, it should be. If it isn't, you need to recheck your wicking and make sure it is done correctly.
The Wotofo Profile Unity RTA & Dry Hits
If you read my review of the Wotofo Profile Unity RTA, you might not have bought one. I do like this RTA, but it is incredibly fiddly to wick correctly the first time. It took me about five attempts to really nail it.
And for me, this just isn't good enough. Not when you can pick up a multitude of RTAs that never leak and are easy to wick. Dealing with a tank like the Wotofo Profile Unity RTA just feels like too much effort.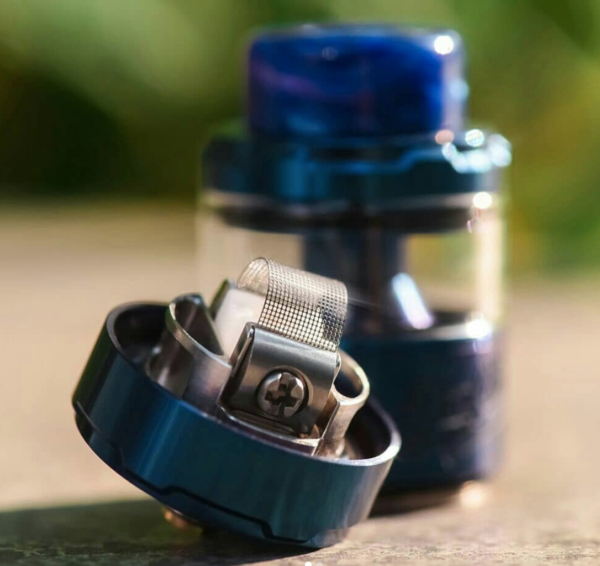 Don't get me wrong: when you get it right, the flavor is incredible. But like so many RTAs before it, you have to get it JUST RIGHT in order to get the maximum performance from it. And there is no room for error. As I said: it took me about five attempts to figure it out…
And that's basically four attempts too many.
Wotofo Profile Unity RTA Alternatives That Are Easy To Wick?
As noted earlier: there are TONS of RTAs around right now that are A) easy to wick, and B) do not leak. My current favorites are detailed inside the table below – it's from VapeBeat's Guide To The Best RTA Tanks.
Name
Pictures
Rating
Best Place To Buy?
Why You'd Buy This RTA?

(Best All-Round RTA)

100%

Outstanding Flavor 
5ML Juice Capacity 
It Never Leaks 
Powerful, Dual-Coil Design 
Great For Clouds
Insanely Cheap

(Best Dual Coil Option)

100%

Solid Design + Beautiful Deck
Vapor Production is NUTS
Great Flavor (Especially At Medium Power)
100% Leak Proof

(INSANE Flavor)

91%

Brilliant Design
Big Deck; Easy To Build On 
Smooth Air Flow 
Brilliant Flavor + Cloud Production 
A Classic Mid-Ranger, Ideal For Newbies

(100% LEAK-PROOF)

94%

100% LEAK-Proof
Once Wicked, Works Like A Sub-Ohm Tank 
Awesome Deck 
Super-Easy To Build & Set Up
Great AFC

(Best For Flavor & Clouds)

97%

Single Coil RTA – Great For Battery Life 
Excellent Design (Both Tank & Deck) 
Simple To Use & Setup
Great, Thick Flavor 
Doesn't Leak
I'd take any one of the RTAs in this table over the Wotofo Profile Unity RTA any day of the week. I do like the Profile Unity RTA now that I have it working correctly, but it was fiddly as hell to get right. And that's always annoying. Especially when I have other RTAs that deliver just as good flavor and I can wick them without even thinking about it.
Drake Equation
Co-founder and Editor of VapeBeat. I make the words.