Air Bar Lux Flavors: What're Your Options?
By Drake Equation • Updated: 01/31/23 • 5 min read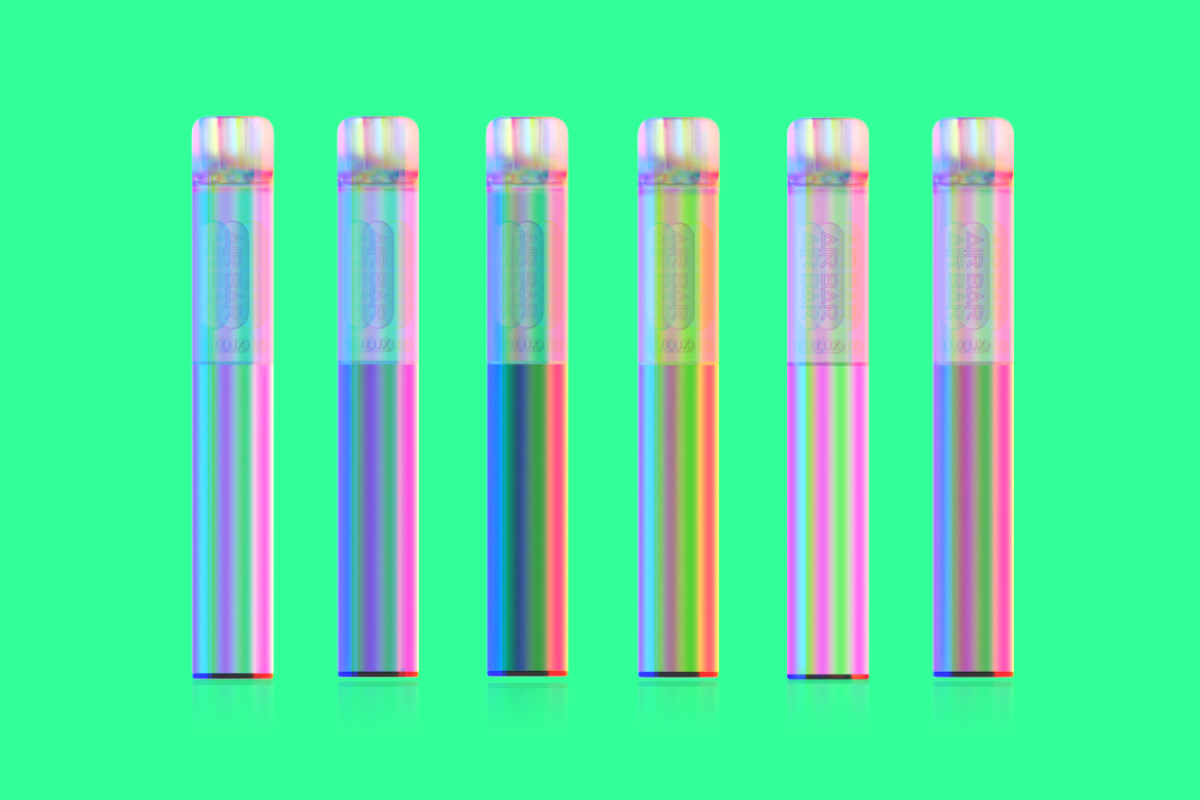 The Air Bar Lux is a massively popular and super-impressive disposable vape. It'll do 1000+ puffs and its MTL draw is great. But what's the deal with Air Bar Lux flavors?
---
When you have one of the most popular disposable vapes on the market, the ascent to the #1 spot does not happen by accident. It happens because of careful planning, excellent design, and reliable performance.
Suorin designed the Air Bar Lux to be the disposable vape to end all disposable vapes. It wanted it to be the last word in the disposable vape market. And to a large extent, it has succeeded. The Air Bar Lux is a fantastic disposable vape that is ideal for experienced vapers and beginners alike.
Air Bar Lux Flavors
The Air Bar Lux runs on a 500mAh battery, features a novel two-tone design with a dedicated MTL mouthpiece which makes it super-comfortable to vape on all day. It also has a 100% leak-free design. But the coolest thing about the Air Bar Lux is its flavor selection.
The Air Bar Lux is available in over 18 distinct flavors. And these flavors are as follows:
Triple Shake
Blueberry Kiwi Ice
Blueberry Pomegranate Ice
Raspberry Grapefruit
Mix Berries
Coconut Groove
Watermelon Apple Ice
Red Bull Ice
Banana Shake
Cherry Pomegranate Ice
Strawberry Mango
Shake Shake
Watermelon Ice
Banana Ice
Strawberry Kiwi
Blue Raspberry
Sunset Cocktail
Raspberry Watermelon
Grape Ice
Strawberry Watermelon
Apple Shake
Carmel Popcorn
Cranberry Grape
Guava Shake
Orange Juice
---
Amazing Flavor Options...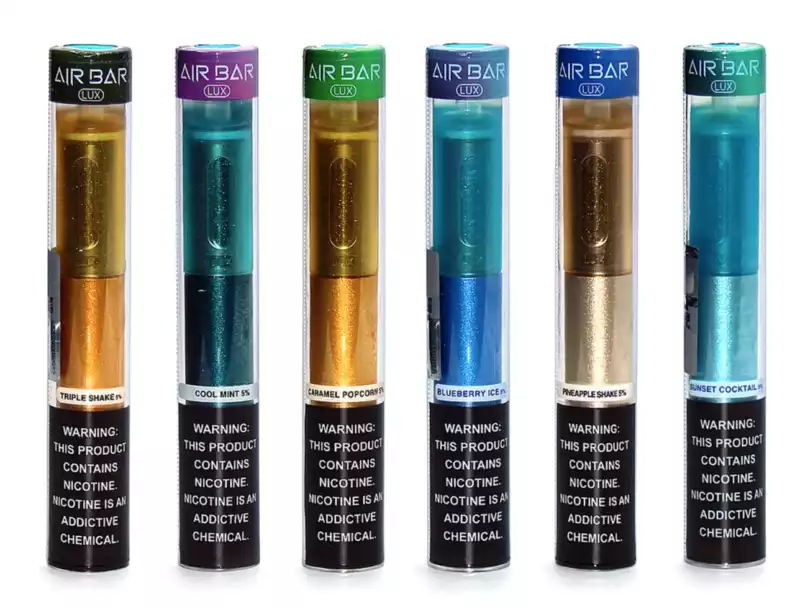 AIR BAR LUX – 1000 Puffs
I've used so many disposable vapes in the past two years, but I can safely say the Air Bar LUX is a cut above 95% of the disposable vape options on the market right now. The flavors are outstanding and its MTL draw is near-perfect.
Pros:
1000 Puffs Per Bar

Exceptional Flavors

Loads of Flavor Options

500mAh Battery

Up To 50MG Nicotine Strength
VIEW ALL FLAVORS
---
As you can see, that's plenty of flavors. I tested the Air Bar Lux earlier this week and it really impressed me.
Check out my Air Bar Lux review for more details. And out of ALL those flavors listed above, I think I liked nearly all of them. Although my absolute favorites were Banana Shake, Cherry Pomegranate Ice, Strawberry Mango, Shake Shake, Watermelon Ice, Banana Ice, Strawberry Kiwi, Blue Raspberry, and Sunset Cocktail.
Each Air Bar Lux comes with 2.7ml of salt nic e-liquid inside it. The Air Bar Lux doesn't have any buttons, you just take a draw and you're vaping. The Air Bar Lux runs 50MG vape juice too, so it is properly strong which makes it ideal for anyone looking to quickly kill off a smoking habit.
Best Air Bar Lux Flavor
Flavor is an incredibly subjective and nuanced thing; what I really like and enjoy, you may find disgusting – and, yes, I'm still talking about flavors.
So when it comes to outlining what the best Air Bar Lux flavor is, well… it's kind of tricky. Me? I like the fruity ones and the fruity ones with a hint of ice. I find these the most palatable day in day out, with Blueberry Pomegranate Ice being a particular favorite of mine.
The good thing here, however, is that when it comes to Air Bar Lux flavors, you have a TON of options to choose from and, unlike a lot of other disposable brands, Air Bar flavors are pretty self explanatory.
I mean, everybody knows what they're getting into with these flavors:
Banana Shake
Cherry Pomegranate Ice
Strawberry Mango
Shake Shake
Watermelon Ice
How Long Does Air Bar Lux Last?
The Air Bar Lux disposable – this includes all flavor options – will give you around 1000 puffs (usually slightly more). How long 1000 puffs will last you depends entirely on how often you vape but a good rule of thumb is that most people tend to take between 200 and 400 puffs a day.
Put in this context, you're looking at around 4 to 5 days of vaping with an Air Bar Lux, although, again, the mileage you get from the vape will depend on how often you're using it. Heavy users will run it out of juice quicker than those that are sparing – i.e. only using it on smoke breaks and such.
How Many Cigarettes is That?
If you want to compare an Air Bar Lux to a cigarette, like, how many puffs do you get from a packet of cigarettes, the answer is simple: a 20 pack of smokes will deliver around 1000 puffs. This means a single Air Bar Lux is the equivalent to one pack of cigarettes.
The only difference with the Air Bar Lux is that it A) tastes A LOT better and B) is a lot better for you – vaping is 95% safer than smoking.
I love the Air Bar Lux, it is one of my favorite disposable vapes from the last 12 months.
If you're looking for a reliable disposable vape with an excellent battery and over 1000 puffs, the Air Bar Lux is the one to go for right now – it is inexpensive ($9.95), has great flavor options, and hits nice and hard!
Useful Resources
Drake Equation
Co-founder and Editor of VapeBeat. I make the words.