Is the Air Bar LUX worth buying? Here's the VapeBeat review of the Air Bar LUX, a brand new disposable vape from Suorin
---
Suorin is a brand most of us know. Suorin cut its teeth making some of the best pod vapes on the market – pod vapes like the Suorin Air and the Suorin Drop. But it has now released a new disposable called the Air Bar LUX.
The company has plenty of caliber when it comes to coils and industrial design. But how does this translate into disposable vapes? As it turns out, it translates great. The Air Bar LUX is a fantastic disposable vape that comes in a dizzying array of flavors.
I just spent a month working my way through them. It took a while. But after completing this test, one thing is certain: Suorin REALLY knows what it is doing with respect to disposable vapes. From the packing to the draw and the flavor, everything is very much on point.
You get 1000 puffs, an incredible choice of flavors, and one of the best-looking, reliable disposable vapes on the market. For me, this is all you need from a disposable. And I 100% recommend this one; it is brilliant.
---
---
Let's get stuck into the meat and potatoes of what makes this disposable vape tick. First, let's take a look at the flavors that are currently available.
Air Bar LUX Flavors
The Air Bar LUX is available in a massive range of flavors; almost too many to comprehend in one sitting. It took me over a month to test each of them properly. Usually, I can get through a series of disposable vapes in a week or two.
The Air Bar LUX, on the other hand, comes in 20+ flavors. And they are as follows:
Triple Shake, Blueberry Kiwi Ice, Blueberry Pomegranate Ice, Raspberry Grapefruit, Mix Berries, Coconut Groove, Watermelon Apple Ice, Red Bull Ice, Banana Shake, Cherry Pomegranate Ice, Strawberry Mango, Shake Shake, Watermelon Ice, Banana Ice, Strawberry Kiwi, Blue Raspberry, Sunset Cocktail, Raspberry Watermelon, Grape Ice and Strawberry Watermelon, Apple Shake, Carmel Popcorn, Cranberry Grape, Guava Shake, Orange Juice.
Air Bar LUX Design
The Air Bar LUX follows a pretty traditional design language. It looks pretty much like any other disposable vape. It is a pen-style device that holds 2.7ml of salt nic e-liquid with a strength of 50MG. This makes it a great choice for current smokers that are looking to kick their habit.
The mouthpiece on the Air Bar LUX is designed for MTL vaping, to be just like smoking. The mouthpiece and the section where the juice is contained are offset from the battery. This styling gives the Air Bar LUX a rather unique look, whilst still following a traditional vape pen-style design language.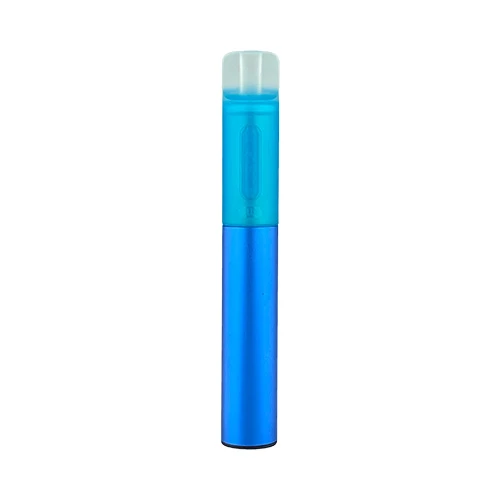 The Air Bar LUX also lights up when you take a draw. This, again, is a nice little design flair. It's nothing special, but it does work well and it is nice to know when the vape is activated. Overall, though, simplicity is the word of the day here. The Air Bar LUX has no moving parts, no buttons. It's just a plug-and-play device that works great.
Air Bar LUX Puffs
The Air Bar LUX will deliver around 1000 puffs per device. That's decent. It isn't as good as some vapes that'll do 5000 puffs. The Air Bar LUX runs a 500mAh battery, so you'll definitely get your money's worth. I've used 18 of these vapes now and they all last all the way to the end of their juice capacity.
Is The Air Bar LUX Worth It?
As disposable vapes go, the Air Bar LUX is by far and away one of the best that I have come across this year. From the design to the flavor, everything is 100% on point. I've used so many disposable vapes in the past two years, but I can safely say the Air Bar LUX is a cut above 95% of the disposable vape options on the market right now.
And for just $9.95 per unit, the Air Bar LUX is also very inexpensive. Especially when you consider it'll do 1000 puffs. Awesome stuff, across the board. Kudos, Suorin!
Drake Equation
Co-founder and Editor of VapeBeat. I make the words.