Wotofo Recurve DUAL Review: Another BANGER From Mike Vapes!
By Drake Equation • Updated: 05/29/19 • 8 min read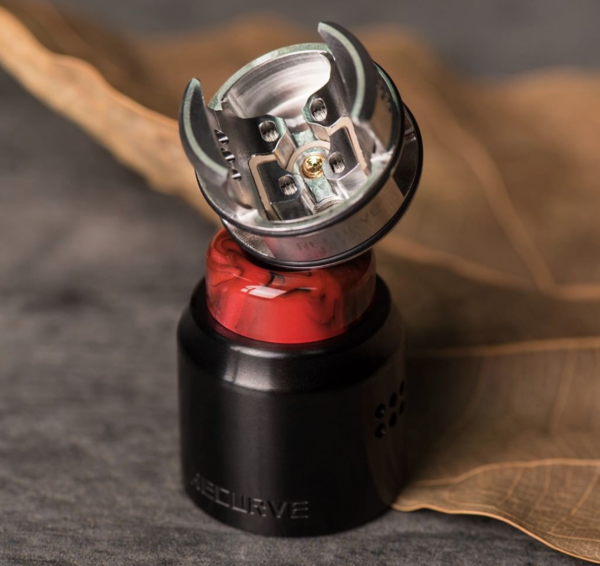 The Wotofo Recurve RDA was a phenomenon when it landed, receiving high praise from reviewers across the board, but now Mike Vapes and Wotofo are back with a dual-coil version called the Wotofo Recurve DUAL…
---
Wotofo Recurve DUAL Quick Verdict – 94%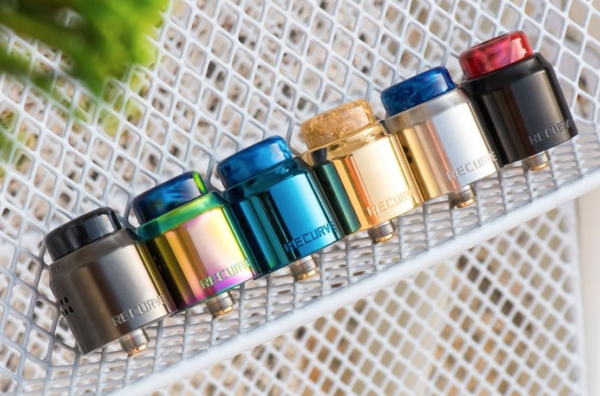 Pin
Wotofo Recurve DUAL Pros
Simple Deck, Easy To Install Coils
Solid Composition
Looks Great, Nice & Stylish
Comes With Loads of Goodies
Lovely Flavor, Nice & Detailed
Airflow is Adjustable, But Works Best Wide Open
Like the Recurve RDA before it, the Wotofo Recurve DUAL RDA is a thoroughly solid RDA. Coming from the Augvape Occula RDA, it was like night and day –the Wotofo Recurve DUAL RDA delivers TONS more flavor and is happy vaping at lower wattages (70-80W).
It's dual-coil too, so you have more room to play with on the deck. Installing coils is a cinch too; Wotofo even provides a coil-clipping tool as well, so you can get your leads the exact length. Bottomline: setup is a breeze, even for newbies. The included coils are great and the RDA can be used as a dripper or a BF squonk RDA.
The flavor is decent, lots of detail. The airflow is adjustable but works best wide open. Like the Recurve RDA, is it slightly restricted compared to other dual coil RDAs, though no way near as restricted as its single coil sibling. I like the airflow, it aids the creation of big, precise flavor and it delivers has just enough resistance to keep things interesting.
I like the way the Wotofo Recurve DUAL RDA looks, I like the resin drip tip it comes with, and I really like the way it vapes. I've been using it as a dripper, but this cat is great for squonking too. For me, it's another big win for Wotofo. And for just $34.99, it delivers some pretty good value for money too.
---
Full Wotofo Recurve DUAL RDA Review
Design
Wotofo, with its collaborators, really knows how to put together great RDA tanks. I didn't love the companies last batch of RTAs, but I've always had a soft spot for its RDAs – the Lush Plus, The Eldar Dragon, the Nudge, and now the Wotofo Recurve DUAL.
The design is straight-forward enough. Oddly, there is no curve to the tank's chassis as there was on the Recurve RDA, save for a slight taper at the very top of the tank's main section just below the drip tip.
The finish and aesthetics, however, are very sharp and very much on point.
It's a 24mm by 34mm tank, so it's fairly squat – this is good. I prefer low-profile RDAs, as they look better on mechs and vape mods. My test unit was the rainbow one, but Wotofo retails a bunch of other options. I think I like black the best.
On the sides of the tank, you have the AFC, which is composed of six air holes. To adjust it, simply turn the tank left or right. It works smoothly enough and it is easier to adjust than the Recurve RDA's AFC. However, unlike the Recurve RDA, the Recurve DUAL works best wide open. If you close it down too much, the flavor falls over and things get too hot.
From a design perspective, the Wotofo Recurve DUAL RDA is a stellar rebuildable atomizer. The postless deck is badass to work with, the AFC is easy to use and well implemented, and the outside look and feel of the tank are superb and premium looking. Basically, it has everything you could want from a mid-range dual coil RDA.
The Deck
The Wotofo Recurve DUAL RDA uses a postless deck design, similar to the original Recurve's – only here, there's room for two coils. Once you've clipped your leads using the included lead-measuring tool, you simply slot them in place and tighten them down. It's simple and takes no more than five minutes, including adjustment and wicking.
The airflow, when you take a hit on the RDA, is directed inwards and then down onto the coils. The placement of the coils, therefore, has to be fairly precise in order to get the most flavor from the tank. Thankfully, using the coil tool makes this super easy – just measure, clip, install, tighten down, and they'll be where they need to be.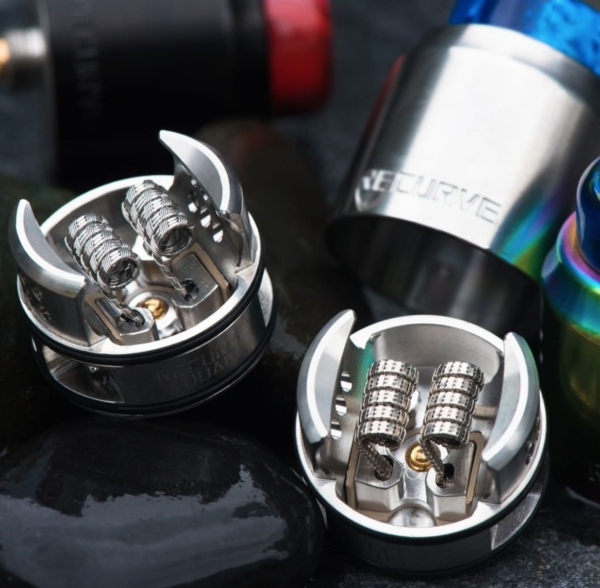 Pin
Conceptually, the deck inside the Wotofo Recurve DUAL RDA is exactly the same as the Recurve's. It's just bigger and can accommodate two coils. Other than that, it is more or less identical, so fans of the Recurve RDA will feel right at home.
On a personal note, I really do love how easy this deck is to work with – postless is definitely my preferred deck design these days.
Performance
The deck is great, and this leads to some really good flavor which is exactly what you want from a dual-coil RDA. The juice wells are deep enough for dripping and the squonk function is superb too, so whatever mode you run the Wotofo Recurve DUAL in you're going to be having a good time.
The flavor is precise and intense, as it should be. As noted earlier, I came from the Occula RDA to this RDA, and the difference with flavor is night and day – the Wotofo Recurve DUAL RDA is vastly superior, delivering spades of flavor and plenty of clouds too. Wotofo's included coils and wick are also brilliant as well, adding to the overall prowess of this tank.
I've been using this RDA solidly for a couple of weeks now. It hasn't leaked, missed a beat, or let me down in any way.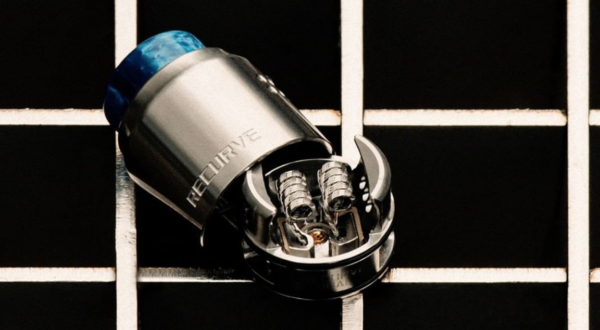 Pin
The flavor is always consistent and, providing you change your wick once a week, you'll never experience any dead notes or flat flavors when vaping with the Wotofo Recurve DUAL RDA.
It's not great with the AFC closed down. Like not great at all. Instead, for maximum flavor and performance, you'll want the AFC wide open so as to ensure the airflow hitting the coils is thick and constant. The more closed off the AFC, the worse the flavor and overheating issues. Bottomline: keep the AFC wide open for the best performance.
The draw is kinda-restricted too, and by that I mean it's not ultra-swooshy like some dual coil RDAs. There is a slight restrictiveness to it that I really like; it makes the draw more engaging and exciting. And because of the placement of the coils, they're nice and high, you get mountains of flavor from fairly low wattages (70-80W), which is great for conserving E Juice and battery life.
Should You Buy The Wotofo Recurve DUAL RDA?
If you like your RDAs to have a slightly restricted draw then, yes, you should 100% be checking the Wotofo Recurve DUAL RDA out. Wotofo and Mike Vapes have produced a thoroughly excellent RDA here, one that is ideal for dripping and squonking.
Wotofo includes a TON of gear inside the box as well. I mean, just look what this RDA comes with:
1pc Recurve Dual RDA
1pc Coil Trimming Tool
1pc Squonk Pin
1pc User Manual
1bag Coils
1bag Organic Cotton*1
1bag Extra Orings & Screws
The flavor is badass across the board, providing you run the tank's AFC wide open. The deck is simple to work with and the overall design and finish of the tank are very much on point, as you'd expect from Wotofo. For me though, the thing that makes this RDA so great, besides its flavor, is the simplicity of its postless deck and the sheer amount of goodies you get inside the box.
The Recurve DUAL RDA is an ideal option for new vapers or those that haven't used an RDA before. It's simple to set up, it comes with everything you need to get started, it squonks like a champ, and the flavor it kicks out, while not market-leading, is definitely up there in the 1% of RDAs I have tested in the past 18 months.
And then there's the price – at just $34.99, this RDA serves up some pretty incredible value for money.
What more could you want!?
Drake Equation
Drake is the founder and editor of VapeBeat. He started the blog WAY back in 2015 when, upon quitting smoking, he struggled to find any useful information about vaping online. With a background in journalism and a newfound hobby on his hands, he set about creating VapeBeat – a blog all about making vaping simple to understand for new users.