If you like BIG COILS, BIG DECKS, and BIG FLAVOR, the Augvape Occula RDA is definitely worth a look. Why? It has a massive deck and is the brainchild of coil-maker TwistedMesses…
---
Augvape Occula RDA Quick Verdict (80%)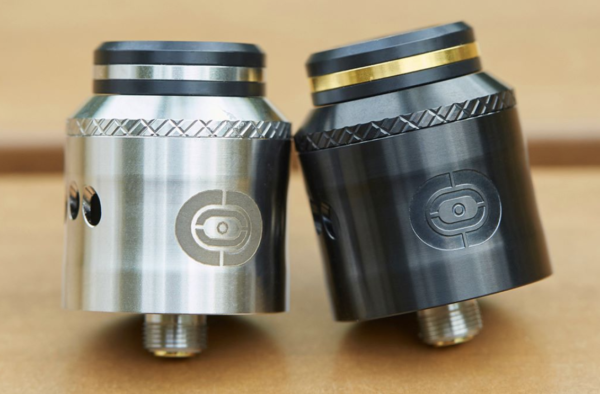 Augvape Occula RDA Pros:
Enormous Build Deck
Industrial Styling
Big Flavor
Excellent Clamp System
Will Run In Single Coil Mode
Simple Enough To Set Up
Ideal For Exotic Builds
If you use crappy coils, the Augvape Occula RDA will not perform. I learned this the hard way. In order to get the maximum performance from this rebuildable atomizer, you need high-quality coils – and the bigger the better. When you do this, the Ocula RDA is one of the best rebuildable drip atomizers in the business.
When you've got a sizable pair of coils installed and it's wicked correctly, the Augvape Occula RDA really comes into its own. You'll need a powerful vape mod to run it though; anything below 100W hardly even registers. Ideally, you rock it around 120W. Here, it performs like a monster.
Obviously, this won't be to everybody's tastes. I know it isn't my usual bag, but it was definitely enjoyable to use for a few weeks. I'm more of a flavor-chaser, so I don't mind using single coil RDAs at lower wattages, but rocking this beast for a while was definitely a nice change of pace.
If you like vaping at insanely high wattages, huge clouds, and decent flavor, the Augvape Occula RDA comes highly recommended. And at just $39.99, it's cheaper than a lot of other "performance RDAs". Ideal, if you're the kind of vaper that likes to have one mega-powerful RDA in their rotation.
---
Full Augvape Occula RDA Review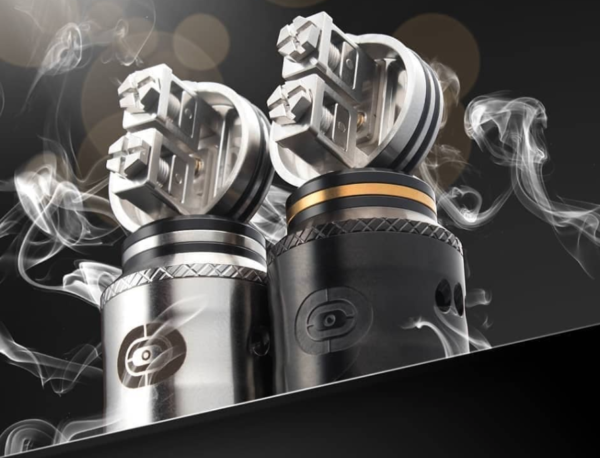 Created by TwistedMesses, the Augvape Occula RDA is a fairly industrial-looking RDA. Mine's black, though I think I prefer the silver variant. Oddly, the Augvape Occula RDA does not come with any coils in the box; weird, because the dude that designed it is a well-known coil builder.
Aside from this, the Augvape Occula RDA is a well put together atomizer. It's relatively small (24mm) and relatively innocuous. You have a hardly-there logo on the side and a dual three-slot airflow on either side of the tank. And that's about it for physical styling.
The 810 wide bore drip tip it comes with is very squat, more so than I usually like. I also don't like the gold ring on it; it makes the RDA look tacky. You have full support for squonking with an included squonk pin, as well as the usual bits and bobs (o-rings, hex Allen key).
Again, the RDA looks a lot better in silver; my review unit was black, and the difference (meaning: aesthetics) is like night and day. The silver unit is 100% the one to go for if looks are important. It just looks way more premium.
The Deck
The deck is the star of the show here. It's massive. It also features some of the best clamps I've come across all year. Everything about this deck can be summed up in one word: big! From the screw heads to the posts, everything is mega big.
The size of the deck means you can install HUGE coils in this RDA. Clamping them down and installing them is a cinch, thanks to Augvape's easy-to-use clamp system. And this makes the Augvape Occula RDA a solid choice for people that like messing around with exotic builds.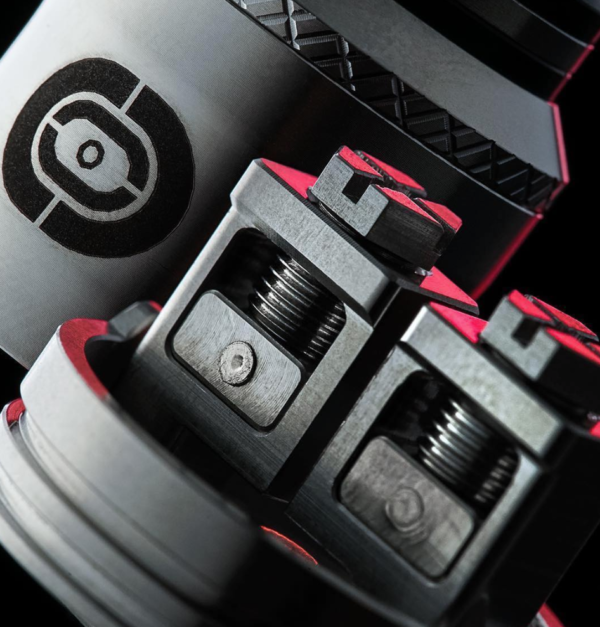 The Augvape Occula RDA is a BF squonk RDA, but it is also a very competent dripper as well. You have a 5mm juice well to play with and tons of room for your wick. You can drip straight down the drip tip without too many issues, though it will seep through the AFC if you go overboard.
Overall, the deck is very impressive. It's big, it's easy to work with, and you have room for all kinds of builds. The clamps are epic, again, with lots of room for your leads. And, thanks to the AFC, you can run it in single coil mode, though I wouldn't bother – it lacks both flavor and performance.
How's It Vape?
Like a fission reactor! As noted earlier: the Augvape Occula RDA is all about power. It demands large coils. It wants high wattages. For this reason, it won't be to all tastes. If you prefer vaping around 60-80W, the Augvape Occula RDA is not for you…
I usually vape around the 80W mark, so pushing 130W to get the Augvape Occula RDA lit-up was quite an experience. You get a lot of flavor, a lot of heat, and a lot of clouds. But for me this isn't always ideal; it rinses your mod's battery life, and it burns through vape juice too quickly.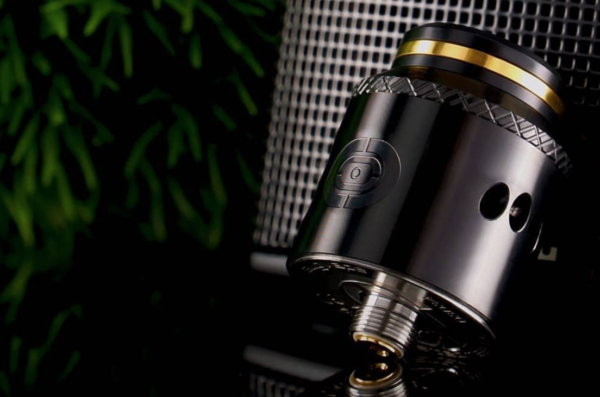 The flavor is excellent, though, once you find the sweet spot – around 120-150W. If you can handle this level of power, and you don't mind the negatives that come with it, the Augvape Occula RDA is one of the cheapest "power RDAs" on the market right now. Just be warned, though: it only has one speed – hard and fast.
Setting up the Augvape Occula RDA for squonking is simple too. Remove the 510 pin, then and swap it for the squonk pin. It takes about 10 seconds. As for performance, it's decent enough, though I do prefer Augvape's BTFC RDA (for looks, performance, and overall flavor).
Should You Get This RDA?
Tough call. On the one hand, I do really like this RDA. It's all about power – and this is great. You can install exotic builds and push the envelope, creating large, flavor-packed clouds in the process. And this is all great, so long as that's what you want?
For my tastes, it's too much. That's why I prefer the BTFC RDA; it's happy at lower wattages, and it delivers better flavor. I also prefer the way the BTFC RDA looks. Again, though, they're two very different RDAs. The Augvape Occula RDA is all about power and not much else.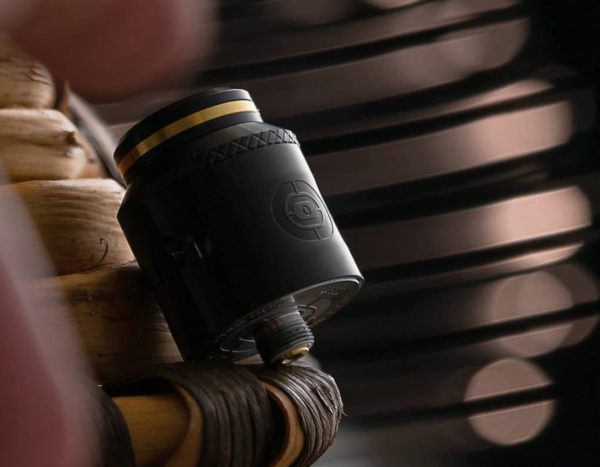 The Occula RDA is relatively cheap though, and this combined with its fiery nature will turn a few heads, especially among vapers looking for something that can handle masses of power and super-large builds. If that's you, the Augvape Occula RDA is well worth a look.
I prefer Augvape's BTFC RDA over the Occula RDA. It's more my style. I like having the ability to go high-wattage with my RDAs, but what I don't like is when that is all it can do – I want to chill sometimes. And the Augvape Occula RDA does not know the meaning of the word chill.
It likes one thing and one thing only: big ass coils and lots of power.
Drake Equation
Co-founder and Editor of VapeBeat. I make the words.