Ultroner Mini Stick Review: The Stubbiest Mod I Ever Saw…
By Drake Equation • Updated: 04/02/20 • 6 min read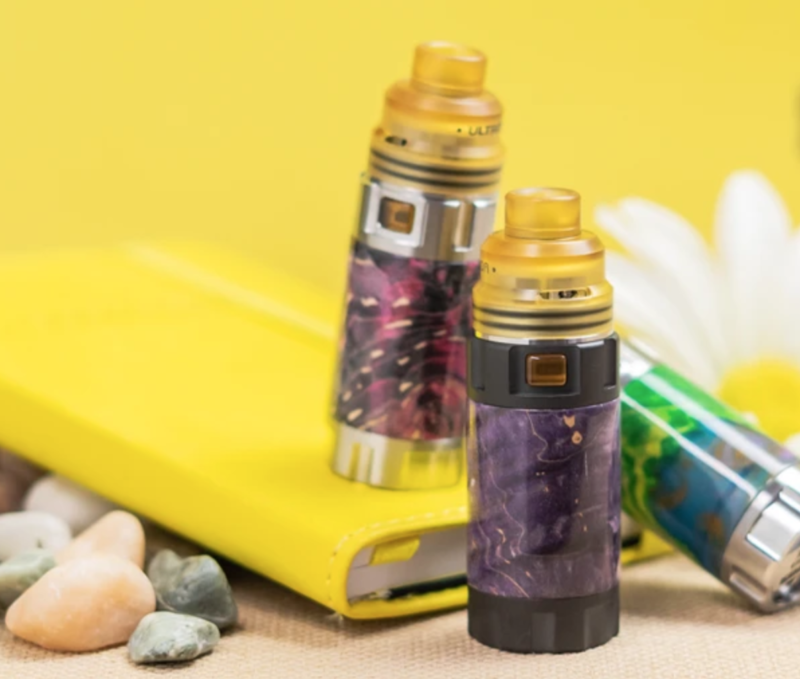 I've been tinkering around with what is probably the weirdest vape mod I've used to date. It's called the Ultroner Mini Stick and it is one of the smallest and stubbiest mods I've ever encountered
---
Ultroner Mini Stick Review | Verdict | 90%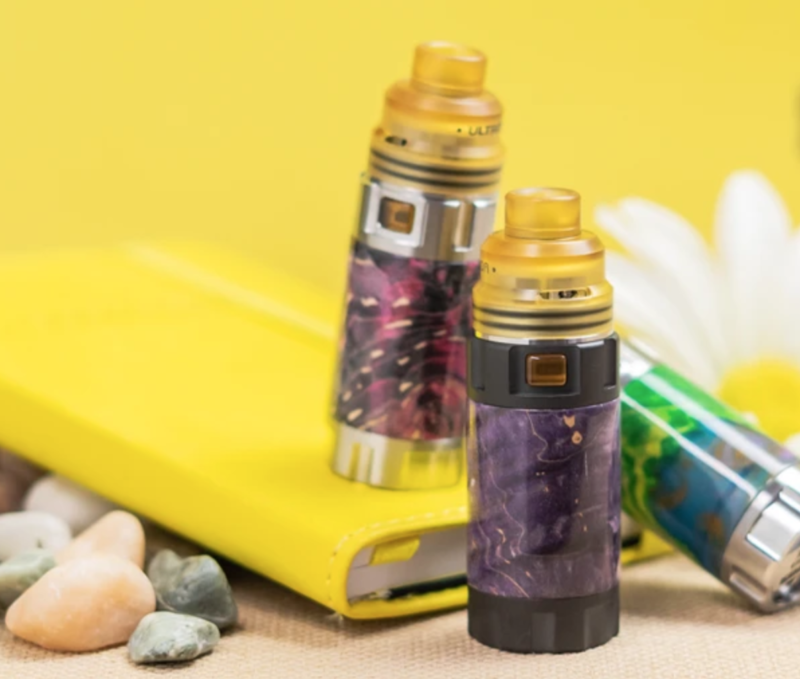 Pin
It looks totally badass, though, and is an ideal setup for anyone that likes tight, rebuildable tanks – either RTAs or RDAs. I've been rocking some of my MTL RTAs on it, running nic salts (Top Brass, as usual) and it is has been performing like a beast.
Ultroner Mini Stick Specs & Details
MOSFET Protected
3.2 to 4.2V Working Voltage
0.5-ohm Atomizer Resistance
Side Mounted Firing Button
Tactile Switch/Ultem Button
Protection: Short Circuit, Reverse Polarity, Over-Current
Stainless Steel Construction w/ Stabilized Wood Accent
Dimensions: 49mm by 24mm
The Ultroner Mini Stick runs on a 18350 battery, a stubbier version of its 18650 counterparts, and battery life, providing you keep things running nice and low, is decent. With an MTL tank, you're looking at all-day performance. Chuck on a sub-ohm RDA, and you'll get around 50% of this, so about 8-9 hours of vaping.
The key thing about the Ultroner Mini Stick is its size; it's literally tiny, and that makes it great for anyone that's looking for a pod-sized vape that functions like an actual rebuildable tank and vape mod combo. With respect to power, the Ultroner Mini Stick has a 3.2 to 4.2V working voltage range, though this will depend on your battery's state.
Obviously, this is a mech mod, so if you're a newbie, you probably don't want to be messing around with it – no one wants you to get your face blown off! If you're cool with mech mods and you want something a little different to tinker with, the Ultroner Mini Stick is 100% worth a look, especially if you're into your MTL builds like I am…
Best Place To Buy | VaporDNA | $74.99
---
Full Ultroner Mini Stick Review Notes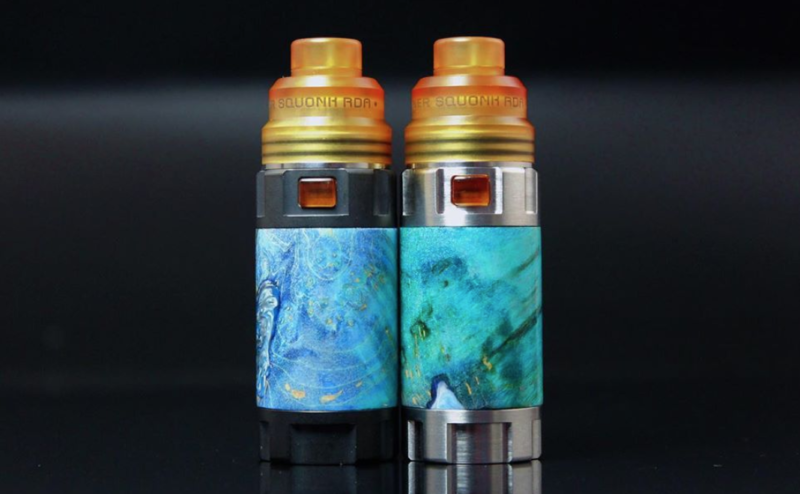 Pin
Design
I'm a sucker for unique designs, especially when it comes to tube mods. The Ultroner Mini Stick immediately caught my eye when I was browsing VaporDNA, looking for a new mod. I didn't want anything too big, I've officially been spoilt by pod vapes, but I did want something premium looking that had plenty of power under the hood.
What I came away with was not what I intended. The Ultroner Mini Stick is best used with lower-power, rebuildable RTAs, and RDAs. MTL ones, basically, although you can run normal, sub-ohm rebuildable tanks on it. I just think, for maximum performance, you're gonna get a lot more out of it using MTL tanks – this is the one I use at the moment.
The fit, finish, and overall design of the Ultroner Mini Stick is stunning. The stabilized wood accents combined with the stainless steel construction make for a rather eye-catching device. People will ask you about this device. In the weeks that I've been using it, several vapers have stopped me on the street to ask about it.
Operating the Ultroner Mini Stick is simple too. On the side, you have a nice, clicky Ultem button that is easy to reach and fires consistently every time. The top of the device is MOSFET protected as you'd expect from a device of this caliber and the entire thing, even with a tank attached, sits squarely in the palm of your hand. It is glorious if you like this kind of thing…
You do need to ensure that you set-up the MOSFET correctly, however, and, for some reason, Ultroner does not provide any information on why or how you do it. You basically need to attach a silicone plug to the MOSFET in order to make the device safe for use; do not skip this part as we're dealing with a mech mod here and safety should always come first!
Performance
The Ultroner Mini Stick is designed for use with low-power builds. You really don't want to be sub-ohm vaping on this thing, despite what the retailers/Ultroner say. You wanna keep your builds in and around 0.58 to 0.76 and up to 1.0 to 1.2ohms. DO NOT GO LOWER. This will ensure your battery can handle the current and nothing bad happens.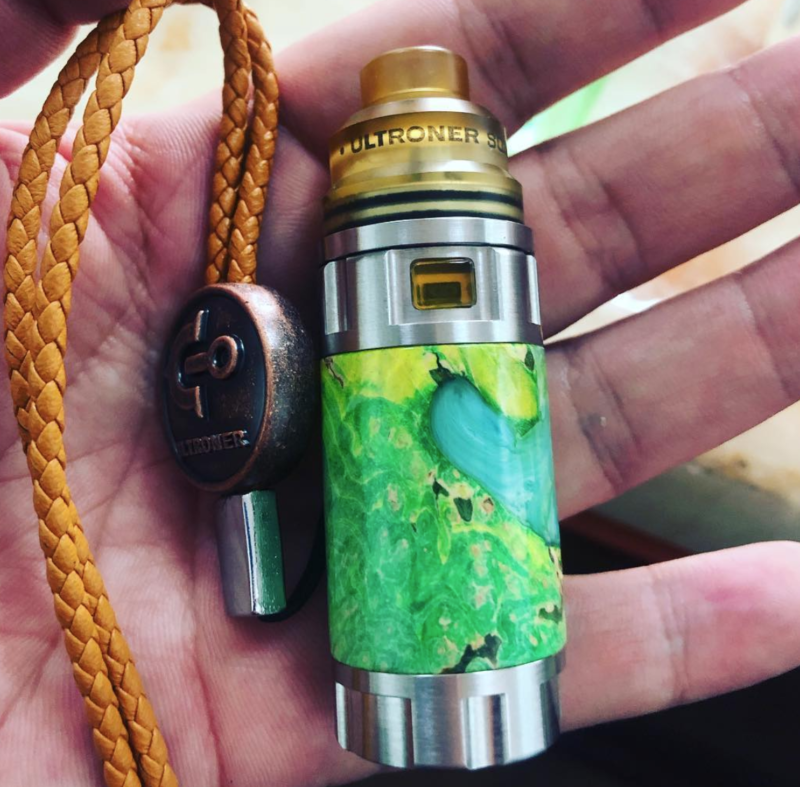 Pin
Once you've got a tank installed, and it's set up accordingly, you can start vaping. As I said earlier, I run MTL RTAs on mine. I have the build coming in around 1.0-1.2ohms and I run nic salts in the tank (Top Brass, in case you're wondering). For me, this setup is nigh-on perfect for this type of device. You get plenty of performance but it doesn't tax the battery which means you get more battery life and it runs safer.
In terms of cut-off, whereby power diminishes as the battery degrades, Ultroner appears to have set it VERY low. You can pretty much vape with this thing until your battery is completely dead, although I would NOT recommend this. Best practice: run a battery for 4-5 hours then change it for a fresh one, rinse and repeat. Still, this low cut-off is super-handy if you're in a pinch and don't have a fresh cell laying around.
Battery Life
Heavy Use w/ MTL Tank – Around 7-8 hours
Moderate Use – 9-10 hours
Light Use – 12-14 hours
Should You Buy It?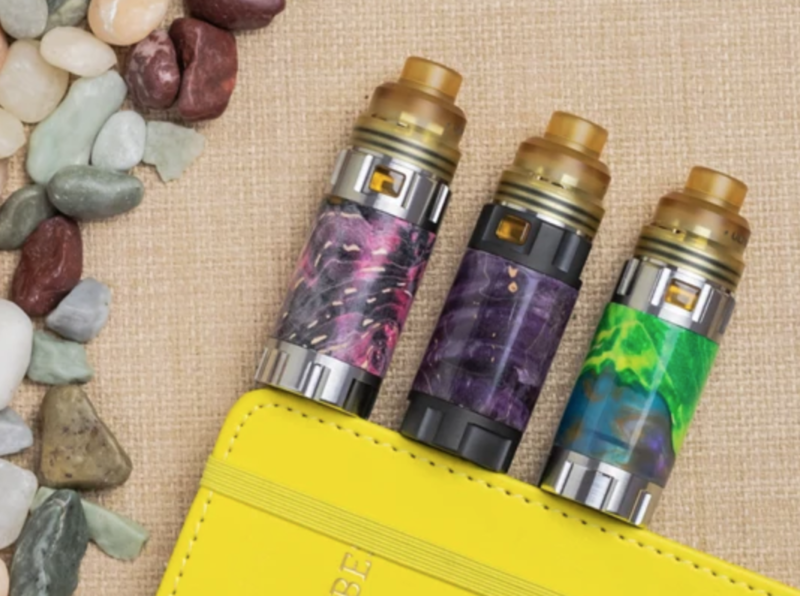 Pin
If you like unique looking mods that are expertly crafted and are designed, predominantly, for MTL rebuildable tanks then, yes, it is 100% worth a look. I've been using mine for over a month now in place of my usual pod vape and I've been having a blast.
The battery life, especially on MTL resistance builds, is great, it looks fantastic, and it performs brilliantly. You must ensure you set it up correctly, however, and that means installing the silicone plug. Also: DO NOT RUN SUB-OHM BUILDS in it.
If you can get along with all of the above, the Ultroner Mini Stick is well worth a place in your vape mod collection.
Best Place To Buy | VaporDNA | $74.99
---
Gear Used In This Review: 
Drake Equation
Co-founder and Editor of VapeBeat. I make the words.