The Suorin Air kind of single-handedly started the whole pod vape phenomenon. And today, we're looking at its successor, the Suorin Air Plus Kit…
---
Suorin Air Plus Kit – Quick Verdict (100%)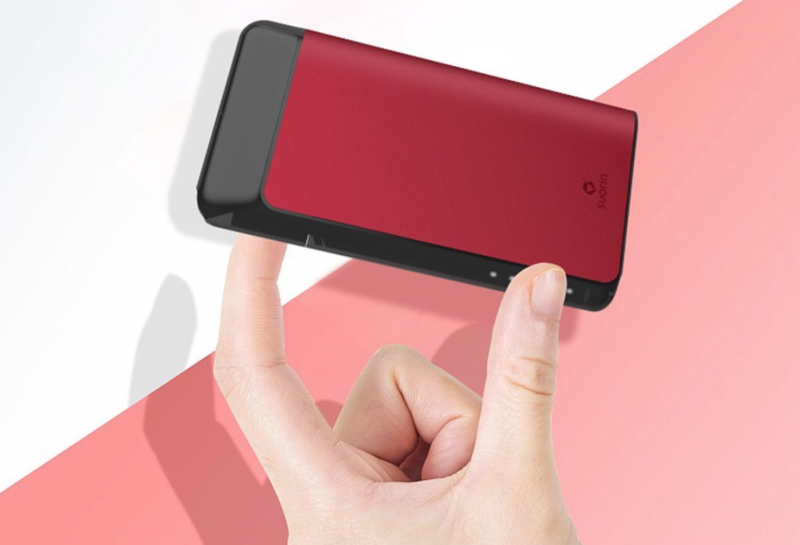 [maxbutton id="4″ url="https://vapebeat.com/recommends/suorin-air-plus" ]
Suorin Air Plus Pros:
Beautiful Design, Very Sleek
100% Leak-Proof
Outstanding Battery Life
DTL & MTL Coil Support
USB Type C Charging
Immense Flavor Production
TL;DR Verdict – The Suorin Air is now a veritable classic. Like the original iPad, it was the device that started an entirely new line of products. Picking up with the original Air left off, the Suorin Air Plus adds in a significantly larger battery, a smoother, more refined design, better coil heads (both MTL and DTL), and it produces excellent-tasting vapor.
For me, the Suorin Air Plus is easily one of the best pod vapes released inside 2019. Its battery life is considerably better than the UWELL Caliburn, my current go-to pod vape, and the flavor is just as good. This is why the Suorin Air Plus has now usurped my beloved UWELL Caliburn as my #1 pod vape system.
If you're looking for a pod vape that produces excellent flavor, has long-lasting coils, supports both DTL and MTL vaping, and has market-leading battery life, then the Suorin Air Plus is the pod vape you've been waiting for. Nothing else comes even remotely close to it for overall performance in this price bracket. I love the Suorin Air Plus and for the price ($27.95), I think it's fairly safe to say you guys will as well…
Full Suorin Air Plus Review – Specs, Features & Performance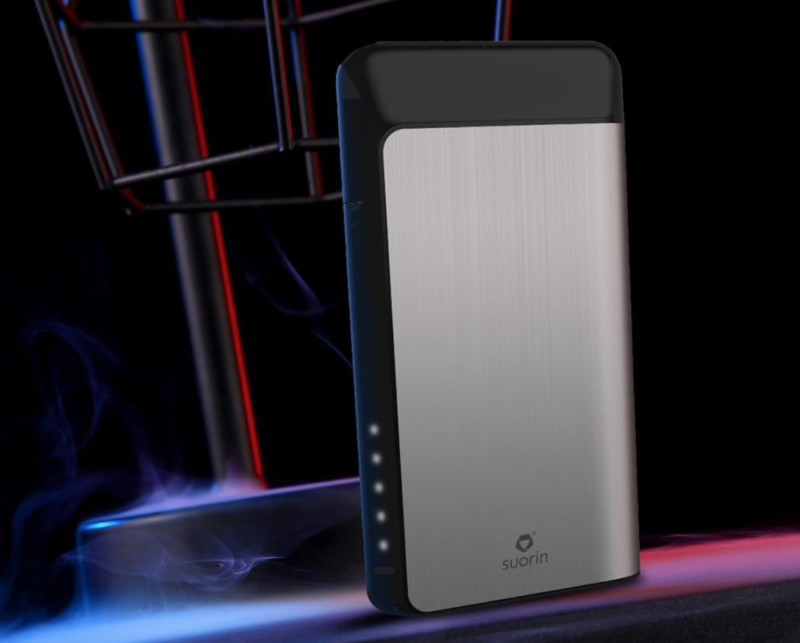 Design
The ever-expanding popularity of pod vape systems can, arguably, be traced back to a single device from one company. That company is Suorin and that device is the Air.
The Air is still referred to in certain circles as "the credit card mod", and for good reason: the Air's revolutionary-for-the-time design was approximately the same dimensions as a standard credit card, albeit thicker.
Suorin hasn't messed with a winning formula here, either. It's kept the same credit-card-style design, only this time it's larger in order to accommodate its bigger 930mAh battery. And that's a fair trade too; the only criticism I had of the original Air was that its 400mAh battery simply wasn't good enough.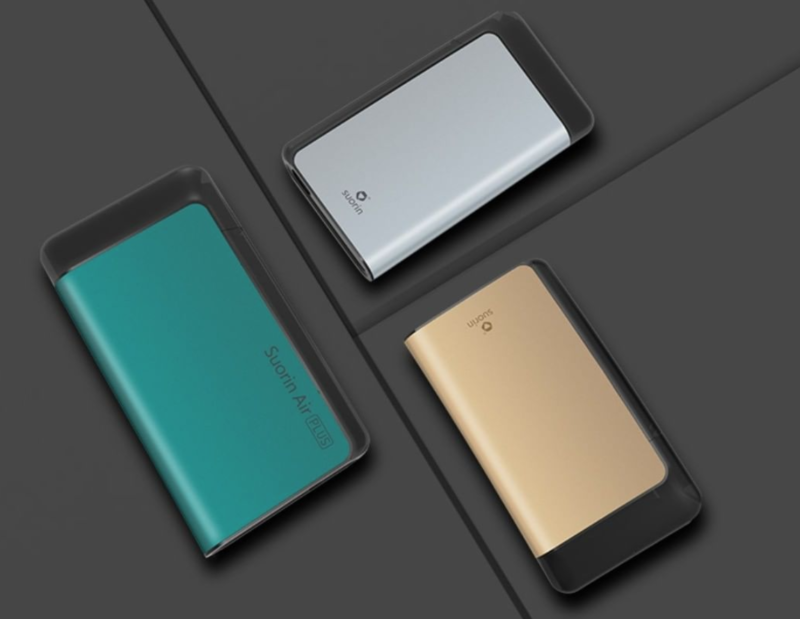 The design of the Suorin Air Plus is still very sleek, however, and it looks like a way more expensive device than it is – it retails for just $27.95 w/ FREE shipping. Inside, things are equally impressive. You have support for two, distinct types of coil heads: DTL and MTL, so you can use both Nic Salts and normal High VG E Juice in it, further adding to its overall utility.
The chassis is nice and clean too. You have some light branding on the side, a light indicator for the battery, and a USB Type C port on the bottom for charging. The matte finish looks great and, in the weeks I've been using it, somehow it hasn't managed to pick up any scuffs or scratches, which bodes well for long-term usage.
As for that battery indicator light, here's a quick breakdown on how to understand what the Suorin Air Plus' LED light is telling you:
One Light = 20% or under battery remaining
Two Lights = 20-40%
Three Lights = 40-60%
Four Lights = 60-80%
Five Lights = 80-100%
Suorin has introduced pod options for both traditional e-liquid as well as an option designed for use with nicotine salts, an increased capacity liquid reservoir, and an intriguing "oil-baffle" internal architecture designed to put a stop to annoying leaks. It works too; I haven't had a single leak in my time with the Suorin Air Plus.
Suorin Air Plus Cartridge & How To Fill It Properly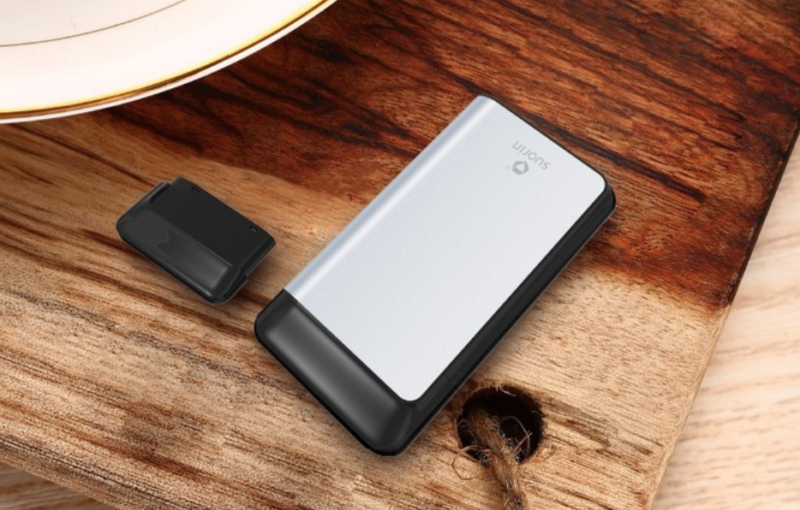 Once the cartridge is installed, it sticks out the top of the device by just 15mm. Filling up the Suorin Air Plus' cartridges is super-easy too; just pull out the rubber stopper and start filling. Each cartridge can hold 3.2ml of juice (or 2ml in TPD countries like the UK), which is more than enough to see you through most of the day.
The mouthpiece, where you inhale from, is located on the corner of the cartridge, a placement that might throw you out the first couple of times you use the Suorin Air Plus. However, once you get used to it you'll wonder why more pod systems don't use a similar placement.
Suorin Air Plus Specs & Features
All-In-One Design
Integrated 930mAh Rechargeable Battery
Max Wattage Output: 22W
Voltage Output Range: 3.3-4.2V
Superior Zinc-Aluminium Alloy Chassis Construction
Draw-Activated Firing Mechanism
Fillable Pod System – Replaceable Cartridge
3.2mL Juice Capacity
0.8ohm / 0.7ohm Resistance
Horizontal Coil Atomizer
Organic Cotton
Bottom Fill System – Silicone Stoppered
Oil Baffle Design – Prevents Leaks
Gold-Plated Magnetic Connection
Not Compatible with Suorin Air Pods
5-LED Battery Life Indicator Light
MicroUSB-C Port
Performance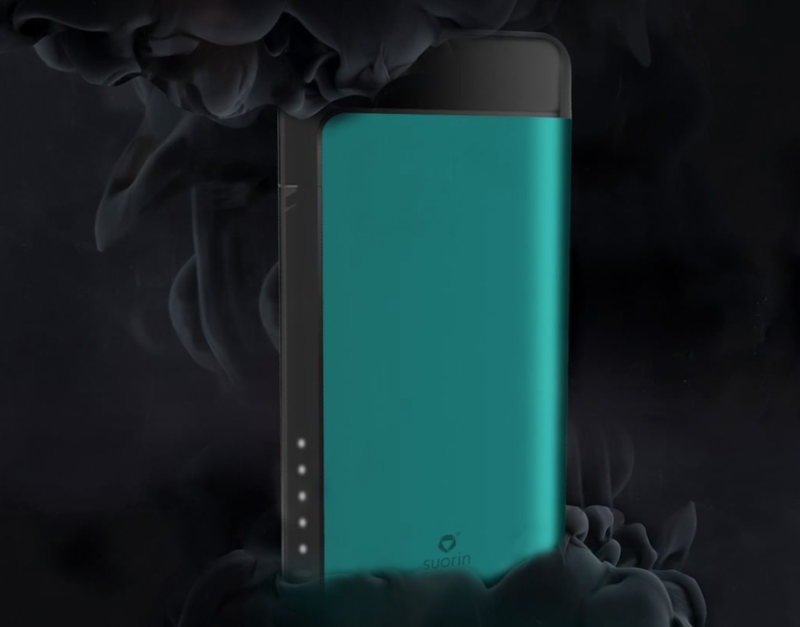 Suorin's original run of pod vapes weren't without their issues. The Drop suffered from inconsistent performance and the Air's battery sucked. With the Suorin Air Plus, all of these issues and inconsistencies have been remedied and fixed, resulting in proper stellar performance across the board.
I've been running my usual array of Nic Salts, meaning Top Brass from the VapeBeat Store, and the flavor I'm getting from the Suorin Air Plus has been brilliant; all the notes are there, even the delicate creams and vanillas that sometimes get lost on some pod devices. Here, you get ALL the flavor in all its glory, as well as plenty of vapor production. Top marks all round, basically.
As for the coil heads, I've been getting a solid couple of weeks from both. I do prefer the MTL coil head, simply because I prefer my pod vapes to be MTL, but that doesn't mean the MTK cartridge doesn't have a place here. Both perform excellently with respect to flavor and longevity, lasting a good 14 days (minimum) before any degradation of flavor.
Taken as a whole, the Suorin Air Plus is one hell of a performer. Unlike most pod vapes, it manages to do it all – flavor, performance, coil head longevity, and battery life – with very few negativities. In fact, the hardest thing about reviewing this device was finding potential negatives. Three weeks in and I'm still looking…
Battery Life
90% of pod vapes have terrible battery life. The world's most popular pod vape – the JUUL – is utterly terrible in this regard, struggling to get through half a day's worth of use. The UWELL Caliburn, one of my favorite pod vapes, is better but even that vape looks utterly pathetic compared to what the Suorin Air Plus can do.
With its 930mAh internal battery, you're looking at a solid 2/3 day's worth of vaping with average usage. And that places the Suorin Air Plus well inside the top 1% of pod vapes when talking about battery performance. Out of all my pod vapes, around 25 devices, the Suorin Air Plus is by far the best for overall battery performance.
Should You Buy The Suorin Air Plus?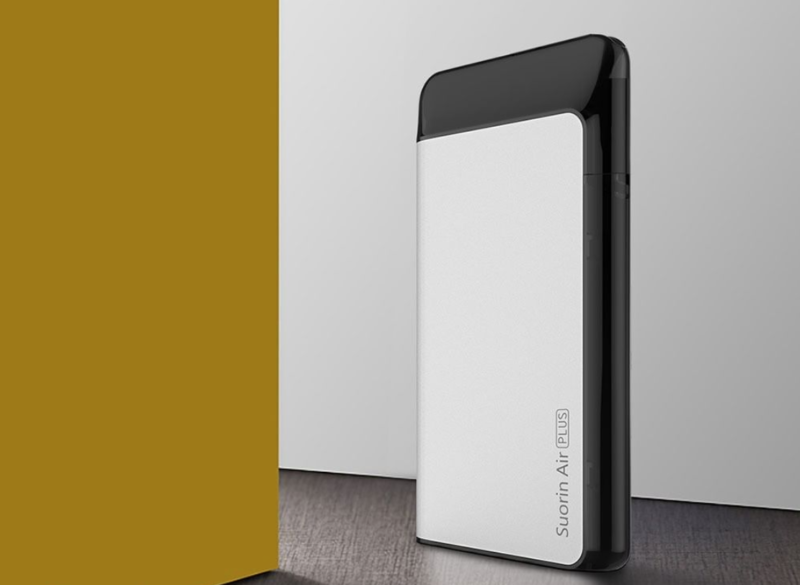 [maxbutton id="4″ url="https://vapebeat.com/recommends/suorin-air-plus" ]
If you're after a pod vape with impressive battery, great flavor, the ability to run both MTL and DTL coils, and that retails for a very aggressive price, the Suorin Air Plus is 100% worth a look. I've tested about 40 pod mods in the last 18 months and the Suorin Air Plus is easily one of the best I've used to date.
From flavor, for design, for ease of use, for battery life – the Suorin Air Plus is a near-perfect pod vape that is most definitely worthy of your time and money in 2019. Even compared to the might of the UWELL Caliburn, the Suorin Air Plus impresses with its superior battery life and higher capacity pods. And if that doesn't tell you everything you need to know about this spectacular pod system, nothing will!
Best Price | $27.95 – DirectVapor (FREE SHIPPING)
Drake Equation
Co-founder and Editor of VapeBeat. I make the words.