Smok, the brand everyone loves to hate. What started as the most recognized vape brand quickly turned into a high stakes gamble of quality control. Smok has made some great products but running the risk of a malfunctioning $40-$60 piece of kit is too much of a stretch for most people. Recently, it appears Smok has gone through a transition phase where not only did the products look to be better made, they seemed fresh and exciting, the Nord as an example. So how does the new Smok RPM40 stack up, is it the only POD system you will ever need?
Smok RPM40 Verdict – 67%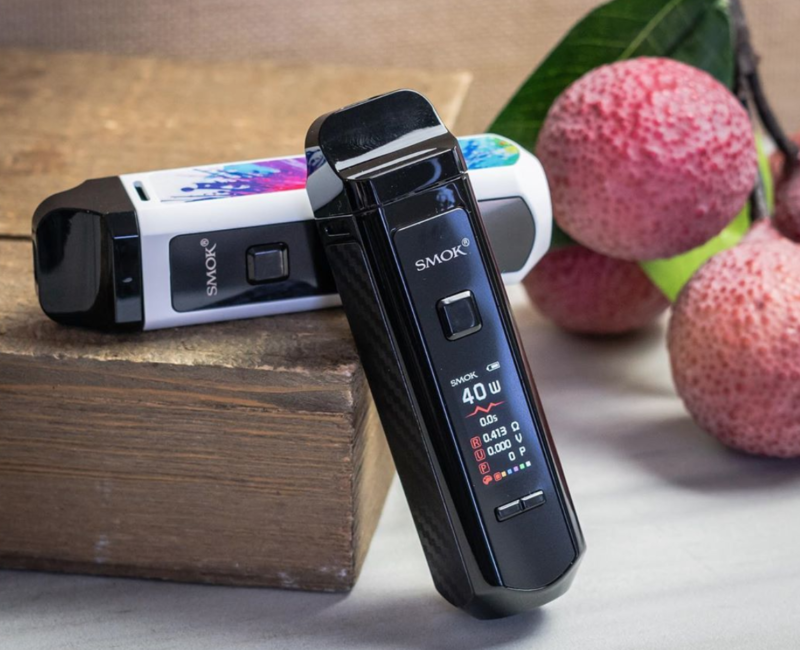 Best Price USA | DirectVapor | $30.95
UK & Europe | New Vaping | £20.99
Pros:
40w POD "styled" system
5ml juice capacity
Can use Nord coils
Huge internal battery
Great Screen
Cons:
Quality control is still iffy
Heavy
Leaking issues carried over from Nord
Micro USB
Full Smok RPM40 Review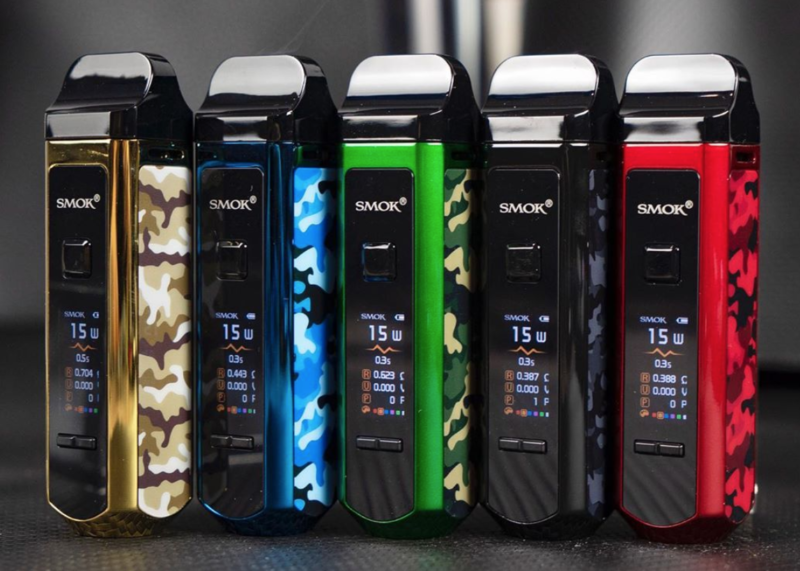 Packaging
Smok has always been on point with their product presentations and that no doubt helped cement their fame, marketing is what sells a product after all. The RPM40 is no different, a regular sleeved box, but the printing and presentation are done beautifully. Inside the box, you'll find your RPM, micro-USB cable, manual and warranty card as well as two PODs, an RPM40 POD containing the all-new 0.4ohm Mesh coil as well as a "Nord" POD that can take the infamous Nord coils. The pre-installed coil is the 0.6ohm Nord variant, which had some issues in the past, but we'll get to that later.
Design
The RPM40 comes in way too many colours to mention, there is bound to be something you like. Anything from plain black, to Gold carbon fibre and everything in-between. Apart from the Voopoo Vinci, there isn't much that looks similar to the RPM40, it's a tall chubby rectangle and much larger than we were led to believe from the images. You'll get 3 coloured panels and one panel with what must be the best AIO screen to date. A Micro USB port adorns the bottom of the body.
The screen fills an entire panel, contains everything from your power output, to resistance, to puff counter, no complaints here. The battery indicator is one of the best I've seen on an AIO as well. It's colour adjustable too, bright and clear and easy to use on any colour modes (There are 8 in total).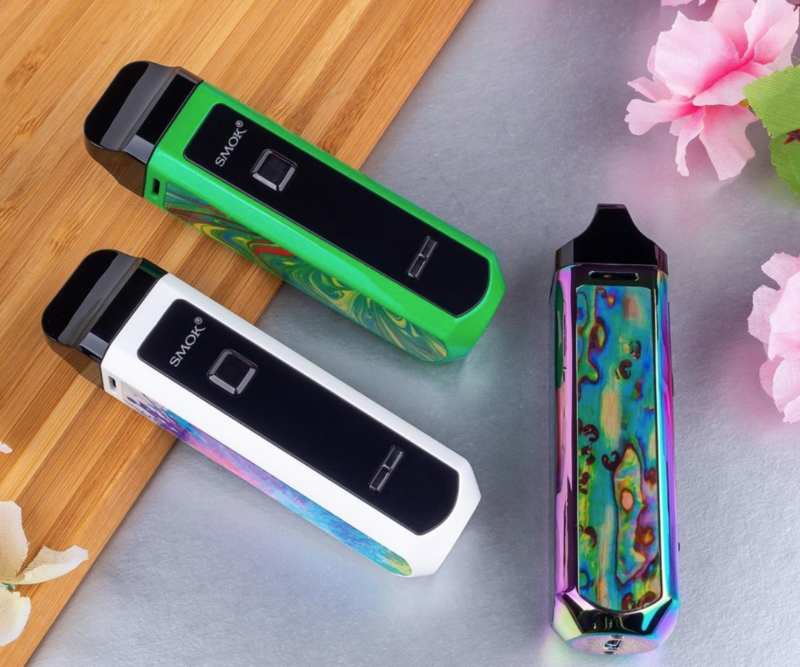 Unfortunately, my test unit had a small crack on the bottom left corner out of the packaging. I'm unsure if this was damaged by the shipping company or otherwise, but a bummer none-the-less.
Both PODs click into the RPM from the top with the juice reservoir disappearing into the body once seated. Be sure to pull it out regularly to ensure you don't run dry. Speaking of PODs, the RPM has a fairly large duck-bill mouthpiece that is super comfortable. 
PODS and Coils
The inclusion of Nord coils in both the RPM40 and Fetch Mini must be one of the best ideas by Smok in a long time, but unfortunately less than ideally implemented. While flavour and longevity is far above average, the consistent leaking issues persevere. While it's possible to overcome the POD housing getting flooded, it's less than ideal to ensure that the RPM40 is always stood upright. Bear in mind, the charging port is on the bottom. Luckily, the new RPM POD, which is also lighter in colour, does not leak as badly (on par with AIO/POD systems) and flavour is still stellar on these. Both POD styles use a rubber flap on the reservoir to fill with a huge fill port.
Performance
It's difficult to place the RPM40 in a specific category as it crosses the lines between AIO and POD system so regularly. It acts exactly like a POD system, but not only are the coils replaceable, it also allows power adjustments up to 40w. Now, I need to warn you, even if the RPM coils ohm out to 0.4 and are mesh, firing the RPM40 at max output will not be pleasant. The fact that I wasn't coughing blood after a 1.5-second hit is a miracle that I am still thankful for. Drop the power down to 22ish with the RPM coil and a 12mg freebase juice and you're in for an amazing vape.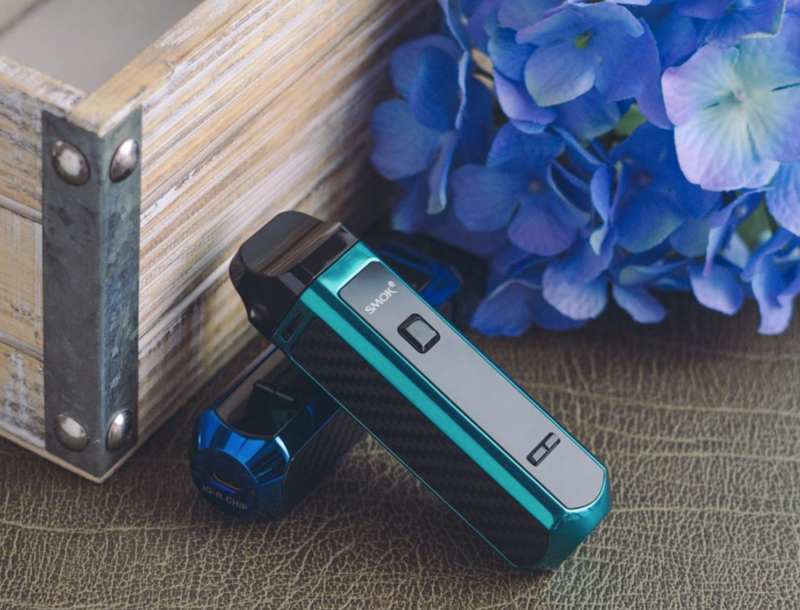 The mesh coils produce so much flavour that rivals many a POD system. The Nord coils I found to perform better at sub 20w, yet flavour remains stellar. Unfortunately, the airflow on the RPM40 cannot be adjusted, so be aware that you will be stuck with something in between a tight direct to lung or loose MTL hit, this counts for both coils.
I was able to get two and a half days of heavy vaping out of the 1500mAh battery, but the trade-off is a heftier system. Charging time also suffers thanks to micro USB charging.
Specs:
E-liquid Capacity: 4.3ml w/RPM POD – 4.5ml w/Nord POD
Power output: 1-40w
Battery: 1500mAh
2-2.5ohms Resistance
96″ Colour TDT Screen.
Charging Port: Micro USB
Size: 25mmx25mmx99mm
Weight: 99g.
Smok RPM40 Conclusion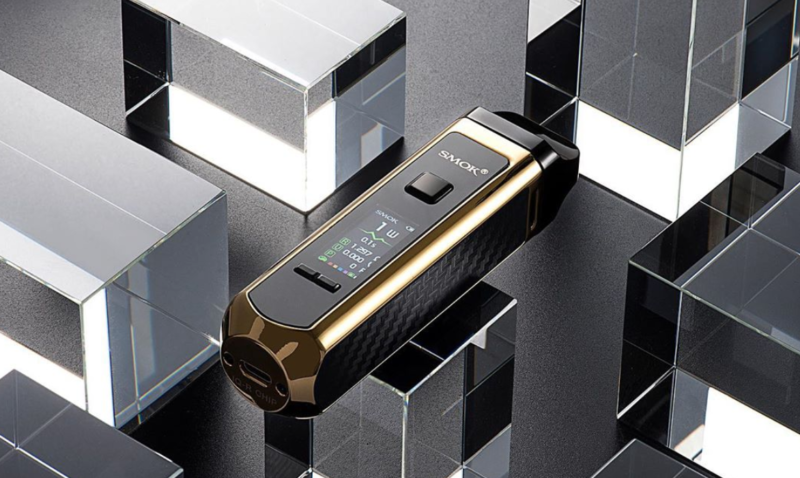 The Smok RPM40 is an interesting device from Smok and I have a feeling will turn the company around somewhat. There are still some quality control issues that need to be addressed, but comparing Smok's latest products to let's say, the GPriv, it's clear they've made a serious effort to turn the company around. The RPM is a neat device if you can live with the leaking and non-adjustable airflow. It's got a whopping big battery, great flavour, runs up to 40w and is compatible with the infamous Nord coils. There's also an RBA coil available if you're willing to risk your fingers building on that dainty thing.
Generally speaking, I think I definitely prefer the VooPoo VINCI – it's much the same device but has more consistent coils.
Best Price USA | DirectVapor | $30.95
UK & Europe | New Vaping | £20.99
Red
Internationally published journalist and reviewer, unofficially certified vape connoisseur. MTL, DTL, RDTL, Red takes it any which way