Halcyon Tango Down E-Juice Review: Proper Tasty Vape Juice!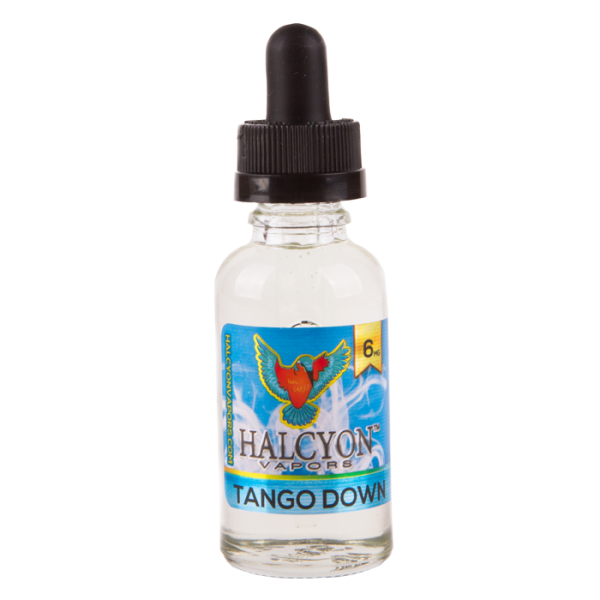 Halcyon Tango Down is described as tangerine with citrus notes and raspberry.
Some say it resembles Sunny Delight, but I have to disagree with that.
It's WAY more complex than that, and it tastes better too.
Tango Down also smells good, I mean really, really good.
Tip some out the bottle and rub it on your face good.
As much as you may be tempted to do so, try to avoid doing this – or drinking it.
Honestly, this stuff is wonderful. I did several more taste tests than I had to and every time I got spit back it was a gift.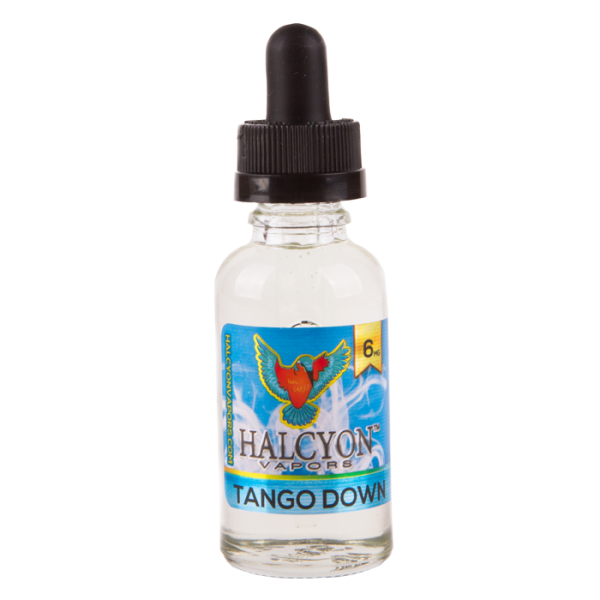 Pin
Halcyon Tango Down – Is This An ALL-DAY, EVERY DAY Vape Juice?
Before vaping, I thought from smell alone this juice would be an all day vape.
Thoughts after first puff: "It's an ADV! Why didn't I know about Halcyon before now?!"
I've been vaping this and only this for two days straight.
This might be a 3-day vape if I can make 30ml last that long!
Unfortunately, I can't put the bottle down, so that is not likely at all.
Tango Down is bold and close to being real magic in a bottle. It's a perfect nectar. The tangerine is sweet and provides a sharp citrus note. It's a little dry as well which is complemented by the sweet raspberry that ensues.
The citrus fruit is distinguished and stands out from the other flavours within the juice, but makes for a great balance between the two.
The luscious and juicy raspberry body follows and provides a solid foundation to the tangerine creating an in-your-face nirvana of fruity bliss. Kudos to Halcyon!
Unfortunately, there are no VG/PG ratio options for purchase.
It only comes in 70/30 which isn't a problem for me but isn't everyone's first choice. Also, the only size options are 15ml and 30ml, but that really isn't a dilemma.
As good as this vape juice is they should have bigger sizes. Maybe in the future?
Even if I was paid to give a bad review, I couldn't come up with a single negative thing to say about this juice.
Halcyon has done a great job putting two flavours that go perfectly hand in hand together.
The bottom line is Tango Down is delicious. Maybe one of the best E Juices around right now
I'm excited to try more flavours by this company.
Would I buy another bottle?
Hell yeah.
Make that two, please.
[letsreview]
---
Tested with:
Uwell Rafale tank at .2 Ohms clocking at 70(ish) watts
Tugboat RDA .22 Ohms clocking at 60(ish) watts
Drake Equation
Co-founder and Editor of VapeBeat. I make the words.