FINALLY — our DOG3 Doge V3 RDA review is HERE! 
The DOG3 Doge V3 RDA is a well known RDA and it is something I've been looking forwards to testing for AGES.
Why's that? Simple: word on the street suggests it is one of the best RDA devices in its class.
And in a class as big as the current crop of RDAs available, that, my friends, is what you call having a very good reputation.
I just spent a week or so getting to know the Doge 3. Having used plenty of RDAs in the past, there was zero learning curve, so I got stuck in immediately, running the DOG3 Doge V3 on a variety of mods.
Read on to find out how I got on and whether or not this RDA's reputation does indeed deserve to precede it.
DOG3 Doge V3 RDA Review: Packaging
The box that the DOG3 Doge V3 comes in is nothing special, a few markings laid over a black box. It's minimal, but it looks fine. Not that this matters; it's what's on the inside that counts.
Inside the box you'll find the DOG3 Doge V3 RDA displayed in all its glory, along side some extra goodies, which includes:
Product Includes:
One C110 Copper Single Terminal Positive Post
One Stainless Steel Single Terminal Positive Post
Two Additional Stainless Steel Screws
One Additional C110 Copper Screw
One Additional C110 Copper 510 Contact
One PEEK Insulator Set
Additional O-Rings
Screwdriver
So as you can see you are good to go with the extras. It's always nice to see companies include these extras, as it makes you feel like you are getting a decent deal. I actually like getting extras so if I need to replace something on my RDA it's ready and waiting to go. No one likes downtime.
DOG3 Doge V3 RDA Review: Specs & Features 
22mm Diameter
Congrevape Ceramic Tip System
Black Ceramic Tip
Removable
Open Source Seating
11mm Bore
Extremely Heat Resistant
Safe Under Heat
Focused Dual Airflow
Faster Air to Coil Rate
Rapid and Smooth Delivery
10mm by 2.5mm Each
Adjustable via Deck
Increased Top Cap Build Space
Removal of Internal Airflow Controller
Increases Internal Build Space by 2.4mm from Previous Models
Interchangeable Positive Post Build Deck
Split Positive
2.2mm Each Terminal
Single Positive Post
3mm Terminal
Increased Build Space
Deckmilled Negatives
2.2mm Terminals
Square Japanese PEEK Insulators
Increased Juice Well
9mm Deep
100% Increase Over Doge V2
Stainless Steel Construction
C110 Copper Posts, Screws, and Contacts
Beautiful Colorways
DOG3 Doge V3 RDA Review: Design 
The DOG3 Doge V3 is a flawless RDA — there is not a single nick, scratch, or machine error on it. Everything fits tightly together as it should and the DOG3 Doge V3 looks great on its own or attached to a mod.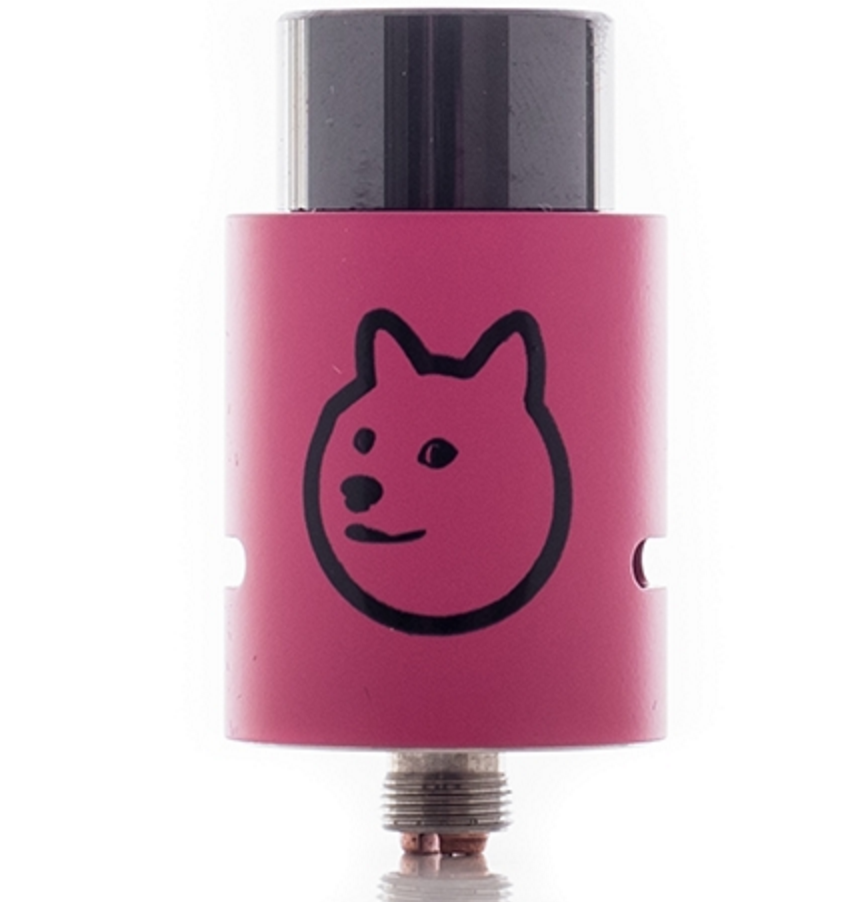 I have to say, I got the pink one and quite honestly, I get a lot of compliments on it, as it just looks, well, awesome, as you can see below.
DOG3 Doge V3 RDA Review: Performance & Deck
After getting all my building supplies ready I began to build my coils. I wanted to go simple this time so I did a dual 24g 6wrap over 2.5mm and clocked in at a smooth .25ohm. A little lower than what I prefer (.3-.4ohm) but I tossed the organic cotton in, trimmed up my wicks, applied the ejuice and fired the DOG3 Doge V3 up.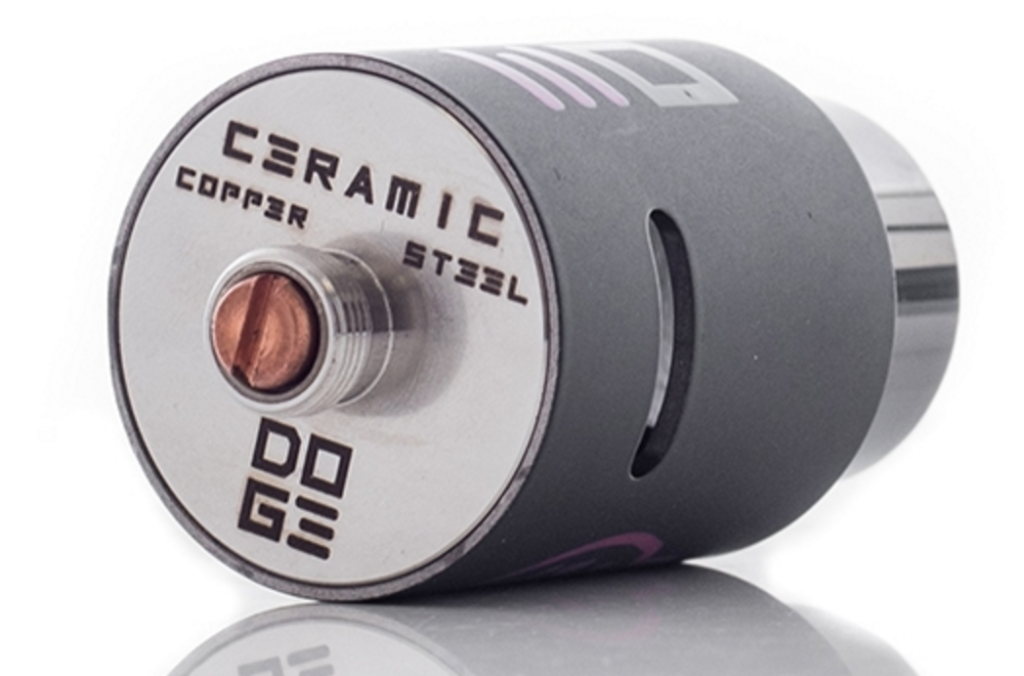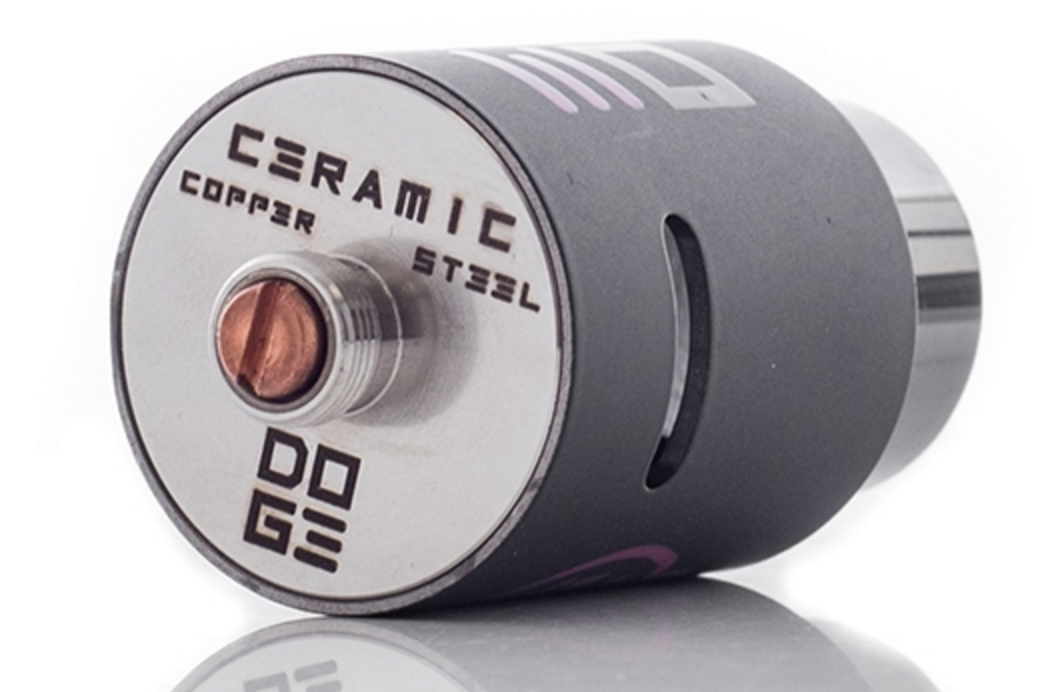 The hit was great; full of flavour. The clouds enormous — and, remember, at this point I hadn't even cranked it up very high.
I started at a mere 80W and it was simply outstanding! The airflow was wide open and gave me the most perfect vape I have had in a good long while. I can run my build from the low-end of 50W, up to 120W. At 120W, the Doge 3 had no problems, it just kicked the vape out. Great flavour and cloudage to boot.
I thought my Twisted Messes RDA was a beast, guess who is sitting on my vape shelf now? Yup, the Twisted Messes is. It has just been usurped by the DOG3 Doge V3.
Although I prefer Velocity-style decks, the DOG3 Doge V3 was simple enough to work with. I had no issues with the screws nor the spacing. In fact, everything fit perfectly on the DOG3 Doge V3.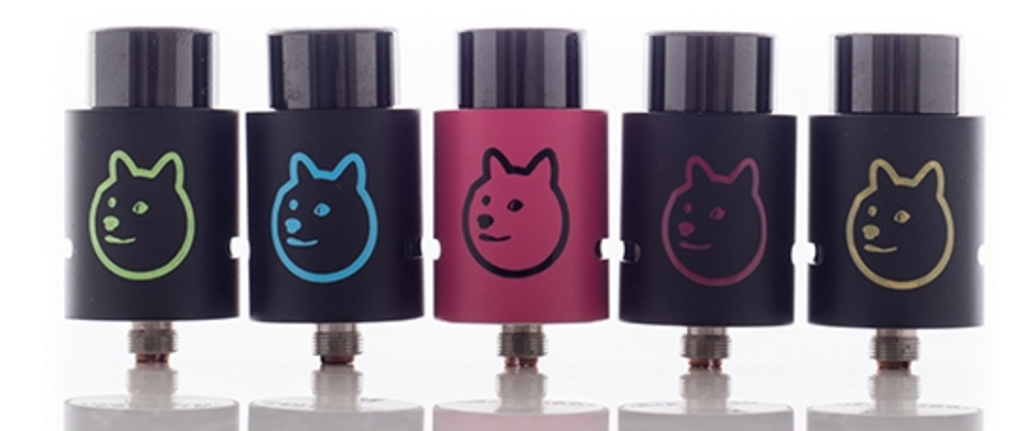 The ceramic tip never gets too hot, either, which is great news for those that like to vape at higher wattages. It can handle 120W with ease and for those of you looking to go higher, well, you got plenty of room to play with. The Doge 3 has performance hard-wired in.
DOG3 Doge V3 RDA Review: Conclusion
For an RDA the DOG3 Doge V3 not only performs but outshines quite a few other RDAs currently on market — my Twisted Messes, for instance. With adjustable airflow slots (there are 2) and a simple deck to build on, you can be sure to find that perfect vape for you. The DOG3 Doge V3 performed above ALL my expectations and is now definitely a mainstay for me.
I am giving the DOG3 Doge V3 RDA a 10/10.
---
You Can Pick Up The AWESOME DOG3 Doge V3 RDA Right Now For $39.99 (Actual RRP: $49.99) via VaporDNA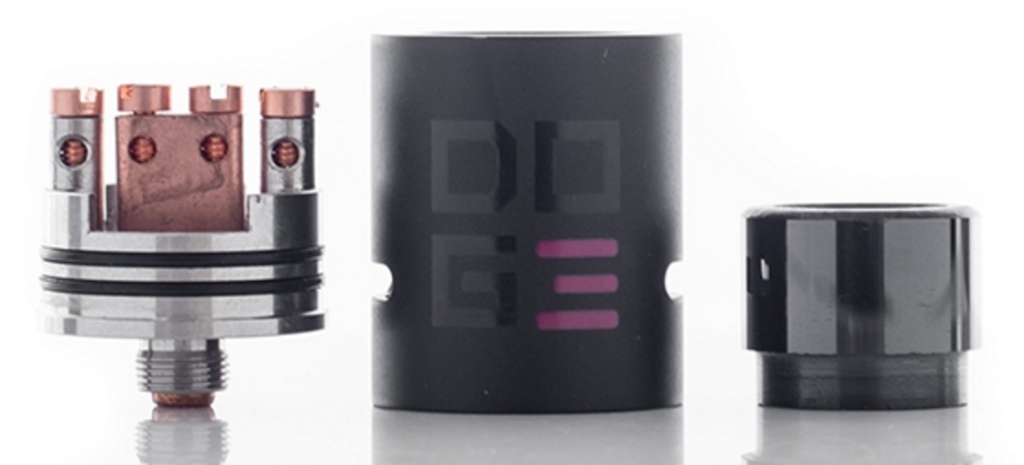 ---
---
READ THIS NEXT:
Nick Jennings
Reviews & Tutorials Guy. If You Can Build It & Vape It, I'm Your Man!