The Augvape INTAKE Dual RTA has BIG shoes to fill, picking up where the uber-popular Augvape INTAKE RTA left off. Does Augvape have another smash-hit on its hands? Let's find out…
---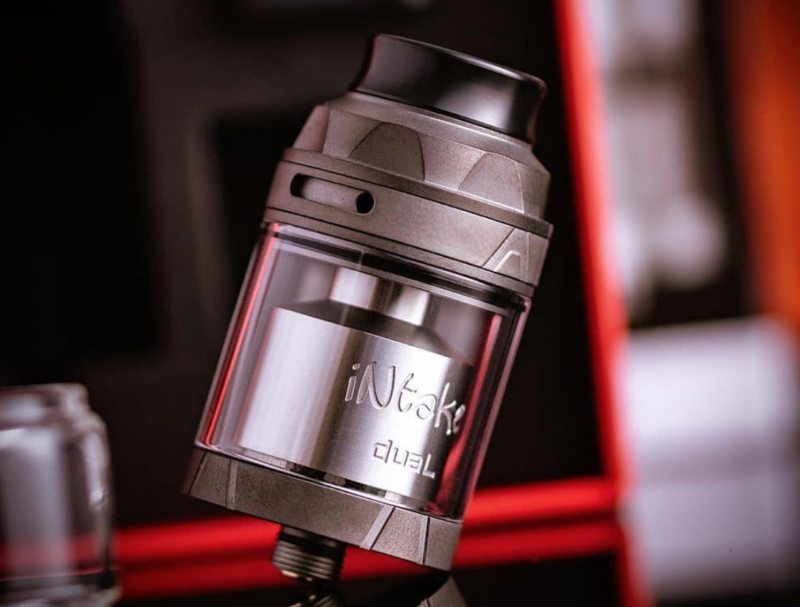 Best Price: Element Vape | $31.95
Augvape INTAKE Dual RTA Pros
Solid Design, Nice & Tidy
Very Good Flavor
Lots of Clouds
100% No Leaks (Same As Before)
Large Juice Capacity
Easy To Wick Properly
Cons:
The Deck is a Little Fiddly
Screws are REALLY Small
Gets Hot At Higher Wattages (90W and Up)
Not As Simple To Wick As Original Intake RTA
VERDICT: I'm not the biggest dual-coil RTA fan if I'm 100% honest. I love rebuildable tanks, but I tend to go for single-coil MTL RTAs most these days – tanks like the Augvape Merlin Nano MTL RTA (which I've been using for almost six months straight now).
The Augvape INTAKE Dual RTA is definitely an impressive tank, though, and the flavor and cloud output has been improved. The draw is still a little too restricted for my tastes, just like its single coil predecessor, though many vapers to prefer this style of DTL vaping, so don't let this put you off. Where it counts, the INTAKE Dual RTA is a solid, performer.
Flavor and cloud production are all way better than they were on the original.
The deck is small, requiring a deft hand when installing builds. The hex screws are very small as well; definitely a negative for me. It's a postless deck as well, so you have to pre-clip your leads using the provided trimming tool. Once you have them the right length, slip them in, tighten the screws, and use your screwdriver to adjust positioning. The deck isn't perfect, but it is easy enough to work with (even for newbies). And once your coils are in wicking is fairly straight-forward, just don't overstuff it with cotton.
Like the Augvape INTAKE RTA, you will not get any leaks with the Augvape INTAKE Dual RTA. You may get some dry hits if you wick it incorrectly, but that's kind of par for the course when you're talking about RTA tanks. Personally, I haven't had any so far – and I've been using it for a couple of weeks now. The flavor is consistent and I am now starting to get used to the draw.
Would I Buy This RTA?
Yes, I definitely would! Especially if I were after a reliable, solid-performing dual-coil RTA. Right now, it is perhaps the only RTA I can think of that features dual coils, doesn't leak, is relatively easy to wick, and kicks out consistently good flavor. It's also pretty darn cheap too, retailing for just $31.95, which is pretty good for a dual-coil RTA.
Full Augvape INTAKE Dual RTA Review – Design, Deck & Performance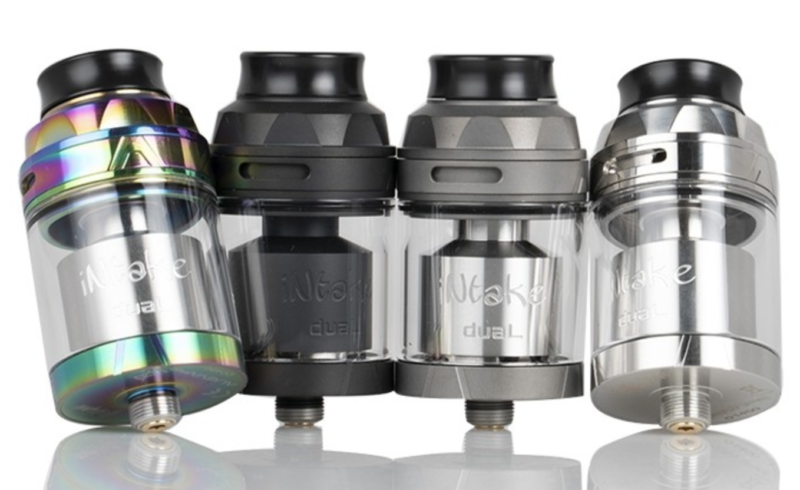 Design
The Augvape INTAKE Dual RTA is a handsome chap, to be sure. It keeps remnants of the original INTAKE's design – the logo and overall shape at the top of the tank, for instance – but it is bigger overall (26mm) and wider to accommodate the larger dual-coil deck.
The airflow, as you'd expect, is still top-mounted. This is why you don't get any leaks. It's also why the draw is tighter than other, similarly priced dual-coil RTAs. The mouthpiece is extremely comfortable to use too; normally, I switch out the drip tips on my tanks. I didn't bother this time, however, as the Augvape INTAKE Dual RTA's is great.
Available in four colors, the Augvape INTAKE Dual RTA is definitely one of the better-looking RTAs I've come across this year. It's expertly machined and all the bits come together and apart with zero fuss. My only slight issue with the industrial design is that the screws are super small and the deck is a bit tight. Other than that, the Augvape INTAKE Dual RTA gets an A+ for design and style.
Deck (Building & Wicking)
The deck is postless and features four terminals. If you've got your eye in, or you've come from a tank that uses an even smaller deck, as I had, it's not too hard to work with. It is a lot smaller than I was expecting, however, so I can see this tripping up some users potentially.
Because the deck is postless, you have to pre-clip your leads. Thankfully, Augvape includes a tool in the box that you can use to do this. Once your leads are clipped, all you have to do is slip them into place and tighten them in place using the provided tools. All in, it took me less than 5 minutes the first time around.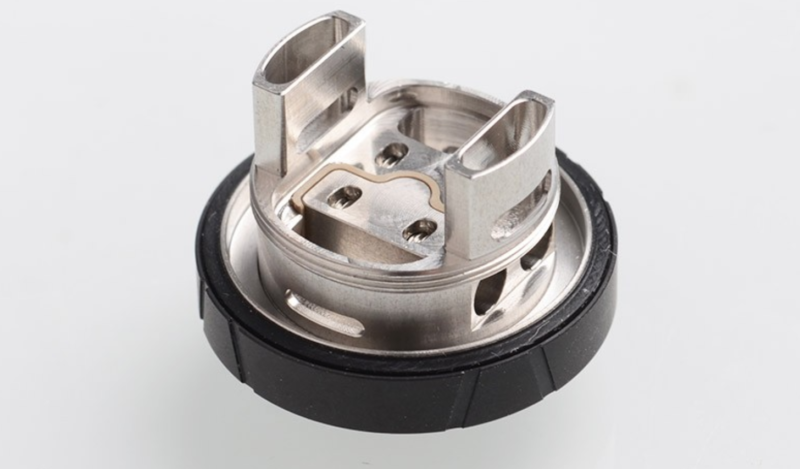 Wicking is similarly straight-forward. As long as you've used an RTA before, you will have no trouble with the Augvape INTAKE Dual RTA. Keep the cotton thick enough to push against the coils, but not so thick that you cannot pull it through. Clip the ends off, tuck them into the juice well, and you're good to go.
I didn't have any issues wicking the Augvape INTAKE Dual RTA, but if you're new to RTAs, it is definitely worth taking your time (and watching a few tutorial videos). I think the hardest part of setting up the Augvape INTAKE Dual RTA is getting the coils placed; the deck is small and you have to pre-clip your leads. If you're cool with that you won't have any problems.
Performance (Flavor)
I liked the Augvape INTAKE RTA a lot, so the idea of adding in an additional coil got me very excited. With a dual coil setup, you get more power and, if the stars align in your favor, more flavor and clouds. With the Augvape INTAKE Dual RTA, this is very much what you get – right off the bat.
My first hit was immensely flavorful. No dryness, no weird gurgling. Just a solid, flavor-dense chunk of vapor. As always, I tested it out with my favorite juice of all time, TrailBlazer from the VapeBeat Store, and, as always, it tasted great. In fact, I'd probably go as far as saying the Augvape INTAKE Dual RTA kicks out some of the flavor of any RTA I've tested in the last 12 months.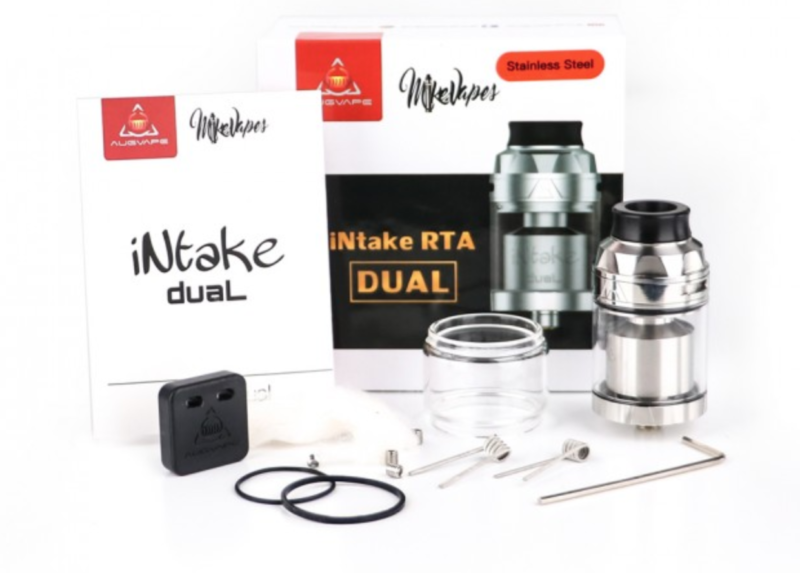 Augvape – and Mike Vapes, who designed this tank – really know how to do airflow. The original INTAKE's top-mounted airflow system was a revolution in the RTA market, and the Augvape INTAKE Dual RTA simply picks up where this system left off and adds in more performance. The results are sublime. Massive flavor and massive clouds.
Add in the ease with which this RTA wicks and you're in a very good place. Next to, maybe, the GeekVape Zeus X RTA, I'd probably say the Augvape INTAKE Dual RTA is perhaps the best dual coil RTA on the market right now. It doesn't leak, the flavor is bangin', and it kicks out a TON of flavor.
What more could you possibly want from an RTA?
Best Price: Element Vape | $31.95 
Drake Equation
Co-founder and Editor of VapeBeat. I make the words.