The Aspire REVVO features a rather new, unique coil system that is designed to make the tank easier to live with. How does it function in reality though?
---
[letsreview]
---
Aspire was the first EVER company to release a proper sub-ohm tank, so it has some pedigree when it comes to innovation.
The Aspire REVVO is the company's latest tank and, like the Aspire Atlantis, it is hell-bent on shaking things up once again in the sub-ohm tank space.
Will it make it onto VapeBeat's Best Vape Tank Guide though?
You'll have to wait and see…
This time around, the innovation is ALL to do with the coils used inside the Aspire REVVO.
They're kinda different to what most of us are used to with respect to sub-ohm tanks.
But are they any good? Are they better than the standard-issue coils we've all grown used to?
Read on to find out…
Aspire REVVO Tank Review – Design
There's a new generation of coils coming out that are flat stove-top type coils made of a solid piece of metal with laser-cut grooves, reminiscent of old notch coils. I've seen them on the new Haze RDA, and today I'll be talking about Aspire's version called ARC Coils aboard its REVVO sub-ohm tank.

The Aspire REVVO Tank has a 3.6 mL capacity and the flat coil press-fits into the top and is held in place with a flared threaded screw that holds it in place. When you fill the tank, the instructions say to flip it upside down for a few seconds to saturate the cotton pad.
When I bought it, the saleslady said I would have to tilt it on occasion to keep the wick wet, but I didn't find this to be something I had to do that often. Just the natural action of vaping seemed to tilt it enough to keep the wick mostly wet.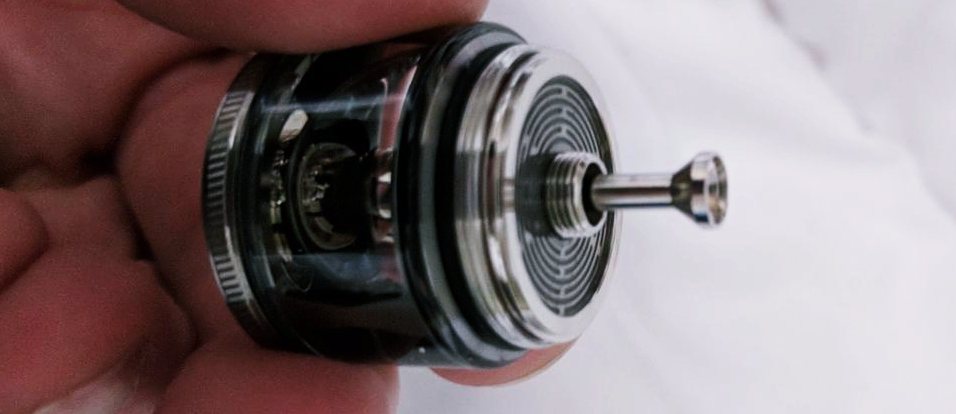 The airflow is located at the top and is adjustable. This top part is mostly plastic with a metal band, so if, say, you had your mod in a bag and it was accidentally firing for a while, this plastic will melt and fill your air holes.
Don't ask me how I know this.
The kit comes with a replacement glass tank and extra coil, but unfortunately no extra top. So don't do that! Another nice little touch is that it comes with a cap that you can use to cover the mouthpiece if you're prone to getting pocket lint and the like in your mod.
The composition and design of the tank is solid; it feels sturdy like it could handle a kicking, and it all slides together and apart very easily. Aspire is a US brand and it makes fairly robust, quality gear. The Aspire REVVO Tank is no exception in this regard.
Aspire REVVO Tank Review – Performance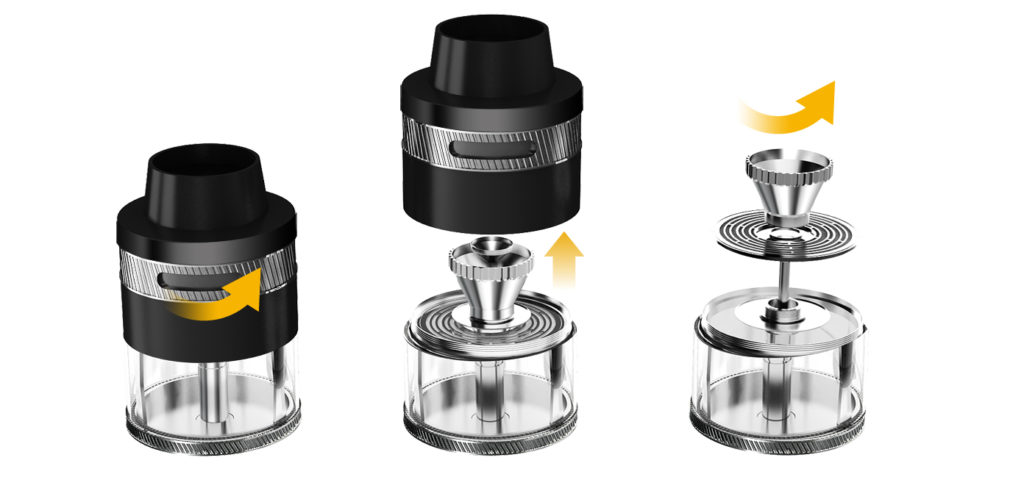 The flavor off of this tank is nice. It's not the best I've ever had, but it is definitely above average, though it pales in comparison to the UWELL Valyrian in this regard.
Since there are no wicks hanging down in the tank, the Aspire REVVO tank looks really clean and smart. The instruction manual is very clear and easy to understand too, which makes setup, even for newbie vapers, very simple indeed.
I've also seen people re-wick these coils by cutting a cotton pad to fit the coil and sliding it under the spokes that hold the wick against the coil, however, these coils are fairly inexpensive, so whether you'd want to do this is kind of up to you.

Based on the coil that I burned the cotton out of, the coil/plate seems pretty sturdy, it held intact and scrubbed up fine, so I would expect it to last a while before it starts to degrade.
Overall ARC Coil performance is VERY impressive, however – a good couple of weeks, at the very least. And that puts coils like SMOK's well and truly in the dust. Couple this with the relatively inexpensive nature of the coils themselves and you have yourself a winning formula.
Aspire REVVO Tank Review – What I Like?
Overall, I am very pleased with the design and flavor of this tank, and I foresee more devices in the future going towards this style of coil. I also love the design of the Aspire REVVO – it's smart, classy, and extremely well put together.
Aspire's ARC Coils are very impressive. A solid couple of week's worth of usage before burnout is very good, indeed. This fact alone places Aspire's coil system ahead of 90% of the sub-ohm tanks in existence right now, so hats off to Aspire for knocking the ball outta the park in this regard.
Aspire REVVO Tank Review – Things To Keep In Mind
Because the ARC coils are fairly new, choice is kind of limited at the moment, so if you're the type of vaper that likes to use a range of coil options, you're probably best off waiting for more to appear.
Flavor is decent, but it's not market-leading. I found the UWELL Valyrian to be vastly superior in this regard. Everything is as it should be with respect to flavor, it's just not quite as intense as I'd like it to be.
Saying that, I'd 100% take slightly muted flavor and have coils that last weeks over exceptional flavor and coils that barely last a week.
You can't replace the drip tip. This isn't a deal-breaker for me, even more so when you factor in that the one on the REVVO is very decent, but for those that like very specific drip tips it is definitely something to keep in mind.
The big USP here is the ARC Coil. It delivers exceptional performance and, most important, they last a long time. If you're after a sub-ohm tank with reliable coils, the Aspire REVVO comes highly recommended.
VaporDNA is now retailing the Aspire REVVO with a $10 discount on the RRP price; you can get for $29.99 instead of $39.99. Not too shabby 😉
[letsreview]
Lynda Abshear