The SMOK TFV12 Prince is COMING… and pre-orders for what might just be the best new vape tank are now open
UPDATE – OK, So I Now Have The SMOK TFV12 Prince
I've literally just received the SMOK TFV12 Prince through in the post. I've unboxed it, inspected the kit, had a look at the new coils, and vaped on it.
I'll publish my full review next week, once I've got better acquainted with the SMOK TFV12 Prince, but initial impressions are very good. It looks awesome – especially in Green – and I really dig the new convex glass tank.
The SMOK TFV12 Prince feels very well put together; everything slips into place and comes apart very easily. I've just started vaping on it (using the V12-T12 0.12ohm duodenary Coils and, well… my room is foggier than Cloud City.
I do really like the new design, the new convex glass tube means it can hold more E Juice. Plus, as a side benefit, it makes it look really unique.
The SMOK TFV8 and TFV12 never had any issues when it came to clouds and flavour, so what I'll be looking at over the next few days is how it vapes across a range of modes and how the coils hold up.
This is a new coil design, so I'm expecting a bump in longevity – though I have been disappointed by SMOK coils in the past. I did my usual priming process, submerging the coil in E Juice for 30 minutes before inserting it into the tank, and so far it is vaping like a monster.
Anyways, here are some pictures to tide you over under next week.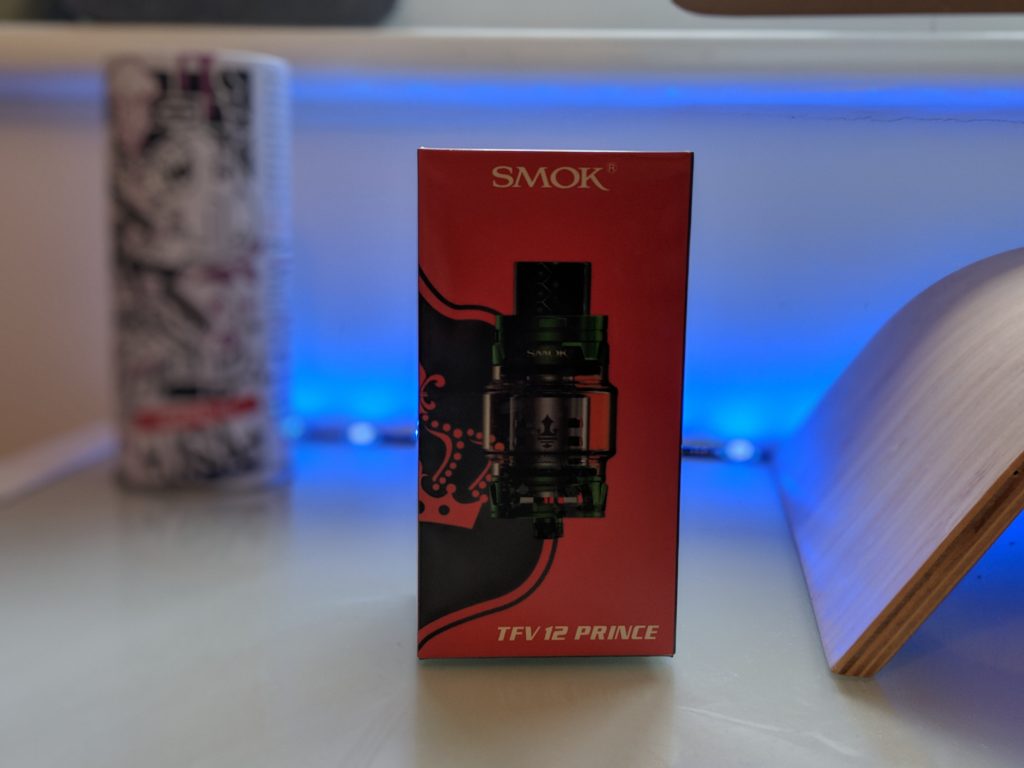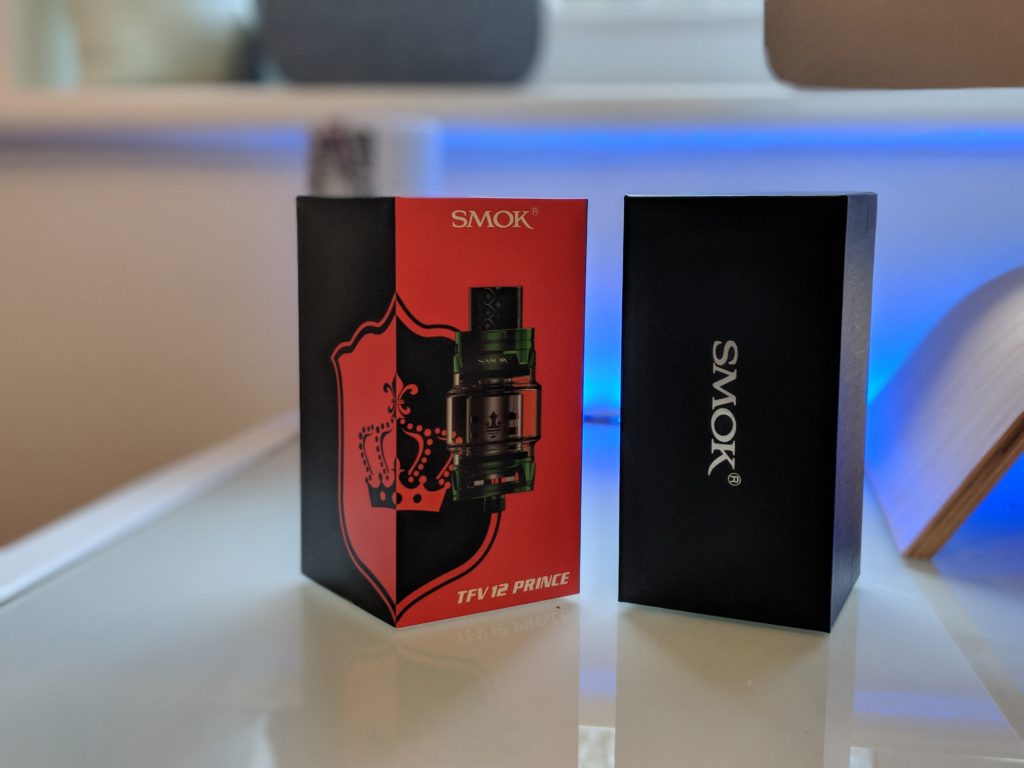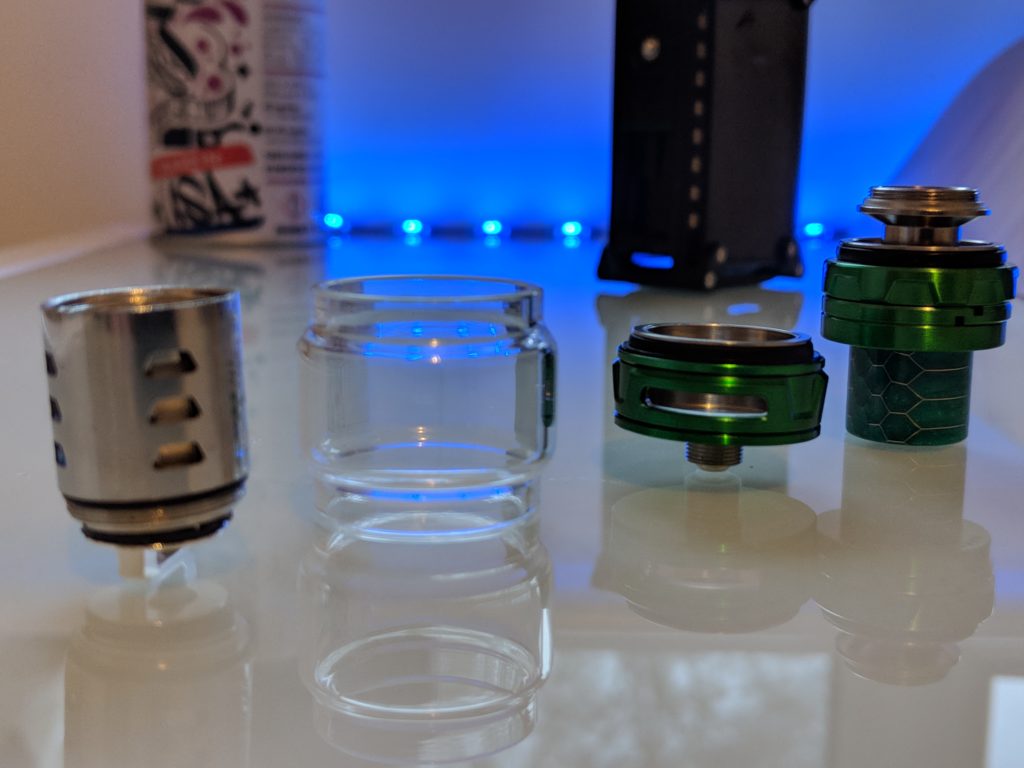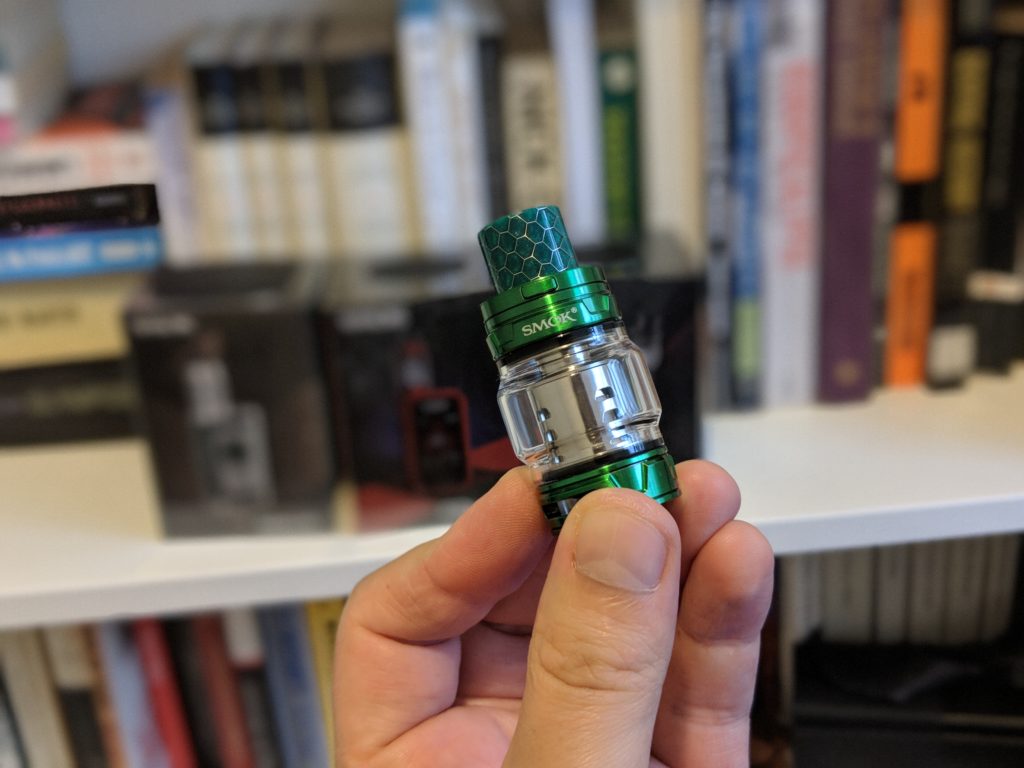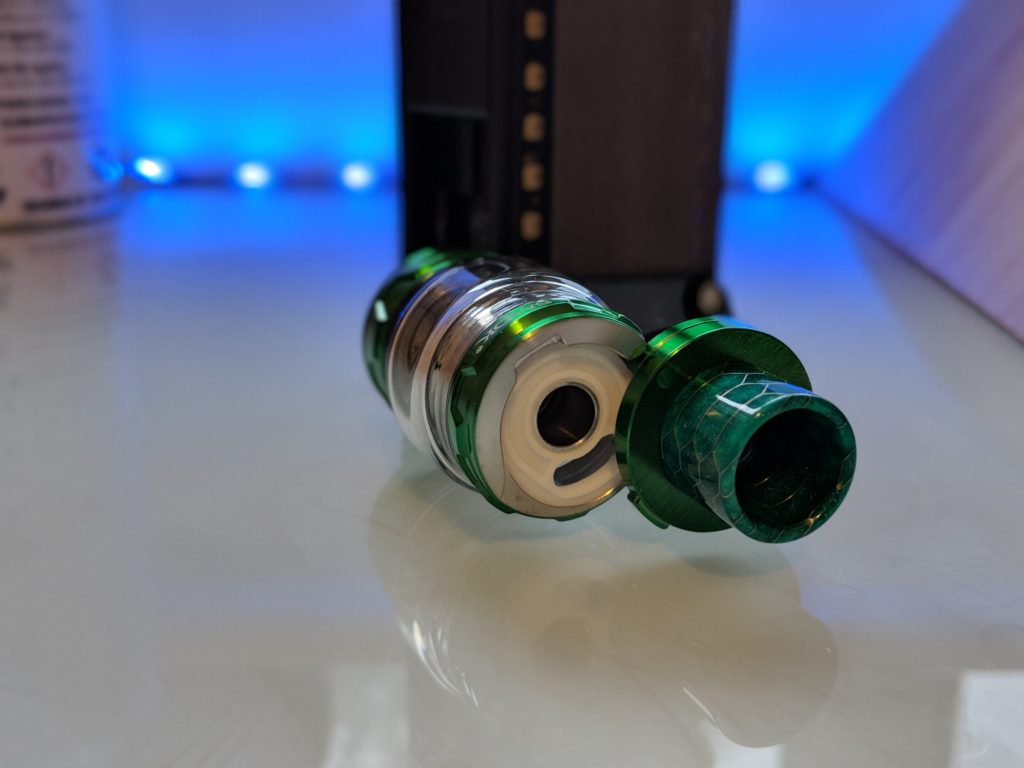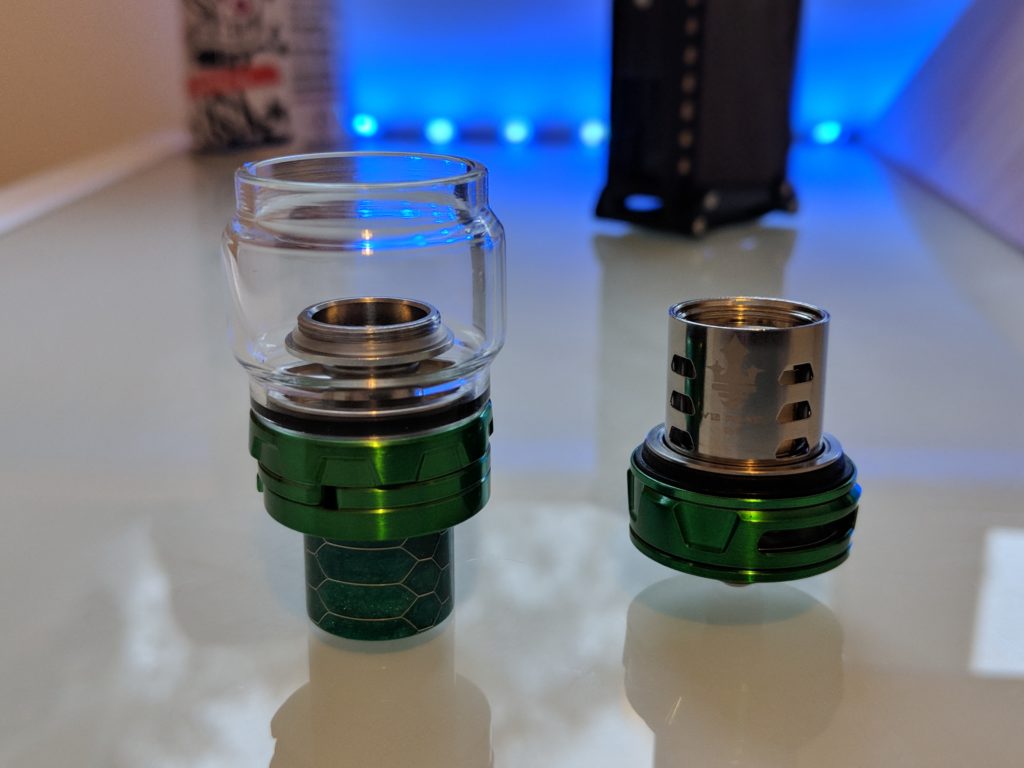 There's also a breakdown of the SMOK TFV12 Prince's specs and features and new bits and bobs below.
---
SMOK has had a rather epic 2016/17. The company, which is on a massive roll at the moment, has produced multiple tanks and mods during the past 18 months that have been hugely successful. And now it is back with yet another high-power sub-ohm tank – yep, it's almost time for the SMOK TFV12 Prince to land.
If you've been keeping track, you'll know SMOK has been VERY busy of late. The TFV8 series. The TFV12. The Alien 220W. The ProColor. The T-Priv – and that's just a few of the highlights. Basically, SMOK has made itself one of the biggest names in vaping during 2016/17 and it looks set to continue well into 2018.
The next big release of SMOK's product roadmap is the SMOK TFV12 Prince. The tank, which is expected to get a release date very soon, is now up for pre-order at a variety of places.
SMOK TFV12 Prince – Specs & Features

So what's new with the SMOK TFV12 Prince? Quite a bit as it goes, including a new design for the chassis and a new coil model called the V12 Prince-T10 Decuple Coil Head.
The SMOK TFV12 Prince is designed to take what made the SMOK TFV12 great and add in MORE – more flavour, more performance, more clouds, more power.
Here's a breakdown of the SMOK TFV12 Prince's specs:
25mm Diameter Base
28mm at Widest Point
Hinge and Lock Top Fill System
Swivels Open and Shut
Fill Port
5ml Max Standard Capacity
8ml Max Convex Glass Extension Capacity
SMOK V12 Prince Coil Family
V12 Prince-T10 Decuple Coil Head
0.12 ohm
Patented Decuple Coil
60 to 120W Range
80 to 110W Recommended Range
V12 Prince-X6 Sextuple Coil Head
0.15 ohm
Patented Quadruple Coil
50 to 120W
80 to 100W Recommended Range
V12 Prince-Q4 Quadruple Coil Head
0.4 ohm
Patented Quadruple Coil
40 to 100W
60 to 80W Recommended Range
Compatible with Additional V12 Prince Coils
Dual Adjustable Airslots
Stainless Steel and Glass Construction
SMOK TFV12 Prince – Design
The main thing about the SMOK TFV12 PRINCE, though, is the design – it looks completely different to what came before, especially the convex glass tube, showing SMOK still has plenty of ideas when it comes to upping its game.
You can, however, switch out the convex tube for a standard 5ml one if convex isn't really your style. The big upshot of the convex design, though, is that it will increase the juice capacity to 8ml.

You can also pick up a selection of Cobra Drip Tips for the SMOK TFV12 PRINCE. There are six options available and they all feature a pretty nifty design. My personal favourite is the Red option.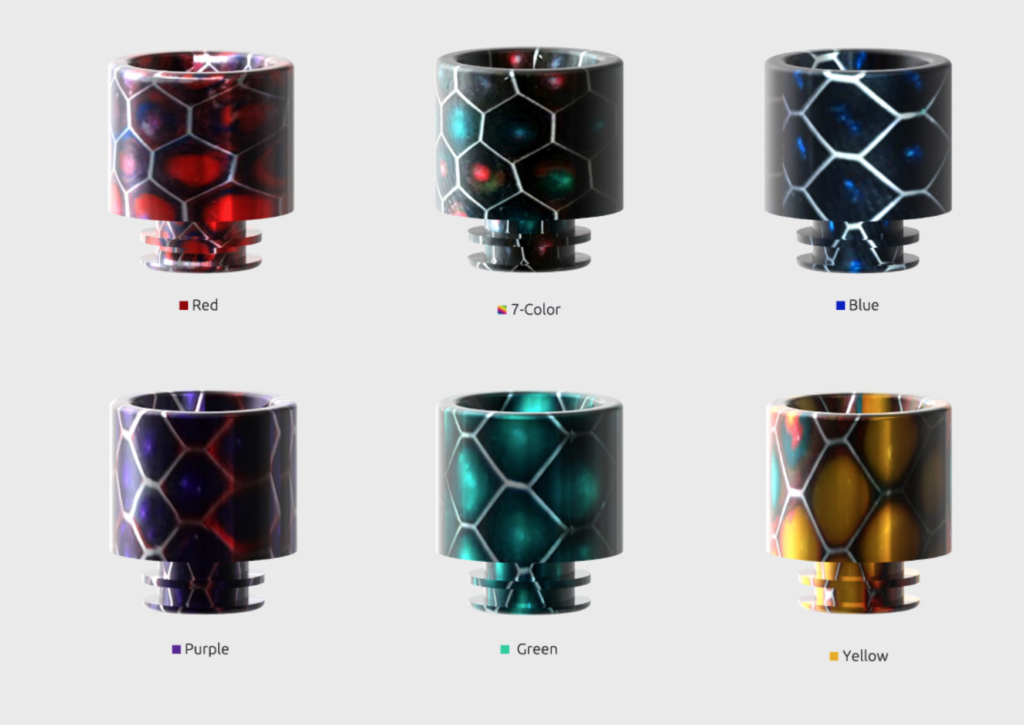 SMOK has also changed the top-lock mechanism too; it's now operated via a simple, clicky button. This means easier access, better locking, and less mess. SMOK says this tank WILL NOT leak. EVER.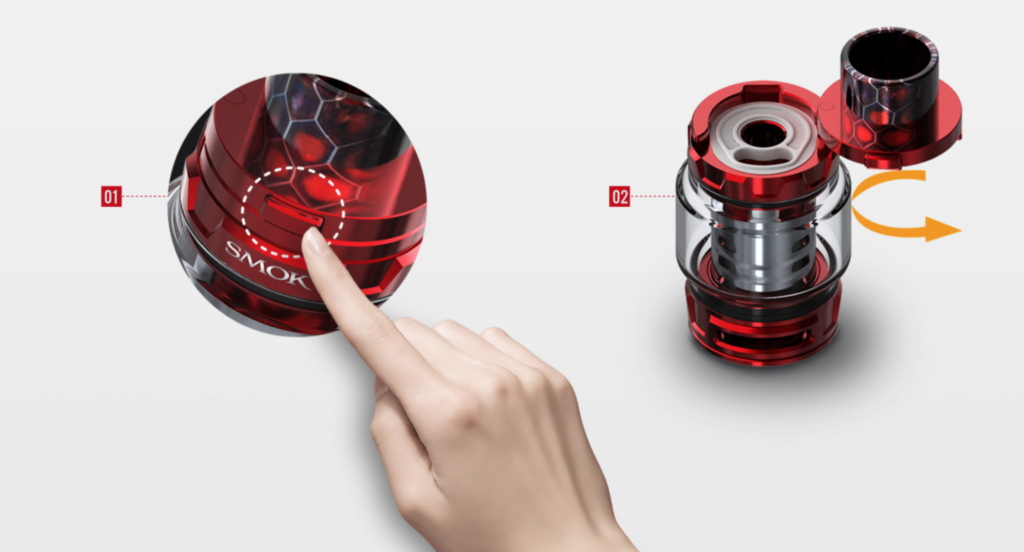 And like the TFV8 and TFV12 before it, the SMOK TFV12 PRINCE comes with full RBA capabilities, meaning you can build your own coils with the tank, which is great for those that like to build coils. It also reduces the amount you'll spend on coils as well.
Bottomline: if you're a SMOK fan, you will definitely want the SMOK TFV12 Prince in your life. It looks like a superb sub-ohm tank that packs in plenty of new features and technology.