Volcano LAVABOX DNA200 Now AVAILABLE, Looks AMAZING
By Drake Equation • Updated: 03/01/16 • 5 min read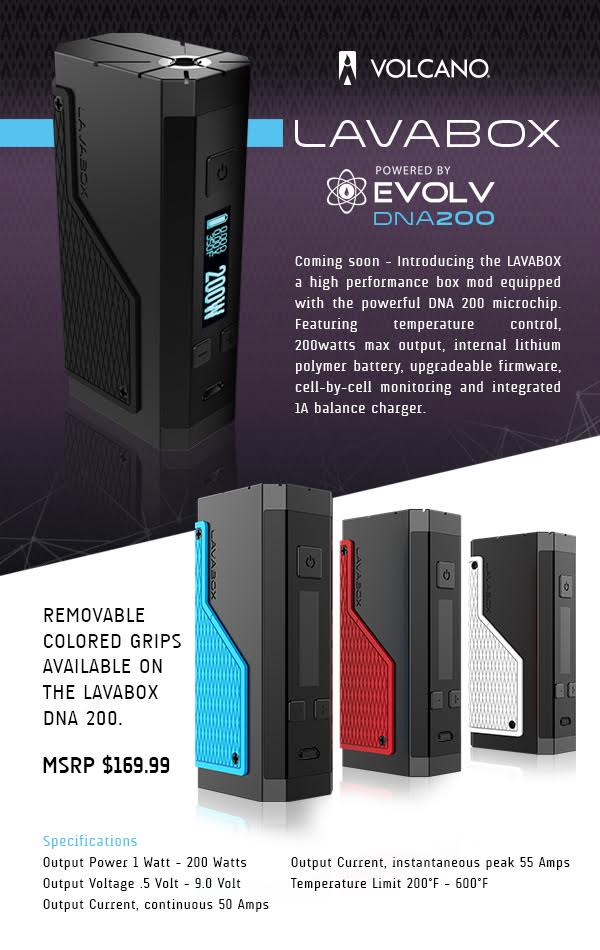 Check out the 200W Volcano LAVABOX DNA200 — a monster of a box-mod that's looking to give Vapor Shark's upcoming 200W mod a run for its money
There's a new player in town and they go by the name of Volcano. Apt really, since they're based in Hawaii and their first box-mod, the LAVABOX DNA200, will kick out clouds of such epic proportions the closest thing you could probably compare it to is, well, a volcanic eruption.
The company is the first of its kind in Hawaii, joining the likes of Aspire, another US brand, in the burgeoning vape scene. Sharing more than a passing resemblance to Vapor Shark's range of excellent box mods, the Volcano LAVABOX DNA200 uses the latest DNA200 chipset and is capable of pumping out 200W — a frankly insane number, considering most people are currently using less than 100W on their daily drivers.
The LAVABOX is now officially available. Here's the official line via Volcano, the company behind this new AWESOME box-mod:
"Introducing the LAVABOX a high performance box mod equipped with the powerful DNA 200 microchip. Featuring temperature control, 200watts max output, internal lithium polymer battery, upgradeable firmware, cell-by-cell monitoring and integrated 1A balance charger."
And if you're unsure what exactly the DNA200 chipset is, well, here's a nice little primer on the setup from the guys that make it:
"The DNA 200 is a power regulated digital switch-mode DC-DC converter for personal vaporizers. It features Evolv's patented Wattage Control, Temperature Protection, Preheat, Digital User Controls, OLED Screen, Onboard Buttons and Synchronous Rectification for maximum battery life and minimal heat generation. The DNA 200 runs from a 3 cell lithium polymer battery, and features cell-by-cell battery monitoring and integrated balance charger. The USB port and Evolv's EScribe software can be used to customize or monitor the user experience. It is the most advanced personal vaporizer controller ever made. The DNA 200 is vaping down to a science."

Pin
"The body of the LAVABOX is machined out of 6061 billet aluminum and the mod also is wrapped in a signature rubber grip on the back of the device for added user comfort and device durability," said Volcano in its official press release. "The DNA 200 chip allows 200watts output power, upgradeable firmware, cell-by-cell monitoring and an integrated 1A balance charger. The device is powered by an internal 900 mAh lithium polymer 3 cell battery."
Measuring in at 95mm x 30mm x 46.7mm and powered by an EVOLV DNA 200 chipset, the LAVABOX features 1-200 watts adjustable power output, 55 amp peak current / 50 amp continuous / .5 volt minimum output / 9 volt maximum output, temperature protection 200°F – 600°F, spring-loaded 510 connection, and an 1A balance charger.

Pin
"It has been a long time in the works and we wanted to make sure that our first box mod was not just an average mod. We wanted to work with a new chip from the start and give it a little extra design flair than some other box mods our industry has seen recently. We are excited to provide the industry with this device and hope our customers are as thrilled as we are," stated Cory Smith, CEO & Co-Founder of VOLCANO.
The Volcana LAVABOX DNA200 will debut for the first time at the world's largest trade industry electronic cigarette convention (ECC) in Pamona , California August 13-17, 2015 at the VOLCANO eCigs booth 854 at Hall 6. A guide price of $169 has been mooted, but an official price will be confirmed later on this month.
Vape Beat has just received word from the guys at Volcano on when we can expect the LAVABOX DNA 200 to land. Below is the full statement:
"We have set a release date for the week of October 5th. We will offer free FedEx 2 Day shipping with all orders online. We have sold out the first production run to all brick and mortar vape stores across the world first and we will all be releasing them at the same time. We wanted to support the local vape shops in the release of the LAVABOX DNA 200."
The LAVABOX 200W is now officially available in the UK. We knew it was coming this month, but it sure as hell has taken its time. The LAVABOX 200W is available from Greyhaze for £119 — but this is a limited price and it will eventually go up to something a little higher in the not too distant future.
"The LAVABOX by Volcano is an all new high performance box mod fitted with the new powerful DNA200 chip by EVOLV," said Greyhaze on its official website. "With a plethora of features including, temperature control, 200watt of power internal 3 cell lithium battery, upgrade able firmware, the LAVABOX is the ultimate in box mod technology."
"With a HUGE built in battery capacity, brilliant form factor and size and an astounding 200watts with temperature control, you will never need another box, this one truly is the zenith in box mod technology. Boxes always have a downside, weather it be lack of power, cumbersome size, non rechargeable batteries, or poor battery life, the LAVABOX checks all these and more, bringing you all you will ever need in one neat package. Built to perfection without scrimping on materials or build quality."
Fancy getting in on the action? Click on the graphic below and you can buy it RIGHT NOW
Pin Pin
Drake Equation
Co-founder and Editor of VapeBeat. I make the words.