OK, so you're new to vaping and you're wondering what the difference is between sub-ohm tanks, RTA tanks, RDTA, and RDA tanks? Cool. Allow me to explain
---
The thing I like most about vaping is that it has something for everybody. It doesn't matter your budget, there's a vape setup perfectly suited to you. But picking one is harder than it looks, right? There's just TOO MANY to choose from.
Well, this is where we come in – and below I'll outline my favourite setups for each style of tank.
Cutting through the crap and finding the best in each category isn't easy for most people. But we're not most people. Among our writers, we've probably used over a thousand tanks – give or take. And this means we're in a great position to help guide you to finding the perfect vape tank.
But first, you NEED to know the differences between the different styles of tanks. And for this, we're going to take a look at each one in detail, so you know exactly what you're dealing with. We'll start with the easiest to use first and work our way along in ascending order of difficulty (so the more advanced tanks are lower down)
Sub-Ohm Tanks – Ideal For 99.9% of People
Best Sub-Ohm Tank Guide – Click Here To Read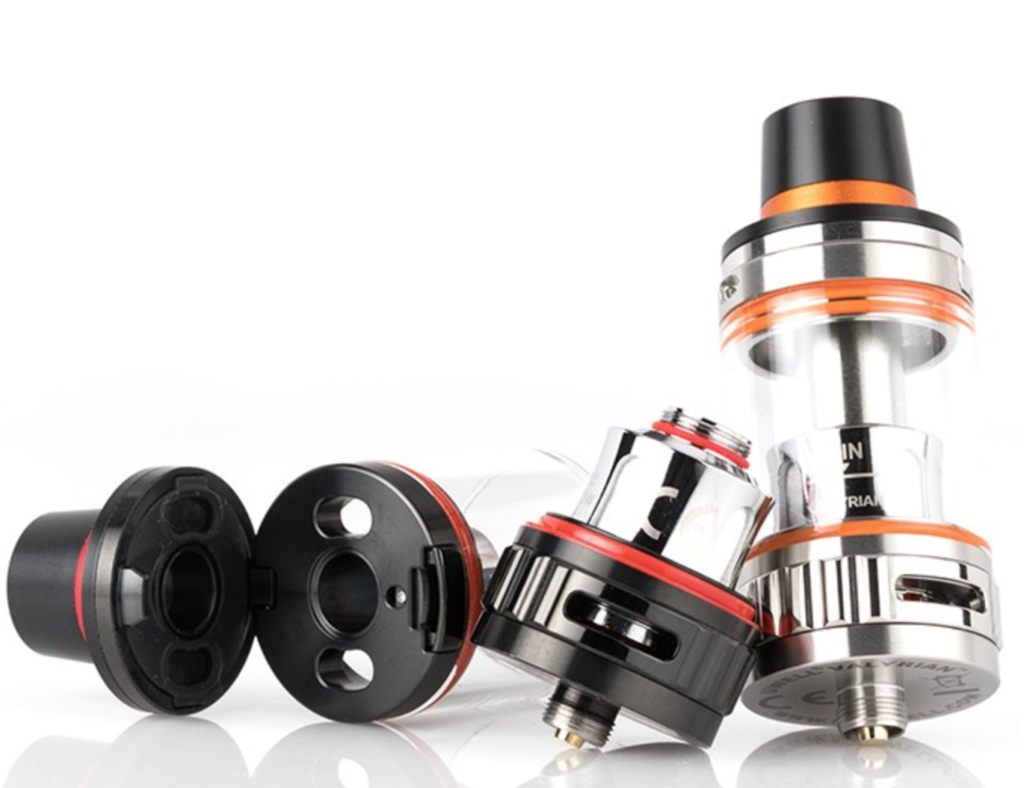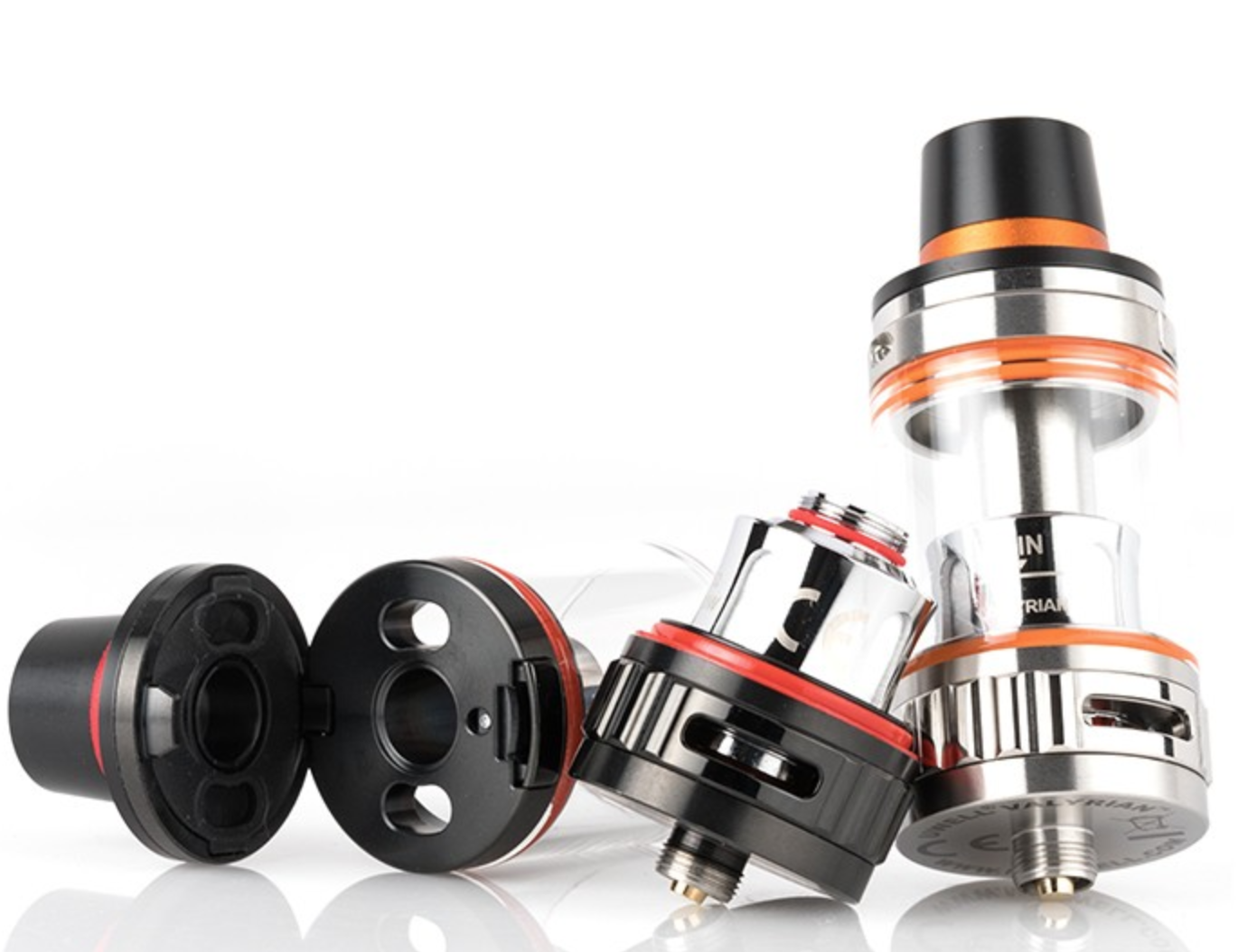 The standard. The one most people use. Sub-Ohm tanks are convenient, easy to use in most cases, and come at a variety of price points, meaning they're ideal if you're vaping on a budget.
With a sub-ohm tank, you'll be using pre-made coils which you buy separately for the tank. These coils are packed with cotton and wire and, when heated by your mod, produce the vapour that makes vaping possible.
Now, sub-ohm tanks have developed A LOT over the years; they're now very powerful, capable of handling power output well over 100W. Most of the time, you'll be running them anywhere from 50W-100W, though this will depend on your own preferences (and the resistance of the coils).
Sub-Ohm Tanks are ideal for beginners, as there's no real messing around with them. You install the coil, prime the coil, then screw it together, let it sit for five minutes so that the coil can absorb the E Juice, and then start vaping. And that's it. Simple, right?
Sub-Ohm Tank Benefits
Easy to use – even for beginners
Great clouds and flavour with limited hassle
Lots of choices – there are literally hundreds of options
Extensive range of coil options for most big-league tanks
Big E Juice capacity
Great, all-around performance
Sub-Ohm Tanks Cons
Coils can be expensive; SMOK's are $15 a pack (and you only get three)
Coils can burn out rather quickly, which can make running one expensive
Sub-Ohm Tanks: Bottomline?
Sub-Ohm Tanks are a great first option for anyone looking at getting into vaping, however, they aren't without their problems. 99.9% of your issues will be coil related; they'll burn out too quickly and end up costing you more than you expected.
For flavour and performance, however, a modern Sub-Ohm Tank is very hard to beat – especially when you factor in just how convenient they are. You don't have to drip E-Liquid on them very often and 99.9% of them have NO issues with leaking.
Sub-Ohm Tank: What I'd Buy Right Now?
Simple: The UWELL Valyrian. Pound for pound it is the best all-around sub-ohm tank on the market. Its coils are great, the performance is superb, and it kicks out INSANE flavour. Check out our verdict from our full review below.
The UWELL Valyrian, without question, was the best tank of 2017. Bringing together best in class performance, excellent coils, and stunning flavor, this tank has it all. And then some. If you only buy one sub-ohm tank this year, make sure it is this one. UWELL is back and it definitely means business!
PROS
AMAZING Flavor
Great Build Quality
Decent Locking Mechanism On Top Cap For E Juice Port
Reliable, Consistent Coils – Some of The Best I've Ever Used!
Negatives?
I Tried To Find Faults. But This Tank Is Solid As F**K!
Best Place To Buy Online?
---
RDA Tanks – The Gold Standard For Flavor & Performance
Best RDA Tanks – Click Here To Read (It'll Open In A New Window)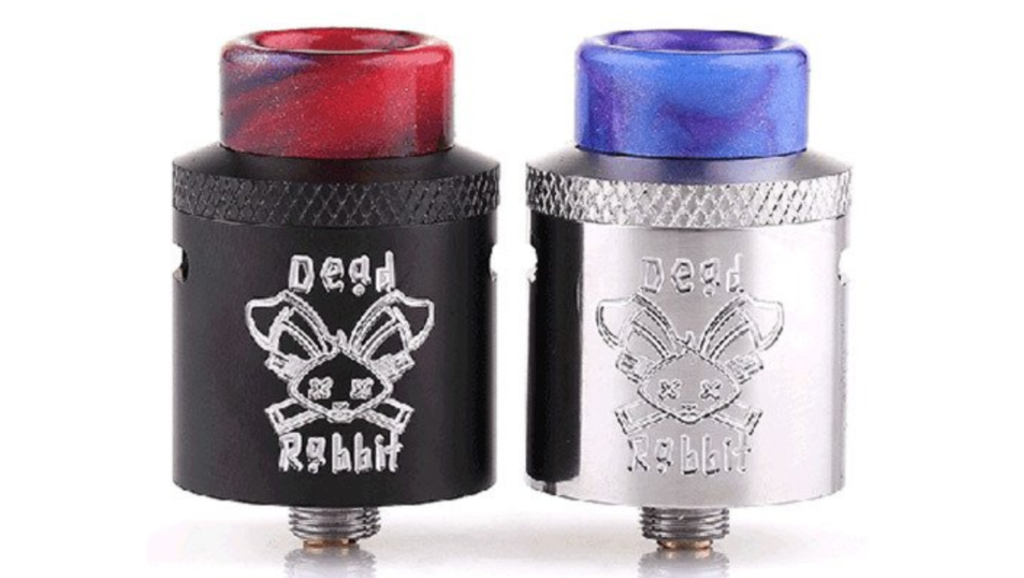 An RDA tank is a completely different ball game to a sub-ohm tank. They look different. They vape different. They're basically completely different – and, yes, in a good way.
I predominantly use RDA tanks for one reason and one reason only – they're super simple to live with. Even more so if you buy pre-made Clapton or Alien coils from places like Amazon or your local vape shop.
With an RDA, you install your own coil, add your own wick, and then just splash on some E Juice, attach the top cap and you're away. You can make your own coils too, using wire, though I find this too time-consuming, however, many vapers swear by it.
RDA's are actually the easiest tanks to use, even for a complete noob, as nothing can really go wrong. You won't get dry hits, you will get incredible flavor, and it will kick out A LOT of clouds.
The only real downside is that you have to frequently drip E Juice onto the atomiser in order to keep things fresh. If you're RDA drys out you will get a dry hit and, as you well know, dry hits are the work of Satan himself.
Quite a few modern RDAs have massive juice wells, though, so you can easily get around 30-40 puffs from them before re-dripping E Juice. As I said earlier: I use RDAs because they're simple and they give the best flavor. I can get around 40 puffs from my Dead Rabbit RDA and that suits me down to the ground.
RDA Tank PROS
Amazing flavour and clouds – the gold standard, really.
Super easy to use
Saves you money – cotton and pre-made coils are WELL cheap
Lots of choices
You can get creative (make your own coils)
Predictable, reliable performance
Simple to look after and maintain
RDA Tank CONS
There is NO E Juice capacity – just small juice wells
Wicking can be tricky to get the hang of
You have to drip E Juice quite often (more so on some RDAs)
Decent RDA tanks can be pricey
RDA Tank Bottomline?
For me, RDA tanks are where it's at. I love them, own many, and love vaping on them. But they're definitely not for everyone. If you're intrigued by the flavor and performance, and the fact they're cheaper to run than a sub-ohm tank, give one a whirl. You won't be disappointed.
RDA Tank: What I'd Buy Right Now
Tough question! There are LOADS of very good RDAs around right now. Personally speaking, at the time of writing I am using the DEAD Rabbit RDA – and I freakin' love it.
For a detailed breakdown of all the best RDA tanks we've tested, read our Best RDA Tank guide. In the meantime, here's the final verdict box from my Dead Rabbit RDA review.
PROS
The Design is Great, Squonk-Ready & Well Made
Amazing Flavor, Simple To Build & Wick
Does NOT Overheat (Like EVER) – Even at High Power
CONS
Spits When Not Wicked Properly
Coil Placement Key (Might Be Tricky For N00bs)
You'll Need Thin Wire Cutters To Install Coils
Final Verdict
A lot of reviewers have been called the DEAD Rabbit RDA the perfect RDA. And while this is a rather bold statement, I am kind of inclined to agree with them. The price is excellent, the design is superb, it vapes brilliantly, runs cool at high temps, and it kicks out some of the best flavour I have ever had from an RDA. If you're thinking about picking up the DEAD Rabbit RDA, but you've been on the fence up to now, stop what you're doing, take out your credit card, and buy the DEAD Rabbit RDA right now. You will 100% not regret it – it is a flavor and cloud chasers dream! And it can also hold a monumental amount of E Juice.
Best Place To Buy Online?
---
RTA Tanks 
Best RTA Tanks Guide – Click Here To Read (It'll Open In A New Window)
Out of ALL the tanks on this list, RTAs are the ones that will cause the most trouble for newbie vapers. On paper, they sound like perfection: sub-ohm tank-style juice capacity with an RDA style deck. The perfect tank, right?
NO!
Don't get me wrong, there are plenty of amazing RTA tank options around. And most of them work great. But for those new to vaping, I'd advise you to give them a wide birth, as they are fiddly as hell and are prone to leaking. A LOT.
An RTA tank works in a similar fashion to an RDA, in that you have to install your own coils. Unlike RDA tanks, though, RTA tanks have sub-ohm style juice capacity, meaning you can fill them up and vape all day without ever having to reach for your E Juice bottle.
If you can get one working properly, they are brilliant. The perfect balance of convenience, performance, and flavor. They're just tricky to setup and live with (in most cases) and, because you're reading this article, I'm guessing you're pretty new to all this. My advice here is simple: wait – get some experience under your belt first, then have a look at an RTA.
RTA Tank PROS
Sub-ohm level juice capacity, RDA-grade flavor and clouds
Cheaper to run than sub-ohm tanks
Tons of options to choose from
Available at competitive prices
When they work, they're brilliant
RTA Tanks CONS
Can be very tricky to set up (some more so than others)
They're prone to leaking. A LOT
Higher chance of dry hits versus RDA or Sub-Ohm Tank
RTA Tank Bottomline?
RTA tanks are easily the most annoying to live and work with. They require a good eye, finesse, and, above all else, the input of someone that knows what they're doing with their coil builds and wicking. Definitely not one for the novice vaper.
However, I have been using the Coil Master ELFY RTA a lot recently and that tank NEVER leaks, runs on a single coil and produces some of the best flavor of any tank I have tested in the last 18 months.
The Coil Master ELFY RTA is cheap as well; just $24.99. And it is very easy to setup and, true to Coil Master's claims, it does not leak. Ever. But what I like most is that you can run it at low power (35W) and still get incredible flavor and clouds.
RTA Tank: What I'd Buy Right Now
Me personally, I'd get the Coil Master ELFY RTA. In my opinion, it is the best single coil RTA on the market right now. I have had zero headaches with it and it vapes like a beast – even at 35W! But if you want more power, go for any of the RTA tanks on this list. 
PROS
It Does NOT Leak. Period. And It's An RTA. Need I Say More?
The Flavor is IMMENSE – Precise, Intense, Full On
Super Easy To Build On – Took Me Less Than 30 Seconds on My First Go
Did I Mention It Doesn't Leak?
Things To Keep In Mind
2ML Juice Capacity
Drip Tip It Comes With Is A Bit Too Narrow For My Tastes
90
A Bloody EPIC RTA Tank Well Worth The Asking Price!
FINAL VERDICT
There is so much to love about the Coil Master ELFY RTA – it doesn't leak, it gives great flavor, it's easy to build on, and it's cheap as chips. For me, these are all good things, which is why I rate this RTA so very highly. I would go as far as saying that this is one of the best RTA tanks I have ever had the pleasure of testing. There are some niggles (2ml capacity, drip tip's a bit small) but these are soon forgotten once you start vaping. Freakin' epic stuff – and for just $25!
Best Places To Buy ONLINE