When you read the discussions on Reddit or any vaping forum, you can find no shortage of conversations in which people compare the merits of local vs. online vape shops. If you're the owner of a brick-and-mortar vape shop, it probably stings a little to see complaints of price gouging by local stores.
Don't those people understand how difficult it is to run a brick-and-mortar store in the Internet age?
You're not subcontracting the packaging and shipping duties to a third-party warehouse that's also handling order fulfillment for dozens of other online vape shops. You're buying your own merchandise, paying your own rent and utility bills and creating jobs for real people in your community.
You have huge expenses that the online vaping superstores don't have, and there's almost no way to run a brick-and-mortar store while competing with online sellers on a price basis.
If you can't compete on price, how can your local vape shop compete with online vape shops?
Through my vaping SEO service at eCig One, I have worked with brick-and-mortar vape shops around the world – and each one of them has the same challenge. In this article, I'll share some of the insight I've gained from working with those businesses.
What You Can Gain by Competing With Online Vape Shops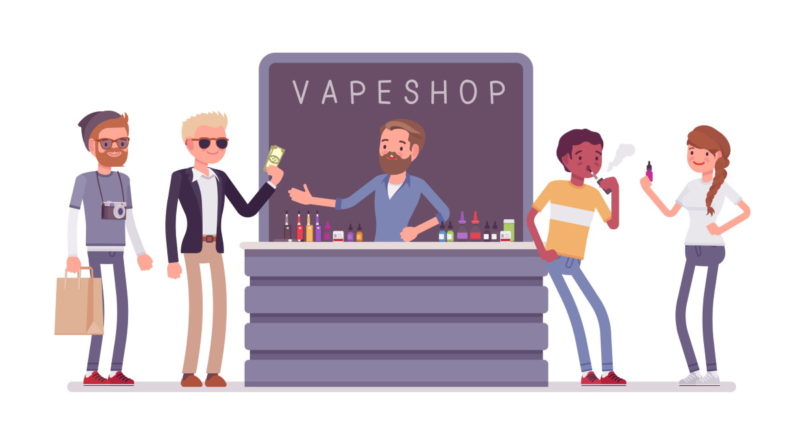 At this point, you might be wondering why you should even try competing with online vape shops. If you can't compete on price, after all, what can you do?
It's worth the effort to try to win that business, though, because it's a major opportunity for growth.
When you think about it, there are really only three ways for a local vape shop to capture new customers.
You can capture customers who normally shop at competing vape shops.
You can convince smokers to switch to vaping and shop at your store.
You can convert online shoppers into local buyers.
If you're not doing what you can to convince people in your community that you can offer a better buying experience than the online vaping superstores, you're leaving an important growth opportunity on the table.
#1) Get Involved in Your Community
The relationship between a business and its community runs in both directions. Cities only have so much revenue to spread around, and they look to local businesses to pick up some of the slack.
There are so many opportunities for giving back to your community and making life a little nicer for the people who live there. You can volunteer to keep a local street clean and pick up litter there with your employees once a month.
You can partner with a local brewery or wine seller and hold an event in which attendees can experience different e-liquid and beverage pairings.
You can sponsor a team in a local athletic league.
It doesn't take a lot of money to make life in your community a little better – and every step of the way, you can remind the vapers in your city that spending their money at a local vape shop rather than online means that they're doing their part to improve life for everyone in the community.
#2) Remind Customers of the Jobs They're Supporting
Whether someone buys vape gear online or in a local vape shop, he or she is supporting jobs. If you're going to do your part to help keep people employed, would you rather support the jobs of anonymous warehouse workers across the country or local workers whose names you actually know?
Unless your vape shop is a one-person operation, you're providing jobs to members of your community. There is nothing more valuable to a city than a population of people who are employed, paying taxes and bettering their lives.
Take every possible opportunity to remind people that purchases at your vape shop support the jobs of local people who enjoy their jobs and earn good, livable wages.
#3) Create a Fun Buying Environment
There's a reason why many vape shops have lounge areas where people can relax and vape, and it's not just because the owners of those shops want to create trendy hangout spots. It's also because anything that makes a local store a fun place to be – that encourages people to stop in even when there's nothing that they urgently need – increases traffic.
Running a vape lounge also means that you can potentially earn extra money from selling ultra-profitable sodas, coffee drinks, and snacks.
Not interested in turning your vape shop into a lounge? No problem; there are plenty of other ways to create a fun buying experience that makes people want to come in.
Try creating a tiered customer loyalty program in which customers gain "experience points" and "level up."
The more your reward program feels like a game, the more your customers will want to "play."
Start a tournament bracket during March Madness and encourage your customers to vote by buying their favorite e-liquids. Offer a significant discount to all customers the day after a local sports team wins a game. Above all else, be creative.
#4) Offer an Online Sales Component
The fact that you run a brick-and-mortar shop doesn't mean that you can't still sell your products online. In fact, setting yourself up for online sales might even be easier for you than it is for some new online vape shops because you've already jumped through the necessary hoops to open a merchant account with a payment processor. Many new online vape shop owners have no idea how difficult it can be to get a merchant account for a vape shop until they're already deeply invested.
Don't forget that adding an e-commerce component to your website doesn't have to only be about taking orders and mailing products. You can also allow customers to buy online and pick up their purchases in your store. That's especially useful if your vape shop is often busy. Customers can buy and pay online, pick up their orders at your brick-and-mortar vape shop and be gone in a flash.
#5) Offer Local Delivery
It may not be possible for your brick-and-mortar vape shop to compete with the online vape shops on price, but you can also give your customers something that no online vape shop can: instant gratification.
A customer might pay a few dollars more for that sub-ohm tank or bottle of e-liquid, but he or she has it in their hands immediately.
If your local laws allow for it, you can make that gratification even more instant by offering a local delivery service. Out of e-liquid? Just burned out your last coil? No problem; one of our friendly delivery drivers can be at your home or office in about 30 minutes.
The quicker you can get products into your customers' hands, the less likely they will be to ever consider buying vape gear online.
#6) Curate Your E-Liquids
Unless you happen to let your employees sample the products, they most likely haven't tasted every e-liquid in your store – and even if they have, not every customer is going to want to ask what a vape juice with a name like "Kool Lagerfeld" tastes like.
Wine shops have the same problem.
They solve it by writing descriptions and placing them in front of the bottles. Don't want to write descriptions of every e-liquid in your store? No problem; build a curated collection of the very best e-liquids and place description cards in front of those e-liquids.
Offering every e-liquid on the planet isn't going to bring extra business your way; the online vape shops already do that. Curating an e-liquid collection that feels selective and exclusive, on the other hand, is something your competitors aren't doing.
This is also the ethos behind the VapeBeat Store – less is more. Just good quality juice, made in America, in flavors that people love. And it works too; we've already got over 1000+ 5-Star reviews and we only launched at the beginning of 2019.
#7) Find Ways to Become More Efficient
As a brick-and-mortar vape shop owner, you probably operate with the assumption that there's no way for you to compete with the online vape shops – but have you actually tried? If you can find a way to reduce your operating expenses and make your employees' time more productive, it may be possible for you to lower your prices or at least improve your profitability with your current pricing structure.
When you're looking for ways to increase efficiency, start with your POS system. Are you still using an old-fashioned cash register and card swipe machine? A modern POS – like this one – can handle card payments while tracking your inventory and managing your customer loyalty program automatically.
Want to know who your best customers are? Want to send an automated text message and coupon to the customers who haven't visited in a while? Want to know which products you'll need to reorder soon?
A modern POS can do all of that and much, much more. If you aren't using one, perhaps it's time you did. And right now, millions of store owners swear by this one.
Jason Artman
Jason Artman is the owner and author of eCig One. A professional freelance writer and SEO consultant with more than a decade of experience, Jason works with vaping companies around the world to increase their targeted web traffic and improve their revenue.