If you're a regular at VaporFi, you'll definitely want to check out this awesome (and exclusive) VaporFi coupon offer!
---
If you're looking to save some money on E Juice in 2018, you're in the right place.
We have an exclusive VaporFi coupon for you today that will save you 15% on ALL vape juice orders.
VaporFi stocks a MASSIVE range of E-Liquid. And you can even make and mix your own too.
I'm a huge fan of VaporFi's Joosylicious E-Liquid, though I do own and use a bunch of its other vape juice lines.
Here's That VaporFi Coupon Code 
You can access the VaporFi coupon simply by clicking below.
It's THAT simple!
[letsreviewaffiliate url="https://www.vaporfi.com/vape-juice/?CC=vapebeat15?A=9063″ text="GET COUPON (15% OFF E-Juice) VaporFi" size="big" rel="nofollow" target="newwindow" accent="#dd3333″ textalign="center" border="on"]
---
How The VaporFi Coupon Works
Simple: just click through and shop around. Once you're done, your 15% discount will be added to your cart.
This will net you a 15% saving (and you can use the coupon over and over again – just bookmark this page).
Sneaky? Yes. But it's all good – VapeBeat is ALL about helping you get maximum value for money.
And when it comes to coupon deals like this it is best to buy in bulk, that way you get more and save more.
After all, 15% of $100 is A LOT more than 15% of $20.
This is what I do, anyway.
How you use the VaporFi coupon is entirely up to you 🙂
---
VaporFi – Retailer Preview 
VaporFi – have you heard of them? Chances are if you've been vaping for a while you will have stumbled across them at some point.
I first came across VaporFi after a Google search for decent starter kits. Back then I was still smoking Golden Virginia like it was going out of fashion and was looking at options for nixing my smoking habit.
I remember VaporFi for a couple of reasons: first, it's the place I bought my first ever vape gear, and, second, the company prides itself on making everything in the US.
Whenever you're dealing with an online vape retailer there a few things you need to keep in mind: price, product options and the overall usability of the site. Next to this is customer service, delivery costs and returns policy.
There are A LOT of bunk vape retailers out there. Vape retailers that will happily sell unsuspecting, wannabe vapers crap hardware at high prices and then, once said crap hardware has stopped working, will then refuse to refund their money.
Shit like this is all too common in the vape world; it's one of the main reasons I set up VapeBeat – to recommend good products from reliable, trust-worthy vape retailers.
My first starter kit from VaporFi didn't work quite as well as I'd hoped. It burnt out within an hour. I contacted their customer service team, expecting them to tell me where to go, but, to my surprise, they offered to refund me the money and send me another kit for absolutely nothing.
Talk about customer service!
But this was a good, long while back now. Things have moved on. Products lines have come and gone and the website has changed quite a bit.
Thankfully, the core aspects of VaporFi's customer service remains true: they pride themselves on being helpful, always listening to the customer and developing and marketing the best products.
VaporFi Review: The Website
Clean, tidy and professional looking. These are just a few of the initial impressions you get when you open VaporFi in your browser.

The site is well organised and is jam-packed with information for those new to vaping. This is likely why more people than ever are using VaporFi to kick their smoking habits.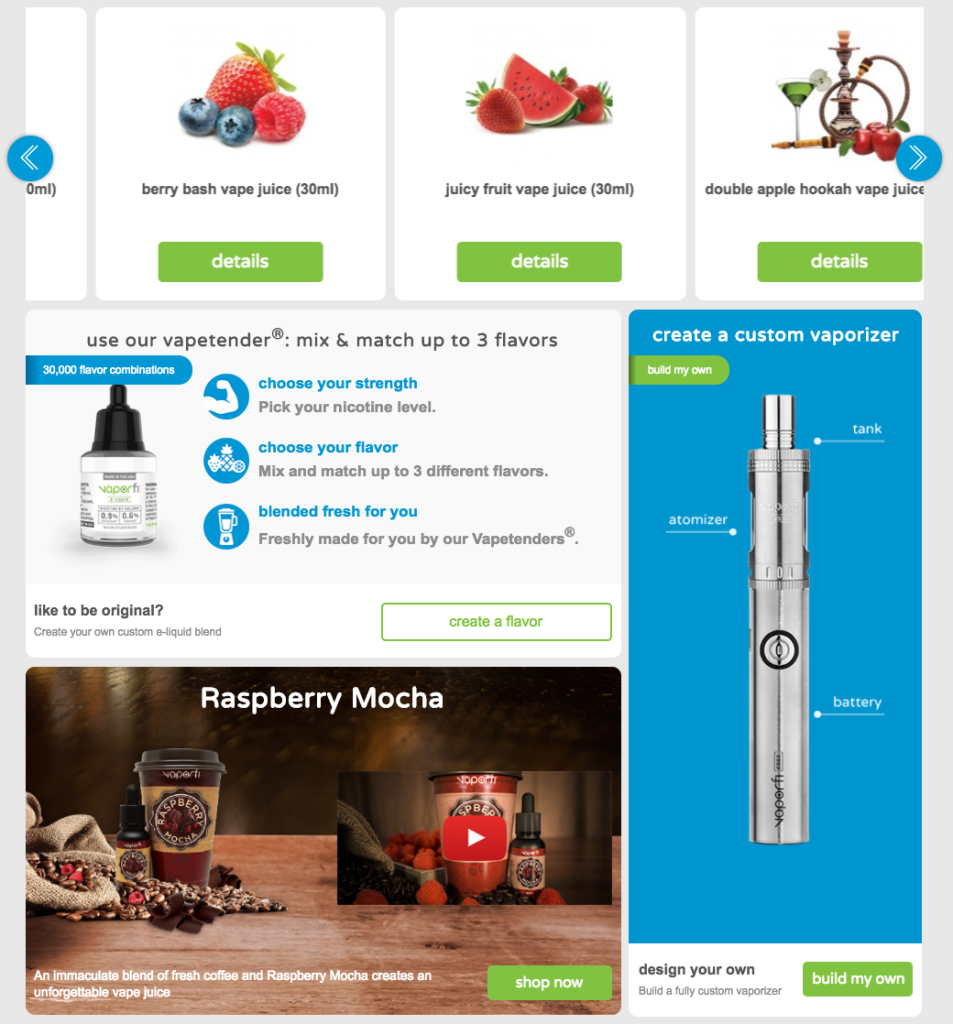 Finding what you want is simple: just use the navigation bar to access Mods, Tanks, Accessories or E Juice.
Cool, new stuff is promoted in the carousel on the home page and there is also a deals section where you can pick up cut-rate vape gear. If you're after a deal you will definitely want to keep regular tabs on this page!
VaporFi Review: Key Website Features
User Reviews On All Products – great if you want to know what other people thought about a particular product
Rewards Program – For every 1 dollar spent with us, you will earn 1 point. When you earn 200 points, you will get a $20 credit towards VaporFi products!
30-Day Money Back Guarantee
VaporFi runs one of the tightest online vaping retail stores in operation. Everything flows, everything is easy to find, and there are tons of offers and incentive programs available.
VaporFi Now Carries Big Name Vape Brands (UWELL, HELL Vape, SMOK, Vaporesso, And More…)
VaporFi dropped me a line right before the Xmas break to tell me that they will begin carrying a myriad of third-party vape brands – brands like UWELL, Vandy Vape, SMOK, Vaporesso, Wismec and more.
This is kind of a big deal for the company, as up to now it has always carried its own, proprietary hardware. And this was fine, but in order to further expand its reach, as well as cater to a wider demographic of vapers, the company has decided to start carrying other brands.
Whether you're looking for a new tank, a new mod, or something else entirely, VaporFi's new setup has you 100% covered.
They now carry all the best brands in the business, so if you're already a member of VaporFi points programme, you can put your hard-earned points to good use on products from some of the vape space's biggest and best brands.
I bought my DEAD RABBIT RDA via VaporFi, for instance, and because they do such good returns and warranties, I'll probably get most of my new hardware via them as well.


I've been burnt by too many retailers over the years with respect to returns and warranties, but VaporFi has always been great when there have been issues with anything that I have purchased. For this reason, I am pretty much over the moon about them starting to carry other non-VaporFi brands!
"VaporFi is committed to offering quality, variety and value, so it was a natural decision for us to carry third-party vaping devices to complement our own". He furthered with: "We now boast an impressive and diverse hardware offering that goes hand in hand with the most robust juice blend portfolio in the industry with over 30,000 flavors".
A List of ALL Vape Brands Now Available at VaporFi
VaporFi has some of the best warranty and returns in the business, so being able to pick up other, non-VaporFi brands at competitive prices, with the above in mind, is great for consumers, as they can buy with confidence, knowing that if something goes wrong they can simply get a refund or a replacement.
VaporFi has also expanded into the UK and Latin America in recent months and wants to play a major part in the way vape products are sold and consumed in the run up to 2025 when the industry as a whole is expected to generate around $25 billion in revenue.
"We remain highly passionate in regards to our place in this market and we cannot deny how exciting of an industry it is wholly," said VaporFi in a statement to the press.
It added: "We deeply respect the work of many other companies who have also done so much to propel the prominence of vapor smoking into the lives of tobacco users. Joyetech, Eleaf, Innokin, Smok, Tesla, Sense; these guys have been greatly influential in progressing the technology and innovation of vaping, and we are certain that including their products in our selection will only enable us to secure an even greater position, geared to serve our customers at the highest level."
Drake Equation
Co-founder and Editor of VapeBeat. I make the words.