Looking to buy some disposable vapes? Here's a quick guide on where to buy disposable vapes online in 2020 and beyond…
---
Disposable vapes are becoming very popular with new vapers – or those looking to quit smoking. With a disposable vape, you can quickly get up and running and find out if vaping is actually for you.
---
---
If you like it, you can then think about getting a proper vape kit – like one of these. Disposable vapes are cheap, come in plenty of flavor options, and are designed to provide the closest sensation to smoking as possible.
Best Place To Buy Disposable Vapes Online?
A lot of places sell disposable vapes, but most charge WAY too much for them. You should not pay any more than $7 for a disposable vape. And right now, the #1 disposable vape we recommend is Simple Sticks.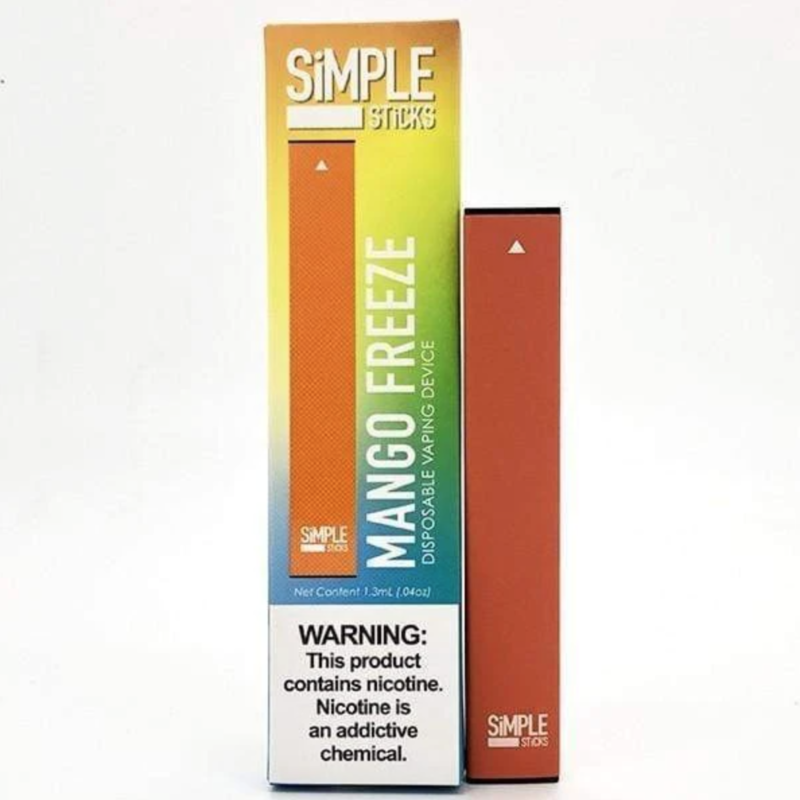 Why? Simple: they're well priced – just $5.95 each – come with 50mg of Nic Salt content, so they provide plenty of bang for your buck, and the flavors are really tasty – they taste almost as good as standard, refillable pod vapes.
Simple Sticks Disposable Vape Flavors
Lemon Slush
Bananas on Ice
Cool Strawberry
Lycée Freeze
Mango Freeze
Melon Freeze
Orange Drank
Peach Chill
I tested all of Simple Sticks flavors and my current favorite flavors are Cool Strawberry, Bananas on Ice, Mango Freeze, and Peach Chill – they're all properly delicious and a great place to start.
Obviously, flavor is subjective. What I like, you may detest. But most people know what flavors they tend to like, and the Simple Sticks range definitely has something for everyone – from citrus-based flavors to sweet, fresh flavors.
How Long Do Disposable Vapes Last?
Most disposable vapes do not last that long, but Simple Sticks run on a 280mAh battery and come with 1.3ml of 50mg Nic Salts vape juice. This means you have more than enough power to last a solid couple of days.
In terms of usage, how long your Simple Sticks disposable vape last will depend on how often you use it. If you use it like a cigarette, meaning, you take a few pulls every hour or so, it will last you a solid couple of days – maybe even more.
And because Simple Sticks disposable vapes are breath-activated, you don't need to worry about buttons, refilling, or anything of that kind. Just unbox the vape, place it in your mouth, and take a drag. That's literally it. Simple, right?
---
---
Simple Sticks are also extremely portable. It will fit in your shirt's top pocket, in your jeans, or your bag. I tend to leave a couple in my car, just in case I forget my other vape when driving somewhere. Either way, the device itself weighs next to nothing and takes up zero space.
Disposable Vape Benefits
If you're going to be vaping long-term, a disposable vape isn't ideal. But if you just want to test out vaping and see if it is for you, a disposable vape is perfect. The way I see it, there are several key benefits associated with disposable vapes. And they are as follows:
#1) They're Cheap – If you're looking to stop smoking, but you don't want to spend $60 on a vape, a disposable vape is a perfect solution. You can pick one up for less than $6 and immediately stop smoking. From here, you'll be able to tell if vaping is for you. And if it is, you can then think about getting a proper, refillable vape device.
#2) They Taste Great – Back in the day, disposable vapes used to taste like ass. Nowadays, they're completely different beasts. The flavor you get from these types of vapes is just as good as what you'd get from a pod vape. The only difference is the price; a disposable vape is infinitely cheaper.
#3) They Work Just Like A Cigarette – There are no buttons and zero maintenance with disposable vapes. You simply unbox the vape and start vaping. That's it. And disposable vapes hit just like a cigarette which makes them ideal for anyone that is struggling to quit smoking.
#4) Insanely Simple To Use – All you have to do to use a disposable vape is place it in your mouth and inhale. That's it. There are no buttons, no settings, and no input required from you. This is the main reason why a disposable vape is a great type of vaping device for absolute beginners.
Best Place To Buy | VB STORE | $5.95 Each
Drake Equation
Co-founder and Editor of VapeBeat. I make the words.