How To Set Up The SMOK TFV 8 Tank (LIKE A PRO)
By Drake Equation • Updated: 09/05/18 • 5 min read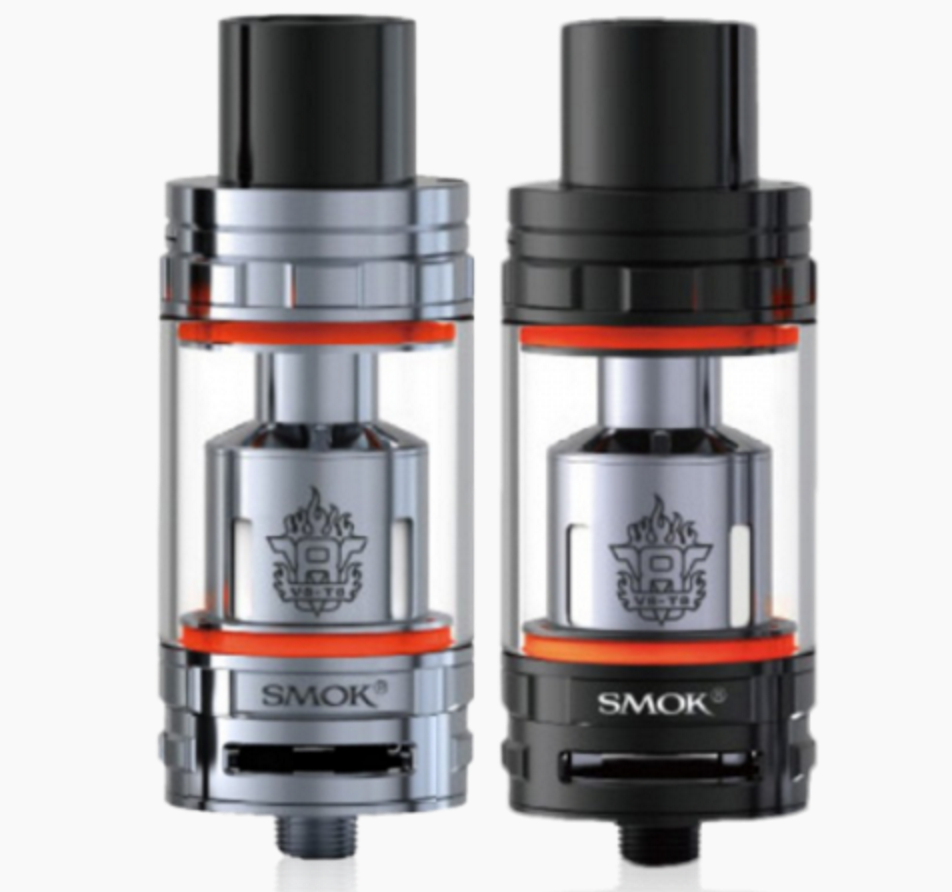 So you've bought the SMOK TFV 8 and now you're wondering how to set it up properly. Well, strap in because you're in the right place
---
The SMOK TFV 8 is a great sub-ohm vape tank.
I know it's not the best or anything, and this is 100% my own opinion, not a statement of fact, but BOY do I love this tank.
Why? I'll tell you – because when it's working on point it is damn near unbeatable.
The flavor and clouds you can get out the SMOK TFV 8 are second to none. It also holds a boat-load of E Juice as well.
Personally speaking, when I find a tank I like, I tend to stick with it – at least until a new, better one pops up.
The coils, once primed correctly, last a good long while and the flavor and performance of it are unquestionably good.
But the reason you're here is that you're likely struggling with the TFV 8, right?
You want to know how to set-up the TFV 8 properly…
Well, friend, you came to the right place.
I'll outline everything you need to know below.
How To Set Up The SMOK TFV 8 Properly
I'll outline everything you need to know below.
Prime The Coils Properly
This is probably the most important lesson you will take from this article. And while it might sound obvious, I bet you $100 you have not been priming the SMOK TFV 8's coils properly.
Why am I so confident? Simple: I was doing it wrong for the best part of six months before I found the ultimate method for priming SMOK's big ass coils.
You can read all about that method by reading my SMOK TFV8 Coil Priming Tutorial (the link will open in a new window, so save that one for after you've finished reading this article).
Ramp Up Gradually
I know, I know – the SMOK TFV 8 can handle power all the way up to 200+W… Thing is, you probably don't ever want to vape at these, frankly insane, levels.
The reason for this is simple: it'll taste like crap and burn through your battery and E Juice in record time. I tend to start a new coil out at 60W and then build up to around 90-100W over the course of a couple of hours.
My personal sweet spot for the SMOK TFV 8 is around 90-100W. I find this area gives the best flavor and overall efficiencies, with respect to battery life and E Juice consumption.
Your preference might be different, but remember the more power you use the faster your battery will die and the more E Juice you will burn through.
Best SMOK TFV 8 Coils?
SMOK makes A LOT of coil options for the SMOK TFV 8 and most of them are very solid, providing they're primed correctly (see above).
All of them are designed for high-performance vaping, but running at around the 100W mark tends to ensure they last longer – and this is always a good thing, as SMOK coils are not cheap.
My personal go-to coils for the SMOK TFV 8 are the V8 coil heads as I know how to prime the crap out of them and, once they're primed within an inch of their life, they always perform brilliantly.
And Then There's The SMOK TFB8's RBA Deck
If you want to save yourself A LOT of money, you'll use the SMOK TFV 8's RBA deck. This will mean you have to build your own coils and wick them, but in the long run, this will save you a ton of cash – like $40 a month easily.
The RBA deck is super simple to set up as well, as you can see in the video clip below:
Maintenance | Looking After The SMOK TFV 8 
The other thing you'll want to do in order to keep your SMOK TFV 8 in tiptop condition is to look after it. And, yes, that means cleaning out all the gunk and crap that accumulates inside the tank, the airflow, and inside the drip tip.
I actually use a jewelry cleaner to clean all my vape products. It works like a charm and ensures everything always looks and functions like a brand new product.
Anything Else You Need To Know?
That's kind of it really. The SMOK TFV 8 is pretty easy to set up, once you've had a play around with it.
The most difficult part is priming it properly, but if you read my article on that you should never have priming issues again.
If you do keep on getting dry-hits, then you haven't primed it properly. Go back and do it again. Another possibility is that you have a defective coil, though this is EXTREMELY rare – I've had like one in the whole time I have owned the SMOK TFV 8.
I hope this helped. If you have any more questions, make sure you sign up to our email list, as you will be able to ask VapeBeat team members questions directly.
Also: the SMOK TFV8 is now pretty old. If you want to know what the current best options are… make sure you check out our Best Vape Tanks Guide.
Drake Equation
Co-founder and Editor of VapeBeat. I make the words.