A drip tip is an essential, yet often overlooked element of vaping. A good drip tip will make your tank look better and, in some cases, improve how it vapes.
---
What is a drip tip? If you're new to vaping, allow me to explain:
A drip tip is a thing you put in your mouth when you vape. Most sub ohm tanks and rebuildable tanks rock either a 510 or an 810 drip tip, though the latter is more common these days.
Drip tips come in all shapes and sizes; RDAs tend to rock low profile drip tips, whereas sub ohm tanks can feature longer, narrower ones.
As with most things, your preference is down to you – both styles have benefits associated with them.
I tend to prefer squat drip tips on RDA tanks, and slightly longer, but still pretty low-profile ones on my sub ohm tanks.
Mostly, drip tips are used to augment the look and feel of your tank if you're not keen on the drip tip it originally came with.
Changing your tank's drip tip can make a big difference too, see below: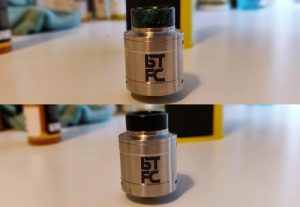 810 vs 510 Drip Tip – What's The Difference?
Size, basically. An 810 is wider and has a thick base.
510 drip tips were the industry standard for many moons, but as tanks got bigger – and more powerful – 810 drip tips began to take over.
Bottomline: if you're rocking an RDA or a modern sub ohm tank (2017 or 2018), chances are it will run an 810 drip tip. 510's are still around, but they tend to be on smaller vape tanks.
The best rule of thumb is this: check your tank first.
If the hole is small, it's a 510.
If it's big, it's an 810.
See the diagram below for size guides.
Where To Buy Drip Tips?
You got A LOT of options in this regard. I tend to keep things simple, though; once I find a decent retailer, I usually stick with them – at least until something better comes along.
I've got most of my drip tips via VaporDNA during the latter part of 2017 and 2018.
My favorite right now is BLITZ's Stainless Steel 810 Resin Drip Tips
They're so comfortable in the mouth, and they look badass – there are plenty of color options. My personal preference, however, is green resin (as you can see in the pictures earlier).
VaporDNA also has BLITZ, Gas Mods, and Vpdam drips tips as well, and these are all very good options too. Best thing to do is just have a look for yourself and see which takes your fancy.
As I said: I prefer more squat drip tips; you might like the longer, 510-y kind. Either way, you got plenty of options.
Things To Keep In Mind…
If you do go for a very squat drip tip, please make sure it is made from heat-resistant materials, as you don't want burnt lips.
RDAs can get hot when vaping, and a non-heat resistant drip tip will simply absorb that heat and, if you're unlucky, pass it onto your lips!
All of the drip tips I mentioned above are all made from heat-resistant materials, so if you go with any of them you should be all good.
If you want a seriously cool drip tip, that does not get hot at all, you can always go with one made from wood.
Because wood is excellent at retarding heat, wooden drip tips while not exactly common, are always a solid choice.
The vast majority of drip tips nowadays are made from heat-resistant materials for the simple reason that failure to do this results in unhappy customers, and manufacturers have wised up to this.
And that's pretty much all you need to know about drip tips! I'll add in more drip tip specialists as I find them.
[smartslider3 slider=9]
Drake Equation
Co-founder and Editor of VapeBeat. I make the words.