ZampleBox E-Juice Review: The Best E-Juice Delivery Service
By Drake Equation • Updated: 11/01/16 • 6 min read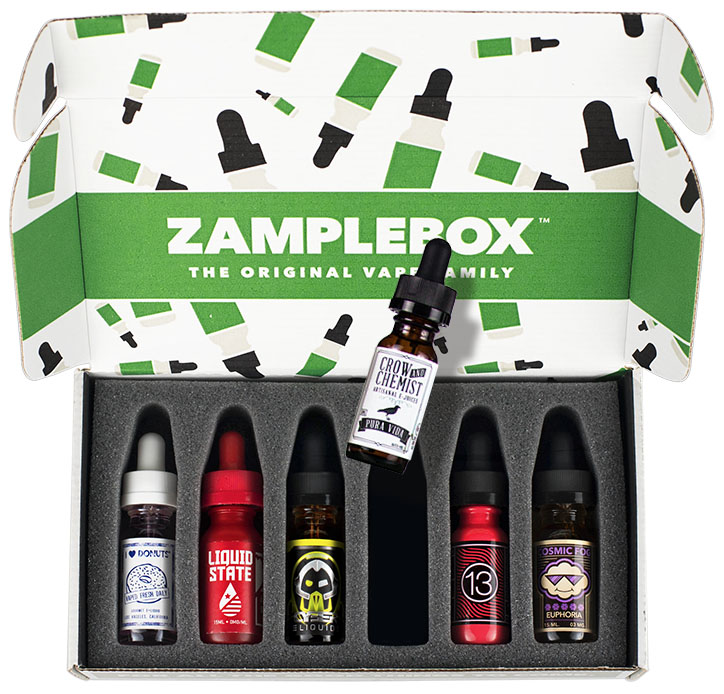 This is our review of ZampleBox E-Juice – an E-Juice delivery service that sends the best E-Juice brands direct to your home once a month
It had to happen, eventually. It was only a matter of time before some bright spark decided to do an E-Juice delivery service. Actually, it happened ages ago and there are quite a few competing for your custom in 2016 but ZampleBox, in my estimation, is by far the best in operation right now.
Why? Simple: the service, the website, the people that run it, the selection of E-Juice, the ease of set-up and the cost of the subscriptions – it's all very, very good and impressing. Which is exactly what we like and expect here at VapeBeat.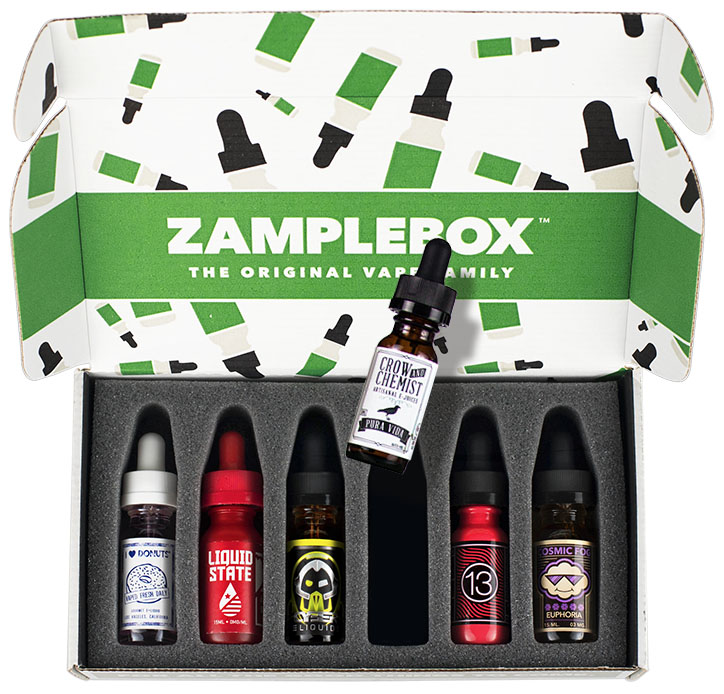 If you're unfamiliar with the concept of E-Juice delivery allow me to explain the basic concept to you – ZampleBox, after you've selected the type of account you want with them, send you a box full of E-Juice every month. The idea being that not only do you save a bunch on E-Juice (around 70%, according to their calculations), you also get to try out TONS of new juices and flavours.
I like ZampleBox because it is dirt cheap, prices start at just $19.99 a month for which you get $36 worth of E-Juice, and it takes the headache out of buying E-Juice every month. They do all the work for you and you just sit back and vape. As an inherently lazy person this type of arrangement makes A LOT of sense to me.
I've been using ZampleBox for about three months now and I am extremely impressed, not only by the service and quality of the packaging, but also by the sheer awesomeness of the E-Juice they've been sending me. I've been vaping A LONG TIME and each month I'm discovering new E-Juice brands that I've never heard of.
ZampleBox E-Juice Review: How It Works
It couldn't be easier, really. All you do is follow the steps, detailed below, on the ZampleBox E-Juice website and then set-up payment and you're done. Your E-Juice will be sorted by the ZampleBox E-Juice team and wing its way over to you.
First, though, let's drill down into the set-up process. When you start the set-up process, ZampleBox will ask whether you're a beginner, an intermediate or an advanced vaper. The reason? E-Juice consistently can behave differently depending on what device you're using; high-end mods and tanks utilise E-Juice in a different manner compared to cheaper, pen-style starter kit mods.
Obviously, at this point you need to select what type of vaper you are. I selected Advanced because there wasn't a Jedi option.

Next, flavour profile – here you choose the types of flavours you like. I HATE tobacco-flavoured E-Juice, it's just so wrong, like Justin Bieber in a Slayer T-Shirt, and I'm also not keen on Menthol, so my choices were Fruit and Dessert.

The next phase is a really nice touch by the guys at ZampleBox E-Juice, as it lets you further customise your flavour choices by inputting flavours you REALLY like which means they can be even more specific with your monthly boxes. I added water melon, peanut butter, cinnamon and strawberry for my selection.

After this selection you can then enter any flavours you want them to exclude – be specific here as well as its an important consideration. Especially if you're fussy. If you don't like something – anything, for that matter – just type it in. This way you will ONLY get E-Juice flavours you like. If you're not specific enough and you get something you don't like, well, that's your fault!

Next is nicotine strength, which is pretty self-explanatory.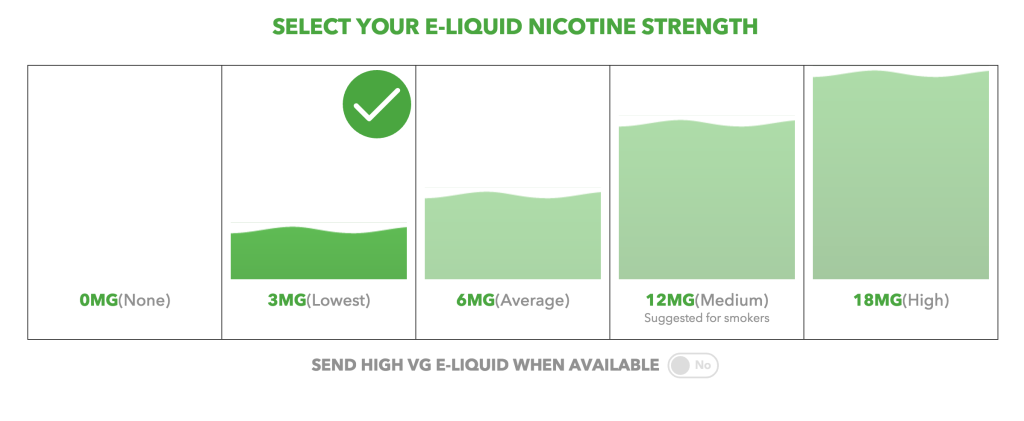 Now the exciting part: Choose Your Box
ZampleBox E-Juice boxes come in three sizes: Silver, Gold and Platinum. Below is a breakdown of how they differ:
Silver: 3 bottles (30-50ML) of E-Juice for $19.99 a month (RRP: $36)
Gold: 6 bottles (80-100ML) of E-Juice for $24.99 a month (RRP: $72)
Platinum: 11 bottles (150-180ML) E-Juice for $44.99 a month (RRP: $130)
I spend a fortune on E-Juice ALL the damn time, so I decided to go big and opted for Platinum. I like having more E-Juice than I need and because you get so much of the stuff with Platinum you've always got tons of E-Juice left over when your next shipment arrives.
Plus, I vape a lot, so the silver version likely wouldn't cut it.
ZampleBox E-Juice Review: Conclusion
I've crunched the numbers and it all makes sense. With any of the packages you're going to be saving money. A lot of money. I was spending way to much on E-Juice – around $200 a month – and the Platinum option costs me a third of that and I never run out E-Juice. Like, ever. So, yeah… that kind of makes this a complete no brainer for me.
You might have different needs, but I am telling you, 100% straight-up, whatever option you go for you will be saving money. Real money. And we could all do with more of that.
Also: even if you do buy 180ml bottles of E-Juice, as I do, wouldn't you rather have 180ML of different E-Juice? I love Muffin Man as much as the next guy, but sometimes when I'm half way through a big 180ML bottle I kind of wish I had something else to vape on as well.
This – beyond the cash savings – is ZampleBox's biggest USP, as you get a TON of E-Juice but it's all split up into smaller bottles, which means more choice and more flavours and the net result of all this is very simple: you have way more fun vaping.
The only thing I really dislike about ZampleBox is that I didn't come up with the idea for it first.
Other than that this is one of the coolest things to hit the vaping scene in quite some time.
Drake Equation
Co-founder and Editor of VapeBeat. I make the words.