The VooPoo Drag was a stunning mod, and now VooPoo is back with a pod system version of it which goes by the name of the VooPoo Drag NANO Pod – but is it any good? Let's find out…
---
VooPoo Drag NANO Pod Quick Verdict – 98%
VooPoo Drag NANO Pod Pros:
Truly Stunning Design
Simple Pod System
Amazing Flavor
Solid Coils – They Last AGES
Decent Battery Life
Powered By GENE Chip
Amazing Value For Money – It Retails For Just $21.95!
VooPoo makes good-looking vape devices. Everybody knows this. But the VooPoo Drag NANO Pod is impressive, even for VooPoo. Looking like a SkyNet-designed version of the MiPod, the VooPoo Drag NANO Pod is quite the looker. And its beauty isn't just skin-deep.
VooPoo has packed the VooPoo Drag NANO Pod with its GENE chip, and this chipset brings with it masses of performance and safety features. You have draw-activated firing, variable voltage, and "Cold Boot Mode" for kicking out even more flavor from each draw.
Powered by a 750mAh battery, the VooPoo Drag NANO Pod will go all-day-long, providing you top her up during the day. Do this and you'll be vaping all day and night without any issues whatsoever. You even have fast charge too, so even if you do run out of juice, you can quickly top it up (less than 40 minutes for 70%).
The flavor, the coil head performance, the design – everything is flawless. VooPoo has once again smashed it out the park. And for less than $20 via VaporDNA, it also serves up some monumentally impressive value for money, making the VooPoo Drag NANO Pod a serious contender for 2019's #1 pod system…
---
Full VooPoo Drag NANO Pod Review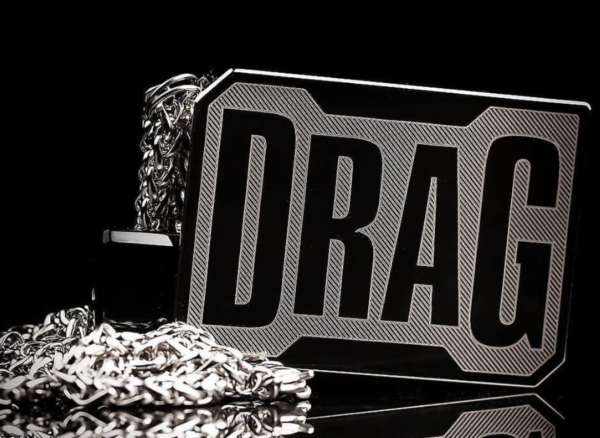 Design
Right off the bat, the VooPoo Drag NANO Pod is easily one of the best-looking pod vape systems I have ever used. The damn thing is flawless-looking. It's also perfectly proportioned too (54.5mm by 35mm by 11mm), making it ideal for stealth vaping and vapers that want a proper discreet vape device.
The outer chassis of the VooPoo Drag NANO Pod, made from zinc and aluminium, is completely devoid of buttons and/or notches. All you have is the DRAG branding and plenty of shiny surfaces. The USB for charging is located on the rear (sadly, it's not Type C) and the pod slides out from the top.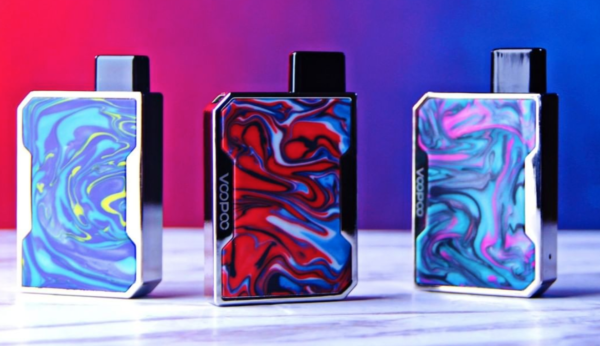 The pod system, which is totally refillable, holds 1ML of E Juice. Not a great deal, but we'll figure VooPoo for that. To access to pod for refilling, simply pull it out of the mod, remove drip tip, and refill accordingly. The pod itself is held in place by magnets and it sits nice and snug once fitted to the device.
The VooPoo Drag NANO Pod features three LED lights that indicate how your battery is doing:
GREEN – Optimal (Above 60%)
BLUE – OK (60% to 20%)
RED – Time To Charge (Sub-20%)
And that's about it, really. The star of the show is the design of the device, it's utterly stunning. Pictures do not do it justice. I actually think the VooPoo Drag NANO Pod could well be the best looking pod system on the market right now. Chuck in excellent performance, and you're looking at a near-perfect device…
Performance
So how's performance then? As expected, it's bloody good. The VooPoo Drag NANO Pod vapes solidly and consistently, hitting plenty hard on each draw. As noted earlier, it is breath-activated. Normally, I don't like this style of pod, but VooPoo has nailed it completely. It works perfectly, delivering intense hits every time.
I've been using my VooPoo Drag NANO Pod for a solid few weeks now, alongside a couple of others, namely the SMOANT Pasito and the GeekVape FRENZY, and it is definitely a better overall system than those two mods.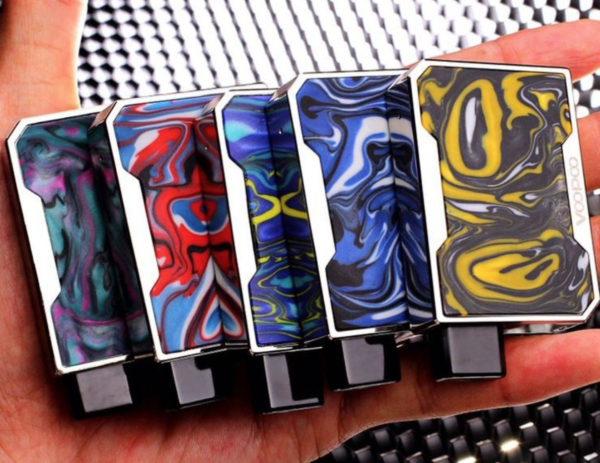 It's also a hell of a lot cheaper too; you can get the VooPoo Drag NANO Pod for less than $20!
The flavor is utterly brilliant too. Whether this is down to the GENE chip's Cold Boot Mode or just good coil design, I do not know. Either way, the VooPoo Drag NANO's flavor performance is brilliant. It's better than the SMOK Nord and the GeekVape FRENZY and is probably more or less an equal to the world-beating UWELL Caliburn. That should basically tell you everything you need to know about how this vape performs!
Pod & Coil Performance – How Long Do They Last?
Again, very solid. I've been getting a solid couple of weeks from each new pod. That's good. Even for modern pod mods. For instance, right now, the UWELL Caliburn is my #1 favorite pod system. The reason? Flavor and the fact that its pods last for weeks at a time. The VooPoo Drag NANO Pod is just as good.
The pods the VooPoo Drag NANO Pod uses are pretty small, they hold only 1ML of juice, but they kick out intense, flavorful vapor and last EONS, so all is forgiven. Plus, the pods are super easy to refill, so it's not even that much of a hassle having to top the device up – even if you're on the move.
The VooPoo Drag NANO Pod vapes like a monster, hitting solidly and consistently every time. I'm usually wary of breath-activated pods, but VooPoo seems to have NAILED the mechanism here; it works without issue and fires nice and hard.
Battery Life
The VooPoo Drag NANO Pod packs in a 750mAh battery, that's pretty much par for the course with pod mods this size. It's a lot bigger than the UWELL Caliburn's battery, so it out performs that pod in this context. In practice, with a top-up mid-way through the day, you're looking at all-day battery life.
My general rule of thumb when using pod mods is to put them on charge whenever I'm not using it. I like to charge mine for at least an hour or so, collectively, throughout the day. This way they're always firing on all cylinders if I decide to go out after work.
Follow these steps, and you'll have no problem with battery life.
Should You Buy The VooPoo Drag NANO Pod?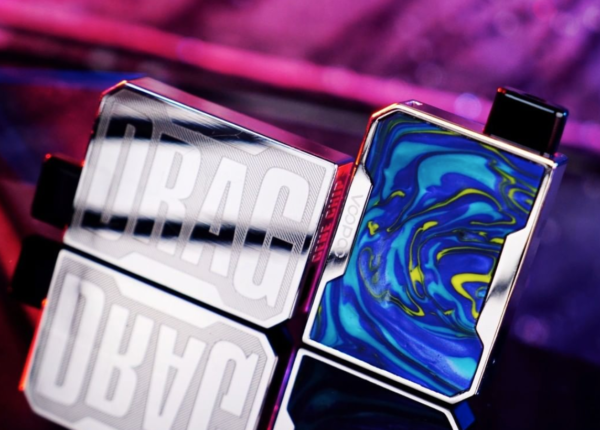 The VooPoo Drag NANO Pod is a definite hard YES from me. If you're after a new pod that looks amazing, vapes brilliantly, and costs just $21.95 – get the VooPoo Drag NANO Pod.
I genuinely think it is the best looking pod mod on the market right now. Nothing else looks quite as good as this pod in real life. Chuck in the excellent GENE chip, great pods that last weeks at a time, decent battery life, and masses of flavor, and you're in a very good place.
I got my mine via VaporDNA for $21.95 – and for that price, I'd recommend you do the same!
Drake Equation
Co-founder and Editor of VapeBeat. I make the words.