With its good looks, incredible coils, and long-lasting battery life, the Mi-Pod 2.0 has quickly become one of my favorite new pod vape systems…
---
Everybody remembers the OG Mi-Pod. It was good-looking, had great coils, and it was one of the first properly popular pod vapes to hit the market way back when. Well, Mi-Pod has returned with a successor model, the Mi-Pod 2.0, and it is even better – I am properly smitten with this good-looking, ultra-stylish pod vape…
Mi-Pod 2.0 Review: Verdict…
---
---
Pros
The design is brilliant – unique and well put together
Excellent coil performance; each lasts about two+ weeks
The flavor is incredible
Tight MTL draw that's perfect for Nic Salts
Easy to set up/refill, no leaks
Cons
It doesn't use USB Type C for charging
I'm pretty sure they could have used a bigger battery
Overall, the Mi-Pod 2.0 is pretty much flawless. It looks great, it vapes brilliantly, with a lovely, tight MTL draw, and its battery life performance is massively improved over the OG model.
Perfect for Nic Salts, the Mi-Pod 2.0 pretty much ticks all my boxes with respect to performance, styling, and ease of use. I was using the Caliburn G pretty much daily before I got the Mi-Pod 2.0. That vape has now been retired indefinitely in favor of the Mi-Pod 2.0.
The Mi-Pod 2.0 delivers a better MTL draw, lasts longer than the Caliburn G, and in my experience delivers better flavor. For this reason, the Mi-Pod 2.0 is the pod vape VapeBeat now most recommends. It's well priced, well put together, and it vapes like an absolute champ.
---
Design & Specs
The Mi-Pod 2.0, like its predecessor, comes in a dizzying array of color options. The Mi-Pod 2.0 is larger than the OG model, it now runs a 1250mAh battery versus the OG Mi-Pod's 950mAh. You now get a bigger overall device and a much bigger battery life. Two good things, in my book.
The overall design language, although stretched somewhat, remains largely the same. And this is a good thing. The Mi-Pod was one of the most instantly recognizable pod systems on the market. The Mi-Pod 2.0 retains all of its predecessor's good-looking and unique styling, just in a slightly longer chassis.
---
As before, you have the pods and the battery/power unit. You remove the pod, fill it up with juice, insert it into the battery/power unit, wait five minutes for the wicks to prime, and then start vaping. The Mi-Pod 2.0 is breath-activated, so there are no buttons – although there is a handy switch on the side for turning it off.
As a buttonless device, the Mi-Pod 2.0 is incredibly easy to use. You just put it to your lips and inhale. The Mi-Pod 2.0 fires instantly, there's no delay or waiting – and it never seems to miss a beat. As for the pods, they hold around 2ML of vape juice and will last a few days before requiring a top-up in my experience.
The actual pods themselves, however, last weeks at a time. I used my first pod for almost three weeks before the flavor starting going. I then inserted my second pod, and I'm now over two weeks into that one and it is still going strong – brilliant performance by anyone's standards.
What Juice Does Mi-Pod 2.0 Run?
I've mostly been running Nic Salt juice in my Mi-Pod 2.0, but because the Mi-Pod 2.0 uses mesh coils – that are also geared for sub-ohm vaping – you can run any juice inside the device you like, from 50MG Nic Salts to 6MG High VG juice – it is entirely up to you.
The mod itself does all the heavy lifting, it will automatically decide on the power output, so all you have to do is fill it with your preferred type of vape juice and start vaping. I would advise you to use Nic Salts, however, because this is a pod vape after all, and Nic Salts tend to work better in this style of device.
Refilling and setting up the Mi-Pod 2.0 is stupidly simple as well; you literally just fill the pod up, insert it into the device, wait five minutes, then start vaping. That's literally it. You don't need to worry about buttons or settings. It really is just a plug n' play device, just like a disposable vape.
Flavor
I've run multiple juices through the Mi-Pod 2.0 and they all tasted amazing, better than they did in both my Caliburn G and Caliburn KOKO. The flavor is more precise, more defined. Just better, basically. And this is down to Mi-Pod's exceptional mesh coils. They really impressed me, especially since they can handle both salt nic and freebase nic.
If you're after a pod vape that delivers exceptional flavor, the Mi-Pod 2.0 is one of the best performers on the market right now. I own – and have tested – over 40 pod systems in 2021 alone, and the Mi-Pod 2.0 is leagues ahead of 99.9% of them. Add in its relatively inexpensive price tag, and you're looking at what is potentially 2021's best pod system.
Battery Life
Pod vapes aren't known for their battery performance, but the Mi-Pod 2.0 is decent in this context. It runs a 1250mAh battery which isn't the biggest on the market but it definitely gets the job done. I'm kind of a heavy user, and I always manage a day and a bit from the Mi-Pod 2.0.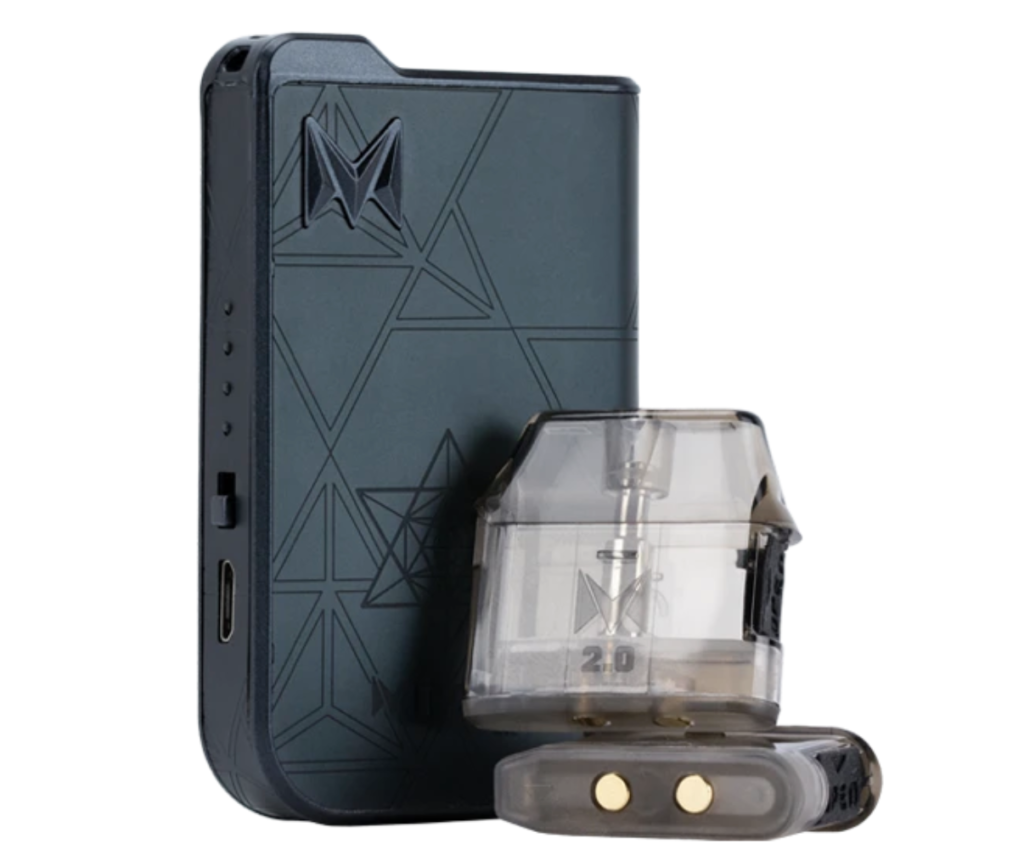 I use it all day, then charge it up overnight. I've been doing this for almost two months now and it hasn't run out of battery once during the day or night when I've needed it. If you're a super-heavy-user, I'd advise a top-up around 4 pm or 5 pm, if you're going out after work. Other than that, I have zero complaints about this pod vape's battery life.
The ONLY thing I would change about the Mi-Pod 2.0, however, is its charging port. It uses the old microUSB port for charging, not the newer (and faster) USB Type C. This is literally my only complaint about the device and while this is not a deal-breaker it is something I liked to see Mi-Pod change on future models. USB Type C is VASTLY superior to MicroUSB.
Is The Mi-Pod 2.0 Worth It?
The Mi-Pod 2.0 is an exceptional pod vape that has much-improved battery life over the original Mi-Pod. It vapes better, has improved coils, and it delivers some of the best flavor of any pod vape on the market right now. Add in ridiculous coil performance and you're looking at one of the strongest contenders for the best pod vape of 2021 available right now.
As I said in the intro, the Mi-Pod 2.0 is now the vape I use on a day-to-day basis. It is that good. It is reliable, it kicks out amazing flavor, the battery life is great, and the MTL draw is to die for. Literally, what more could you want from a pod vape?
---
---
Drake Equation
Co-founder and Editor of VapeBeat. I make the words.