Vandy Vape Kensei RTA Review: A KING Among RTA Tanks
By Drake Equation • Updated: 12/13/18 • 6 min read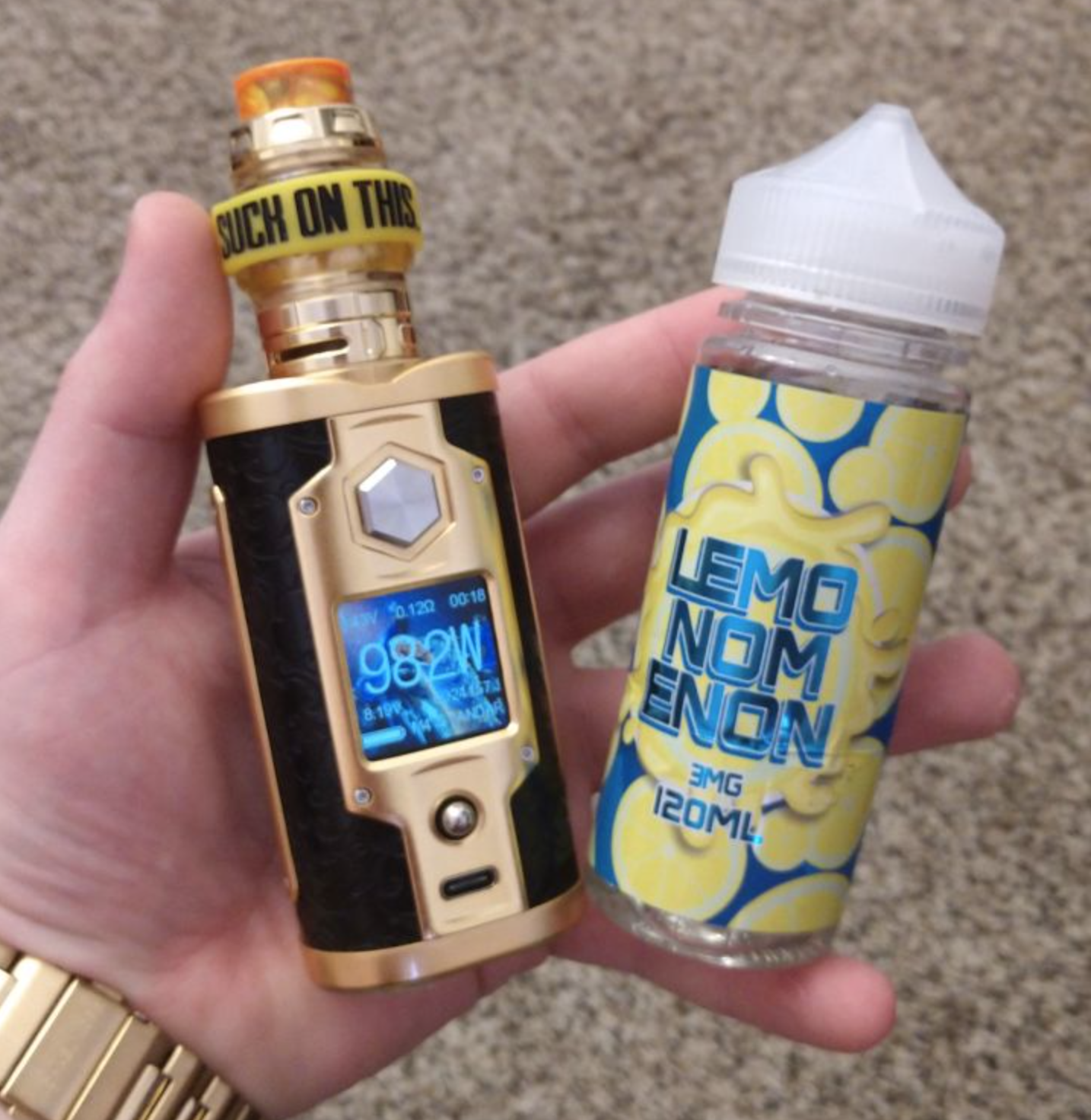 The Vandy Vape Kensei RTA is one of the most well-known tanks of the year. But does it live up to the hype? Drew took the Vandy Vape Kensei RTA for a spin to find out
---
Alright, ladies and gentlemen, I have another solid piece of hardware to review for you today! This baby is just freakin AWESOME!!
Hence why it was included in our round-up of the year's best RTA tanks.
So, if you have somehow not heard about Vandy Vape, let me brief you real quick.
They are based in Shenzhen, China and are quickly becoming a major player in the vaping game.
If you've been reading VapeBeat for a while, you might recall the first atty review I did was the Vandy Vape Triple RTA and that was about 7 or 8 months ago.
In those short months, Vandy Vape has made big moves.
They now have an entire lineup of RTA's, RDA's, a few RDTA's, and a squonk mod which, by the way, is sexy as HELL and can run a 20700 battery.
But enough about them, let's get to the Kensei RTA!
Vandy Vape Kensei RTA REVIEW DESIGN
I think this is the best- designed RTA I've vaped on to date; for a multitude of reasons.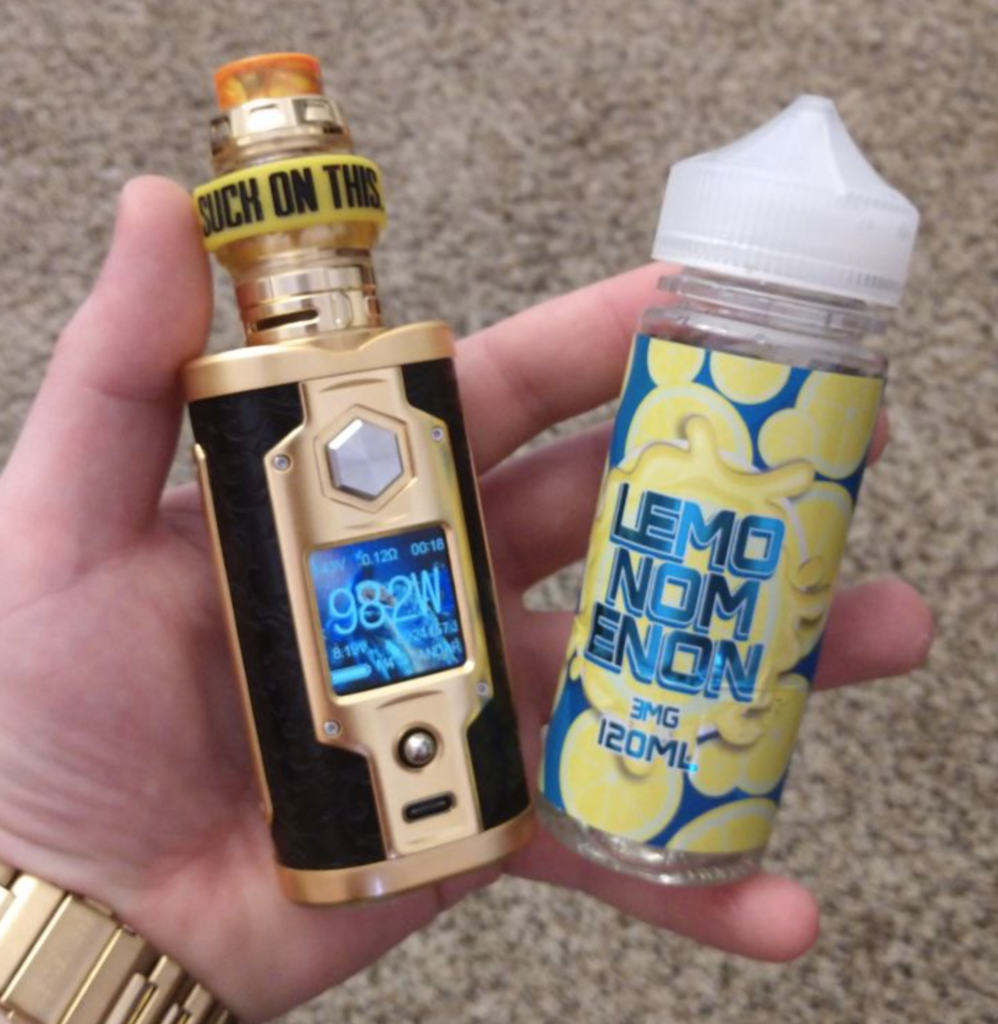 First off, it's gorgeous.
The proportions, when you use the normal glass, give it a much taller than wider appearance, which I'm not a huge fan of, but that's subjective and may not bother anyone else at all.
The bubble glass helps out with this ratio and makes it seem less tubelike, at least in my opinion.
The machining quality is top-notch on this RTA, as is to be expected of all Vandy Vape's products due to their track record.
The threads screw together so nice and snug, but its never screwed together so tight it required channel lock pliers when changing the cotton or coils.
The top cap screws onto this one, though I do wish it could be something a little bit easier to open.
But as I mentioned the threads are so well made that I have yet to need more than my fingers to get the thing lose.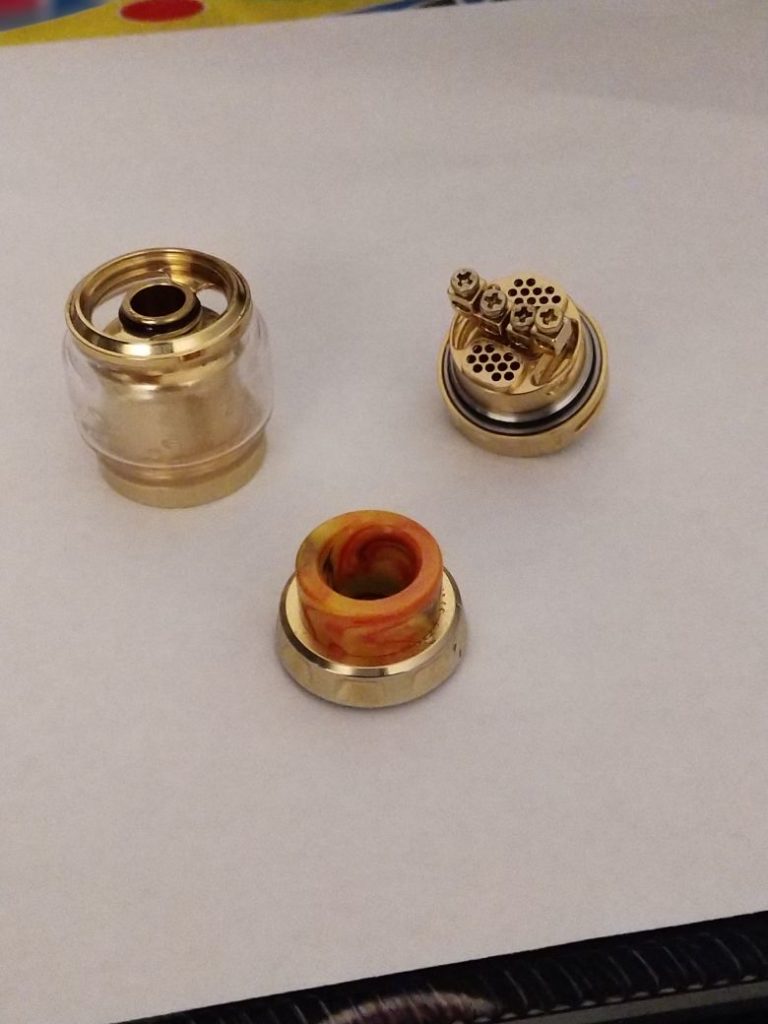 One of the big game changers for Vandy Vape has been the innovation of their hardware.
The Kensei comes with this neat little tool you can stick into the top and use it to unscrew the midsection which covers the coils- this is AWESOME!
No other manufacturers have yet to do this to my knowledge, but they'll probably copy Vandy Vape as SOON as they saw this.
I mean, this thing works on so many tanks as it is, but it's just one of those little extras that puts the product a cut above the rest.
Another Vandy Vape signature touch?
The wide bore resin drip tip they include with all their tanks – it's very nice. It sits comfortably and just vapes great.
I have yet to find an "aftermarket" wide bore drip tip that just feels as natural as the ones Vandy Vape uses.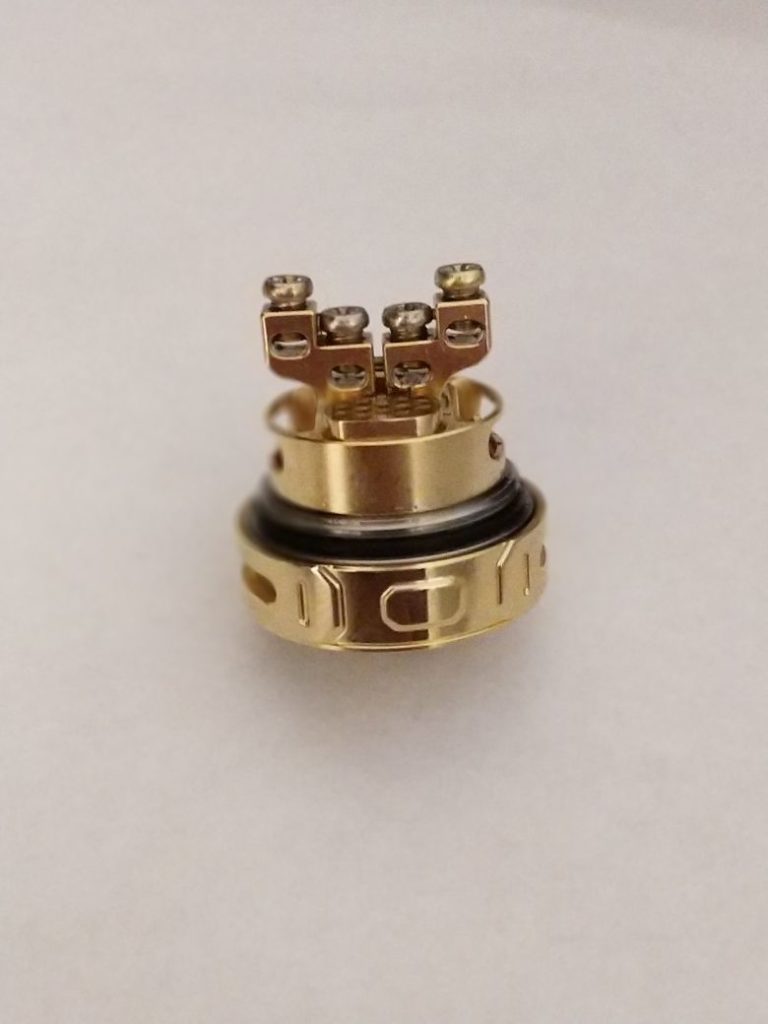 The deck is also super easy to build on. I love the offset post holes which line up with where the leads come off the coil naturally.
The bottom airflow is almost the perfect amount if there could be such a thing, and the AFC ring does not go past either side which is good; the TFV8/12 free spinning design can get irritating.
With that, I think I've covered all the design aspects of the Kensei. Let's jump into the performance stuff!
Vandy Vape Kensei RTA PERFORMANCE
Being skeptical of RTA's, I was unsure that this product would even be something I could use occasionally.
However, after a week I was convinced this would be part of my go-to selection of vapes.
And after a month, I didn't even want to give up using it to test other attys!
Vandy Vape Kensai RTA Specs & Features
24mm Diameter
2mL Standard Juice Capacity
4mL Maximum Juice Capacity – Bulb Glass Extension
Superior 303 Stainless Steel Construction
24K Gold-Plated Build Deck
Unique Two-Post Design – Stepped Design
Top-Secured via Phillips Flathead Screws
Single or Dual Coil Configuration
Dual External Large Airslots – Fully Adjustable
Bottom Honeycomb Airflow System
Direct-to-Coil Chamber Effect
18.5mm Wide 810 Resin Widebore Drip Tip
18mm Wide 810 Delrin Doc Widebore Drip Tip
510 Drip Tip Adapter
Gold-Plated 510 Connection
The flavor here is exceptional. The design of the tank leads it to pump out some serious clouds, but you still get that crazy flavor of an RDA.
You do have to pull a little bit harder than maybe some normal tanks due to the cotton stuffing, but this also just depends on how comfortable you are with wicking and how little cotton you dare to use…
I think this next part is the shining feature of the Kensei RTA: Wicking.
I've had nothing but trouble with full-blown RTA's from almost every company that puts them out, be it dry hits or leaking or the o-rings getting stuck when you try to unscrew the tank.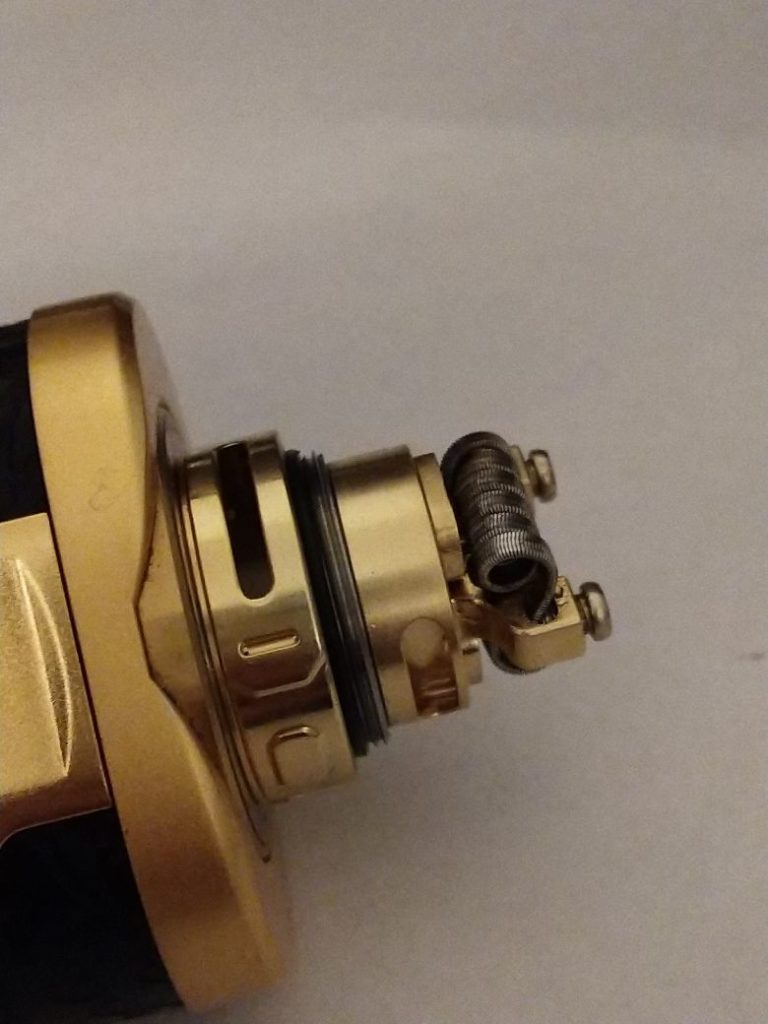 However, for the first (and every subsequent) try, the wicking required either a small retouch or no adjustment at all.
And for me, this sold the tank.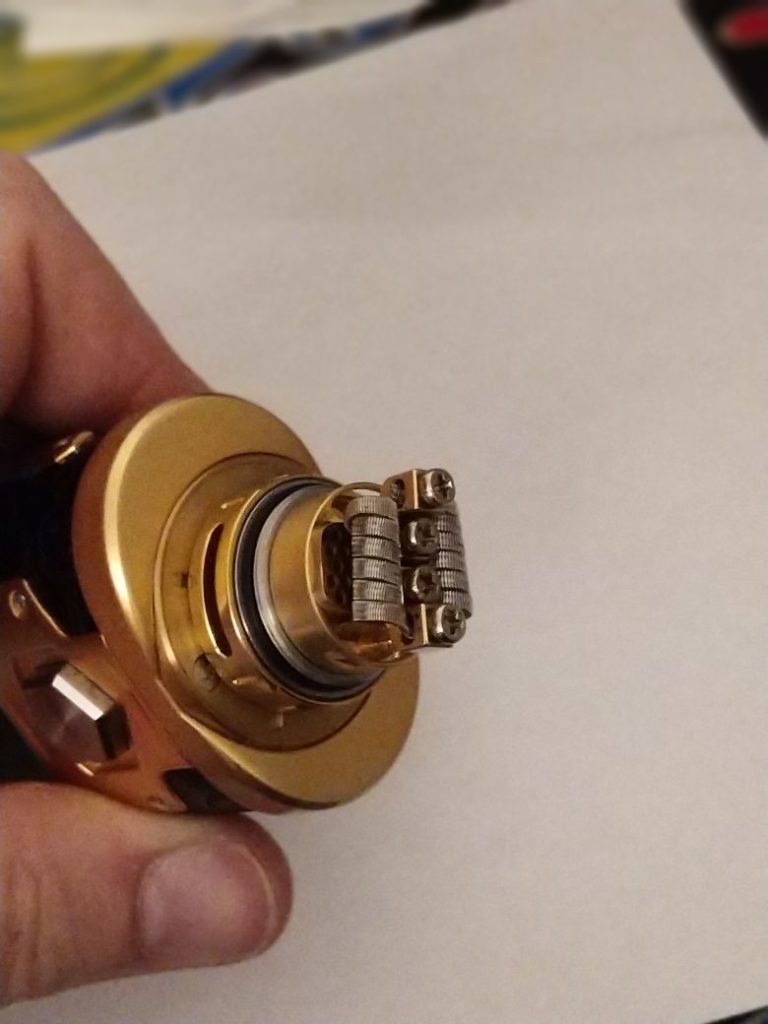 If I had gone out and purchased this tank, I would be extremely satisfied when I wicked it up the first time and was able to use it for weeks without messing with it!
That actually brings me to another point: it might have been the juice I was using (the company is called Primal, check them out) but I got over a month out of my coils.
A month!
And I vape about 100ml's a week maybe more.
So for this small chamber to not burn up the cotton or coils is phenomenal, and I was totally surprised.
Vandy Vape Kensei RTA VERDICT
I would highly, highly recommend this RTA to anyone – even someone that maybe hasn't used an RTA before.
Yes, there is a learning curve.
There always is with RTA tanks; they're just fiddlier by their very nature.
But out of all the RTAs I have tested, this one is VERY forgiving.
It gets easier the more you tinker with it. Take a look at the deck, see how it works. Be precise and you'll be fine.
And once you nail the wicking, the Vandy Vape Kensei RTA will deliver sublime vaping experiences for weeks on end.
This is why it was included inside our Guide To The Best RTAs.
And that, ladies and gents, is what an RTA is ALL about.
Drake Equation
Drake is the founder and editor of VapeBeat. He started the blog WAY back in 2015 when, upon quitting smoking, he struggled to find any useful information about vaping online. With a background in journalism and a newfound hobby on his hands, he set about creating VapeBeat – a blog all about making vaping simple to understand for new users.