Asmodus Ultroner Thor II Review: FINALLY! An Affordable DNA Mod
By Red • Updated: 02/11/20 • 6 min read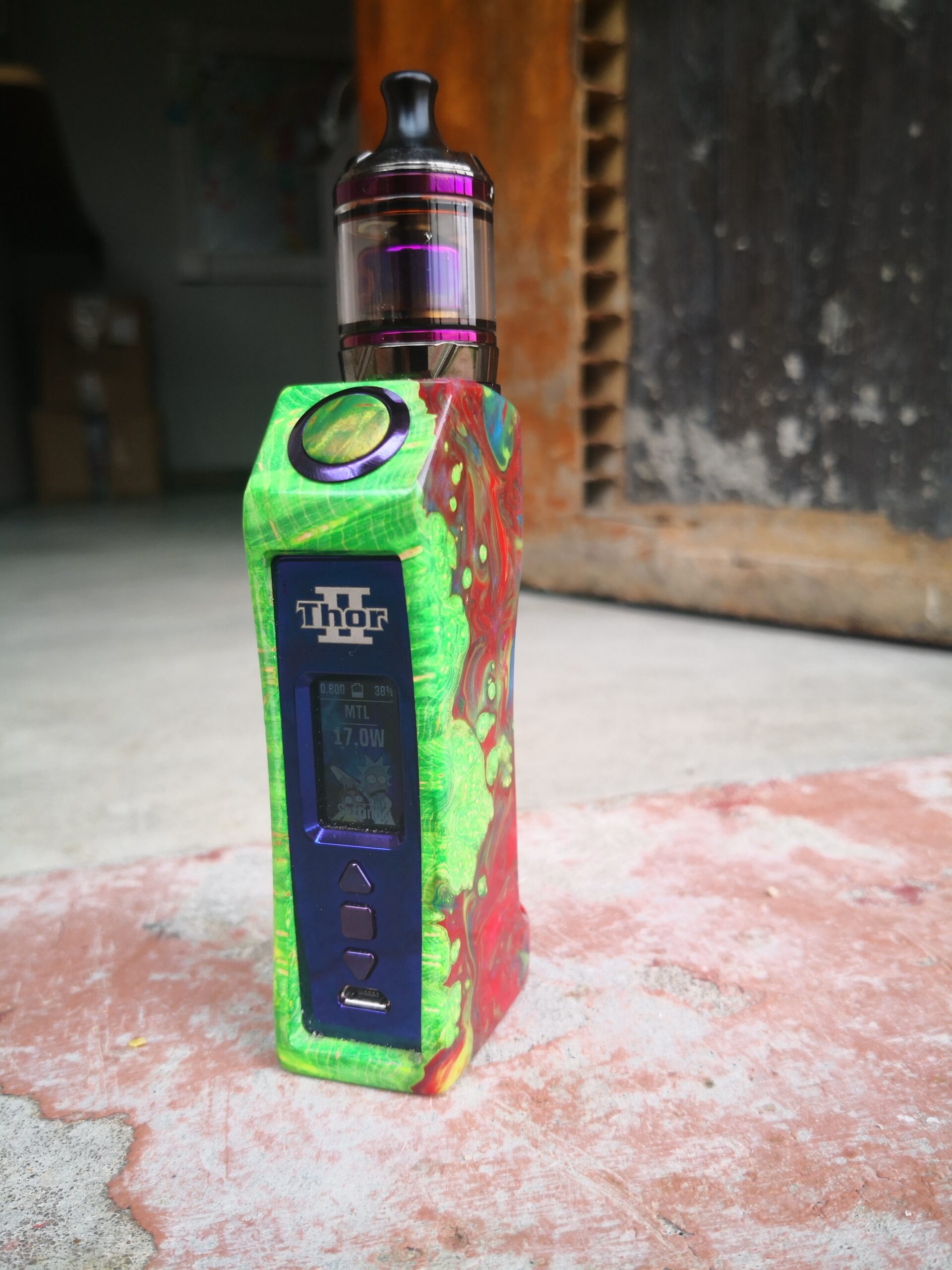 The Ultroner x Asmodus Thor II is an easy foray into the world of DNA devices. It's cheap enough not make your eyes water, but not cheap enough to embarrass you at Vapecon. A wonderful device at the price, even if it's a little older…
---

Ultroner Thor II Verdict – 89%
Ultroner Thor II Pros:
Evolv DNA75C is still the best low power chipset available
Stabilized wood and alloy combo looks great
Build quality is solid
Ergonomics are spot-on for both righties and lefties
21700 and 18650 compatible
Really affordable for what you get
Ultroner Thor II Cons:
Parasitic battery drain is a pain
Where To Buy It? UK ECIGSTORE – £219.99
Full Ultroner Thor II Review
Anyone that's been vaping for a while will know about DNA boards, a highly customizable chipset from US-based company Evolv. Everything, from preheat-temperature to themes can be customized to your own tastes. It is widely regarded as the best chipset in the game but unfortunately comes at a hefty cost. As such, DNA boards are often only used in products on the upper tier of the price range.
To make matters worse, stabilized wood is the material of choice for high-end mods, so if you want to own a DNA device, you're looking at forking out over 300 dollars. Sure, there are a few affordable DNA based device, the Lost Vape Paranormal, but it just doesn't have that appeal of a real stabwood DNA device. Enter the Thor II from Ultroner.
Coming in at $250 odd, it is unbelievable value for money and because of this, I was expecting a turd of a device. I've never been that wrong.
Packaging
The Thor II comes in a classy wooden and leatherette box. The contents are sparse, as is the case with high-end mods. Inside you'll find the device, an 18650 adapter, a Micro USB charging cable, a buffing pad, a carry bag, some polish rags, and some manuals.

Design
Gorgeous, that's the only way to describe the Thor II. Real stabwood and resin encapsulate a purple alloy battery tube and screen surround. There are five color wood designs available, but the green seems to be the most popular. Green, yellow, red, blue and purple are your choices, with the alloy parts remaining purple on all models. Being carved from actual blocks of wood means that every single device will differ in look, adding to the uniqueness. The Thor II fits comfortably in your hand and with either your left or right thumb being able to reach the fire button easily. This, too, is made out of stabwood, something not often seen.
25mm Atomizers will look great on the Thor II, anything bigger is going to be a stretch. Be careful of topheavy tanks as the Thor can topple over easily.
The screen is the stock 3.5" TFT display that comes with the DNA 75C and is a clear, color unit. It's pointless for me to go over the screen and menu system as it can be customized in any which way you desire.
The battery door is an old school screw style lid that is housed on the bottom of the device that allows up to a 21700. Even with the included 18650 adapter, there is no battery rattle as the lid is designed to clamp down on the negative end of your batteries.
All done and said, the Thor II is one of the prettiest and most comfortable mods in my collection

Performance
The Thor II is a DNA75C based device, so performance was never going to be an issue. It is vital to use a 21700 over a 18650 as there is some parasitic drain (expect about 4% drop overnight) on the battery. I am unsure if it's a trait of DNAs (DNAs can not be turned off, only put in standby mode) or a design flaw of the Thor II. With a 18650, expect about a day worth of use. A 21700 will get you 2 days for average use.
As the name suggests, the DNA75c will fire up to 75w, instantly, another well-respected trait of the DNA chips. Voltage cutoff is 9v
There are little to no complaints on DNA chipsets, but it is one of those things you need to experience for yourself before you will truly grasp the greatness. The 75C is an excellent addition to the Thor II, however, a 250C and dual battery Thor II would make my heart very happy.
Temperate control on a DNA chip is where it's at, or "Replay" as Evolv calls it. In a nutshell, when using a TC compatible coil, a DNA allows a user to save his last puff and "replay" that puff repeatedly, giving an identical vape with each press of the fire button. It's a simple, no-nonsense approach to temperature control that just works. Sadly, the DNA75C does not have Replay enabled by default, so you will need to update to the newest version via Escribe.
Specs:
Evolv DNA75 C Chipset
Battery: 21700 or 18650
Power output: 1/75w
Temp Control Range: 200-600°F / 100-315°C
Voltage Output: 0.2-9.0V
Charging Port: Micro USB
Size: 51mmx30mmx9.2mm

Asmodus Ultroner Thor II Review Conclusion
I'm a difficult guy to please, but the Ultroner Thor II has me smiling from ear to ear. It's one of those mods that you're too scared to take out into public for the fear of losing or breaking it. It doesn't quite qualify as a high-end mod from a price perspective, but everything about it makes you treat it as such. It's built solidly, looks high end and performs amazingly well. Ultroner and Asmodus have done well with picking the DNA 75C chipset for the Thor II to really make this mod stand out from the mass-produced Chinese bins.
If you're after a high-end mod without remortgaging your home, the Thor II is the ideal piece of kit for you. If you don't mind the battery drain that is.
Where To Buy It? UK ECIGSTORE – £219.99
Red
Internationally published journalist and reviewer, unofficially certified vape connoisseur. MTL, DTL, RDTL, Red takes it any which way