The AIO market is so saturated that manufacturers are grabbing at straws to get their market share. We've seen pretty much everything that's on offer, but Ultroner has thought outside the box and created the first (that we know of) lipo, stabwood all in one device. It's not perfect by any means, but it certainly does offer something new in a tired sector.
---
Ultroner Theia Verdict – 81%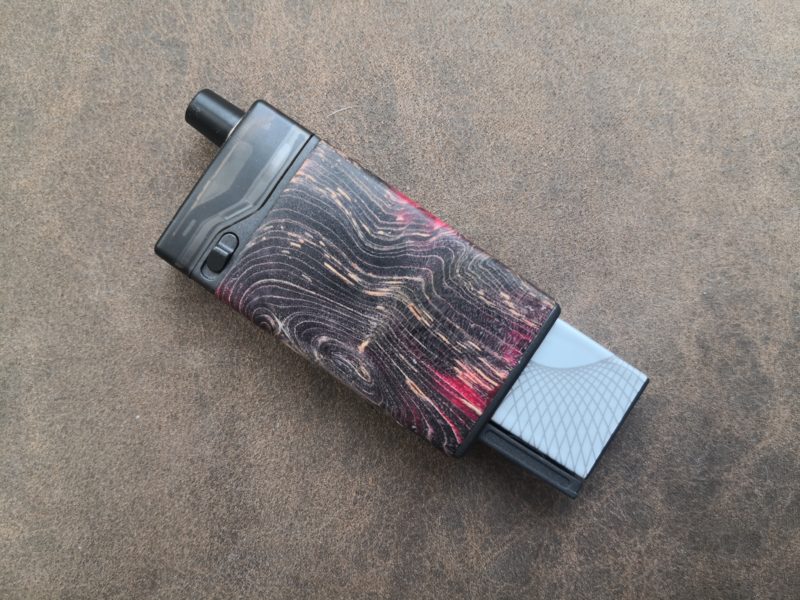 Ultroner Theia Pros:
Gorgeous Stabwood body
Lipo batteries with external charger is a game-changer
Offers decent flavor on both included coils
Coil longevity
Ultroner Theia Cons:
POD is way too dark to see your juice levels
No RBA available
Begs for a premium chip
It can be argued that the first real high-end all-in-one device was the Lost Vape Orion. A great system that came at a premium thanks to the DNA Go chipset used. It sold by the buckets and with this success, came the cash grabber. There are about 73 different spin-offs of the once-great Orion and none of them are near as good as the original. Since then, many have tried to replicate its success, but all have fallen short. Even the mighty Purge Mods have put a dent in their reputation by attempting to create a true high-end all-in-one. Now, the kings of Stabwood mods, Ultroner have given it a go and it does a lot of things right.
BUY IT NOW | VaporDNA | $81.95
---
Design
The Theia is a typical Ultroner product, a stabwood clad, heavy and sturdy device that puts form over function. Its design cues are obvious Orion, although, without the polish and flair. If you're familiar with stabwood, you'll know that it takes a certain kind of skill to get it perfect and without flaws. The Theia isn't one of these and the body is far from perfect. Surprisingly, I quite like the imperfections, character, and all that.
The pods use a sturdy clip system to keep it in place and may perhaps be a little too sturdy. Getting the pod out can be a pain in the ass, but it will absolutely positively never detach on its own accord. I know that pods are darkly tinted to prevent UV light to interact and spoil your e-liquid, but the level of tint on the Theia pod is ridiculous. It's so dark that it's practically impossible to see your juice level without supersonic sight. With a 3ml capacity, you really need to pay attention to your consumption in order not to dry fire your coils.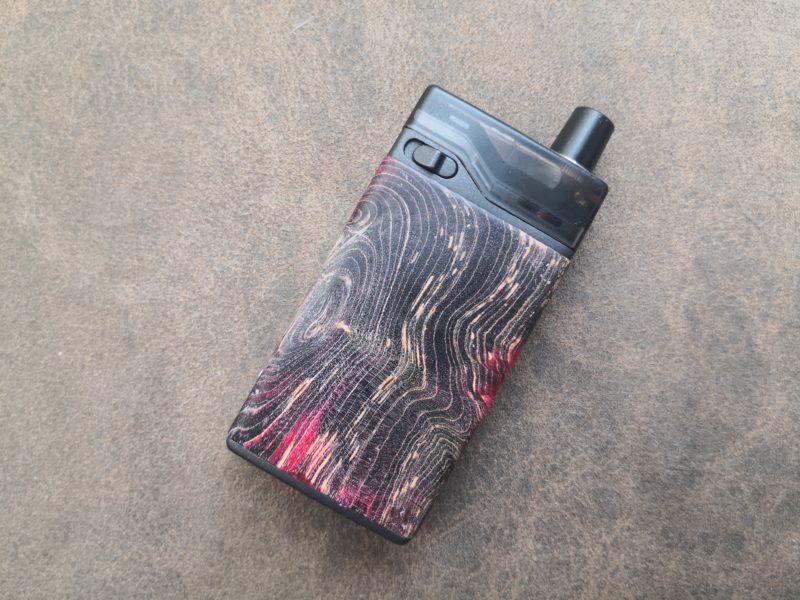 BUY IT NOW | VaporDNA | $81.95
The drip tip functions as your airflow control and is executed perfectly. It turns smoothly while remaining tight in place. The Theia can go from completely shut to a just restrictive lung hit and is smooth as silk.
The screen is typical of the Sevo chipset found in Ultroner products, black and blue, old school, and more than adequate for everyday needs. It contains all the info you would require from an AIO including power output, resistance, battery life, and current-voltage. A stainless-steel fire button sits above the screen, in a comfortable position and the two adjustment buttons sit below it. Further down the side, you'll find a micro-USB charging port, which is pointless, but we'll get to that soon.
How do you set an AIO apart from the horde? With removable Li-Pos, obviously. The Theia takes great advantage of Li-Po technology, giving the Theia 1000mAh capacity in a relatively small frame. Not only that, Ultroner includes not one, but two batteries as well as an external charger, rendering the USB port pointless. With Li-Pos. there's no stress about exploding batteries in your pocket, meaning the Theia can last you an entire week without having to recharge. I hope this design decision gains traction and we see more manufacturers going this route.
Performance
Having an abundance of battery life means nothing if your pre-built coils are trash, but thankfully, the Theia delivers here. Flavour may not be as good as the top tier devices, but it's relatively solid and longevity good. Sadly, there's no RBA base available and due to the design of the coils, probably never will be.
Ultroner provides both a 0.6ohm and 1.2ohm coil (both being mesh) in the package and while we found the 1.2ohm to be decent, the 0.6ohm coil far outperforms it, both in flavor and lifespan. Both coils could easily jog through 15ml of juice before starting to degrade, although the 0.6ohm performed a bit better after that consumption.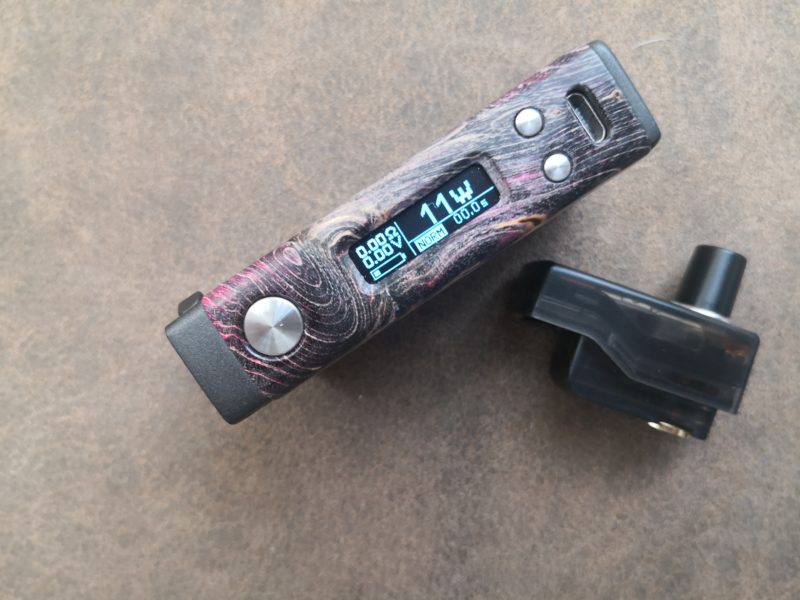 With 2000mAh effectively at your disposal, users don't need to worry much about limiting their power to get through the day and with 30w at your disposal, you should have more than enough battery life to carry you for 3 or more days at full power. Realistically though, you'll run the Theia at much lower power. The included external charger also ensures you can always have a fully charged battery at the ready, how has no one executed this so well before?
Ultroners' Sevo chipset is well known to be efficient and reliable and it's no different in the Theia, although limited to 30w. The device feels like it puts out claimed power and fires near instantly. It's about as good as it can get for an AIO, but I can't help but long for a DNA or YiHi chip here. Perhaps not required but slapping a Sevo in here feels like a shortcut for a high-end device.
Specs:
Battery: 1000mAh removable Li-Po x 2
Power output: 5/30w
POD Capacity: 30ml
Charging Port: Micro USB and external charger
Weight: 120g
Materials: Stabwood/Zinc alloy
Specs:
Battery: 2500mAh / removable 18650
Power output: 5/60w – 5/80w
Charging Port: USB C
Size: 87x33x28mm Drag S
POD Capacity: 4.5ml
Materials: Zinc alloy /Leather
Battery: 1000mAh removable Li-Po x 2
Power output: 5/30w
POD Capacity: 30ml
Charging Port: Micro USB and external charger
Weight: 120g
Materials: Stabwood/Zinc alloy
Ultroner Theia Conclusion
The Theia offers something new in the AIO market, a stabwood body, and removable Li-Po batteries, but it is nowhere near perfect. Funny though how I praise it for its flaws. Perfect devices seem to fall on the wayside but here, as with most high-end devices, give it a sense of character and uniqueness. The pitted stabwood gives a glimpse into the life of the tree it comes from and the quirks give me something to moan about when using the Theia. Apart from begging for a more premium chipset, the Theia is perfect in all its flawed glory.
If you want a flawless, well thought out product, it may not be for you, but if you're after something that stands out from the mass of shiny, polished products, the Theia should be right up your alley. Think of it as a Kodama, flawed, but beautiful. Better on your shelf than in your hand, but damnit if you aren't glad it's on your shelf.
---
BUY IT NOW | VaporDNA | $81.95
Red
Internationally published journalist and reviewer, unofficially certified vape connoisseur. MTL, DTL, RDTL, Red takes it any which way