SMOK's back with another pod vape device called the SMOK Trinity Alpha – and it looks just like the Lost Vape Orion Q. But is it any good? Let's find out, shall we?
---
I'm a big fan of the SMOK Nord, as many of you will know. It's cheap and it works great. But in true SMOK fashion, we have yet another new system vying for your attention in the form of the SMOK Trinity Alpha.
This pod vape is slightly different. The design is basically identical to the Lost Vape Orion Q; there's no way of getting around this – it is identical. But then SMOK has some pedigree with this sort of thing – the SMOK MICO is very similar to the SV MiPod.
Should you care? Not really. All that matters is how it works and whether or not it's any good. I unboxed my SMOK Trinity Alpha a couple of days ago and since then I've been using it pretty heavily in the place of my SMOK Nord.
SMOK Trinity Alpha Design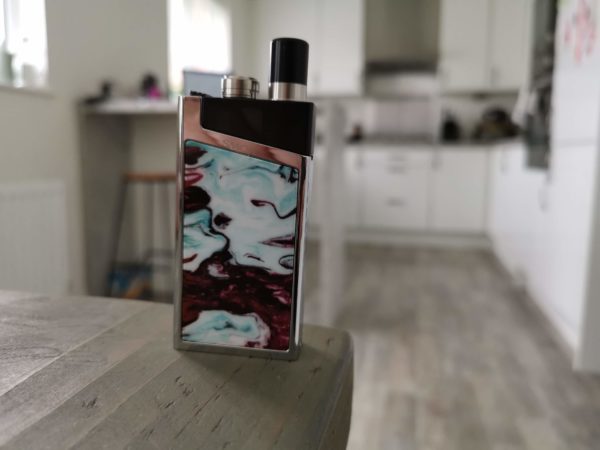 As noted: it looks like the Lost Vape Orion Q, and that's no bad thing; that pod mod is a stunning little vape that vapes great and looks the nuts. The SMOK Trinity Alpha cuts a very dapper figure too. I dig it.
You have a few buttons and ports to play with as well. On the right side, below the fire button, you have three vaping modes: Heavy (H), Soft (S), and Normal (N). And below them is a button for switching between the modes.
On the top of the device, next to the drip tip, you have a metallic-topped filling port. The pod component of the device does come off too; this port is just for on-the-go-refills. The pod is removed by the click of a button (it's next to the refill cap) and you'll need to do this to install a coil.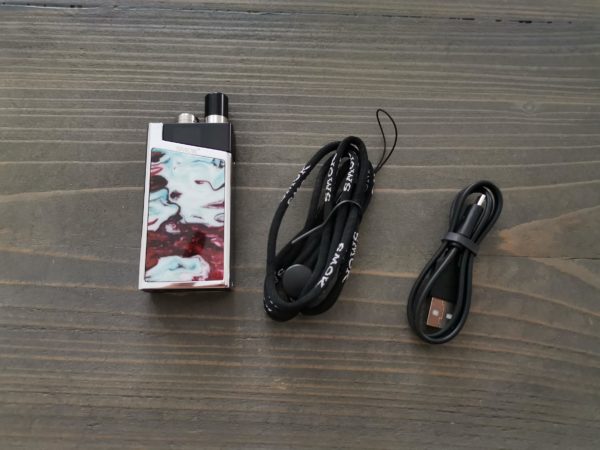 Like the SMOK Nord, the SMOK Trinity Alpha runs on stock coil heads. It comes with two 0.8ohm coils, though it can also run SMOK's 1.4ohm coil heads too (I think). Installing a coil is simple, it just plops in place. Just make sure you prime it first by dripping a few drops of juice onto the cotton. This will ensure it doesn't burn out right away.
Charging is done via a microUSB port that is located below the vaping mode switcher button (bottom right-hand side). It rocks a 1000mAh battery which should be good enough for practically an entire day, providing you don't completely rinse it with constant chain vaping.
SMOK Trinity Alpha Specs & Features
Dimensions – 91mm by 38mm by 16mm
Weight – 90g
All-in-One Design
Integrated 1000mAh Rechargeable Battery
Output Wattage Power: 6-30W
Resistance Range: 0.5ohm – 3.0ohm
Voltage Input Range: 3.3-4.2V
Voltage Output Range: 2.4-6.0V
Charging Current: 700mA
Variable Output Modes – SOFT, NORM, HARD
How's It Vape?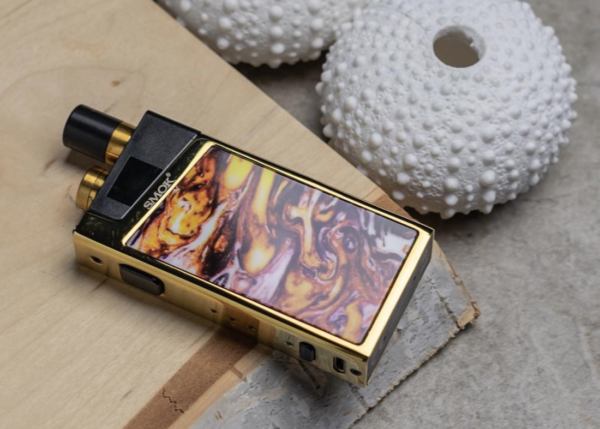 Really good. Setting it up is a cinch and, providing you prime the coils and let them sit for 10 minutes or so, you get pretty much instant flavor right off the bat.
The draw is a restricted lung hit, basically. It's kinda tight but perfectly suited to this style of vape. It reminds me a lot of how the SMOK Nord hits, to be honest, but that's not surprising given it uses the same coils.
The drip tip here is VASTLY superior to the Nord's, however; it's rather elongated and much better to vape on than the Nord's flat, wide mouthpiece which really doesn't lend itself to MTL vaping.
My only gripe with the kit as it comes is that there is no MTL coil option. Given the shape and size of the device, I'd have assumed it was an MTL pod mod. It ain't. This thing is geared up for sub-ohm vaping, meaning you'll be using high VG E Juice with it – not Nic Salts.
Either way, this isn't much of a deal breaker, as I'm pretty sure it'll run the Nord's 1.4ohm coils.
The flavor is very good, nice and precise. I've been vaping Yami Vapor's Juusu in it and the flavor is just as it should be.
The UWELL Caliburn, for my tastes, does deliver better flavor.
But that's not surprising, as it is possibly the best pod mod on the planet right now.
The pod stores around 2.8ml of E Juice as well, which is plenty for this type of device. It runs at fairly low power (maximum of 6.0V), so it doesn't burn through your E Juice too quickly. All in, like the Nord, the Trinity Alpha is a very impressive little pod vape.
SMOK Trinity Alpha Price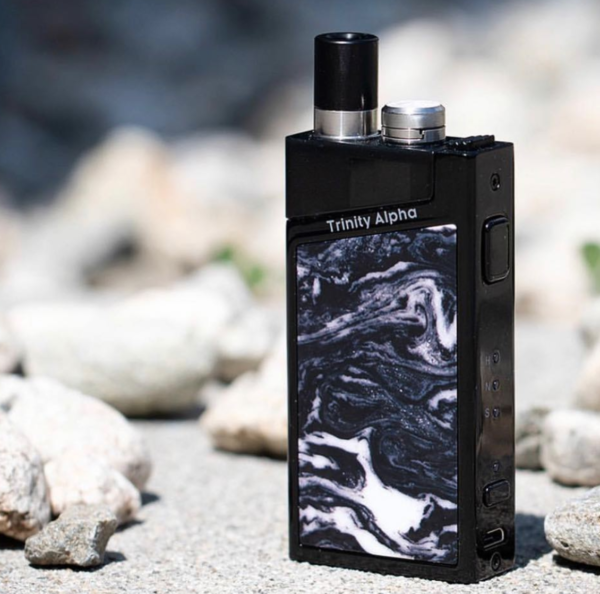 The SMOK Trinity Alpha is very reasonably priced too; at just $32.95 (with FREE shipping), it is one of the best value pod mods on the planet right now given its quality build materials and built-in features.
It's cheaper than the Lost Vape Orion Q and the SMOK Nord, and this makes it one very attractive pod mod. The design and finish of this vaping device are superb too; it looks utterly stunning – way better than the Nord.
And because it runs on proven coil heads (the same system as the Nord), you know you're in fairly good hands when it comes to reliability, flavor, and longevity.
It's early days in my testing process, but already I am very impressed.
Drake Equation
Co-founder and Editor of VapeBeat. I make the words.