The Smok G-Priv 220W is a touchscreen box mod. It's not the first, but it plans on being the best… I had the pleasure of spending the last couple of weeks with it and this article is my honest review of the mod.
SMOK has had a very impressive 2016. It released what was arguably the one of the best sub-ohm tanks and then followed it up with a couple more – like the SMOK TFV8 Baby, which we're also reviewing today. And now it's back with the Smok G-Priv 220W.
Riding on the heels of its bigger brother the H-Priv 220W, the G-Priv 220W is a slightly smaller but equally potent mod. It can run at the same high wattages and it uses the same chip.
But is this enough to make it one of the best mods on market? I mean, it has a touchscreen display on it – just like your iPhone. That's pretty forward-thinking. Even if it has been done before.
For the record: the only other touchscreen mod I've tested was a Tesla one, so while my experience with these types of mods is limited, at least I have something to compare it to.
Read on to find out how I got along with the Smok G-Priv 220W
Smok G-Priv 220W Review: Packaging & Appearance
The packaging is decent but that's pretty much par for the course when you're dealing with SMOK. All of its latest releases have come in superb boxes that are both stylish and durable. The Smok G-Priv 220W's is no exception.
This is what you get included with the Smok G-Priv 220W
G-Priv 220W Mod
TFV8 Big Baby Tank
V8 Baby-X4 Core (0.15 quadruple coil)
V8 Baby-T6 Core (0.2 Sextuple coil)
Replacement Glass Tube
USB Cable
User Manual
Spare Parts
After opening the box we are presented with the cool-looking Smok G-Priv 220W mod.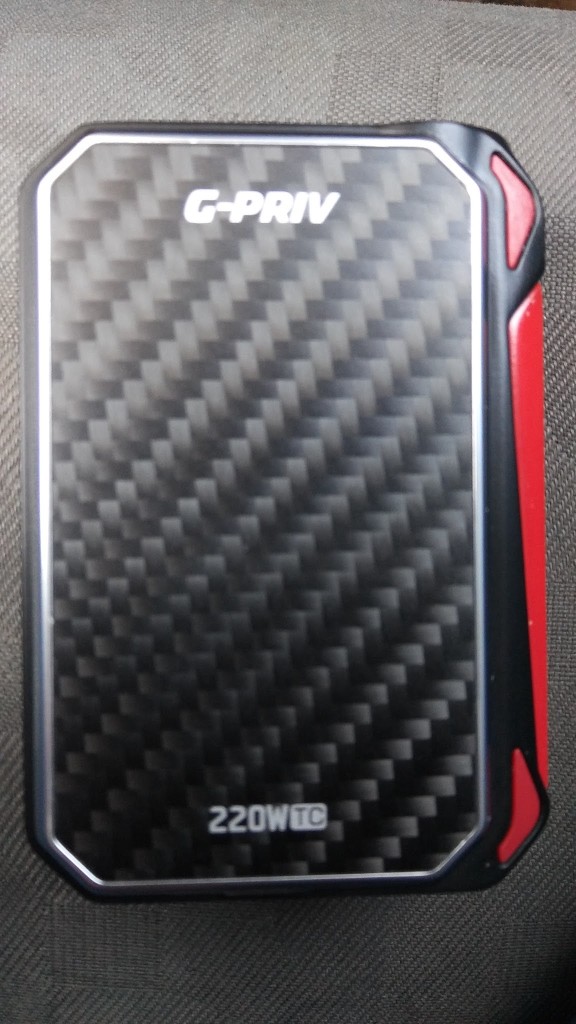 Underneath mod is where you find the TFV8 Baby Beast.
As I said earlier, the Smok G-Priv 220W looks identical to the H-Priv, just smaller. And this is a good thing.
You have the same fire bar, which clicks very nicely, and on the top we have a nice stainless steel 510 connection that is buttery smooth.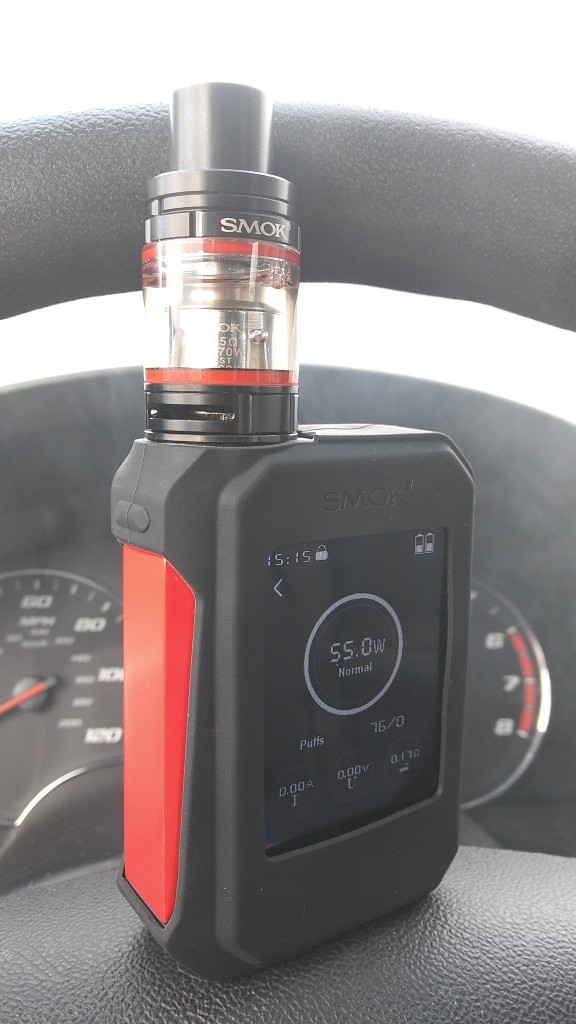 Right above the fire bar we see a silver, clicky button for locking the display. You hold it for one second to lock the display, placing it in stealth mode.
The battery door is held on very well with strong magnets and I do mean strong, a little force is needed to get the battery cover off.
Now, on to the star of the show – the display!
It's a 2.4in touchscreen with all the usual settings, only here to access them you tap on the display itself rather than using buttons.
The display of the Smok G-Priv 220W is very responsive and very simple to use. The colours are brilliant. Everything looks crystal clear and I love being able to simply tap settings on my mod to activate them.
HOWEVER, there is a potential downside to all this lovely touchscreen business: if it starts to not work properly after a few months that would effectively ruin the entire mod.
I'll update this piece with more information in a few months time in order to see where we're at. A few weeks in is far too early to make calls about durability and the like.
One of our Instagram followers also said the paint on his mod is chipping off after just a few week's worth of usage. This, again, is something I will be looking into as my usage with this mod extends.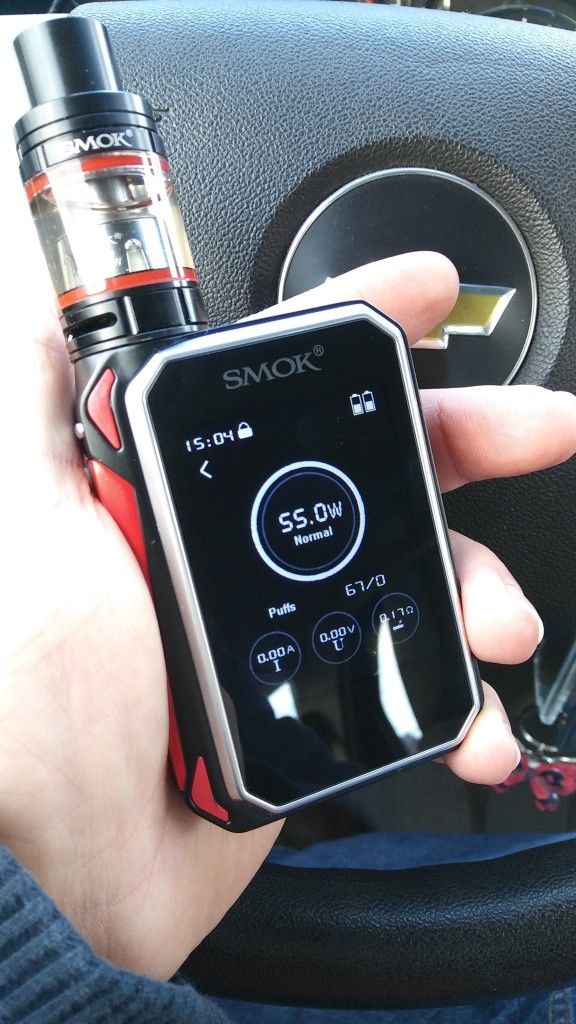 Inputs are registered instantly just like on a smartphone. Below is a quick breakdown of all the information that is displayed on the screen.
Up in the upper right hand corner we have a dual battery meter.
The upper left hand corner has the time (in military)
In the centre, Mods – so, Wattage, TC, etc,.
Underneath the mode area is a Puff counter.
At the very bottom there are three circular icons for Amps, Voltage and Resistance/Ohms.
Here are some specs on the Smok G-Priv 220W:
Dimensions: 85mm X 58.5mm X 28mm
Material: Zinc Alloy
Voltage Range: 0.35-8.0V
Resistance Wattage: 0.1-3ohms
Resistance Temperature Control: 0.06-3ohms
Temperature Resistance Range: 100-315*C/200-600*F
Display: 2.4" Touchscreen
Screen Locking Button
Wattage Range: 1-220W
Stainless Steel 510 Connection
USB Balanced Charging
Firmware Updates through the USB
Smok G-Priv 220W Review: Performance
To turn on the Smok G-Priv 220W simply click the fire key five times. Once you've done this and you have your tank installed and juiced, you're good to go.
After my coil break-in ritual – priming the wick and waiting, basically – I topped the juice off and ran the Smok G-Priv 220W at 50W. This setting got me two full day's of vaping from 100% charge. Not too shabby.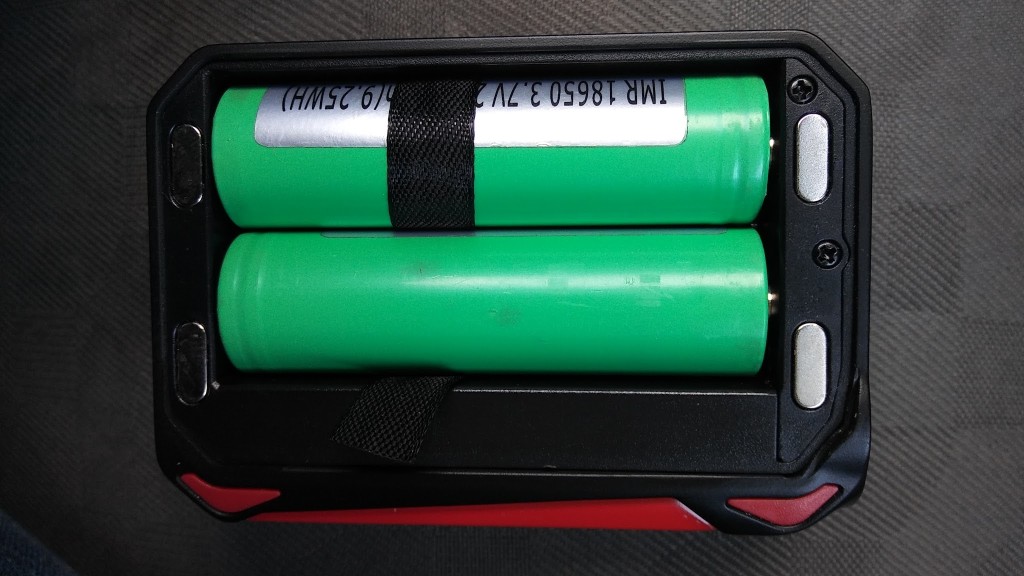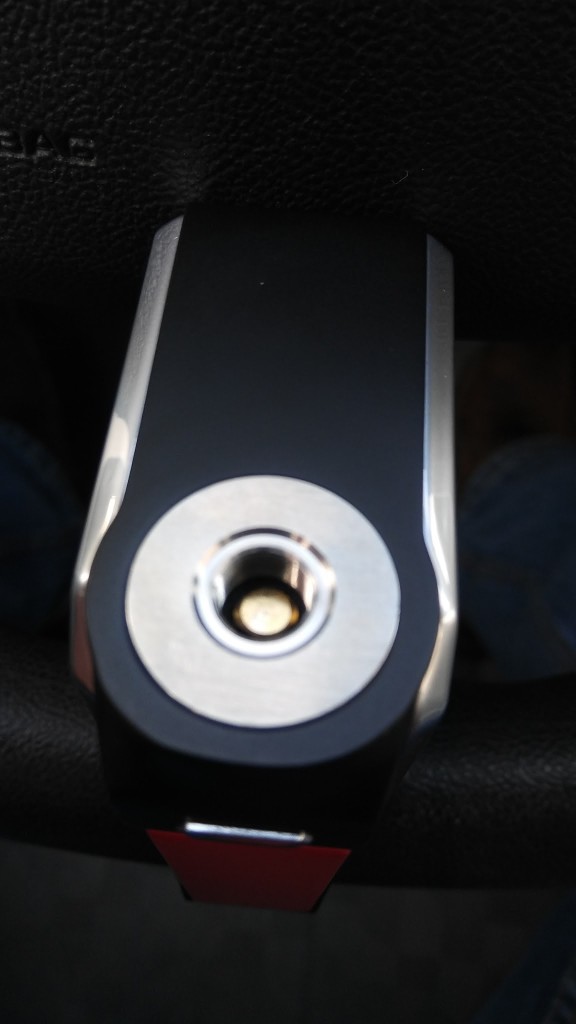 Battery life is great at 50W, but I wanted to push the G-Priv harder so I ran 85W and got just shy of two solid days of vaping. Taking things further, I loaded up the SMOK TFV8 Cloud Beast and ran it at 145W. This finished the battery off inside 10 hours.
The G-Priv took everything I threw at it. Everything from my Troll v2 and Recoil RDAs to my Eagle and Herakles RTAs and even the TFV8 Cloud Beast as mentioned above. It fired each and every time, never faltering and never slowing down.
Battery life is decent, as you'd expect from a two cell device, and the display, which obviously takes a lot of additional power to run, didn't seem to have too much of an effect on overall performance.
Smok G-Priv 220W Review: Final Thoughts & Conclusion
Very impressed with the touchscreen and overall feel of the G-Priv 220W mod. Nice and solid and the build quality and construction is spot on; this thing is built like a TANK!
It also performs brilliantly, supporting an array of modes that make it an ideal choice for any type of vaper – from rookie to advanced. In addition, this is the only tank I have used since I received it; everything else – even my DNA 200 mods – are on the shelf, collecting dust!
And you know you got something special when the LAVABOX DNA 200 is taking a vacation!
Overall Performance: 10/10
Overall Look/Feel: 9/10
Battery Life: 9/10

Nick Jennings
Reviews & Tutorials Guy. If You Can Build It & Vape It, I'm Your Man!