RELX Infinity Review: Better Than JUUL In Every Way…
By vapebeat • Updated: 04/26/21 • 6 min read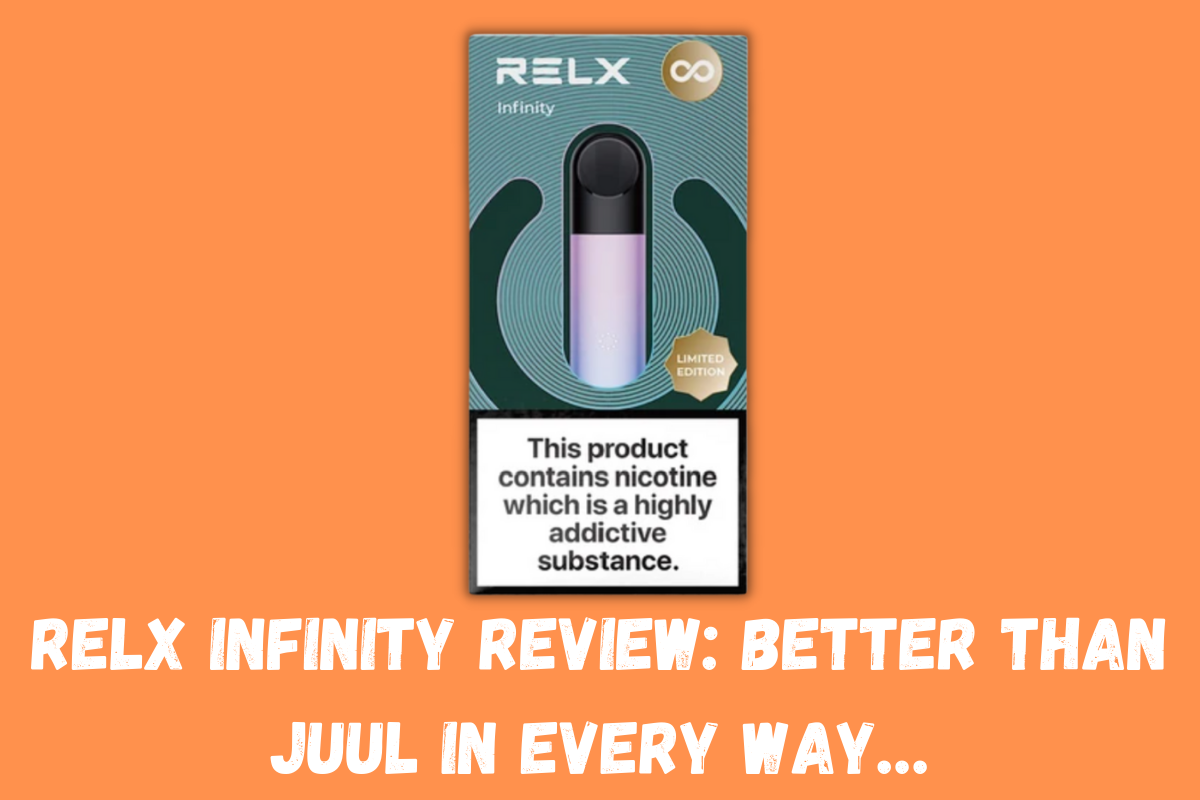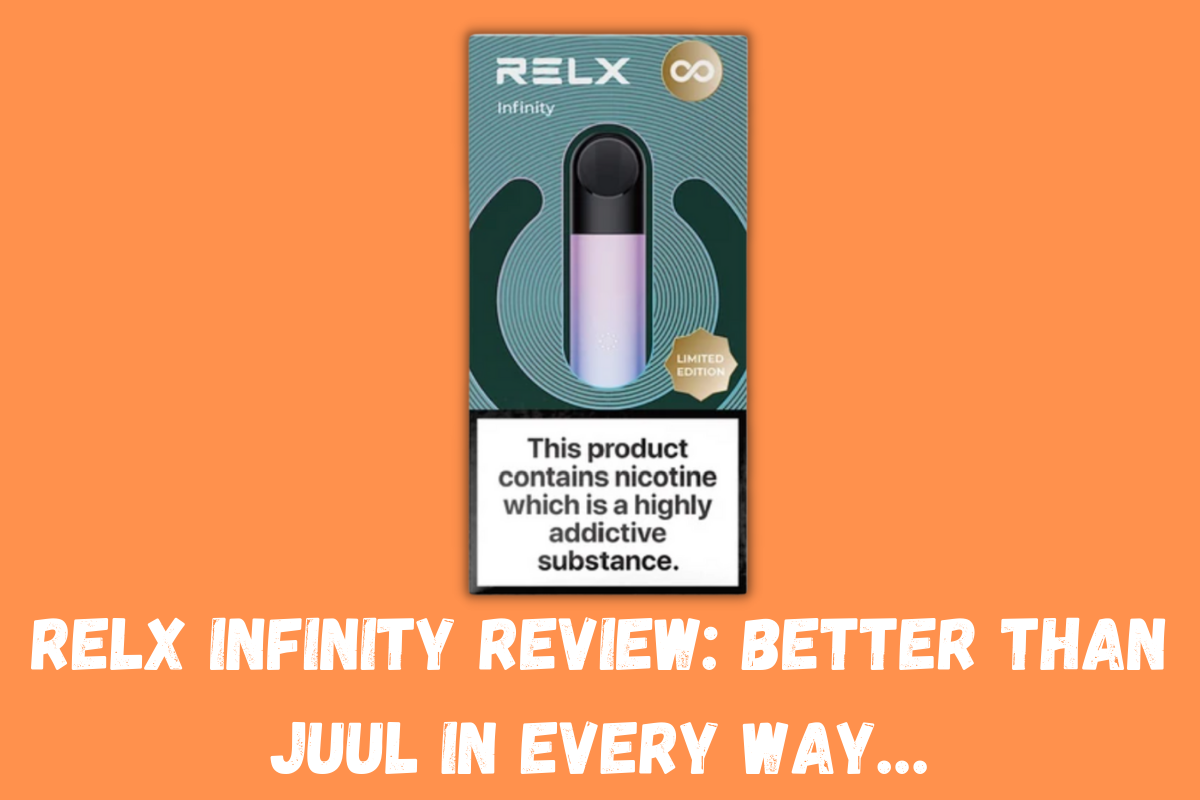 You heard of JUUL, right? Well, there's a new player in town and it goes by the name of RELX. Here's my full review of the RELX Infinity…
One of the most annoying things about JUUL, and most closed pod systems in general, is battery life. It just sucks. But RELX has a novel solution to this, one I cannot believe more companies haven't used.
RELATED: JUUL vs RELX: Which is The Best Vape?
Basically, when you buy the RELX Infinity you have the option of getting a portable charging case that you can place the vape in when you're not using it. Just like your AirPods, this case will recharge the vape when it is placed inside them, so you never have to worry about battery life.
And make no mistake: the RELX Infinity is the best RELX vape you can currently buy.
The RELX Infinity is also a much better-looking vape than JUUL. Looking a little like the UWELL Caliburn G, this pod vape is starting to get really popular. And after using it for a few weeks, I can see why.
Here's my full review of the RELX Infinity, a vape I think most of you will really dig…
[letsreview]
RELX Infinity Design
Do you want a small, stylish compact vape device that is easy to use and doesn't leak? If so, the RELX Infinity could be just what you've been looking for – it is sleek, good-looking, and it never leaks.
I've been using mine for almost three weeks now and it has been an absolute dream. No leaks, no issues, just solid vaping round the clock. I like the way its styled, the ports and the way it comes together all my logical sense.
You have things like USB Type C charging, an LED indicator for when its firing, breath-activated firing, and RELX's SuperSmooth technology which ensures each hit is as smooth as possible – it works really well too.
The chassis of the vape is made from aluminium, so it is nice and lightweight as well as feeling and looking premium. The RELX Infinity is available in a range of colors too, which include: Sky Blush, Black, Silver, Gold, and Red.
Inside, you have a 380mAh internal battery that is non-removable. This isn't a very big battery but if you opt to get the charging case (it does cost extra), you'll have no worries with things like battery life.
Specs & Features
380mAh Battery
Fast Charging
1.9ml Tank Capacity
SuperSmooth Technology
Automatic (Draw activated)
Magnetic pod/battery connection
Leak Resistant with Maze technology
The only slight downside to how RELX does things is that it does not include a pod with the kit. You have to buy these separately. This is a pretty odd given that nearly 100% of the closed pod systems I have tested has come with at least one pod.
The upside to this is that you get to choose what flavor pods you want when you order the kit. RELX does a few flavors, and because flavor is subjective, it makes sense to leave this decision up to the buyer.
RELATED: How To Properly Setup & Use RELX Vape
I mean, it could have just included one of each in the box. That would allow the user to sample all of the flavours and then make a more informed decision about which pods to go for. Either way, this is not a deal-breaker for me.
RELX also has an auto-ship program too, so once you find a flavor you like, you can simply set up an auto-shipping program and RELX will send you new pods each and every month.
This is super-handy, especially if you're anything like me and you always forget to stock up on pods.
You can buy packs of RELX Pod Pro pods for £7.99 each direct from RELX's site. You can also get RELX Pod Pro pods in plenty of vape shops and supermarkets in the UK now too.
RELX Pod Pro Flavors
Sunny Sparkle
Menthol Plus
Raspy Ruby
Ludou Ice
Tangy Purple
Dark Sparkle
Classic Tobacco
Fresh Red
RELX Infinity Battery Life
With battery life, you have enough power in the RELX Infinity to get you through a single day with moderate usage. If you get the additional RELX vape charging case – and I would highly recommend this – you're looking at days and days of charge.
Because of their size, pod vapes are always lacking when it comes to battery life. The RELX Infinity is better than the JUUL in this respect, however, and is closer to the UWELL Caliburn G which means it is pretty darn good.
I would definitely go with the charging pack, though, it'll save you a bunch of headaches and ensure that you never run out of battery life. And that's what you always want from a pod vape, right?
Overall Performance
As for performance and general usage, the RELX Infinity is a really impressive little pod vape. The MTL draw it delivers is incredible; it is about as good as any pod vape I have used in the past several years.
I pretty much vape MTL exclusively these days, so I'm a bit a of MTL snob. I like Kayfun tanks – which are pricey – and I usually find issue with most MTL pods and/or tanks.
I had no expectations about the RELX Infinity prior to testing but it immediately impressed me as soon as I switched it on and started using it.
The draw and flavor is great right off the bat, there is no ramp-up time. It is just solid flavor and great a cigarette-style draw from the box.
Verdict: Should You Buy The RELX Infinity?
As you can probably tell: I really like the RELX Infinity. It is affordable, it produces great flavor, and it is relatively inexpensive to run. Compared to JUUL, it is leagues better. I would even go as far as saying it is comparable to some of the best refillable pods on the market right now.
I like that RELX has auto-shipping for its pods, this means you can just set up a batch order, and then just get on with your life. Your pods will arrive every month and you'll never run out of juice.
If you get the additional charging pack, you'll never have to worry about battery life – it extends the battery life massively, thanks to its ability to hold 1500mAh of charge.
If your RELX Infinity battery life is low, simply pop it in the case and it will start recharging. Leave it 5 or 10 minutes and you'll have hours of additional battery life. For me, the charging case is essential. I wouldn't run this vape without it.
Best Place To Buy | RELX Store | £19.99
vapebeat